Abstract
Introduction
The aim of this study was to evaluate the long-term success rate of combined surgical-orthodontic therapy of skeletal anterior open bite.
Materials and Methods
A total of 11 patients with an anterior open bite treated with a combined surgical-orthodontic therapy were retrospectively analysed via lateral cephalometric radiographs and models before treatment, 7–10 days after surgery (T1), one year post-operatively (T2) and two years post-operatively (T3).
Results
Ten patients continued to experience a positive overbite at T2. This decreased to 8 at T3. Three patients experienced relapse and had a negative overbite at T3. The average pre-treatment overbite was greater in the positive overbite group compared to the relapse group. Spearman's correlation analysis revealed a correlation between preoperative maxilla–mandibular plane angle (MMPA) with the overall change in overbite. Friedman's test followed by Bonferroni post-hoc analysis was carried out to identify any statistical significance.
Conclusion
In conclusion, combined surgical-orthodontic treatment achieves good results for anterior open bite. Patients with a high pre-operative MMPA have a higher risk of relapse. Lower anterior facial height ratio to total anterior facial height (LAFH/TAFH) and the amount of impaction do not significantly contribute to the risk of relapse. Long-term stability of overbite for anterior open bite patients should be around 75%.
Access options
Buy single article
Instant access to the full article PDF.
USD 39.95
Price includes VAT (USA)
Tax calculation will be finalised during checkout.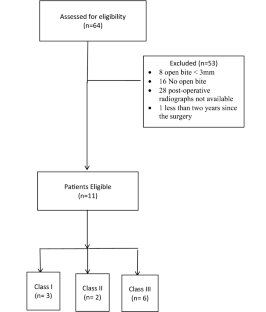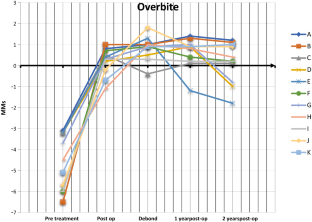 References
1.

Arpornmaeklong P, Heggie AA (2000) Anterior open-bite malocclusion: stability of maxillary repositioning using rigid internal fixation. Aust Orthod J 16:69–81

2.

Lopez-Gavito G, Wallen TR, Little RM, Joondeph DR (1985) Anterior open-bite malocclusion a longitudinal 10-year post retention evaluation of orthodontically treated patients. Am J Orthod 87(3):175–186

3.

Huang GJ (2002) Long-term stability of anterior open-bite therapy: a review. Semin Orthod 8:162–172

4.

Janson G, Valarelli FP, Henriques JFC, de Freitas MR, Cançado RH (2003) Stability of anterior open bite nonextraction treatment in the permanent dentition. Am J Orthod Dentofacial Orthop 124:265–276. https://doi.org/10.1016/S0889-5406(03)00449-9

5.

Remmers D, van't Hullenaar RW, Bronkhorst EM, Berge SJ, Katsaros C (2008) Treatment results and long-term stability of anterior open bite malocclusion. Orthod Craniofac Res 11:32–42

6.

Greenlee GM, Huang GJ, Chen SS, Chen J, Koepsell T, Hujoel P (2011) Stability of treatment for anterior open-bite malocclusion: a meta-analysis. Am J Orthod Dentofac Orthop 139(2):154–169

7.

Ismail I, Leung Y (2017) Anterior open bite correction by Le Fort I osteotomy with or without anterior segmentation: Which is more stable? Int J Oral Maxillofac Surg 46:766–773

8.

Tuinzing DB, Greebe RB, Dorensbos J, Van Der Kwast WAM (1993) Surgical orthodontics; diagnosis and treatment. VU University Press, Amsterdam, pp 67–82

9.

Stansbury CD, Evans CA, Miloro M et al (2010) Stability of open bite correction with sagittal split osteotomy and closing rotation of the mandible. J Oral Maxillofac Surg 68:149

10.

Hoppenreijs TJ, Freihofer HP, Stoelinga PJ, Tuinzing DB, vant Hof MA, van der Linden FP et al (1997) Skeletal and dento-alveolar stability of Le Fort I intrusion osteotomies and bimaxillary osteotomies in anterior open bite deformities. A retrospective three-centre study. Int J Oral Maxillofac Surg 26:161–175

11.

Proffit WR, Bailey LJ, Phillips C, Turvey TA (2000) Long-term stability of surgical open-bite correction by Le Fort I osteotomy. Angle Orthod 70(112–7):7

12.

Moldez M, Sugawara J, Umemori M, Mitani H, Kawamura H (2000) Long-term dentofacial stability after bimaxillary surgery in skeletal class III openbite patients. Int J Adult Orthodon Orthognath Surg 15:309–319

13.

BOS/BAOMS Minimum Dataset Proforma for Surgical-Orthodontic Patients – URL: https://www.bos.org.uk/Portals/0/Public/docs/National20Audit/BOSBAOMSMinimum_Dataset.pdf

14.

Angle EH (1907) Treatment of malocclusion of the teeth and fractures of the maxillae In: Angle system, 7th edn, Philadelphia, Pa: SS White Manufacturing co, pp. 50–52

15.

Proffit WR, White RP Jr (2015) Combined surgical-orthodontic treatment: how did it evolve and what are the best practices now? Am J Orthod Dentofacial Orthop 147:S205–S215

16.

Espeland L, Dowling PA, Mobarak KA, Stenvik A (2008) Three year stability of open-bite correction by 1-piece maxillary osteotomy. Am J Orthod Dentofac Orthop 134:60–66

17.

Hoppenreijs TJ, Friehofer HP, Stoelinga PJ, Tuinzing DB, van't Hof MA (1998) Condylar remodelling and resorption after LeFort I and bimaxillary osteotomies in patients with anterior open bite A clinical and radiologic study. Int J Oral Maxillofac Surg 27:81–91

18.

Borstlap WA, Stoelinga PJ, Hoppenreijs TJ et al (2004) Stabilisation of sagittal split advancement osteotomies with miniplates: a prospective, multicentre study with two-year follow-up. Part II. Radiographic parameters. Int J Oral Maxillofac Surg 33:535

19.

Proffit WR (1978) Equilibrium theory revisited: factors influencing position of teeth. Angle Orthod 48:175–186

20.

Turvey TA, Phillips C, Zaytoun HS, Proffit WR (1988) Simultaneous superior repositioning of the maxilla and mandibular advancement. A report on stability. Am J Orthod Dentofacial Orthop 94:372–383
Ethics declarations
Conflict of interest
No conflict of interest related to this study.
Ethical Approval
All the patients' data collected were anonymized and kept confidential. Hence, this study was deemed to be exempt from a formal ethics committee approval. The study was approved by the North Cumbria Integrated Care NHS trust clinical research team.
Additional information
Publisher's Note
Springer Nature remains neutral with regard to jurisdictional claims in published maps and institutional affiliations.
About this article
Cite this article
Ellabban, I., Germain, S., Jenkins, G. et al. The Stability of Anterior Open Bite Closure After Bimaxillary Osteotomy. J. Maxillofac. Oral Surg. (2021). https://doi.org/10.1007/s12663-021-01642-w
Received:

Accepted:

Published:
Keywords
Relapse

Anterior open bite

Bimaxillary osteotomy

Overbite