Abstract
Background
Management of maxilla and mandibular fractures are based on the principles of reduction, fixation and immobilization of the fracture segments.
Purpose
One of the processes of reduction is to apply continuous and gradual elastic traction by placing elastics from the upper and lower arch bars in a definite manner and direction as per the fracture line. Orthodontic elastic separators are versatile, and the major advantage is the higher traction forces as compared to conventional elastics.
Methods
Prestretched separator elastics were guided over the arch bar or fixed orthodontic appliances to provide desired traction.
Results
Orthodontic elastic separators are therefore versatile, and the major advantage is the higher traction forces as compared to conventional elastics. They provide an edge over the use of wires as they tend to break off by work hardening.
Conclusion
Therefore, we have adapted orthodontic separators and have used them in place of conventional elastics for the last 10 years with appreciable results after taking informed consent from the patients.
Access options
Buy single article
Instant access to the full article PDF.
USD 39.95
Price excludes VAT (USA)
Tax calculation will be finalised during checkout.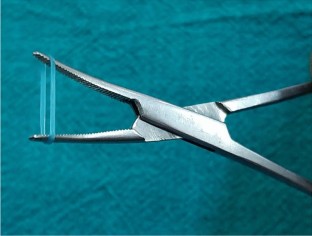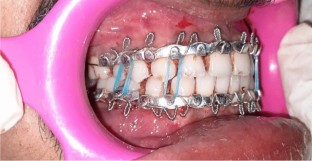 References
Kanitkar R, Kumbhare D, Francis M, Tiwari RV, Kumar S, Wasan B, Tiwari H (2020) Role of orthodontic elastics in the oral and maxillofacial surgical procedures. J Adv Med Dent Scie Res 8(2):62–64

Dimitroulis G (2002) Management of Fractured mandibles without the use of intermaxillary wire fixation. J Oral Maxillofac Surg 60:1435–1438

van den Bergh B, Blankestijn J, van der Ploeg T, Tuinzing DB, Forouzanfar T (2015) Conservative treatment of a mandibular condyle fracture: comparing intermaxillary fixation with screws or arch bar. A randomised clinical trial. J Craniomaxillofac Surg 43(5):671–676

Oesterle LJ, Owens JM, Newman SM, Shellhart WC (2012) Perceived vs measured forces of interarch elastics. Am J Orthod Dentofacial Orthop 141:298–306

Seibt S, Salmoria I, Cericato GO, Paranhos LR, Rosario HD, El Haje O (2016) Comparative analysis of force degradation of latex orthodontic elastics of 5/16'' diameter: an in vitro study. Minerva Stomatol 65:284–290

Smith AT (1993) The use of orthodontic chain elastic for temporary intermaxillary fixation. Br J Oral Maxillofac Surgery 31:250–251
Funding
No funding was received for this study.
Ethics declarations
Conflicts of interest
The authors have no conflicts of interest.
Additional information
Publisher's Note
Springer Nature remains neutral with regard to jurisdictional claims in published maps and institutional affiliations.
About this article
Cite this article
Mohanty, R., Jha, C. Use of Elastomeric Separators in Maxillofacial Fracture Reduction. J. Maxillofac. Oral Surg. 20, 700–701 (2021). https://doi.org/10.1007/s12663-021-01525-0
Received:

Accepted:

Published:

Issue Date:

DOI: https://doi.org/10.1007/s12663-021-01525-0
Keywords