Abstract
Background
Procedures in oral surgery, especially surgical extraction of the impacted mandibular third molar is often considered anxiety-producing and stressful. This study evaluated the effect of oral sedation (5 mg diazepam) on the physiological stress level in subjects that underwent surgical extraction of the mandibular third molar by measuring the change in salivary cortisol concentration.
Subjects and methods
204 salivary samples were collected from 102 subjects between 9.00 am and 12.00 pm to standardise the diurnal variations of cortisol secretion. Saliva samples were collected 45 min before and 15 min after surgical extraction from each subject in either group. The samples were stored in the freezer (− 20 °C) until analysis was done in the laboratory using salivary cortisol ELISA kits (DiaMetra S.r.l., Eagle Biosciences, Italy), and the cortisol concentration was measured with a microplate reader.
Results
There was a statistically significant change (p = <0.001 between the pre-surgical extraction salivary cortisol concentration of all subjects with a median of 7 ng/ml and post-surgical extraction salivary cortisol concentration of both the study and the control groups with a median of 17 ng/ml and 15 ng/ml, respectively. Only 11.8% of subjects in the study group had a reduction in post-surgical salivary cortisol concentration, while in the control group, 3.9% of subjects had a reduction in post-surgical salivary cortisol concentration. There was no statistically significant difference between the two groups (p = 0.135).
Conclusions
Hence, oral sedation has no significant impact on physiological stress during the surgical extraction of the mandibular third molar. However, salivary cortisol concentration can adequately reflect the stress induced by surgical extraction in subjects and its usefulness as a biomarker in stress research. Furthermore, the type of disimpaction of mandibular third molar affects salivary cortisol concentration, with distoangular disimpaction having the highest cortisol concentration and more stressful to subjects when compared to other types of disimpaction.
Access options
Buy single article
Instant access to the full article PDF.
USD 39.95
Price excludes VAT (USA)
Tax calculation will be finalised during checkout.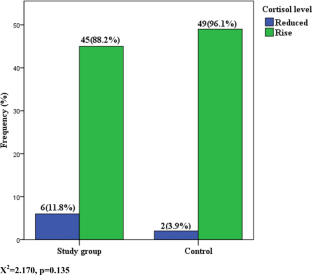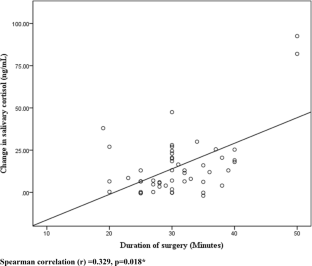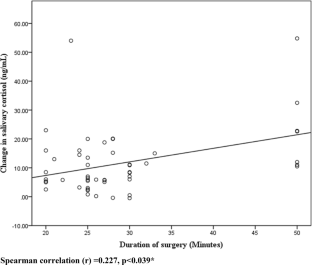 References
Asokan S, Muthu M, Sivakumar N (2008) Dental caries prevalence and treatment needs of down syndrome children in Chennai, India. Indian J Dent Res 19:224–229

Chen Q, Wang L, Ge L, Gao Y, Wang H (2015) The anxiolytic effect of midazolam in third molar extraction: a systematic review. PLoS ONE 10(4):1–10

Furlan N, Gaviao M, Barbosa T, Nicolau J, Castelo P (2012) Salivary cortisol, alpha-amylase, and heart rate variation in response to dental treatment in children. J Clin Pediatr Dent 37(1):83–87

Haussmann F, Vleck C, Farrar E (2007) A laboratory exercise to illustrate increased salivary cortisol in response to three stressful conditions using competitive ELISA. Adv Physiol Edu 31(1):110–115

Umeanuka O, Saheeb B, Uguru C, Chukwuneke F (2015) Evaluation of cortisol concentrations in saliva as a measure of stress in patients having routine dental extractions. Br J Oral Maxillofac Surg 53(6):557–560

Pratishta J, Nabeel N (2014) Efficacy of lignocaine in dental extractions. Int J Pharmacol Biol Sci 5(2):457–465

Johan W, Geert C (2007) Fear and pain. Int Assoc Study Pain 15(6):1–4

Milgrom P, Coldwell S, Getz T, Weinstein P, Ramsay D (1997) Four dimensions of fear of dental injections. J Am Dent Assoc 128(6):756–766

Forgione A (1988) Hypnosis in the treatment of dental fear and phobia. Dent Clin North Am 32(4):745–761

Lahmann C, Schoen R, Henningsen P, Ronel J, Muehlbacher M, Loew T et al (2008) Brief relaxation versus music distraction in the treatment of dental anxiety: a randomised controlled clinical trial. J Am Dent Assoc 139(3):317–324

Mark D, Gino G, Brian C (2007) Oral sedation: a primer on anxiolysis for the adult patient. Anesth Prog 54:118–129

Slingsby B (2002) The prozac boom and its placebogenic counterpart—a culturally fashioned phenomenon. Int Med J Exp Clin Res 8(5):389–393

Wall P (1992) The placebo effect: an unpopular topic. Pain 51(1):1–3

Jerjes W, Swinson B, Kumar S, Leeson R, Wood P et al (2005) Midazolam in the reduction of surgical stress: a randomised clinical trial. Oral Surg Oral Med Oral Pathol Oral Radiol Endodontology 100(5):564–570

Corah N (1969) Development of a dental anxiety scale. J Dent Res 48(4):596

Miller C, Jeffrey B, Donald A, Alan L, Lexington K (1995) Salivary cortisol response to dental treatment of varying stress. Oral Surg Oral Med Oral Pathol Oral Radiol Endodontology 7(4):436–441

Kareem J, Hani R, Ahmad F (2012) Influence of dental extraction on patient's stress and anxiety levels by assessing the salivary cortisol concentration at different time points during the extraction procedure. Mustansiria Dent J 9(2):208–217

Gadicherla S, Shenoy R, Patel B, Ray M, Naik B (2018) Estimation of salivary cortisol among subjects undergoing dental extraction. J Clin Exp Dent 10(2):116–119

Banks P (1970) The Adreno-cortical response to oral surgery. Br J Oral Surg 8(1):32–44

Steer M, Fromm D (1980) Recognition of adrenal insufficiency in the postoperative patient. Am J Surg 139(3):443–446

Tripathi K (2001) Sedative-Hypnotics. In: Tripathi V (ed) Essentials of medical pharmacology, 4th edn. Jaypee Brothers Medical Publishers Ltd, New Delhi, pp 366–380

Shanmugaavel A, Sharath A, John J, Geetha P, Gnana D (2016) Comparison of behaviour and dental anxiety during intranasal and sublingual midazolam sedation—a randomised controlled trial. J Clin Paediatr Dent 4(1):81–87

Darklilson P, Marcus A, Emanuela P, Grasiele E, Fabiola S, Valdemar M (2013) Study comparing midazolam and nitrous oxide in dental anxiety control. J Craniofacial Surg 24(5):1636–1639

Obimakinde O, Okoje V, Ijarogbe O, Obimakinde A (2013) Role of patients′ demographic characteristics and spatial orientation in predicting operative difficulty of impacted mandibular third molar. Ann Med Health Sci Res 3(1):81

Yuasa H, Kawai T, Sugiura M (2002) Classification of surgical difficulty in extracting impacted third molars. Br J Oral Maxillofac Surg 40:26–31

Renton T, Smeeton N, McGurk M (2001) Factors predictive of difficulty of mandibular third molar surgery. Br Dent J 190(11):607–610

Gbotolorun O, Arotiba G, Ladeinde A (2007) Assessment of factors associated with surgical difficulty in impacted mandibular third molar extraction. J Oral Maxillofac Surg 65(10):1977–1983

Susarla S, Dodson T (2013) Predicting third molar surgery operative time: a validated model. J Oral Maxillofac Surg 71(1):5–13

Obiechina A, Oji C, Fasola A (2001) Impacted mandibular third molars: depth of impaction and surgical methods of extraction among Nigerians. Odontostomatol Tropicale 24(94):33–36

Tenglikar P, Munnangi A, Mangalgi A, Uddin S, Mathpathi S, Shah K (2017) An assessment of factors influencing the difficulty in third molar surgery. Ann Maxillofac Surg 7(1):45–50
Ethics declarations
Conflict of Interest
The authors declare that they have no conflict of interest.
Ethical Aapproval
All procedures performed in this study involving human participants were in accordance with the ethical standards of the Health Research and Ethics Committee of the Lagos State University Teaching Hospital.
Consent to Participate
Informed consent was obtained from all individual participants included in the study.
Consent for Publication
Informed consent was obtained from all individual participants for publication.
Availability of Data and Material
Documentation of data and material for the study are included.
Additional information
Publisher's Note
Springer Nature remains neutral with regard to jurisdictional claims in published maps and institutional affiliations.
About this article
Cite this article
Opaleye, T., Okoturo, E., Adesina, O.A. et al. Salivary Cortisol as a Stress Monitor During Third Molar Surgery. J. Maxillofac. Oral Surg. 21, 1112–1118 (2022). https://doi.org/10.1007/s12663-020-01480-2
Received:

Accepted:

Published:

Issue Date:

DOI: https://doi.org/10.1007/s12663-020-01480-2
Keywords
Stress

Saliva

Cortisol

ELISA

Sedatives