Abstract
Background
Nonsyndromic unilateral CLAP patients despite the best surgical efforts present with variable degree of maxillary hypoplasia after cleft palate repair. AMOD is an extension of anterior maxillary osteotomy where the resulting segment anterior to the chosen site of vertical corticotomy cut is distracted with the help of hyrax screw through a tooth-borne appliance.
Aims and Objectives
To analyze the hard and soft tissue profile changes following AMOD. To determine the ratio of soft tissue changes to the given extent of hard tissue movements.
Materials and Methods
Study group consisted of 25 patients with cleft maxillary hypoplasia reporting to the Department of OMFS, Coorg Institute of Dental Science. The preoperative and postoperative radiographs were taken followed by prediction tracing. In comparison of pre-op and post-op ceph mean improvement in hard tissue profile was seen at N-A by 2.84 mm, N-A-Pg by 2.52, ANS-Gn by 2.28 mm, N-ANS by 0.68 mm, 1-Nf by 0.32 and at PNS-ANS was 4.2 mm signifying improvement in middle third of face. Mean improvement in soft tissue profile at G-Sn-Pg angle by 1.2, G-Sn was 3.92 mm, nasolabial angle by 10.92, incisor exposure (Stm-1) by 0.24 mm and interlabial gap by 0.56 mm. On ratio and correlation of soft tissue changes to given extent of hard tissue change, with movement of point A and U1 resulted significant changes in Sn and Ls. Movement of ANS resulted in significant changes in pronasale and columella.
Conclusions
In our study significant improvement was seen in hard and soft tissue facial profile. In conclusion, AMOD is one of the emerging techniques to correct cleft maxillary hypoplasia which will have a defined definitive role to play in future.
Access options
Buy single article
Instant access to the full article PDF.
USD 39.95
Price excludes VAT (USA)
Tax calculation will be finalised during checkout.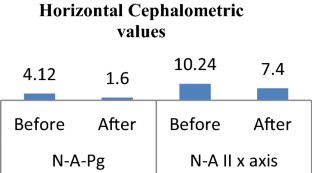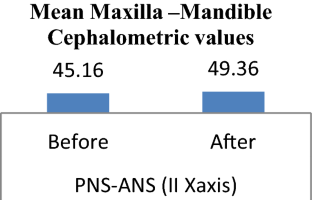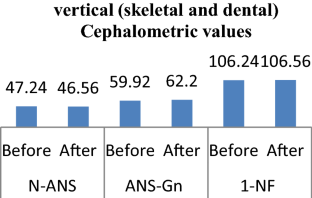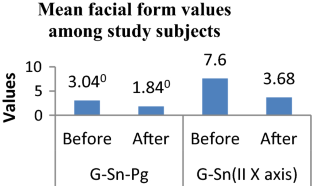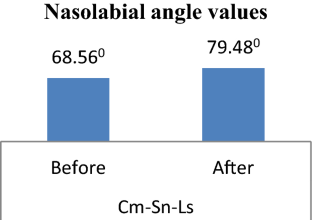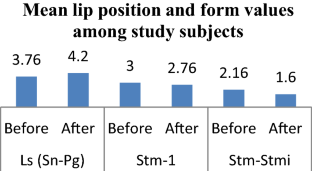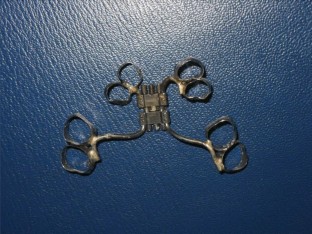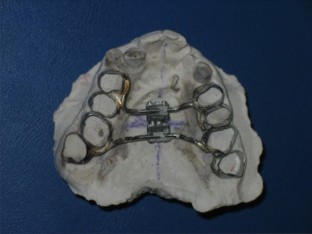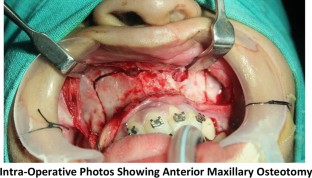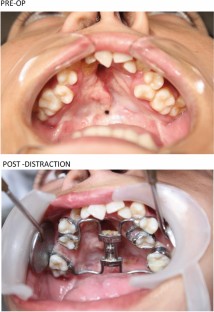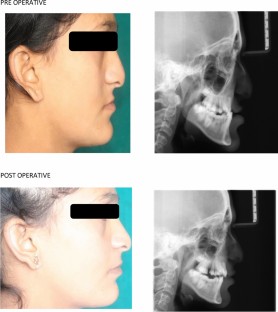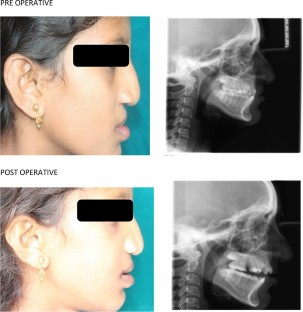 References
Mansour S, Burstone C, Legan H (1983) An evaluation of soft-tissue changes resulting from Le Fort I maxillary surgery. Am J Orthod 84(1):37–47

Ross RB (1987) Treatment variables affecting facial growth in complete unilateral cleft lip and palate. Part 1: treatment affecting growth. Cleft Palate J 24(1):5–23

Cheung LK, Chua HD (2006) A meta-analysis of cleft maxillary osteotomy and distraction osteogenesis. Int J Oral Maxillofac Surg 35(1):14–24

Cheung LK, Chua HD, Hägg MB (2006) Cleft maxillary distraction versus orthognathic surgery: clinical morbidities and surgical relapse. Plast Reconstr Surg 118(4):996–1008

Wang XX, Wang X, Li ZL, Yi B, Liang C, Jia YL, Zou BS (2009) Anterior maxillary segmental distraction for correction of maxillary hypoplasia and dental crowding in cleft palate patients: a preliminary report. Int J Oral Maxillofac Surg 38(12):1237–1243

Chua HD, Hägg MB, Cheung LK (2010) Cleft maxillary distraction versus orthognathic surgery–which one is more stable in 5 years? Oral Surg Oral Med Oral Pathol Oral Radiol Endod 109:803–814

Markose E, Paulose J, Paul ET (2013) Soft tissue changes in cleft lip and palate patients: anterior maxillary distraction versus conventional Le-Fort I osteotomy. J Maxillofac Oral Surg 12(4):429–435

Codivilla A (1905) On the means of lengthening, in the lower limbs, the muscles, and tissues are shortened through deformity. JBJS 2(4):353–369

Polley JW, Figueroa AA (1997) Management of severe maxillary deficiency in childhood and adolescence through distraction osteogenesis with an external, adjustable, rigid distraction device. J Craniofac Surg 8(3):181–185

Rao S, Kotrashetti SM, Lingaraj JB, Pinto PX, Keluskar KM, Jain S, Sone P, Rao S (2013) Anterior segmental distraction osteogenesis in the hypoplastic cleft maxilla: report of five cases. Sultan Qaboos Univ Med J 13(3):454

Bengi O, Karaçay Ş, Akin E, Okçu KM, Ölmez H, Mermut S (2007) Cephalometric evaluation of patients treated by maxillary anterior segmental distraction: a preliminary report. J Cranio-Maxillofac Surg 35(6):302–310

Malik S, Singh V, Singh G, Anand SC. Role of Le fort I osteotomy in orthosurgical management of maxillary deformities in the north Indian population
Ethics declarations
Conflict of interest
The authors declare that they have no conflict of interest.
Ethical Approval
All procedures performed in studies involving human participants were in accordance with the ethical standards of the institutional and/or national research committee and with the 1964 Helsinki declaration and its later amendments or comparable ethical standards.
Informed Consent
Informed consent was obtained from the individual participant included in the case for the treatment as well consent was obtained for the photographs.
Additional information
Publisher's Note
Springer Nature remains neutral with regard to jurisdictional claims in published maps and institutional affiliations.
About this article
Cite this article
Lingeshbabu Pawar, A., Basavapattana Shivasubramanya, J., Kolothu Parambil, S. et al. Cephalometric Analysis of Hard and Soft Tissue Changes Following Anterior Maxillary Osteotomy Distraction in Cleft Maxillary Hypoplasia. J. Maxillofac. Oral Surg. 20, 680–688 (2021). https://doi.org/10.1007/s12663-020-01404-0
Received:

Accepted:

Published:

Issue Date:

DOI: https://doi.org/10.1007/s12663-020-01404-0
Keywords