Abstract
Introduction
Gunshot injuries to the sino-orbital region are rare. In South Africa, where gunshot injuries are common, sino-orbital gunshot injuries are encountered. Sino-orbital gunshot injuries are associated with trauma to surrounding facial and intracranial structures. Therefore, the management of these injuries may be complex and often requires an interdisciplinary approach.
Aims
To review the management of orbito-cranial gunshot injuries with retained sinonasal bullets.
Patients and methods
Three cases of orbito-cranial gunshot injuries with retained sinonasal bullets were reviewed. Two cases were complicated by cerebrospinal fluid leaks with ensuing meningitis. The retained bullets in all three cases were successfully removed via a transnasal endoscopic approach.
Conclusion
Sino-orbital gunshot injuries are rare, but may be encountered in areas with high frequencies of gun violence. An associated anterior skull base fracture with CSF rhinorrhoea poses a risk for meningitis and a low threshold for diagnosis and treatment of meningitis should be maintained. Retained bullets in the paranasal sinuses do not pose an immediate risk and may be removed on an elective basis.
Access options
Buy single article
Instant access to the full article PDF.
USD 39.95
Price excludes VAT (USA)
Tax calculation will be finalised during checkout.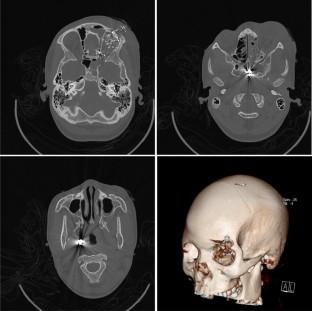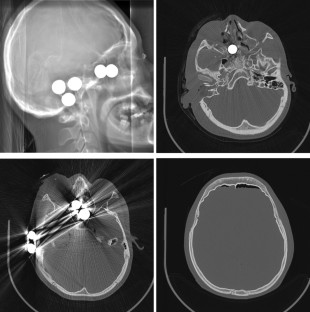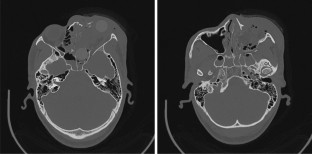 References
Collaborators TGB of D 2016 I. (2016) Global mortality from firearms, 1990–2016. JAMA. 320(8):792–814. https://doi.org/10.1001/jama.2018.10060

Fowler KA, Dahlberg LL, Haileyesus T, Annest JL (2015) Firearm injuries in the United States. Prev Med (Baltim) 79:5–14. https://doi.org/10.1016/j.ypmed.2015.06.002

Blissitt PA (2006) Care of the critically Ill patient with penetrating head injury. Crit Care Nurs Clin North Am 18(3):321–332. https://doi.org/10.1016/j.ccell.2006.05.006

Bowen DI, Magauran DM (1973) Ocular injuries caused by airgun pellets: an analysis of 105 cases. Br Med J 1(5849):333–337

Semple P, Domingo Z (2001) Craniocerebral gunshot injuries in South Africa—a suggested management strategy. South African Med J 91(2):141–145

Rosenfeld JV (2002) Gunshot injury to the head and spine. J Clin Neurosci 9(1):9–16

Martins RS, Siqueira MG, Santos MTS, Zanon-Collange N, Moraes OJS (2003) Prognostic factors and treatment of penetrating gunshot wounds to the head. Surg Neurol 60(2):98–104. https://doi.org/10.1016/S0090-3019(03)00302-1

Kuhn F, Morris R, Witherspoon CD, Heimann K, Jeffers JB, Treister G (1996) A standardized classification of ocular trauma. Ophthalmology 103(2):240–243. https://doi.org/10.1016/S0161-6420(96)30710-0

Pieramici DJ, Sternberg PJ, Aaberg S et al (1997) A system for classifying mechanical injuries of the eye (globe). Am J Ophthalmol 123(6):820–831. https://doi.org/10.1016/S0002-9394(14)71132-8

Sobaci G, Mutlu FM, Bayer A, Karagül S, Yildirim E (2000) Deadly weapon-related open-globe injuries: outcome assessment by the Ocular Trauma classification system. Am J Ophthalmol 129(1):47–53. https://doi.org/10.1016/S0002-9394(99)00254-8

Bodanapally UK, Sours C, Zhuo J, Shanmuganathan K (2015) Imaging of Traumatic brain injury. Radiol Clin North Am 53(4):695–715. https://doi.org/10.1016/j.rcl.2015.02.011

Currie S, Saleem N, Straiton JA, Macmullen-Price J, Warren DJ, Craven IJ (2016) Imaging assessment of traumatic brain injury. Postgrad Med J 92(1083):41–50

Dedini RD, Karacozoff AM, Shellock FG, Xu D, Mcclellan RT, Pekmezci M (2013) MRI issues for ballistic objects: information obtained. Spine J 13(7):815–822. https://doi.org/10.1016/j.spinee.2013.02.068

Dienstknecht T, Horst K, Sellei RM, Berner A, Nerlich M, Hardcastle TC (2012) Indications for bullet removal: overview of the literature, and clinical practice guidelines for European trauma surgeons. Eur J Trauma Emerg Surg 38(2):89–93. https://doi.org/10.1007/s00068-011-0170-x

Linden MA, Manton WI, Stewart RM, Thal ER, Feit H (1982) Lead poisoning from retained bullets. Pathogenesis, diagnosis, and management. Ann Surg 195(3):305–313

de Madureira PR, De Capitani EM, Vieira RJ, Sakuma AM, Toledo AS, Mello SM (2009) Lead poisoning due to gunshot bullet in contact with cerebrospinal fluid: case report. Sao Paulo Med J 127(1):52–54

Ben-David J, Fradis M, Podoshin L, Bartal AH (1981) Plasmacytoma arising in the vicinity of a foreign body in the nasal cavity. Laryngoscope 91(7):1150–1154. https://doi.org/10.1288/00005537-198107000-00013

Sifri ZC, Livingston DH, Lavery RF et al (2004) Value of repeat cranial computed axial tomography scanning in patients with minimal head injury. Am J Surg 187(3):338–342

Brinson GM, Senior BA, Yarbrough WG (2004) Endoscopic management of retained airgun projectiles in the paranasal sinuses. Otolaryngol Neck Surg 130(1):25–30. https://doi.org/10.1016/j.otohns.2003.07.010
Acknowledgments
No funding was received from the institution or commercial sources.
Ethics declarations
Conflict of interest
All authors declare that they have no conflict of interest.
Additional information
Publisher's Note
Springer Nature remains neutral with regard to jurisdictional claims in published maps and institutional affiliations.
About this article
Cite this article
Viljoen, G., Tromp, S., Goncalves, N. et al. Orbito-Cranial Gunshot Injuries with Retained Sinonasal Bullets. J. Maxillofac. Oral Surg. 20, 551–557 (2021). https://doi.org/10.1007/s12663-020-01365-4
Received:

Accepted:

Published:

Issue Date:

DOI: https://doi.org/10.1007/s12663-020-01365-4
Keywords