Abstract
Trial Design
The study was designed as an open label randomized comparative parallel group design with a 1:1 allocation ratio.
Methods
All consecutive patients reporting for small biopsies (incisional or excisional) who gave written informed consent were included in the study between October 2018 and October 2019. They were randomized into two groups, Group A and Group B both receiving intervention in the form of 2.5% EMLA cream and 2% Lignocaine with 1:80,000 Adrenaline injection respectively, to anaesthetise tissue for small mucosal biopsies in the oral cavity.
Results
EMLA was found to be as effective as lignocaine infiltration with a completely painless application and higher satisfaction for overall comfort during procedure. The duration required to achieve anaesthesia was however more. A particular subgroup of pathology was found to be completely resistant to anaesthesia by EMLA.
Conclusion
We recommend the use of EMLA as a sole anaesthetic in small mucosal biopsies and shavings in all patients. We suggest it as a higher and first line recommendation for anaesthesia in needle phobic patients and children.
This is a preview of subscription content,
to check access.
Access this article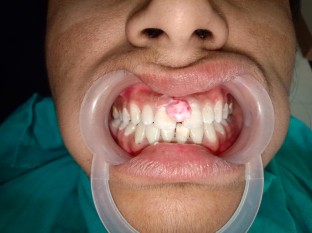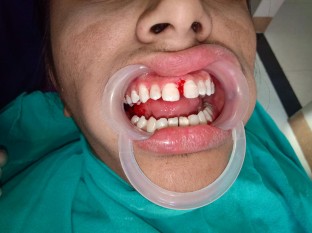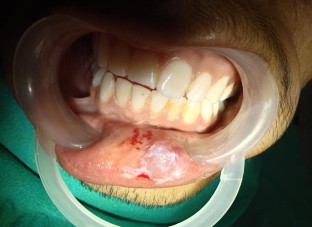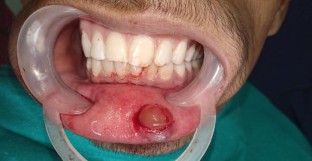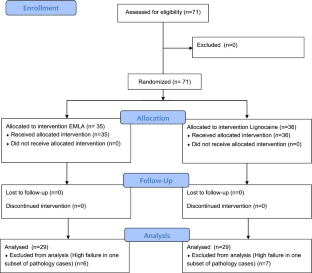 Similar content being viewed by others
Availability of Data and Material
Will be provided on request.
References
Armfield JM, Milgrom P, Armfield J (2011) A clinician guide to patients afraid of dental injections and numbness. SAAD Dig 27:33–39

Taddio A, Soin HK, Schuh S, Koren G, Scolnik D (2005) Liposomal lidocaine to improve procedural success rates and reduce procedural pain among children: a randomized controlled trial. Can Med Assoc J 172(13):1691–1695. https://doi.org/10.1503/cmaj.045316

Meechan JG (2008) Intraoral topical anesthesia. Periodontol 2000 46(1):56–79. https://doi.org/10.1111/j.1600-0757.2008.00231.x

Kincheloe JE, Mealiea WL, Mattison GD, Seib K (1991) Psychophysical measurement on pain perception after administration of a topical anesthetic. Quintessence Int 22(4):311–315

Martin MD, Ramsay DS, Whitney C, Fiset L, Weinstein P (1994) Topical anesthesia: differentiating the pharmacological and psychological contributions to efficacy. Anesth Prog 41(2):40–47

Vickers ER, Marzbani N, Gerzina TM, McLean C, Punnia-Moorthy A, Mather L (1997) Pharmacokinetics of EMLA cream 5% application to oral mucosa. Anesth Prog 44(1):32–37

Daneshkazemi A, Abrisham S, Daneshkazemi P, Davoudi A (2016) The efficacy of eutectic mixture of local anesthetics as a topical anesthetic agent used for dental procedures: a brief review. Anesth Essays Res 10(3):383. https://doi.org/10.4103/0259-1162.172342

Al-Melh MA, Andersson L (2007) Comparison of topical anesthetics (EMLA/Oraqix vs. benzocaine) on pain experienced during palatal needle injection. Oral Surg Oral Med Oral Pathol Oral Radiol Endodontol 103(5):16–20. https://doi.org/10.1016/j.tripleo.2006.11.033

Holst A, Evers H (1985) Experimental studies of new topical anaesthetics on the oral mucosa. Swed Dent J 9(5):185–191

Meechan JG (2000) Intra-oral topical anaesthetics: a review. J Dent 28(1):3–14. https://doi.org/10.1016/S0300-5712(99)00041-X

Kargar R, Aghazadeh-Nainie A, Khoddami-Vishteh HR (2016) Comparison of the effects of lidocaine prilocaine cream (EMLA) and lidocaine injection on reduction of perineal pain during perineum repair in normal vaginal delivery. J Fam Reprod Health 10(1):21–26

vd Berg GM, Lillieborg S, Stolz E (1992) Lidocaine/prilocaine cream (EMLA(R)) versus infiltration anaesthesia: a comparison of the analgesic efficacy for punch biopsy and electrocoagulation of genital warts in men. Genitourin Med 68(3):162–165. https://doi.org/10.1136/sti.68.3.162

Franz-Montan M et al (2015) Liposomal lidocaine gel for topical use at the oral mucosa: characterization, in vitro assays and in vivo anesthetic efficacy in humans. J Liposome Res 25(1):11–19. https://doi.org/10.3109/08982104.2014.911315

"(No Title)." [Online]. Available: https://www.accessdata.fda.gov/drugsatfda_docs/label/2000/19941s11lbl.pdf. Accessed 07 Feb 2020

Primosch RE, Rolland-Asensi G (2001) Comparison of topical EMLA 5% oral adhesive to benzocaine 20% on the pain experienced during palatal anesthetic infiltration in children. Pediatr Dent 23(1):11–14

McMillan AS, Walshaw D, Meechan JG (2000) The efficacy of Emla® and 5% lignocaine gel for anaesthesia of human gingival mucosa. Br J Oral Maxillofac Surg 38(1):58–61. https://doi.org/10.1054/bjom.1999.0143

Tadicherla S, Berman B (2006) Percutaneous dermal drug delivery for local pain control. Ther Clin Risk Manag 2(1):99–113

Squier CA (1991) The permeability of oral mucosa. Crit Rev Oral Biol Med 2(1):13–32. https://doi.org/10.1177/10454411910020010301

Lee D et al (2014) Expression of fatty acid binding protein 4 is involved in the cell growth of oral squamous cell carcinoma. Oncol Rep 31(3):1116–1120. https://doi.org/10.3892/or.2014.2975

Elias PM, Brown BE, Ziboh VA (1980) The permeability barrier in essential fatty acid deficiency: evidence for a direct role for linoleic acid in barrier function. J Investig Dermatol 74(4):230–233. https://doi.org/10.1111/1523-1747.ep12541775
Ethics declarations
Conflict of interest
None declared.
Consent to Participate
Taken from all participants.
Consent for Publication
Taken from all participants.
Code Availability
Not applicable.
Ethics Approval
Approved by Institutional Ethical Committee.
Additional information
Publisher's Note
Springer Nature remains neutral with regard to jurisdictional claims in published maps and institutional affiliations.
CTRI Registration Number: CTRI/2019/01/017102.
About this article
Cite this article
Chaudhry, K., Khatana, S., Kaur, A. et al. 2.5% EMLA Versus 2% Lignocaine with Adrenaline Injection in Small Oral Mucosal Biopsies: A Parallel Group Randomized Controlled Trial. J. Maxillofac. Oral Surg. 20, 619–627 (2021). https://doi.org/10.1007/s12663-020-01363-6
Received:

Accepted:

Published:

Issue Date:

DOI: https://doi.org/10.1007/s12663-020-01363-6
Keywords