Abstract
Purpose
The diagnostic criteria of allergic fungal rhinosinusitis focus on characteristic clinical, radiographic, histopathologic findings and immunologic characteristics of the disease. None of these are useful for a prompt outpatient diagnosis of the condition. No clear endoscopic signs (pathognomonic) of polyps in allergic fungal rhinosinusitis are mentioned in the literature.
Objective
The objective of this study is to describe and evaluate the sensitivity and specificity of an endoscopic sign the intrapolypoidal white particles for the diagnosis of allergic fungal rhinosinusitis in outpatient setting.
Methodology
In a descriptive, cross-sectional study, 46 chronic rhinosinusitis patients were examined by endoscope in the outpatient clinic. The endoscopic images of the nasal polypi were captured preoperatively. During endoscopic surgery, a sample of nasal polypi was taken for fungal staining and culture. Results of histopathology were compared to the impression of rhinologist on the images of nasal polypi captured preoperatively.
Results
The most common endoscopic features were the expansion of sinus (24, 52.2%) and intrapolypoidal white particles (50%). Intrapolypoidal white particles were calculated to have 85.71% sensitivity, 65.63% specificity, 52.17% positive predictive value, 91.3% negative predictive value and 71.74% diagnostic accuracy.
Conclusion
This study offers a new endoscopic sign, intrapolypoidal white particles for diagnosing allergic fungal rhinosinusitis.
Access options
Buy single article
Instant access to the full article PDF.
USD 39.95
Price excludes VAT (USA)
Tax calculation will be finalised during checkout.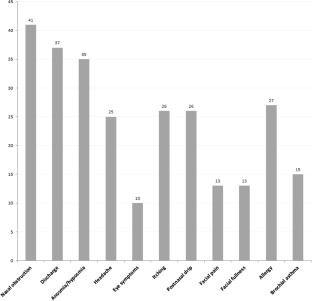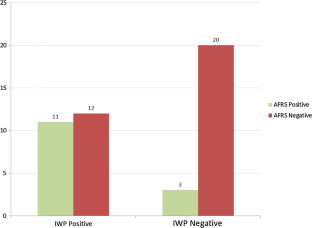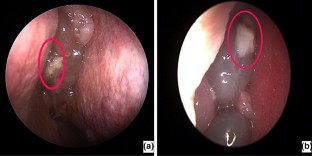 References
Hoyt AE, Borish L, Gurrola J, Payne S (2016) Allergic fungal rhinosinusitis. J Allergy Clin Immunol Pract 4:599–604. https://doi.org/10.1016/j.jaip.2016.03.010

Brescia G, Franz L, Alessandrini L, Parrino D, Barion U, Marioni G (2019) Prognostic role of blood eosinophil and basophil levels in allergic fungal rhinosinusitis (AFRS). Am J Otolaryngol 41(1):102301. https://doi.org/10.1016/j.amjoto.2019.102301(in press)

Dykewicz MS, Rodrigues JM, Slavin RG (2018) Allergic fungal rhinosinusitis. J Allergy Clin Immunol 142:341–351. https://doi.org/10.1016/j.jaci.2018.06.023

Rai G, Das S, Ansari MA, Singh PK, Gupta N, Sharma S et al (2018) Phenotypic and functional profile of Th17 and Treg cells in allergic fungal sinusitis. Int Immunopharmacol 57:55–61. https://doi.org/10.1016/j.intimp.2018.02.009

Singh V (2019) Fungal rhinosinusitis: unravelling the disease spectrum. J Maxillofac Oral Surg 18:164–179. https://doi.org/10.1007/s12663-018-01182-w

Marple BF (2001) Allergic fungal rhinosinusitis: current theories and management strategies. Laryngoscope 111(6):1006–1019

Azar S, Mansour B, Parivash K, Babak B (2011) Fungal rhinosinusitis in hospitalized patients in Khorramabad, Iran. MEJSR 7:387–391

Glass D, Amedee RG (2011) Allergic fungal rhinosinusitis: a review. Ochsner J 11:271–275

Khan A, Farman A, Din S, Khan N, Dawar A (2011) Frequency of allergic fungal chronic rhinosinusitis. Pak J Otolaryngol 27:12–14

Kamal MS, Ahmed KU, Humayun P, Atiq T, Hossain A, Rasel MA (2011) Association between allergic rhinitis and sino-nasal polyposis. Bangladesh J Otorhinolaryngol 17:117–120

Marcus S, Roland LT, DelGaudio JM, Wise SK (2018) The relationship between allergy and chronic rhinosinusitis. Laryngoscope Investig Otolaryngol 4(1):13–17. https://doi.org/10.1002/lio2.236

Manning SC, Merkel M, Kriesel K, Vuitch F, Marple B (1997) Computed tomography and magnetic resonance diagnosis of allergic fungal sinusitis. Laryngoscope 107:170–176

Banerji A, Piccirillo JF, Thawley SE, Levitt RG, Schechtman KB, Kramper MA et al (2007) Chronic rhinosinusitis patients with polyps or polypoid mucosa have a greater burden of illness. Am J Rhinol 21:19–26

Fandino M, Macdonald KI, Lee J, Witterick IJ (2013) The use of postoperative topical corticosteroids in chronic rhinosinusitis with nasal polyps: a systematic review and meta-analysis. Am J Rhinol Allergy 27:e146–e157

Bent JP, Kuhn FA (1994) Diagnosis of allergic fungal sinusitis. Otolaryngology–head and neck surgery. Otolaryngol Head Neck Surg 111:580–588

de Shazo RD, O'Brien M, Chapin K, Soto-Aguilar M, Gardner L, Swain R (1997) A new classification and diagnostic criteria for invasive fungal sinusitis. Arch Otolaryngol Head Neck Surg 123:1181–1188

Cody DT, Neel HB, Ferreiro JA, Roberts GD (1994) Allergic fungal sinusitis: the Mayo Clinic experience. Laryngoscope 104:1074–1079

Ponikau JU, Sherris DA, Kern EB, Homburger HA, Frigas E, Gaffey TA et al (1999) The diagnosis and incidence of allergic fungal sinusitis. Mayo Clin Proc 74:877–884

Dhiwakar M, Thakar A, Bahadur S, Sarkar C, Banerji U, Handa KK et al (2003) Preoperative diagnosis of allergic fungal sinusitis. Laryngoscope 113:688–694

Wise SK, Rogers GA, Ghegan MD et al (2009) Radiologic staging system for allergic fungal rhinosinusitis (AFRS). Otolaryngol Head Neck Surg 140:735–740

Dutre T, Al Dousary S, Zhang N, Bachert C (2013) Allergic fungal rhinosinusitis-more than a fungal disease? J Allergy Clin Immunol 132(2):4879.e1. https://doi.org/10.1016/j.jaci.2013.02.040

Marple BF (2006) Allergic fungal rhinosinusitis: a review of clinical manifestations and current treatment strategies. Med Mycol 44(Supplementary 1):S277–S284. https://doi.org/10.1080/13693780600778650

Ashour TA, Ashour R (2014) Prevalence of allergic fungal sinusitis in refractory chronic rhinosinusitis in Saudi Arabia. PAJR 4:57

Al-Dousary SH (2008) Allergic fungal sinusitis: radiological and microbiological features of 59 cases. Ann Saudi Med 28:17–21
Ethics declarations
Conflict of interest
All authors declare that they have no conflicts of interest.
Additional information
Publisher's Note
Springer Nature remains neutral with regard to jurisdictional claims in published maps and institutional affiliations.
About this article
Cite this article
Al-Qahtani, K., Altamimi, F.N., Al-Harbi, M.H. et al. The Evaluation of the Sensitivity and Specificity of a New Endoscopic Diagnostic Sign of Allergic Fungal Rhinosinusitis: Intrapolypoidal White Particles. J. Maxillofac. Oral Surg. 20, 612–618 (2021). https://doi.org/10.1007/s12663-020-01357-4
Received:

Accepted:

Published:

Issue Date:

DOI: https://doi.org/10.1007/s12663-020-01357-4
Keywords