Abstract
Introduction
Granulation tissue fills dead space, decreases the size of the wound and provides a barrier to external contaminants in wound healing. Sometimes it is impaired by the formation of extreme granulation tissue in conditions like casted or pressure-bandaged wound, accumulated inflammatory cells which result in the production of lactic acid generating low oxygen tension and low-pH environment. Exuberant granulation tissue, commonly known as proud flesh, is a frustrating complication of wound healing. It leads to the development of significant elevation above the wound edges, causing inhibition of epithelial migration. This is mostly seen in the equine species (horses).
Case report
A 37-year-old man met with a high-velocity road traffic accident was brought to the Subharti Hospital, Meerut. Examination revealed significant head injury with clinical evidence of pan-facial fracture. Ten days post-trauma, maxillofacial fixation was performed. Postoperatively, a small exuberant growth of soft tissue was noted over the upper lip region which gradually extended to all over the face. Considering the antiangiogenic property of gentian violet stain, it was applied over the lesion subsequently along with intravenous injections of hydrocortisone. The operator later observed regression in the nature of lesion, which is resolved subsequently at the end of 4 weeks.
Conclusion
Definitive management of proud flesh is variable and depends upon the phase of the wound, the extent of granulation tissue and the cosmetic outcome desired. The clinicians should have a thorough understanding of wound healing so that they can apply the specific treatment at a specific time in a specific manner.
Access options
Buy single article
Instant access to the full article PDF.
US$ 39.95
Tax calculation will be finalised during checkout.
Subscribe to journal
Immediate online access to all issues from 2019. Subscription will auto renew annually.
US$ 79
Tax calculation will be finalised during checkout.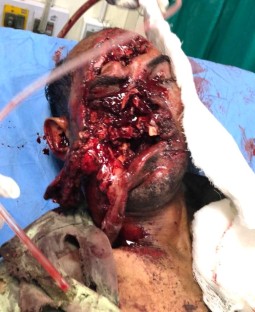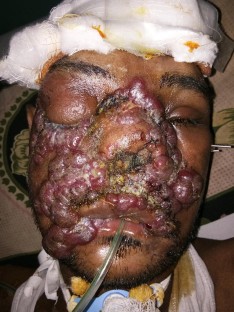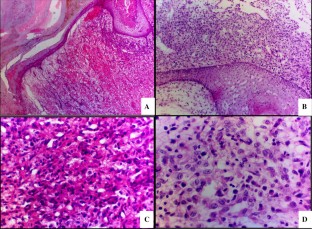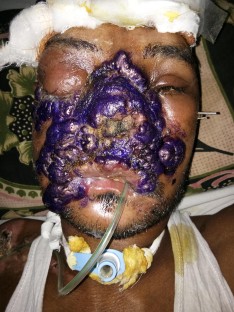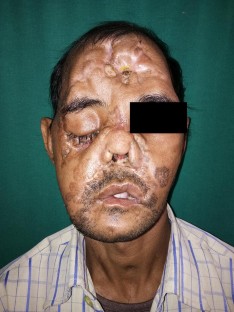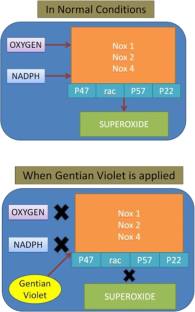 Abbreviations
EGT:

Exuberant granulation tissue

PF:

Proud flesh

βFGF:

Beta (β)-fibroblast growth factor

EGF:

Epidermal growth factor

TGF-α and TGF-β:

Transforming growth factor alpha and beta

IL-8:

Interleukin 8

PDGF:

Platelet derived growth factor

IGF-1:

Insulin-like growth factor 1

TNF-α:

Tumor necrosis factor alpha

IL-1:

Interleukin 1

bFGF:

Basic fibroblast growth factor

Ang-2:

Angiopoietin-2

FDA:

Food and Drug Administration
References
1.

Diegelmann RF, Evans MC (2004) Wound healing: an overview of acute, fibrotic and delayed healing. Front Biosci. 9(1):283–289

2.

Theoret CL, Barber SM, Moyana TN, Gordon JR (2001) Expression of transforming growth factor β1, β3, and basic fibroblast growth factor in full-thickness skin wounds of equine limbs and thorax. Vet Surg 30(3):269–277

3.

Bertone AL (1989) Management of exuberant granulation tissue. Vet Clin N Am Equine Pract 5(3):551–562

4.

Diegelmann RF, Cohen IK, Kaplan AM (1981) The role of macrophages in wound repair: a review. Plast Reconstr Surg 68(1):107–113

5.

Browder W, Williams D, Lucore P, Pretus H, Jones E, McNamee R (1988) Effect of enhanced macrophage function on early wound healing. Surgery 104(2):224–230

6.

Linares HA (1996) From wound to scar. Burns 22(5):339–352

7.

Hunt TK (1988) The physiology of wound healing. Ann Emerg Med 17(12):1265–1273

8.

Fretz PB, Martin GS, Jacobs KA, McIlwraith CW (1983) Treatment of exuberant granulation tissue in the horse evaluation of four methods. Vet Surg 12(3):137–140

9.

Maley AM, Arbiser JL (2013) Gentian violet: a 19th century drug re-emerges in the 21st century. Exp Dermatol 22(12):775–780

10.

Culp SJ, Mellick PW, Trotter RW, Greenlees KJ, Kodell RL, Beland FA (2006) Carcinogenicity of malachite green chloride and leucomalachite green in B6C3F1 mice and F344 rats. Food Chem Toxicol 44(8):1204–1212

11.

Littlefield NA, Blackwell BN, Hewitt CC, Gaylor DW (1985) Chronic toxicity and carcinogenicity studies of gentian violet in mice. Toxicol Sci 5(5):902–912

12.

Littlefield NA, Gaylor DW, Blackwell BN, Allen RR (1989) Chronic toxicity/carcinogenicity studies of sulphamethazine in B6C3F1 mice. Food Chem Toxicol 27(7):455–463

13.

Zhang X, Zheng Y, Fried LE, Du Y, Montano SJ, Sohn A, Lefkove B, Holmgren L, Arbiser JL, Holmgren A, Lu J (2011) Disruption of the mitochondrial thioredoxin system as a cell death mechanism of cationic triphenylmethanes. Free Radic Biol Med 50(7):811–820

14.

Berrios RL, Arbiser JL (2011) Effectiveness of gentian violet and similar products commonly used to treat pyodermas. Dermatol Clin 29(1):69–73

15.

Taguchi S, Saji M, Sakisaka M et al (1993) Methicillin-resistant Staphylococcus aureus kansen kyokusho chiryō-zai to shite no kakushu shikiso-zai no kōkin kōka ni kansuru kentō. Chemotherapy 41(9):935–940

16.

Nyst MJ, Perriens JH, Kimputu L et al (1992) Gentian violet, ketoconazole and nystatin in oropharyngeal and esophageal candidiasis in Zairian AIDS patients. Ann Soc Belg Med Trop 72:45–52
Funding
This paper did not receive any specific grant from funding agencies in the public, commercial or not-for-profit sectors.
Ethics declarations
Conflict of interest
The authors declare that they have no conflict of interest.
Informed Consent
Consent for publishing photographs has been taken from the patient.
Additional information
Publisher's Note
Springer Nature remains neutral with regard to jurisdictional claims in published maps and institutional affiliations.
About this article
Cite this article
Dubey, P., Bansal, V., Mowar, A. et al. Proud Flesh: a Complicated Wound Healing—Case Report and Review of Literature. J. Maxillofac. Oral Surg. (2020). https://doi.org/10.1007/s12663-020-01344-9
Received:

Accepted:

Published:
Keywords
Proud flesh

Complicated wound healing

Trauma

Case report

Hypergranulation tissue

Exuberant granulation tissue