Abstract
Necrotizing fasciitis is a rare rapidly progressive, devastating surgical emergency that results in necrosis of superficial fascia, and subcutaneous tissue. It most commonly affects the abdominal wall, extremities and perineum, while the involvement in the head and neck region is relatively rare. Here, we report a successfully treated case of necrotizing fasciitis of the craniofacial region caused by Mucor in an uncontrolled diabetic patient. Early diagnosis, early surgical intervention with radical excision of infected tissue, management of underlying predisposing medical condition and supportive therapy (antimicrobials, rehydration, proper rest and nutrition) can reduce the morbidity and mortality associated with this condition.
Access options
Buy single article
Instant access to the full article PDF.
USD 39.95
Price excludes VAT (USA)
Tax calculation will be finalised during checkout.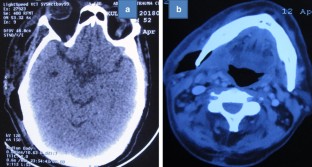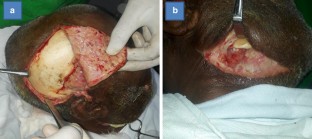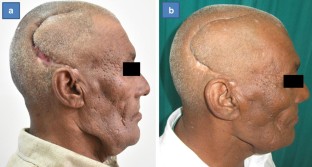 References
Lorenzini G, Picciotti M, Di Vece L, Pepponi E, Brindisi L et al (2011) Cervical necrotizing fasciitis of odontogenic origin involving the temporal region—a case report. J Craniomaxillofac Surg 39:570–573

Jeelani W, Kamal Y (2012) A case report of mucormycosis of faciotemporal region mimicking as bacterial necrotizing fasciitis. World J Dent 3:355–358

Prasanna Kumar S, Ravikumar A, Somu L (2014) Fungal necrotizing fasciitis of the head and neck in 3 patients with uncontrolled diabetes. Ear Nose Throat J 93:E18–E21

Wong CH, Khin LW, Heng KS, Tan KC, Low CO (2004) The LRINEC (laboratory risk indicator for necrotizing fasciitis) score: a tool for distinguishing necrotizing fasciitis from other soft tissue infections. Crit Care Med 32:1535–1541

El-Khani U, Nehme J, Darwish A et al (2012) Multifocal necrotising fasciitis: an overlooked entity? J Plast Reconstr Aesthet Surg 65:501–512

Anaya DA, Dellinger EP (2007) Necrotizing soft-tissue infection: diagnosis and management. Clin Infect Dis 44:705–710

Ballester DG, Gonzalez-Garcia R, Garcia CM, Ruiz-Laza L, Gil FM (2012) Mucormycosis of the head and neck: report of five cases with different presentations. J of CranioMaxilloFacial Surg 40:584–591

Somu L, Saravanam PK, Ravikumar A, Jose R (2015) Invasive fungal infection of head and neck: a retrospective study. J Evol Med Dental Sci 4:12125–12132

Metzen D, Böhm H, Zimmermann M, Reuther T, Kübler AC, Müller-Richter UD (2012) Mucormycosis of the head and neck. J Craniomaxillofac Surg 40:321–327

Bahr NC, Rolfes MA, Musubire A, Nabeta H, Williams DA, Rhein J et al (2014) Standardized electrolyte supplementation and fluid management improves survival during amphotericin therapy for cryptococcal meningitis in resource-limited settings. Open Forum Infect Dis 1(2):ofu070-ofu

Rai S, Yadav S, Kumar D, Kumar V, Rattan V (2016) Management of rhinomaxillary mucormycosis with posaconazole in immunocompetent patients. J Oral Biol Craniofacial Res 6:S5–S8
Ethics declarations
Conflict of interest
The authors declare that they have no conflict of interest.
Additional information
Publisher's Note
Springer Nature remains neutral with regard to jurisdictional claims in published maps and institutional affiliations.
About this article
Cite this article
Kumar, A., Rattan, V., Rai, S. et al. Fungal Necrotizing Fasciitis of Craniofacial Region: A Diagnostic Challenge. J. Maxillofac. Oral Surg. 20, 589–593 (2021). https://doi.org/10.1007/s12663-020-01342-x
Received:

Accepted:

Published:

Issue Date:

DOI: https://doi.org/10.1007/s12663-020-01342-x
Keywords