Abstract
Aim
Temporomandibular joint (TMJ) ankylosis is an extremely disabling affliction that causes problems in mastication, digestion, speech, appearance and hygiene. Surgery of TMJ ankylosis needs careful evaluation and planning to yield predictable results. Temporomandibular joint ankylosis is very common among young children. The aim of treatment is not only to treat the movement of the joint but also to prevent relapse.
Materials and Method
In this series, 18 cases of temporomandibular joint ankylosis were treated at our institute from January 2012 to January 2017 with osteoarthrectomy and interpositional arthroplasty. Patients were in the age range of 5–57 years, with 11 males and 7 females and including 8 unilateral and 10 bilateral cases. Duration of ankylosis ranged from less than 2 years to more than 6 years. Seven of the patients were secondarily taken up for correction of their deformities with either orthognathic surgery or distraction osteogenesis.
Results
Good mouth opening was achieved in all the patients with a mean follow-up period of 12 months. The early post-operative mouth opening ranged from 24 to 37 mm. The late post-operative mouth opening ranged from 20 to 33 mm. There was a stress on aggressive physiotherapy for a minimum of 6 months in all our patients.
Conclusion
Interpositional arthroplasty using vascularized temporalis fascia flap is a very reliable method to prevent recurrence of ankylosis, and it also avoids the disadvantages of alloplastic materials as well as nonvascularized autogenous tissues.
This is a preview of subscription content, log in to check access.
Access options
Buy single article
Instant access to the full article PDF.
US$ 39.95
Tax calculation will be finalised during checkout.
Subscribe to journal
Immediate online access to all issues from 2019. Subscription will auto renew annually.
US$ 99
Tax calculation will be finalised during checkout.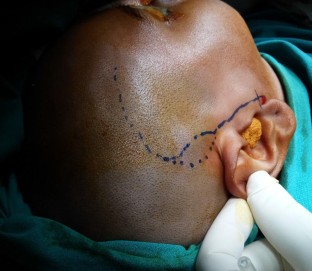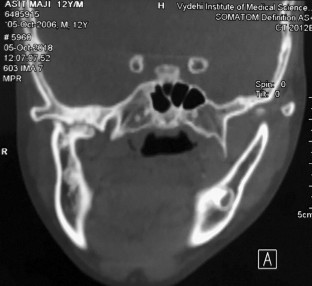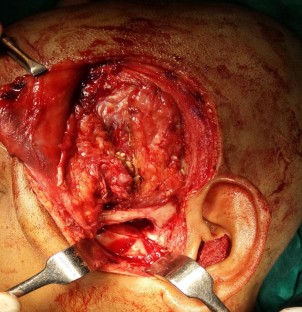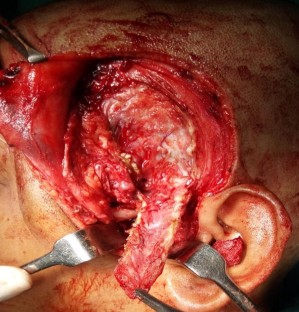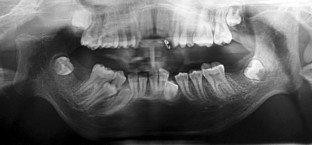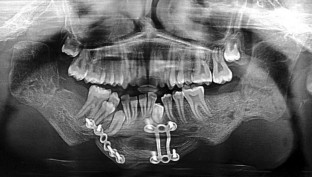 References
1.

Kazanjian Varaztad H (1955) Temporomandibular joint ankylosis with mandibular retrusion. Am J Surg 90(6):905–910

2.

He D, Yang C, Chen M, Zhang X, Qiu Y, Yang X, Li L, Fang B (2011) Traumatic temporomandibular joint ankylosis: our classification and treatment experience. J Oral Maxillofac Surg 69(6):1600–1607

3.

Bortoluzzi Marcelo Carlos, Sheffer MAR (2009) Treatment of temporomandibular joint ankylosis with gap arthroplasty and temporal muscle/fascia graft: a case report with five-year follow-up. Rev Odonto Cienc 24(3):315–318

4.

Guven O (2008) A clinical study on temporomandibular joint ankylosis in children. J Cranio facial Surg 19(5):1263–1269

5.

Karamese M, Duymaz A, Seyhan N, Keskin M, Tosun Z (2013) Management of temporomandibular joint ankylosis with temporalis fascia flap and fat graft. J Cranio Maxillo Fac Surg 41:789–793

6.

Bodra P, Sundi A (2017) Interposition arthroplasty using temporal fascia flap for temporomandibular joint ankylosis. Int J Contemp Med Res 4:2454–7379

7.

Laskin DM (1978) Role of the meniscus in the etiology of posttraumatic temporomandibular joint ankylosis. Int J Oral Surg 7:340

8.

Kaban LB, Perrott DH, Fisher K (1990) A protocol for management of temporomandibular joint ankylosis. J Oral Maxillofac Surg 48(11):1145–1151

9.

Rajgopal A, Banerjee PK, Baluria V, Sural A (1983) Temporomandibular joint ankylosis: a report of 15 cases. J Cranio Maxillofac Surg 11:37

10.

Moriconi ES, Popowich LD, Guernsey LH (1986) Alloplastic reconstruction of the temporomandibular joint. Dent Clin North Am 30(2):307–325

11.

Abul-Hassan S, Hussain Grace Von, Dras Ascher AMI, Robert D, Acland MD (1986) Surgical anatomy and blood supply of the fascial layers of the temporal region. Plast Reconstr Surg 77:17–28

12.

Mercuri LG (2015) Temporomandibular joint total joint replacement: TMJ TJR—a comprehensive reference for researchers, material scientists and surgeons. Springer, New York

13.

Andrade NN, Kalra R, Shetye SP (2012) New protocol to prevent TMJ reankylosis and potentially life threatening complications in triad patients. Int J Oral Maxillofac Surg 41:1495–1500

14.

Rao K, Kumar S, Kumar V, Singh AK, Bhatnagar SK (2004) The role of simultaneous gap arthroplasty and distraction osteogenesis in the management of temporo-mandibular joint ankylosis with mandibular deformity in children. J Cranio Maxillofac Surg 32:38–42
Ethics declarations
Conflict of interest
The authors declare that they have no conflict of interest.
Additional information
Publisher's Note
Springer Nature remains neutral with regard to jurisdictional claims in published maps and institutional affiliations.
About this article
Cite this article
Shivakotee, S., Menon, C.S., Sham, M.E. et al. TMJ Ankylosis Management: Our Experience. J. Maxillofac. Oral Surg. 19, 579–584 (2020). https://doi.org/10.1007/s12663-019-01293-y
Received:

Accepted:

Published:

Issue Date:
Keywords
Temporomandibular joint ankylosis

Temporalis fascia flap

Interpositional arthroplasty