This is a preview of subscription content, log in to check access.
Access options
Buy single article
Instant access to the full article PDF.
US$ 39.95
Price includes VAT for USA
Subscribe to journal
Immediate online access to all issues from 2019. Subscription will auto renew annually.
US$ 99
This is the net price. Taxes to be calculated in checkout.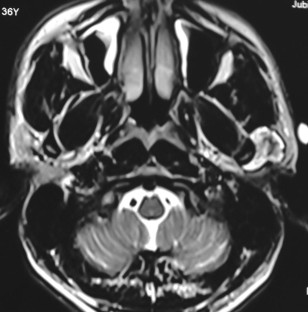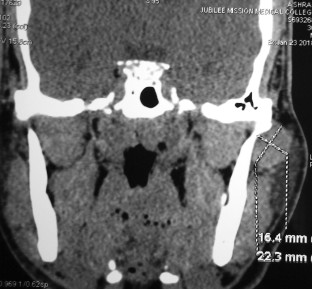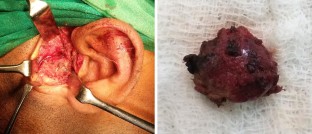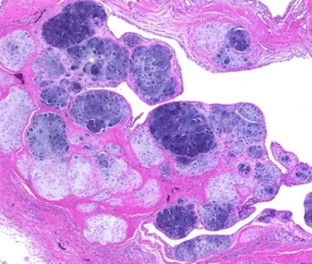 References
1.

Fuller E, Bharatha A, Yeung R, Kassel EE, Aviv RI, Howard P, Symons SP (2011) Case of the month #166: synovial chondromatosis of the temporal mandibular joint. Can Assoc Radiol J 62(2):151–153

2.

Guijarro-Martínez R, Torres MP, Mateo MM, García IS, Alba LM, Gimilio MEI et al (2011) Bilateral synovial chondromatosis of the temporomandibular joint. J Cranio Maxillofac Facial Surg 39:261–265

3.

Bonatti BDS, Patrocinio LG, Costa SAA, Costa JMC, Patrocinio JA (2008) Condromatose sinovial de articulac¸a˜o teˆmporo-mandibular. Rev Bras Otorrinolaringol 74(3):480

4.

Munk PL, Helms CA (1989) Temporomandibular joint synovial chondromatosis: CT manifestations. J Can Assoc Radiol 40:274–276

5.

Nitzan DW, Marmary Y et al (1991) The diagnostic value of computed tomography in temporomandibular joint synovial chondromatosis. Comput Med Imaging Graph 15:53–56

6.

Doran EA, Vogler JB, Angelillo JC (1989) Synovial chondromatosis of the temporo-mandibular joint diagnosed by magnetic resonance imaging. J Oral Maxillofac Surg 47:411–413

7.

Noyek AM, Holgate RC, Fireman SM, Rosen P, Pritzker KPH (1977) The radiological findings in synovial chondromatosis (chondrometaplasia) of the temporomandibular joint. J Otolaryngol 6:45–48

8.

Murphey MD, Vidal JA, Fanburg-Smith JC, Gajewski DA (2007) Imaging of synovial chondromatosis with radiologic-pathologic correlation. Radiographics 27:1465–1488

9.

Kunkel KA, Rochat MC (2008) A review of lameness attributable to the shoulder in the dog: part two. J Am Anim Hosp Assoc 44:163–170

10.

Shah SB, Ramanojam S, Gadre PK, Gadre KS (2011) Synovial chondromatosis of temporomandibular joint. Journey through 25 decades and a case report. J Oral Maxillofac Surg 69:2795–2814
Additional information
Publisher's Note
Springer Nature remains neutral with regard to jurisdictional claims in published maps and institutional affiliations.
About this article
Cite this article
Mathew, P., Tiwari, R.V.C. & Govindan, N.O. Temporomandibular Joint Synovial Chondromatosis Posing as Diagnostic Dilemma: A Case Report. J. Maxillofac. Oral Surg. 18, 543–546 (2019). https://doi.org/10.1007/s12663-019-01186-0
Received:

Accepted:

Published:

Issue Date: