Abstract
Introduction
Oral submucosal fibrosis (OSMF) is a chronic debilitating fibrotic disease of the oral cavity and is a serious health hazard in south Asia and, increasingly, the rest of the world. The molecular basis behind various treatment modalities to treat OSMF still remains unclear. In this study, we have investigated the in vitro ability of the buccal mucosal cells to reduce the proliferation of the fibroblasts of the fibrotic area in co-culture of cells and also at the molecular levels to reduce the level of connective tissue growth factor (CTGF) in the OSMF fibroblasts (SMF-F).
Materials and Methods
The study compares isolation, morphological and proliferation kinetics of SMF-F and BMF cells with and without co-culturing with BMEs. In addition, we have compared the mRNA expression levels of CTGF in SMF-F co-cultured BME and non-co-cultured SMF-F cells using validated real-time quantitative PCR (RT-qPCR) method.
Results
The basic morphological characteristics of SMF-F were similar to BMF, but the former cells had higher proliferation rate in early passages compared to late passage state. We also observed that the CTGF expression levels in SMF-F under co-culture conditions of BME were consistently and significantly downregulated in all four different SMF-F-derived cells from four different patients.
Conclusion
Rapid proliferation and collagen synthesis in SMF-F as against BMF cells are the factors that confirm the innate nature of fibrosis fibroblasts (SMF-F). Further, the CTGF expression level in SMF-F was significantly suppressed by BME in co-culture conditions against controls (BMF). Considered together, this suggests that the cell therapeutic candidate of BME could be used in treating OSMF.
Access options
Buy single article
Instant access to the full article PDF.
USD 39.95
Price includes VAT (USA)
Tax calculation will be finalised during checkout.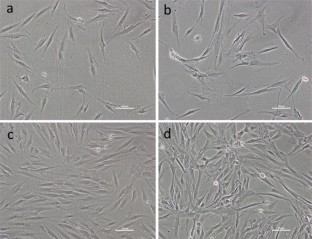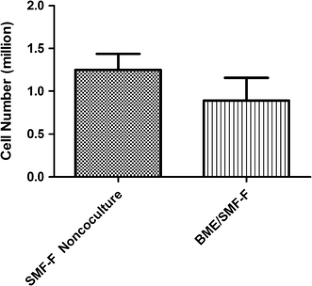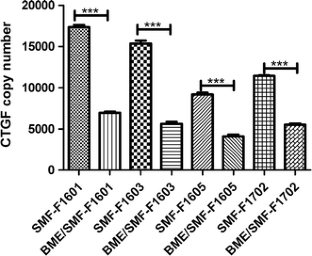 References
1.

Shirani S, Kargahi N, Razavi SM, Homayoni S (2014) Epithelial dysplasia in oral cavity. Iran J Med Sci 39:406–417

2.

Surej KL, Kurien NM, Sakkir N (2010) Buccal fat pad reconstruction for oral submucous fibrosis. Natl J Maxillofac Surg 1:164–167

3.

Gupta SK, Rana AS, Gupta D, Jain G, Kalra P (2010) Unusual causes of reduced mouth opening and it's suitable surgical management: our experience. Natl J Maxillofac Surg 1:86–90

4.

Bari S, Metgud R, Vyas Z, Tak A (2017) An update on studies on etiological factors, disease progression, and malignant transformation in oral submucous fibrosis. J Cancer Res Ther 13:399–405

5.

Chiu CJ, Chang ML, Chiang CP, Hahn LJ, Hsieh LL, Chen CJ (2002) Interaction of collagen-related genes and susceptibility to betel quid-induced oral submucous fibrosis. Cancer Epidemiol Biomarkers Prev 11:646–653

6.

Cox SC, Walker DM (1996) Oral submucous fibrosis: a review. Aust Dent J 41:294–299

7.

Gupta PC, Warnakulasuriya S (2002) Global epidemiology of areca nut usage. Addict Biol 7:77–83

8.

Prabhu RV, Prabhu V, Chatra L, Shenai P, Suvarna N, Dandekeri S (2014) Areca nut and its role in oral submucous fibrosis. J Clin Exp Dent. 6:e569–e575

9.

Yang SF, Hsieh YS, Tsai CH, Chen YJ, Chang YC (2007) Increased plasminogen activator inhibitor-1/tissue type plasminogen activator ratio in oral submucous fibrosis. Oral Dis 13:234–238

10.

Khan I, Kumar N, Pant I, Narra S, Kondaiah P (2012) Activation of TGF-beta pathway by areca nut constituents: a possible cause of oral submucous fibrosis. PLoS ONE 7:e51806

11.

Ihn H (2002) Pathogenesis of fibrosis: role of TGF-beta and CTGF. Curr Opin Rheumatol 14:681–685

12.

Yuan H, Kaneko T, Matsuo M (1995) Relevance of oxidative stress to the limited replicative capacity of cultured human diploid cells: the limit of cumulative population doublings increases under low concentrations of oxygen and decreases in response to aminotriazole. Mech Ageing Devel 81:159–168

13.

Gottipamula S, Saraswat SK, Sridhar KN (2017) Comparative study of isolation, expansion and characterization of epithelial cells. Cytotherapy 19:263–271

14.

Arakeri G, Rai KK, Hunasgi S, Merkx MAW, Gao S, Brennan PA (2017) Oral submucous fibrosis: an update on current theories of pathogenesis. J Oral Pathol Med 46:406–412

15.

Arakeri G, Rai KK, Boraks G, Patil SG, Aljabab AS, Merkx MAW et al (2017) Current protocols in the management of oral submucous fibrosis: an update. J Oral Pathol Med 46:418–423

16.

Chole RH, Gondivkar SM, Gadbail AR, Balsaraf S, Chaudhary S, Dhore SV et al (2012) Review of drug treatment of oral submucous fibrosis. Oral Oncol 48:393–398

17.

Pitiyage GN, Slijepcevic P, Gabrani A, Chianea YG, Lim KP, Prime SS et al (2011) Senescent mesenchymal cells accumulate in human fibrosis by a telomere-independent mechanism and ameliorate fibrosis through matrix metalloproteinases. J Pathol 223:604–617

18.

Mathew DG, Skariah KS, Ranganathan K (2011) Proliferative and morphologic characterization of buccal mucosal fibroblasts in areca nut chewers: a cell culture study. Indian J Dent Res 22:879

19.

Rehman A, Ali S, Lone MA, Atif M, Hassona Y, Prime SS et al (2016) Areca nut alkaloids induce irreparable DNA damage and senescence in fibroblasts and may create a favourable environment for tumour progression. J Oral Pathol Med 45:365–372

20.

Abrahams AC, Habib SM, Dendooven A, Riser BL, van der Veer JW, Toorop RJ et al (2014) Patients with encapsulating peritoneal sclerosis have increased peritoneal expression of connective tissue growth factor (CCN2), transforming growth factor-beta1, and vascular endothelial growth factor. PLoS ONE 9:e112050. https://doi.org/10.1371/journal.pone.0112050

21.

Li Y, Jian Z, Yang ZY, Chen L, Wang XF, Ma RY et al (2013) Increased expression of connective tissue growth factor and transforming growth factor-beta-1 in atrial myocardium of patients with chronic atrial fibrillation. Cardiology 124:233–240

22.

Meng YH, Tian C, Liu L, Wang L, Chang Q (2014) Elevated expression of connective tissue growth factor, osteopontin and increased collagen content in human ascending thoracic aortic aneurysms. Vascular. 22:20–27

23.

Mize TW, Sundararaj KP, Leite RS, Huang Y (2015) Increased and correlated expression of connective tissue growth factor and transforming growth factor beta 1 in surgically removed periodontal tissues with chronic periodontitis. J Periodontal Res 50:315–319

24.

Zhang P, Shi M, Wei Q, Wang K, Li X, Li H et al (2008) Increased expression of connective tissue growth factor in patients with urethral stricture. Tohoku J Exp Med 215:199–206

25.

Nath N, Saraswat SK, Jain S, Koteshwar S (2015) Inhibition of proliferation and migration of stricture fibroblasts by epithelial cell-conditioned media. Indian J Urol 31:111–115

26.

Gottipamula S, Ashwin K, Saraswat K, Sundarrajan S, Das M (2017) Co-culture of Buccal Mucosal Epithelial Cells Downregulate CTGF Expression in Urethral Stricture Fibroblasts. J Stem Cells Clin Pract 1:8–11

27.

Werner S, Krieg T, Smola H (2007) Keratinocyte-fibroblast interactions in wound healing. J Invest Dermatol 127:998–1008
Acknowledgement
SRTE is fully supported by Sri Sringeri Sharada Peetam.
Ethics declarations
Conflict of interest
The author discloses no conflict of interest.
About this article
Cite this article
Gottipamula, S., Sundarrajan, S., Moorthy, A. et al. Buccal Mucosal Epithelial Cells Downregulate CTGF Expression in Buccal Submucosal Fibrosis Fibroblasts. J. Maxillofac. Oral Surg. 17, 254–259 (2018). https://doi.org/10.1007/s12663-017-1056-1
Received:

Accepted:

Published:

Issue Date:
Keywords
Buccal epithelial cells

Connective tissue growth factor

Fibroblasts

Oral submucosal fibrosis