Abstract
Introduction
Orthognathic surgery involves making several osteotomies that lead to varying degrees of post-operative swelling. The use of KT may be beneficial for postoperative treatment after head and neck surgery, accelerating drainage of tissue reaction or haemorrhages. The goal of this study was to find out if the application of KT prevents or improves swelling, pain and trismus after orthognathic surgery, improving patients' postoperative quality of life.
Materials and Methods
In this double-blinded, randomized, control trial, 24 patients in whom bimaxillary orthognathic surgery was indicated, were included. Before surgery each patient alternatively was randomly included in the study group (treated with K-Taping® and corticosteroid) or in the control group (treated with corticosteroid). In the present study a MakerBot® Digitizer 3D™ was used to assess accurate volume measurements. All swelling measurements were expressed as total 3-D area of the landmarks (cm2 ) in T0 pre-operative, T1 fourth day after surgery.
Results
The differences T0–T1 are highly significant (p < 0.01) between group 1 or study group (treated with K-taping®) and group 2 (control group).
Discussion
The use of KT appears promising, because it is simple to carry out, less traumatic, economical, can be performed everywhere in the world, free from side effects on the body. Even when swelling persists, KT gives patients the impression of a minor swelling detracting them from their pain and morbidity. Further studies have to be performed to find out if KT can reduce or replace the need for additional medications such as the use of steroids.
This is a preview of subscription content, log in to check access.
Access options
Buy single article
Instant access to the full article PDF.
US$ 39.95
Price includes VAT for USA
Subscribe to journal
Immediate online access to all issues from 2019. Subscription will auto renew annually.
US$ 99
This is the net price. Taxes to be calculated in checkout.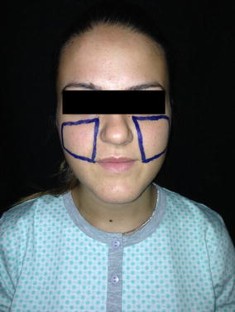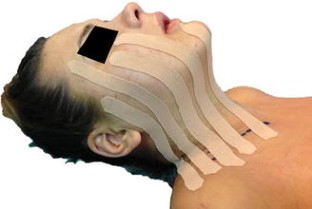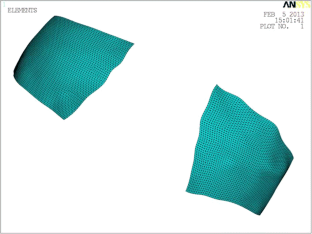 References
1.

Kim K, Brar P, Jakubowski J, Kaltman S, Lopez E (2009) The use of corticosteroids and nonsteroidal antiinflammatory medication for the management of pain and inflammation after third molar surgery: a review of the literature. Oral Surg Oral Med Oral Pathol Oral Radiol Endod 107:630–640

2.

Aznar-Arasa L, Harutunian K, Figueiredo R, Valmaseda-Castellon E, Gay-Escoda C (2012) Effect of preoperative ibuprofen on pain and swelling after lower third molar removal: a randomized controlled trial. Int J Oral Maxillofac Surg 41:1005–1009

3.

Thoren H, Snall J, Kormi E, Numminen L, Fah R, Iizuka T et al (2009) Does perioperative glucocorticosteroid treatment correlate with disturbance in surgical wound healing after treatment of facial fractures? A retrospective study. J Oral Maxillofac Surg 67:1884–1888

4.

Knepil GJ, Loukota RA (2010) Outcomes of prophylactic antibiotics following surgery for zygomatic bone fractures. J Craniomaxillofac Surg 38:131–133

5.

Al-Khateeb TH, Nusair Y (2008) Effect of the proteolytic enzyme serrapeptase on swelling, pain and trismus after surgical extraction of mandibular third molars. Int J Oral Maxillofac Surg 37:264–268

6.

Markovic A, Todorovic L (2007) Effectiveness of dexamethasone and low-power laser in minimizing oedema after third molar surgery: a clinical trial. Int J Oral Maxillofac Surg 36:226–229

7.

Rana M, Gellrich NC, von See C, Weiskopf C, Gerressen M, Ghassemi A et al (2013) 3D evaluation of postoperative swelling in treatment of bilateral mandibular fractures using 2 different cooling therapy methods: a randomized observer blind prospective study. J Craniomaxillofac Surg 41(1):17–23

8.

Szolnoky G, Szendi-Horvath K, Seres L, Boda K, Kemeny L (2007) Manual lymph drainage efficiently reduces postoperative facial swelling and discomfort after removal of impacted third molars. Lymphology 40:138–142

9.

Williams S, Whatman C, Hume PA, Sheerin K (2012) Kinesio taping in treatment and prevention of sports injuries: a meta-analysis of the evidence for its effectiveness. Sports Med 42:153–164

10.

Chou YH, Li SH, Liao SF, Tang HW (2012) Case report: manual lymphatic drainage and kinesio taping in the secondary malignant breast cancer-related lymphedema in an arm with arteriovenous (A-V) fistula for hemodialysis. Am J Hosp Palliat Care, PMID: 22879520

11.

Kase K, Hashimoto T, Tomoki O (1996) Development of kinesio taping perfect manual. Kinesio Taping Association

12.

Kase K, Wallis J, Kase T (2003) Clinical therapeutic applications of the kinesio taping method, 2nd edn. Ken Ikai Co., Ltd, Tokyo

13.

Bjorn H, Lundqvist C, Hjelmstrom P (1954) A photogrammetric method of measuring the volume of facial swellings. J Dent Res 33:295–308

14.

Milles M, Desjardins PJ, Pawel HE (1985) The facial plethysmograph: a new instrument to measure facial swelling volumetrically. J Oral Maxillofac Surg 43:346–352

15.

Van Gool AV, Ten Bosch JJ, Boering G (1975) A photographic method of assessing swelling following third molar removal. Int J Oral Surg 4:121–129

16.

Calderoni DR, Guidi Mde C, Kharmandayan P, Nunes PH (2011) Seven-year institutional experience in the surgical treatment of orbito-zygomatic fractures. J Craniomaxillofac Surg 39:593–599

17.

Osunde OD, Adebola RA, Omeje UK (2011) Management of inflammatory complications in third molar surgery: a review of the literature. Afr Health Sci 11:530–537

18.

Assimes TL, Lessard ML (1999) The use of perioperative corticosteroids in craniomaxillofacial surgery. Plast Reconstr Surg 103:313–321

19.

Buyukkurt MC, Gungormus M, Kaya O (2006) The effect of a single dose prednisolone with and without diclofenac on pain, trismus, and swelling after removal of mandibular third molars. J Oral Maxillofac Surg 64:1761–1766

20.

Grossi GB, Maiorana C, Garramone RA, Borgonovo A, Beretta M, Farronato D et al (2007) Effect of submucosal injection of dexamethasone on postoperative discomfort after third molar surgery: a prospective study. J Oral Maxillofac Surg 65:2218–2226

21.

Gassner R, Tuli T, Hachl O, Rudisch A, Ulmer H (2003) Cranio-maxillofacial trauma: a 10 year review of 9543 cases with 21,067 injuries. J Craniomaxillofac Surg 31:51–61

22.

Tsai HJ, Hung HC, Yang JL, Huang CS, Tsauo JY (2009) Could kinesio tape replace the bandage in decongestive lymphatic therapy for breast-cancer-related lymphedema? A pilot study. Support Care Cancer 17:1353–1360

23.

Ristow O et al (2013) Influence of kinesiologic tape on postoperative swelling, pain and trismus after zygomatico-orbital fractures. J Craniomaxillofacial Surg 42(5):469–476

24.

Shim JY, Lee HR, Lee DC (1993) The use of elastic adhesive tape to promote lymphatic flow in the rabbit hind leg. Yonsei Med 44:1045–1052

25.

Gonzalez-Iglesias J, Fernandez-de-Las-Penas C, Cleland JA, Huijbregts P, Del Rosario Gutierrez-Vega M (2009) Short-term effects of cervical kinesio taping on pain and cervical range of motion in patients with acute whiplash injury: a randomized clinical trial. J Orthop Sports Phys Ther 39:515–521

26.

Thelen MD, Dauber JA, Stoneman PD (2008) The clinical efficacy of kinesio tape for shoulder pain: a randomized, double-blinded, clinical trial. J Orthop Sports Phys Ther 38:389–395
Acknowledgments
There was no financial support for this study by any company.
Conflict of interest
We declare that we have no conflicts of interest.
About this article
Cite this article
Tozzi, U., Santagata, M., Sellitto, A. et al. Influence of Kinesiologic Tape on Post-operative Swelling After Orthognathic Surgery. J. Maxillofac. Oral Surg. 15, 52–58 (2016). https://doi.org/10.1007/s12663-015-0787-0
Received:

Accepted:

Published:

Issue Date:
Keywords
Orthognathic surgery

Kinesiotape

Edema

Digitizer 3-D