Abstract
Introduction
Odontogenic myxoma (OM) is a benign neoplasm of mesenchymal origin with growth characteristics, clinical behaviour and radiographic presentation similar to those of ameloblastoma. It is an intraosseous neoplasm characterized by stellate and spindleshaped cells embedded in loose myxoid or mucoid extracellular matrix. Although sometimes bony islands that represent residual trabeculae are found throughout the lesion, the formation of osteocement-like calcified spherules within the tumour is an extremely rare phenomenon.
Review
We report a very rare case of an OM of the left maxilla exhibiting osteo-cementous metaplasia within the substance of the tumour and beyond the facial skeleton, in the nasopharynx. A review of all four similar cases previously reported in the literature is also presented.
Conclusion
Whether or not this property to produce significant amounts of bone can be associated with a different biological behavior for this specific variant of OM remains to be proved with the study of more similar cases.
Access options
Buy single article
Instant access to the full article PDF.
US$ 39.95
Tax calculation will be finalised during checkout.
Subscribe to journal
Immediate online access to all issues from 2019. Subscription will auto renew annually.
US$ 79
Tax calculation will be finalised during checkout.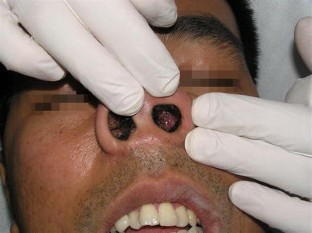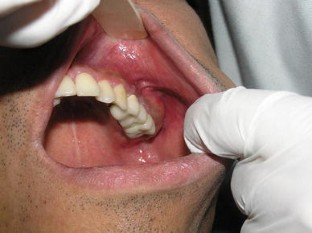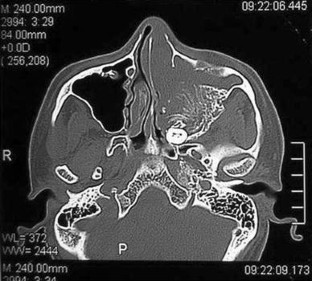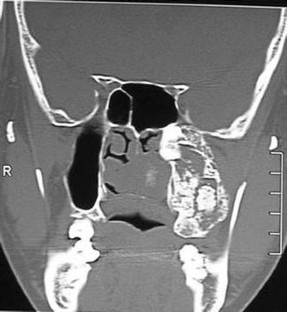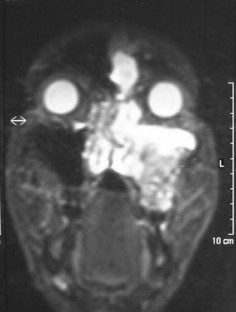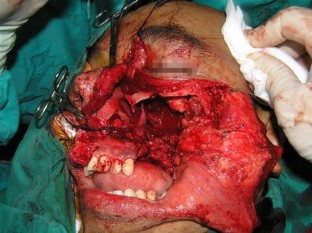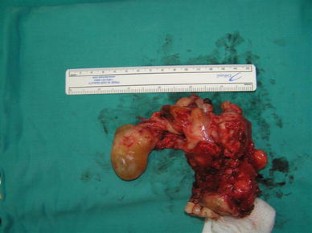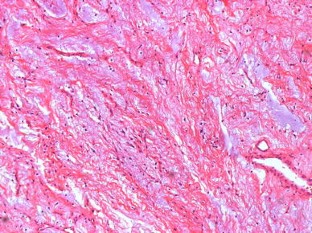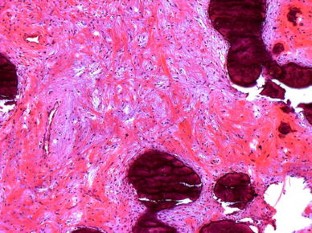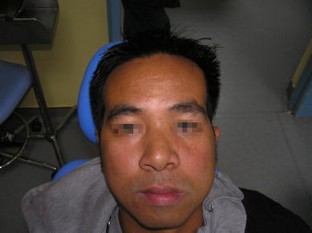 References
1.

Marx RE, Stern D (2002) Odontogenic tumors: hamartomas and neoplasms. In: Stern D, Marx RE (eds) Oral and maxillofacial pathology: a rationale for diagnosis and treatment. Quintessence Publishing, Illinois, pp 668–670

2.

Barnes L, Eveson JW, Reichart P, Sidransky D (2005) WHO classification of tumours: pathology and genetics of head and neck tumours. IARC Press, Lyon

3.

Osterdock RJ, Greene S, Mascott CR, Amedee R, Crawford BE (2001) Primary myxoma of the temporal bone in a 17-year-old boy: case report. Neurosurgery 48(4):945–947

4.

Sundaram M, Janney C, McDonald DJ (2000) Myxoma of the humerus: an exceptional site of origin. Skeletal Radiol 29(1):57–60

5.

Regezi JA, Sciubba JJ, Jordan RCK (2008) Odontogenic Tumors. In: Regezi JA, Sciubba JJ, Jordan RCK (eds) Oral pathology, clinical pathologic correlations vol 2, 5th edn. Elsevier, Philadelphia, pp 814–818

6.

Gnepp DR (2009) Odontogenic Cysts and Tumors. In: Gnepp DR (ed) Diagnostic surgical pathology of the head and neck, 2nd edn. Elsevier, Philadelphia, pp 829–831

7.

Neville BW, Damm DD, White DH (eds) (2003) Colour atlas of clinical pathology, 2nd edn. BC Decker Inc, Hamilton

8.

Cardesa A, Slootweg PJ (eds) (2006) Pathology of the head and neck. Springer, Heidelberg

9.

Lin YL, Basile JR (2010) A case of odontogenic myxoma with unusual histological features mimicking a fibro-osseous process. Head Neck Pathol 4:253–256

10.

Oygür T, Dolanmaz D, Tokman B, Bayraktar S (2001) Odontogenic myxoma containing osteocement-like spheroid bodies: report of a case with an unusual histopathological feature. J Oral Pathol Med 30:504–506

11.

Stout AP (1948) Myxoma, the tumor of primitive mesenchyme. Ann Surg 127:706–719

12.

Simon EN, Merkx MA, Vuhahula E, Ngassapa D, Stoelinga PJW (2004) Odontogenic myxoma: a clinicopathological study of 33 cases. Int J Oral Maxillofac Surg 33:333–337

13.

Schmidt-Westhausen A, Becker J, Schuppan D, Burkhardt A, Reichart PA (1994) Odontogenic myxoma-characterisation of the extracellular matrix (ECM) of the tumour stroma. Eur J Cancer B Oral Oncol 30B:377–380

14.

Slootweg PJ, van den Bos T, Straks W (1985) Glycosaminoglycans in myxoma of the jaw: a biochemical study. J Oral Pathol 14:299–306

15.

Lo Muzio L, Nocini P, Favia G, Procaccini M, Mignogna MD (1996) Odontogenic myxoma of the jaws: a clinical, radiologic, immunohistochemical, and ultrastructural study. Oral Surg Oral Med Oral Pathol Oral Radiol Endod 82:426–433

16.

Noffke CEE, Raubenheimer EJ, Chabikuli NJ, Bouckaert MMR (2007) Odontogenic myxoma: review of the literature and report of 30 cases from South Africa. Oral Surg Oral Med Oral Pathol Oral Radiol Endod 104:101–109

17.

Rennie JS, MacDonald DG, Critchlow HA (1985) Unusual myxomatous odontogenic tumour with calcification. Int J Oral Surg 14:307–310

18.

Odell EW, Morgan PR (eds) (1998) Biopsy pathology of the oral tissues. Chapman & Hall Medical, London

19.

Makek M (1983) Clinical pathology of fibro-osteo-cemental lesions. In: Makek M (ed) The cranio-facial and jaw bones. S. Karger, Basel, p 100

20.

Lahey E, Woo SB, Park HK (2013) Odontogenic myxoma with diffuse calcifications: a case report and review of the literature. Head Neck Pathol. 7(1):97–102

21.

Rocha AC, Gaujac C, Ceccheti MM, Amato-Filho G, Machado GG (2009) Treatment of recurrent mandibular myxoma by curettage and cryotherapy after thirty years. Clinics (Sao Paulo) 64(2):149–152
About this article
Cite this article
Rallis, G., Dais, P., Kostakis, G. et al. Osteo-cementum Producing Odontogenic Myxomas. A Literature Review of a Distinctive Variant. J. Maxillofac. Oral Surg. 14, 176–181 (2015). https://doi.org/10.1007/s12663-014-0645-5
Received:

Accepted:

Published:

Issue Date:
Keywords
Odontogenic myxoma

Osteo-cementum metaplasia

Ossifying tumours