Abstract
This study focuses on the rally length and the impact of the serve, i. e. the winning probability when serving, in elite para table tennis (class 1–10) to provide a better insight in the task characteristics of para table tennis. The influences of sex and the level of impairment and their possible interactions are studied. Matches (n = 227) of elite para table tennis players (class 1–10) ranked in the top 20 of the world ranking lists in their class were analysed. The results of this study revealed a significant main effect of sex with small effect sizes in the three-factorial model and medium to large effect sizes in the individual comparisons on the rally length and the winning probabilities directly from service and first attack. Moreover, an interaction effect was also found of sex and sitting/standing for the same outcomes with small (winning probabilities) to medium (rally length) effect sizes. Finally, the severity of class 1 affected these outcomes significantly with large effect sizes, when comparing the outcomes of this class to the ones of the other sitting classes in male players. In conclusion, due to shorter rallies and a high direct impact of the serve for all female sitting players and for male sitting and standing para players with the highest level of impairments, serve and especially receive training should be an important part of the training for these para table tennis players.
Zusammenfassung
In der vorliegenden Studie wurden die Länge der Ballwechsel und die Bedeutung des Aufschlags, genauer die Gewinnwahrscheinlichkeit bei eigenem Aufschlag, im Paratischtennis auf Hochleistungsebene (Klasse 1–10) untersucht, um die Anforderungsmerkmale in diesem Sport besser zu verstehen. Die Einflüsse des Geschlechts und des Beeinträchtigungsgrads sowie deren mögliche Wechselwirkungen wurden analysiert. Spiele (n = 227) von Spitzensportlern im Paratischtennis (Klasse 1–10), die unter den Top 20 der Weltrangliste in ihrer Klasse rangierten, wurden berücksichtigt. Die Untersuchungen zeigten einen signifikanten Haupteffekt des Geschlechts mit geringen Effektgrößen im dreifaktoriellen Modell und moderaten bis hohen Effektgrößen in den Einzelvergleichen auf die Ballwechsellänge und die Gewinnwahrscheinlichkeiten direkt nach Aufschlag und erstem Angriff. Des Weiteren wurde eine Wechselwirkung von Geschlecht und Sitzen/Stehen für dieselben Ergebnisparameter mit geringen (Gewinnwahrscheinlichkeit) und moderaten (Ballwechsellänge) Effektgrößen gefunden. Zuletzt beeinflusste der Schweregrad in Klasse 1 diese Ergebnisparameter signifikant mit hohen Effektgrößen, wenn die Ergebnisparameter dieser Klasse mit denen der anderen sitzenden Klassen bei Männern verglichen wurden. Bedingt durch kürzere Ballwechsel und einen stärkeren direkten Einfluss des Aufschlags bei allen sitzenden Spielerinnen sowie bei sitzenden oder stehenden Spielern mit dem höchsten Grad der Beeinträchtigung sollten Aufschlag- und insbesondere Annahmeübungen einen wichtigen Bestandteil des Trainings dieser Gruppen von Paratischtennisspielern ausmachen.
Access options
Buy single article
Instant access to the full article PDF.
USD 39.95
Price excludes VAT (USA)
Tax calculation will be finalised during checkout.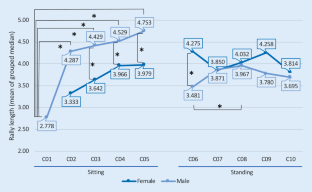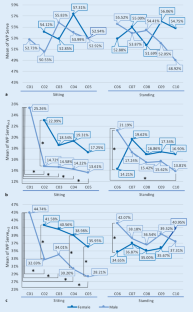 References
Blanca, M., Alarcón, R., Arnau, J., Bono, R., & Bendayan, R. (2017). Non-normal data: Is ANOVA still a valid option? Psicothema, 29(4), 552–557. https://doi.org/10.7334/psicothema2016.383.

Blauwet, C., & Willick, S. E. (2012). The Paralympic Movement: Using sports to promote health, disability rights, and social integration for athletes with disabilities. PM&R, 4(11), 851–856. https://doi.org/10.1016/j.pmrj.2012.08.015.

Bortz, J., & Schuster, C. (2010). Statistik für Human- und Sozialwissenschaftler (7th edn.). Berlin, Heidelberg: Springer.

Cohen, J. (1988). Statistical power analysis for the behavioral sciences. Hillsdale: Lawrence Erlbaum.

De Bosscher, V., De Knop, P., van Bottenburg, M., Shibli, S., & Bingham, J. (2009). Explaining international sporting success: An international comparison of elite sport systems and policies in six countries. Sport Management Review, 12(3), 113–136. https://doi.org/10.1016/j.smr.2009.01.001.

Fuchs, M., & Lames, M. (2017). Rally length in top level table tennis. In M. Kondric, X. Zhang & D. Xiao (Eds.), Science and racket sports V (pp. 213–221). Suzhou: Soochow University Press.

Fuchs, M., Liu, R., Malagoli Lanzoni, I., Munivrana, G., Straub, G., Tamaki, S., et al. (2018). Table tennis match analysis: A review. Journal of Sports Sciences, 36(23), 2653–2662. https://doi.org/10.1080/02640414.2018.1450073.

Geske, K. M., & Müller, J. (2010). Table tennis tactics. Maidenhead: Meyer & Meyer Sport.

International Paralympic Committee (2015). Explanatory guide to Paralympic classification. Paralympic summer sports. Bonn: International Paralympic Committee.

Lames, M., Fuchs, M., & Wenninger, S. (2018). Wettkampfdiagnostik im Tischtennis. In BISp-Jahrbuch: Forschungsförderung 2016/17 (pp. 85–91). Bonn: Bundesinstitut für Sportwissenschaft.

Lim, D. S. L., Bin, Y. W., Tan, Z., Li, H. K. H., & Teng, P. S. P. (2015). A case study of para table tennis athlete's functional ability. In Proceedings of the 3rd international congress on sport sciences research and technology support - volume 1: icSPORTS. 3rd International Congress on Sport Sciences Research and Technology, Lisbon. (pp. 169–173).

Malina, R. M., Bouchard, C., & Bar-Or, O. (2004). Growth, maturation, and physical activity. Champaign: Human Kinetics.

Molodzoff, P. (2008). ITTF advance coaching manual. Lausanne: International Table Tennis Federation.

Sneider, J. T., Hamilton, D. A., Cohen-Gilbert, J. E., Crowley, D. J., Rosso, I. M., & Silveri, M. M. (2015). Sex differences in spatial navigation and perception in human adolescents and emerging adults. Behavioural processes, 111, 42–50. https://doi.org/10.1016/j.beproc.2014.11.015.

Sánchez-Pay, A., Torres-Luque, G., & Sanz-Rivas, D. (2015). Match activity and physiological load in wheelchair tennis players: A pilot study. Spinal Cord, 54(3), 229–233. https://doi.org/10.1038/sc.2015.107.

Sánchez-Pay, A., Torres-Luque, G., & Sanz-Rivas, D. (2017). Stroke performance in high-level Spanish wheelchair tennis players. Ricyde. Revista Internacional De Ciencias Del Deporte, 13(48), 139–148. https://doi.org/10.5232/ricyde2017.04804.

Tamaki, S., Yoshida, K., & Yamada, K. (2017). A shot number based approach to performance analysis in table tennis. Journal of Human Kinetics, 55(1), 7–18.

University of Cambridge (2009). Rules of thumb on magnitudes of effect sizes. http://imaging.mrc-cbu.cam.ac.uk/statswiki/FAQ/effectSize

Van Biesen, D., Mactavish, J., Kerremans, J., & Vanlandewijck, Y. C. (2016a). Cognitive predictors of performance in well-trained table tennis players with intellectual disability. Adapted Physical Activity Quarterly, 33(4), 324–337. https://doi.org/10.1123/APAQ.2015-0122.

Van Biesen, D., Mactavish, J., McCulloch, K., Lenaerts, L., & Vanlandewijck, Y. C. (2016b). Cognitive profile of young well-trained athletes with intellectual disabilities. Research in Developmental Disabilities, 53–54, 377–390. https://doi.org/10.1016/j.ridd.2016.03.004.

Van Biesen, D., Mactavish, J., Pattyn, N., & Vanlandewijck, Y. (2012). Technical proficiency among table tennis players with and without intellectual disabilities. Human Movement Science, 31(6), 1517–1528. https://doi.org/10.1016/j.humov.2012.07.004.

Van Biesen, D., Mactavish, J., & Vanlandewijck, Y. (2014). Tactical proficiency among table tennis players with and without intellectual disabilities. European Journal of Sport Science, 14(5), 403–409. https://doi.org/10.1080/17461391.2013.825645.

Willimczik, K. (1997). Statistik im Sport : Grundlagen – Verfahren – Anwendungen (3rd edn.). Hamburg: Czwalina.

You, B.-C., Lee, W.-J., Lee, S.-H., Jang, S., & Lee, H.-S. (2016). Shoulder disease patterns of the wheelchair athletes of table-tennis and archery: A pilot study. Annals of Rehabilitation Medicine, 40(4), 702–709. https://doi.org/10.5535/arm.2016.40.4.702.
Ethics declarations
Conflict of interest
M. Fuchs, I.R. Faber and M. Lames declare that they have no competing interests.
All procedures performed in studies involving human participants were in accordance with the ethical standards of the institutional and/or national research committee and with the 1975 Helsinki declaration and its later amendments or comparable ethical standards.
About this article
Cite this article
Fuchs, M., Faber, I.R. & Lames, M. Game characteristics in elite para table tennis. Ger J Exerc Sport Res 49, 251–258 (2019). https://doi.org/10.1007/s12662-019-00575-4
Received:

Accepted:

Published:

Issue Date:

DOI: https://doi.org/10.1007/s12662-019-00575-4
Keywords
Schlüsselwörter