Zusammenfassung
Mannschaftssport erfordert neben der individuellen Bewegungskoordination auch die interpersonale Koordination der Bewegungen. Ein Beispiel ist das Rudern, bei dem die Technikkoordination und -synchronisation essenziell für die Erzeugung mannschaftlicher Synergieeffekte sind. In diesem Artikel wird ein Ansatz zur systematischen Untersuchung interpersonaler Koordinationsmechanismen vorgestellt, der zusätzliche Optionen zur unmittelbaren (sport-)praktischen Anwendung bietet. Ein zentrales Element ist die Methode der Bewegungssonifikation, mit der Bewegungsparameter im zeitlichen Verlauf akustisch abgebildet werden. Auf diese Weise können dynamische und kinematische Bewegungsinformationen selektiv vermittelt und ihre wahrnehmungs- und ausführungsseitigen Wirkungen verglichen werden.
In der vorliegenden Studie wurde die Wirkung sonifizierter kinematischer und dynamischer Bewegungsparameter auf Synchronisations- und Wahrnehmungsgenauigkeiten untersucht. Dazu ruderten Versuchspersonen auf einem Ruderergometer zu den Sonifikationen einer anderen Person und schätzten in einer separaten Aufgabe die Frequenzen gehörter Bewegungen der eigenen Person sowie der anderer Personen.
Die Ergebnisse zeigen, dass die Versuchspersonen ihre Ruderbewegungen in Abhängigkeit der dargebotenen Informationsart zeitlich variierten. Keine signifikanten Unterschiede ergaben sich hingegen bei der Schätzung der Bewegungsfrequenzen. Dennoch wurden eigene Bewegungsfrequenzen anders geschätzt als die Frequenzen anderer Personen. Dieser sogenannte Eigen/Fremd-Effekt wurde unter Berücksichtigung zweier Kovariaten signifikant: 1. der Leistung während der Synchronisationsaufgabe und 2. der Fähigkeit, eigene sonifizierte Bewegungen zu identifizieren. Diese Ergebnisse deuten auf eine unmittelbare Ansteuerung motorischer Repräsentationen durch das Hören von Bewegungssonifikationen hin und lassen Rückschlüsse zur Struktur der Repräsentationen zu. Perspektiven für die Sportpraxis ergeben sich in Form einer gezielten interpersonalen Abstimmung und Synchronisation der individuellen Bewegungstechniken mittels zeitsynchroner Übermittlung kinematischer und dynamischer Bewegungsinformationen anderer Teammitglieder.
Abstract
Team sport requires individual and interpersonal coordination of movements. In rowing, for example, the coordination and synchronization of movement techniques is essential to create synergy effects of joint team rowing. Here, we provide a new approach for the systematic investigation of the mechanisms behind interpersonal coupling and discuss its direct applicability to sport practice. The key element is movement sonification, which describes the transformation of movement features into sound features. Thus, dynamic and kinematic movement information can be selectively conveyed and their perception–action effects be compared. The present study compared the impact of kinematic and dynamic sonifications on movement synchronization and perceptual accuracy. In a first session, the participants rowed on an indoor rower to sonifications of another person. In a second session, they listened to sonifications of their own and to those of other persons and estimated rowing frequencies.
In the synchronization task, the participants temporally adjusted their rowing movements in relation to the type of information provided. In the perceptual task, differences between conditions were not significant. However, estimation of movement frequencies differed when listening to their own movements compared to listening to other movements. This own/other effect became significant after controlling (1). for the synchronization performance and (2). for the ability to identify their own techniques on the basis of the sonifications. These variables significantly covaried with the own/other effect.
The results suggest that the listening to movement sonifications directly addresses motor representations and permits conclusions about the structure of those representations. Perspectives for sport practice are given by increased synchronization and enhanced interpersonal coordination of individual movement techniques by means of a transmission of kinematic and dynamic movement information to all team members at the same time.
This is a preview of subscription content, log in to check access.
Access options
Buy single article
Instant access to the full article PDF.
US$ 39.95
Price includes VAT for USA
Subscribe to journal
Immediate online access to all issues from 2019. Subscription will auto renew annually.
US$ 99
This is the net price. Taxes to be calculated in checkout.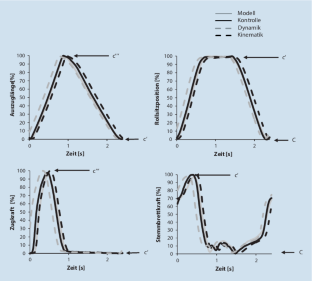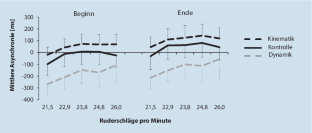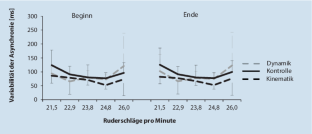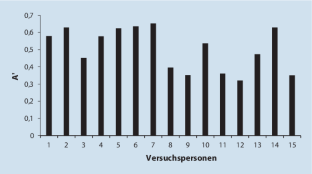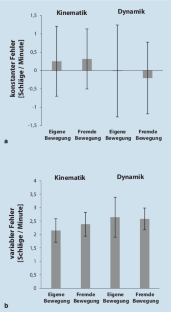 Literatur
Agliotti, S. M., Cesari, P., Romani, M., & Urgesi, C. (2008). Action anticipation and motor resonance in elite basketball players. Nature Neuroscience, 11, 1109–1116.

Aschersleben, G. (2002). Temporal control of movements in sensorimotor synchronization. Brain and Cognition, 48, 66–79.

Bangert, M., & Altenmüller, E. (2003). Mapping perception to action in piano practice: A longitudinal DC-EEG-study. BMC Neuroscience, 4, 26–36.

Beilock, S. L., & Hohmann, T. (2010). Embodied Cognition. Zeitschrift für Sportpsychologie, 17(4), 120–129.

Bischoff, M., Zentgraf, K., Lorey, B., Pilgramm, S., Balser, N., Baumgartner, E., Hohmann, T., Stark, R., Vaitl, D., & Munzert, J. (2012). Motor familiarity: Brain activation when watching kinematic displays of one's own movements. Neuropsycholgia, 50, 2085–2092.

Blackmore, S. J., Wolpert, D., & Frith, C. (2000). Why can't you tickle yourself? NeuroReport, 11, 11–16.

Cesari, P., Camponogara, I., Papetti, S., Rocchesso, D., & Fontana, F. (2014). Might as well jump: sound affects muscle activation in skateboarding. PLoS One, 9(3), e90156.

Chen, L., & Vroomen, J. (2013). Intersensory binding across space and time: a tutorial review. Attention, Perception, & Psychophysics, 75(5), 790–811.

Demos, A. P., Chaffin, R., Begosh, K. T., Daniels, J. R., & Marsh, K. L. (2012). Rocking to the beat: effects of music and partner's movements on spontaneous interpersonal coordination. Journal of Experimental Psychology: General, 141(1), 49–53.

Dubus, G., & Bresin, R. (2013). A systematic review of mapping strategies for the sonification of physical quantities. PLoS ONE, 8(12), e82491.

Dubus, G., & Bresin, R. (2014). Exploration and evaluation of a system for interactive sonification of elite rowing. Sports Engineering, 18, 29–41.

D'Ausilio, Novembre, G., Fadiga, L., & Keller, P. E. (2014). What can music tell us about social interaction? Trends in Cognitive Sciences, 19(3), 111–114.

Effenberg, A. O. (1996). Sonification – Ein akustisches Informationskonzept zur menschlichen Bewegung. Schorndorf: Hofmann.

Effenberg, A. O. (2005). Movement sonification: effects on perception and action. IEEE Multimedia, 12(2), 53–59.

Effenberg, A. O., Fehse, U. & Weber, A. (2011). Movement sonification: Audiovisual benefits on motor learning. BIO Web of Conferences, 1, 1–5. doi:10.1051/bioconf/20110100022

Effenberg, A. O., Fehse, U., Schmitz, G., Krueger, B., & Mechling, H. (2016). Movement sonification: effects on motor learning beyond rhythmic adjustments. Frontiers in Neuroscience, 10, 219. doi:10.3389/fnins.2016.00219.

Hanson, J. V., Heron, J., & Whitaker, D. (2008). Recalibration of perceived time across sensory modalities. Experimental Brain Research, 185, 347–352.

Hermann, T., Hunt, A., & Neuhoff, J. (2011). The sonification handbook. Berlin: Logos.

Heuer, H. (1988). Motorikforschung zwischen Elfenbeinturm und Sportplatz. In R. Daugs (Hrsg.), Neuere Aspekte der Motorikforschung. Aktuelle Motorikforschung in der Sportwissenschaft (S. 52–69). Bielefeld: Deutsche Vereinigung für Sportwissenschaft.

Keller, P. E., Knoblich, G., & Repp, B. H. (2007). Pianist duet better when they play with themselves: on the possible role of action simulation in synchronization. Consciousness and Cognition, 16, 102–111.

Knoblich, G., & Flach, R. (2001). Predicting action effects: Interactions between perception and action. Psychological Science, 12, 467–472.

Knoblich, G., Seigerschmidt, E., Flach, R., & Prinz, W. (2002). Authorship effects in the prediction of handwriting strokes: evidence for action simulation during action perception. The Quaterly Journal of Experimental Psychology, 55(A), 1027–1046.

Loras, H., Sigmundsson, H., Talcott, J. B., Öhberg, F., & Stensdotter, A. K. (2012). Timing continuous or discontinuous movements across effectors specified by different pacing modalities and intervals. Experimental Brain Research, 220, 335–347.

Loula, F., Prasad, S., Harber, K., & Shiffrar, M. (2005). Recognizing people from their movement. Journal of Experimental Psychology: Human Perception and Performance, 31, 210–220.

Macuga, K. L., & Frey, S. H. (2011). Selective responses in right inferior frontal and supramarginal gyri differentiate between observed movements of oneself vs. another. Neuropsychologia, 49, 1202–1207.

Maes, P.-J., Leman, M., Palmer, C., & Wanderley, M. (2014). Action-based effects on music perception. Frontiers in Psychology, 4, 1008.

McIntosh, G. C., Brown, S. H., Rice, R. R., & Thaut, M. H. (1997). Rhythmic auditory-motor facilitation of gait patterns in patients with Parkinson's disease. Journal of Neurology, Neurosurgery & Psychiatry, 62(1), 22–26.

Miles, L. K., Nind, L. K., & Macrae, C. N. (2010). Moving memories; Behavioral synchrony and memory for self and others. Journal of Experimental Social Psychology, 46, 457–460.

Paladino, M.-P., Marrurega, M., Pavani, F., & Schubert, T. W. (2010). Synchronous multisensory stimulation blurs self-other boundaries. Psychological Science, 21(9), 1202–1207.

Pecenka, N., & Keller, P. (2011). The role of temporal prediction abilities in interpersonal sensorimotor synchronization. Experimental Brain Research, 3, 505–515.

Pizzera, A., & Hohmann, T. (2015). Acoustic information during motor control and action perception: a review. The Open Psychology Journal, 8(1), 183–191.

Repp, B. H. (2005). Sensorimotor synchronization: a review of the tapping literature. Psychonomic Bulletin & Review, 12, 969–992.

Repp, B. H., & Knoblich, G. (2004). Perceiving action identity: how pianists recognize their own performance. Psychological Science, 15(9), 604–609.

Repp, B. H., & Su, Y.-H. (2013). Sensorimotor synchronization: A review of recent research (2006–2012). Psychonomic Bulletin & Review, 20, 403–452.

Richardson, M. J., Marsh, K. L., Isenhower, R. W., Goodman, J. R., & Schmidt, R. C. (2007). Rocking together: dynamics of unintentional interpersonal coordination. Human Movement Science, 26(6), 867–891.

Rodger, M. W. M., & Craig, C. M. (2011). Timing movements to interval durations specified by discrete or continuous sounds. Experimental Brain Research, 214, 393–402.

Schaffert, N. (2011). Sonifikation des Bootsbeschleunigungs-Zeit-Verlaufs als akustisches Feedback im Rennrudern. Berlin: Logos.

Schaffert, N., Mattes, K., & Effenberg, A. O. (2011). An investigation of online acoustic information for elite rowers in on-water training conditions. Journal of Human Sport and Exercise, 6(2), 392–405.

Scheef, L., Boecker, H., Daamen, M., Fehse, U., Landsberg, M. W., Granath, D. O., Mechling, H., & Effenberg, A. O. (2009). Multimodal audio-visual motion processing in area V5/MT: Evidence from an artificial class of audio-visual events. Brain Research, 1252, 94–104.

Schmitz, G., & Effenberg, A. O. (2012). Perceptual effects of auditory information about own and other movements. In Proceedings of the 18th Annual Conference on Auditory Display, Book of Abstracts (S. 89–94). Atlanta, USA: The International Community for Auditory Display.

Schmitz, G., Mohammadi, B., Hammer, A., Heldmann, M., Samii, A., Münte, T. F., & Effenberg, A. O. (2013). Observation of sonified movements engages a basal ganglia frontocortical network. BMC Neuroscience, 14, 32. doi:10.1186/1471-2202-14-32.

Schmitz, G., & Effenberg, A. O. (im Druck). Sound Joined Actions in Rowing and Swimming. In: C. Meyer, & U. v. Wedelstaedt: Moving Bodies in Interaction – Interacting Bodies in Motion. John Benjamins Publishing Company: Amsterdam.

Sebanz, N., & Knoblich, G. (2009). Prediction in joint action: what, when, and where. Topics in Cognitive Science, 1(2), 353–367.

Shadmehr, R., Smith, M. A., & Krakauer, J. W. (2010). Error correction, sensory prediction and adaptation in motor control. Annual Review of Neuroscience, 33, 89–108.

Sigrist, R., Rauter, G., Riener, R., & Wolf, P. (2013). Augmented visual, auditory, haptic, and multimodal feedback in motor learning: a review. Psychonomic Bulletin & Review, 20, 21–53.

Sigrist, R., Rauter, G., Marchal-Crespo, L., Riener, R., & Wolf, P. (2015). Sonification and haptic feedback in addition to visual feedback enhances complex motor task learning. Experimental Brain Research, 233, 909–925.

Stanislav, H., & Todorov, N. (1999). Calculation of signal detection theory measures. Behavior, Research Methods, Instruments, & Computers, 31(1), 137–149.

Varlet, M., Marin, L., Issartel, J., Schmidt, R. C., & Bardy, B. G. (2012). Continuity of visual and auditory rhythms influences sensorimotor coordination. PloS One, 7(9), e44082.

Varni, G., Dubus, G., Oksanen, S., Volpe, G., Fabiani, M., Bresin, R., Kleimola, J., Välimaki, V., & Camurri, A. (2012). Interactive sonification of synchronization of motoric behavior in social active listening to music with mobile devices. Journal of Multimodal User Interfaces, 5(3), 157–173.

Vinken, P. M., Kröger, D., Fehse, U., Schmitz, G., Brock, H., & Effenberg, A. O. (2013). Auditory coding of human movement kinematics. Multisensory Research, 26(6), 533–552.

Zentgraf, K., & Munzert, J. (2014). Kognitives Training im Sport. Göttingen: Hogrefe.
Danksagung
Die Autoren bedanken sich bei der Leibniz Universität Hannover für die Forschungsförderung im Rahmen des Projekts "Kognition in Bewegung" (60460288).
Ethics declarations
Interessenkonflikt
G. Schmitz und A.O. Effenberg geben an, dass kein Interessenkonflikt besteht.
Die Autoren versichern, gemäß der Regeln zur guten wissenschaftlichen Praxis der DFG, den "Berufsethischen Grundsätzen" und einschlägigen Positionspapieren des Ethik-Rats der dvs sowie der Helsinki Deklaration von 2001 gehandelt zu haben. Die durchgeführten Studien wurden vorab durch die Zentrale Ethikkommission der Leibniz Universität Hannover genehmigt. Alle Versuchspersonen gaben schriftlich ihr Einverständnis zur Teilnahme an der Studie und zur anonymisierten Verwendung ihrer Daten.
About this article
Cite this article
Schmitz, G., Effenberg, A.O. Schlagmann 2.0 – Bewegungsakustische Dimensionen interpersonaler Koordination im Mannschaftssport. Ger J Exerc Sport Res 47, 232–245 (2017). https://doi.org/10.1007/s12662-017-0442-7
Received:

Accepted:

Published:

Issue Date:
Schlüsselwörter
Interpersonale Koordination

Synchronisation

Sonifikation

Interne Modellierung

Embodiment
Keywords
Interpersonal coordination

Synchronisation

Sonification

Internal modelling

Embodiment