Abstract
Personality-aware recommendation systems have been proven to achieve high accuracy compared to conventional recommendation systems. In addition to that, personality-aware recommendation systems could help alleviate cold start and data sparsity problems by adding the user's personality traits in the recommendation process. The majority of the literature works used Big-Five personality model to represent the user's personality, this is due to the popularity of Big-Five model in the literature of psychology. However, from personality computing perspective, the choice of the most suitable personality model that satisfy the requirements of the recommendation application and the recommended content type still needs further investigation. In this paper, we study and compare four personality-aware recommendation systems based on different personality models, namely Big-Five traits model, Eysenck model and HEXACO model from the personality traits theory, and Myers–Briggs Type Indicator (MPTI) from the personality types theory. Furthermore, we propose a hybrid personality model for recommendation that takes advantage of the personality traits models, as well as the personality types models. Through extensive experiments on recommendation dataset, we prove the efficiency of the proposed model, especially in cold start settings. Our proposed hybrid personality-aware recommendation model improves the precision and recall in cold start settings by 21% and 18% respectively compared to the widely used Big-Five traits model.
Access options
Buy single article
Instant access to the full article PDF.
USD 39.95
Price excludes VAT (USA)
Tax calculation will be finalised during checkout.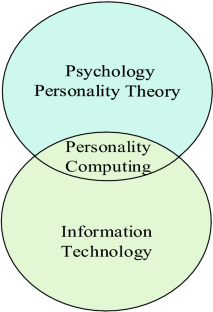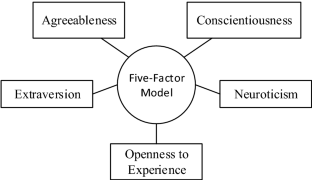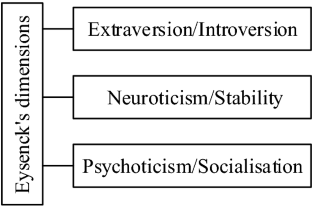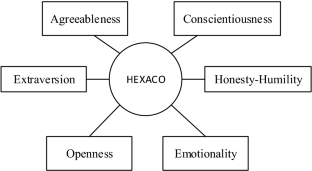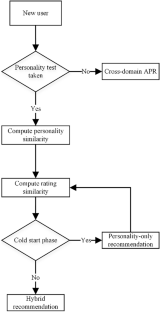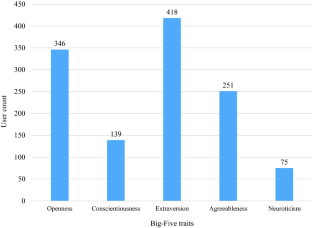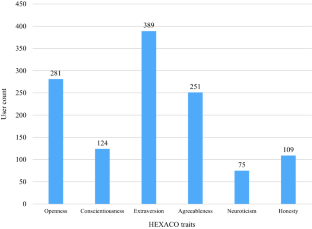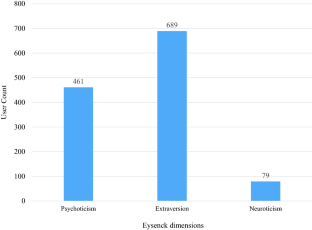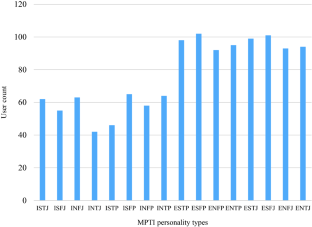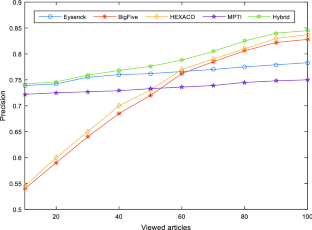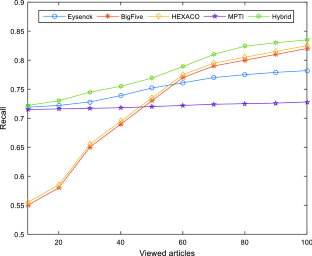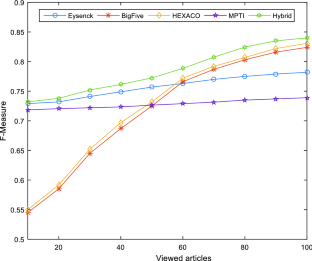 Data availability statement
Newsfullness dataset is available for researchers by contacting the creator [8], the requester must be affiliated with research institute (e.g. university/research center), and institutional email must be used to request the dataset.
References
Abdalzaher MS, Moustafa SSR, Abd-Elnaby M, Elwekeil M (2021) Comparative performance assessments of machine-learning methods for artificial seismic sources discrimination. IEEE Access 9:65524–65535

Abualigah L, Diabat A, Abd Elaziz M (2021) Intelligent workflow scheduling for big data applications in IoT cloud computing environments. Cluster Comput. https://doi.org/10.1007/s10586-021-03291-7

Asabere NY, Acakpovi A (2020) ROPPSA: TV program recommendation based on personality and social awareness. Math Probl Eng 2020:1–15. https://doi.org/10.1155/2020/1971286

Ashton MC, Lee K (2007) Empirical, theoretical, and practical advantages of the HEXACO model of personality structure. Personal Soc Psychol Rev 11:150–166

Aung N, Zhang W, Dhelim S, Ai Y (2020) T-Coin: dynamic traffic congestion pricing system for the internet of vehicles in smart cities. Information 11:149. https://doi.org/10.3390/info11030149

Aung N, Zhang W, Sultan K et al (2021) Dynamic traffic congestion pricing and electric vehicle charging management system for the internet of vehicles in smart cities. Digit Commun Networks. https://doi.org/10.1016/j.dcan.2021.01.002

Boyle GJ (1995) Myers-Briggs type indicator (MBTI): some psychometric limitations. Aust Psychol 30:71–74

Cai X, Ning H, Dhelim S et al (2020) Robot and its living space A roadmap for robot development based on the view of living space. Digit Commun Networks. https://doi.org/10.1016/j.dcan.2020.12.001

Chakrabarty N, Chowdhury S, Kanni SD, Mukherjee S (2020) FAFinder: friend suggestion system for social networking. In: Hemanth DJ, Shakya S, Baig Z (eds) Intelligent data communication technologies and internet of things. Springer International Publishing, Cham, pp 51–58

Costa PT Jr, McCrae RR (2008) The Revised NEO Personality Inventory (NEO-PI-R). Sage Publications Inc, London

Dhelim S, Aung N, Ning H (2020a) Mining user interest based on personality-aware hybrid filtering in social networks. Knowl-Based Syst 206:106227. https://doi.org/10.1016/j.knosys.2020.106227

Dhelim S, Huansheng N, Cui S et al (2020b) Cyberentity and its consistency in the cyber-physical-social-thinking hyperspace. Comput Electr Eng 81:106506. https://doi.org/10.1016/j.compeleceng.2019.106506

Dhelim S, Ning H, Aung N (2020c) ComPath: user interest mining in heterogeneous signed social networks for internet of people. IEEE Internet Things J. https://doi.org/10.1109/JIOT.2020.3037109

Dhelim S, Aung N, Bouras MA et al (2021a) A survey on personality-aware recommendation systems. Artif Intell Rev. https://doi.org/10.1007/s10462-021-10063-7

Dhelim S, Ning H, Aung N et al (2021b) Personality-aware product recommendation system based on user interests mining and metapath discovery. IEEE Trans Comput Soc Syst 8:86–98. https://doi.org/10.1109/TCSS.2020.3037040

Dhelim S, Ning H, Farha F et al (2021c) IoT-Enabled Social Relationships Meet Artificial Social Intelligence. IEEE Internet Things J. https://doi.org/10.1109/JIOT.2021.3081556

Dhelim S, Ning H, Zhu T (2016) STLF: Spatial-temporal-logical knowledge representation and object mapping framework. In: 2016 IEEE International Conference on Systems, Man, and Cybernetics (SMC), pp 1550–1554

Dhelim S, Ning H, Bouras MA, Ma J (2018) Cyber-enabled human-centric smart home architecture. In: 2018 IEEE SmartWorld, Ubiquitous Intelligence and Computing, Advanced and Trusted Computing, Scalable Computing and Communications, Cloud and Big Data Computing, Internet of People and Smart City Innovation (SmartWorld/SCALCOM/UIC/ATC/CBDCom/IOP/SCI), IEEE, pp 1880–1886

Goldberg LR (1990) An alternative" description of personality": the big-five factor structure. J Pers Soc Psychol 59:1216

Hariadi AI, Nurjanah D (2017) Hybrid attribute and personality based recommender system for book recommendation. In: 2017 International Conference on Data and Software Engineering (ICoDSE). IEEE, pp 1–5

Jeong C-S, Lee J-Y, Jung K-D (2020) Adaptive recommendation system for tourism by personality type using deep learning. Int J Internet Broadcast Commun 12:55–60

John OP, Donahue EM, Kentle RL (1991) Big five inventory (BFI). American Psychological Association. https://doi.org/10.1037/t07550-000

Kaushal V, Patwardhan M (2018) Emerging trends in personality identification using online social networks: a literature survey. ACM Trans Knowl Discov from Data 12:15

Lika B, Kolomvatsos K, Hadjiefthymiades S (2014) Facing the cold start problem in recommender systems. Expert Syst Appl 41:2065–2073

Majumder N, Poria S, Gelbukh A, Cambria E (2017) Deep learning-based document modeling for personality detection from text. IEEE Intell Syst 32:74–79. https://doi.org/10.1109/MIS.2017.23

Mehrpooya M, Ghadimi N, Marefati M, Ghorbanian SA (2021) Numerical investigation of a new combined energy system includes parabolic dish solar collector, Stirling engine and thermoelectric device. Int J Energy Res 4:16436–16455

Mehta Y, Majumder N, Gelbukh A, Cambria E (2019) Recent trends in deep learning based personality detection. Artif Intell Rev. https://doi.org/10.1007/s10462-019-09770-z

Moscato V, Picariello A, Sperli G (2020) An emotional recommender system for music. IEEE Intell Syst. https://doi.org/10.1109/MIS.2020.3026000

Moustafa SSR, Abdalzaher MS, Yassien MH et al (2021) Development of an optimized regression model to predict blast-driven ground vibrations. IEEE Access 9:31826–31841

Ning H, Dhelim S, Bouras MA et al (2018) Cyber-syndrome and its formation, classification, recovery and prevention. IEEE Access 6:35501–35511

Ning H, Dhelim S, Aung N (2019) PersoNet: friend recommendation system based on big-five personality traits and hybrid filtering. IEEE Trans Comput Soc Syst 6:394–402. https://doi.org/10.1109/TCSS.2019.2903857

Qamhieh M, Sammaneh H, Demaidi MN (2020) PCRS: personalized career-path recommender system for engineering students. IEEE Access 8:214039–214049. https://doi.org/10.1109/ACCESS.2020.3040338

Rammstedt B, John OP (2007) Measuring personality in one minute or less: a 10-item short version of the big five inventory in English and German. J Res Pers 41:203–212

Revelle W (2016) Hans eysenck: personality theorist. Pers Individ Dif 103:32–39

Romero E, Villar P, Gómez-Fraguela JA, López-Romero L (2012) Measuring personality traits with ultra-short scales: a study of the Ten Item Personality Inventory (TIPI) in a Spanish sample. Pers Individ Dif 53:289–293. https://doi.org/10.1016/j.paid.2012.03.035

Tasdemir S, Al-Asadi M (2020) A tutorial for creating a recommendation system for articles by using python tools. Theory and research in engineering. Springer, Berlin

Tay B, Jung Y, Park T (2014) When stereotypes meet robots: the double-edge sword of robot gender and personality in human–robot interaction. Comput Hum Behav 38:75–84

Uddin MF, Banerjee S, Lee J (2016) Recommender system framework for academic choices: personality based recommendation engine (PBRE). In: 2016 IEEE 17th International Conference on Information Reuse and Integration (IRI). IEEE, pp 476–483

Vinciarelli A, Mohammadi G (2014) A survey of personality computing. IEEE Trans Affect Comput 5:273–291

Wang W, Ning H, Shi F et al (2021) A survey of hybrid human-artificial intelligence for social computing. IEEE Trans Hum-Mach Syst. https://doi.org/10.1109/TITS.2021.3074695

Xia F, Asabere NY, Liu H et al (2017) Socially Aware Conference Participant Recommendation With Personality Traits. IEEE Syst J 11:2255–2266. https://doi.org/10.1109/JSYST.2014.2342375

Zeigler-Hill V, Monica S (2015) The HEXACO model of personality and video game preferences. Entertain Comput 11:21–26. https://doi.org/10.1016/j.entcom.2015.08.001
Funding
This research was funded by National Natural Science Foundation of China, Grant no [61872038].
Additional information
Publisher's Note
Springer Nature remains neutral with regard to jurisdictional claims in published maps and institutional affiliations.
About this article
Cite this article
Dhelim, S., Chen, L., Aung, N. et al. A hybrid personality-aware recommendation system based on personality traits and types models. J Ambient Intell Human Comput (2022). https://doi.org/10.1007/s12652-022-04200-5
Received:

Accepted:

Published:

DOI: https://doi.org/10.1007/s12652-022-04200-5
Keywords
Personality computing

Personality-aware recommendation systems

Big-Five

FFM

Recommendation systems

MPTI

HEXACO

Eysenck

Social computing