Abstract
Saving energy is primary challenge in wireless sensor network (WSN) to prolong network lifetime within coverage area is key to attain it. Previously different methods have been proposed for this energy efficiency purpose, namely centralized immune-Voronoi deployment algorithm (CIVA) and fixed parameter tractable (FPT) approximation algorithm. These methods showed drawback of creating energy hole problem with increased network coverage and routing problem. In order to overcome these issues, this paper presented an Energy Efficient Cluster Based Routing (EECBR) model. This proposed model utilized energy and distance as parameters and made an optimized Cluster Head (CH) selection using Grey Wolf Optimization algorithm. EECBR performs advanced Multihop Dijkstras algorithm for intra cluster routing and it replaced Base Station (BS) by linking clusters using router node, using Advanced Multi-hop Dijkstras algorithm and Tree based Remote Vector approach. This model was evaluated and compared with previous protocols; simulation results show that EECBR model outperforms previous ones. It improved network lifetime by 13% with the help of optimal CH selection based clustering and combined routing techniques. Thus, proposed EECBR model outperforms in the field of energy efficient routing protocol design.
Access options
Buy single article
Instant access to the full article PDF.
USD 39.95
Price includes VAT (USA)
Tax calculation will be finalised during checkout.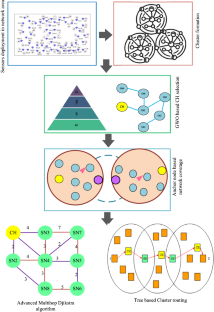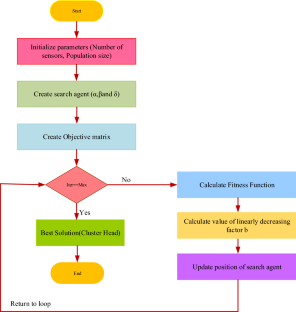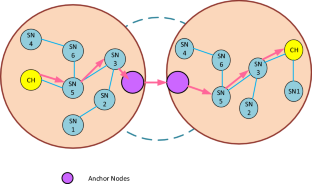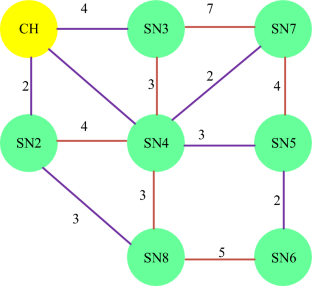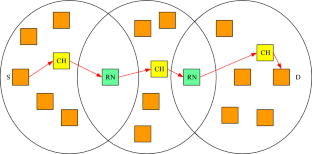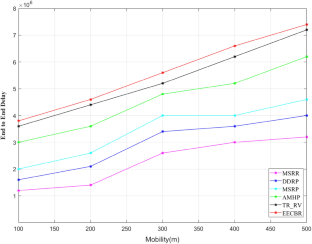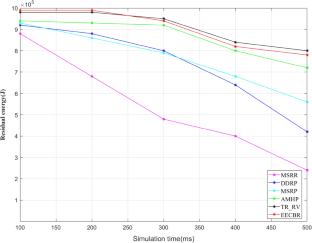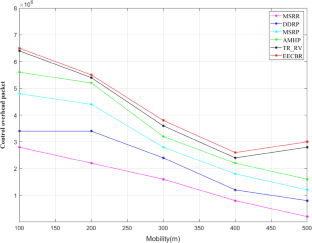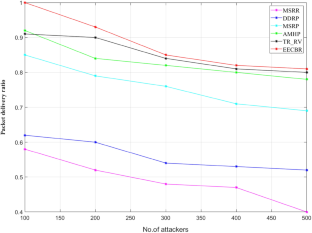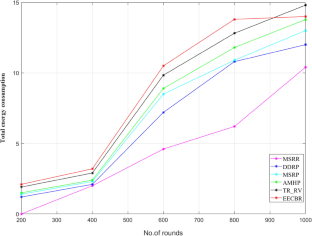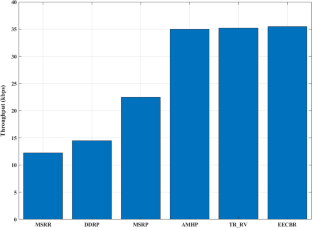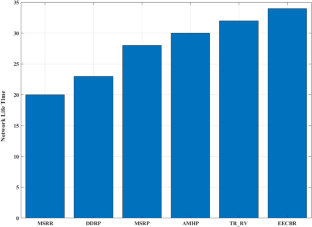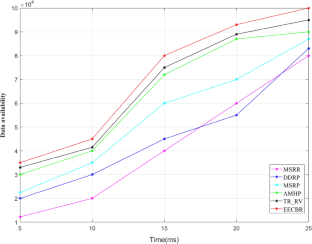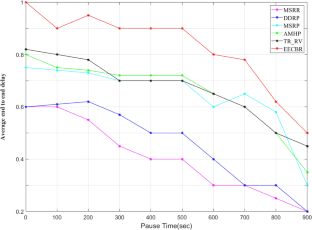 References
Abo-Zahhad M, Sabor N, Sasaki S, Ahmed SM (2016) A centralized immune-Voronoi deployment algorithm for coverage maximization and energy conservation in mobile wireless sensor networks. Inf Fusion 30:36–51

Babu DM, Ussenaiah M (2020) CS-MAODV: Cuckoo search and M-tree-based multiconstraint optimal multicast ad hoc on-demand distance vector routing protocol for MANETs. Int J Commun Syst 33(16):e4411

Chu WC, Ssu KF (2014) Sink discovery in location-free and mobile-sink wireless sensor networks. Comput Netw 67:123–140

De Jonckère O, Fraire JA (2020) A shortest-path tree approach for routing in space networks. China Commun 17(7):52–66

Gavalas D, Pantziou G, Konstantopoulos C, Mamalis B (2007) LIDAR: a protocol for stable and energy-efficient clustering of ad-hoc multihop networks. Telecommun Syst 36(1–3):13–25

Hu Y, Leus G (2014) Self-estimation of path-loss exponent in wireless networks and applications. IEEE Trans Veh Technol 64(11):5091–5102

Kiruthiga G, Mohanapriya M (2019) An adaptive signal strength-based localization approach for wireless sensor networks. Clust Comput 22(5):10439–10448

Kong PY, Wang JC, Tseng KS, Yang YC, Wang YC, Jiang JA (2020) An adaptive packet hopping mechanism for transmission line monitoring systems with a long chain topology. Int J Electr Power Energy Syst 124:106394

Liu Q, Liu M (2020) A multi-hop routing mechanism based on local competitive and weighted Dijkstra Algorithm for wireless sensor networks. J Phys Conf Ser 1621(1):012074 (IOP Publishing)

Luo M, Hou X, Yang J (2020) Surface optimal path planning using an extended Dijkstra algorithm. IEEE Access 8:147827–147838

Mahmoodi K, Balcılar M, Amasyali MF, Yavuz S, Uzun Y, Davletov F (2013) Routing with Dijkstra in Mobile Ad-Hoc Networks. Robot Soccer World Cup. Springer, Berlin, Heidelberg, pp 316–325

Mehta D, Saxena S (2020) MCH-EOR: Multi-objective cluster head-based energy-aware optimized routing algorithm in wireless sensor networks. Sustain Comput Inf Syst 28:100406

Mirjalili S, Mirjalili SM, Lewis A (2014) Grey wolf optimizer. Adv Eng Softw 69:46–61

Monga S, Rana JL, Agarwal J (2012) Clustering schemes in mobile ad-hoc network (MANET): a review

Ostrowski B, Pióro M, Tomaszewski A, Fitzgerald E (2020) Resilience through multicast–an optimization model for multi-hop wireless sensor networks. Ad Hoc Networks, p 102239

Raja S (2020) On improving reliability in multicast routing protocol for wireless sensor network. Inf Technol Control 49(2):260–274

Rambabu B, Reddy AV, Janakiraman S (2019) Hybrid Artificial Bee Colony and Monarchy Butterfly Optimization Algorithm (HABC-MBOA)-based cluster head selection for WSNs. J King Saud Univ Comput Inf Sci

Reddy MPK, Babu MR (2019) A hybrid cluster head selection model for Internet of Things. Clust Comput 22(6):13095–13107

Sekaran K, Rajakumar R, Dinesh K, Rajkumar Y, Latchoumi TP, Kadry S, Lim S (2020) An energy-efficient cluster head selection in wireless sensor network using grey wolf optimization algorithm. TELKOMNIKA 18(6):2822–2833

Sharef B, Alsaqour R, Alawi M, Abdelhaq M, Sundararajan E (2018) Robust and trust dynamic mobile gateway selection in heterogeneous VANET-UMTS network. Veh Commun 12:75–87

Sheela MA, Prabakaran R (2020) Improvement of battery lifetime in software-defined network using particle swarm optimization-based cluster-head gateway switch routing protocol with fuzzy rules. Comput Intell 36(2):813–823

Stephan T, Al-Turjman F, Joseph KS, Balusamy B, Srivastava S (2020) Artificial intelligence inspired energy and spectrum aware cluster based routing protocol for cognitive radio sensor networks. J Parallel Distrib Comput

Tardioli D, Sicignano D, Villarroel JL (2015) A wireless multi-hop protocol for real-time applications. Comput Commun 55:4–21

Yan S, Chung Y (2020) Improved ad hoc on-demand distance vector routing (AODV) protocol based on blockchain node detection in ad hoc networks. Int J Internet Broadcast Commun 12(3):46–55

Yarinezhad R, Hashemi SN (2019) A routing algorithm for wireless sensor networks based on clustering and an FPT-approximation algorithm. J Syst Softw 155:145–161
Funding
This research did not receive any specific grant from funding agencies in the public, commercial, or not-for-profit sectors.
Ethics declarations
Conflict of interest
There is no conflict of Interest between the authors regarding the paper preparation and submission of manuscript.
Availability of data and material
Not applicable.
Code availability
Not applicable.
Additional information
Publisher's Note
Springer Nature remains neutral with regard to jurisdictional claims in published maps and institutional affiliations.
About this article
Cite this article
Hariharan, U., Rajkumar, K., Akilan, T. et al. A multi-hop protocol using advanced multi-hop Dijkstras algorithm and tree based remote vector for wireless sensor network. J Ambient Intell Human Comput (2021). https://doi.org/10.1007/s12652-021-03548-4
Received:

Accepted:

Published:
Keywords
Wireless sensor network (WSN)

Grey Wolf Optimization (GWO)

Intra-cluster routing

Base station (BS)

Cluster head (CH)

Dijkstras algorithm