Abstract
The Internet of things (IoT) is made up of huge sets of networked low-power devices. Regardless of the application specificities, those devices are generally tasked to provide highly important services that can be reached out through the internet. Communications with IoT networks cannot be achieved without the support of efficient underlying routing schemes. However, the constraints related to scarce resources, as well as the wireless and lossy nature of IoT networks may tremendously affect the communications reliability. Consequently, routing efficiency could be affected. Moreover, the exposure to internal and external cyber-attacks, especially those that threaten data and service availability, complicates even further routing and security missions in such a constrained context. In this paper, we propose an efficient solution that enhances both the communications reliability and security in the heterogeneous IoT-enabled low power and lossy networks. The solution relies on three variants of adaptive and secure multipath routing for IPv6 routing protocol for low-power and lossy networks (RPL). To the best of our knowledge, this is the first solution that deals with multipath routing security issue for RPL protocol, in IoT contexts. The proposed solution is evaluated with Cooja simulator of Contiki OS. The assessment results show obviously the effectiveness of the proposed solution for improved communication reliability and security, at low costs.
Access options
Buy single article
Instant access to the full article PDF.
USD 39.95
Price excludes VAT (USA)
Tax calculation will be finalised during checkout.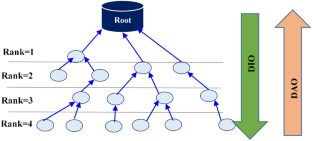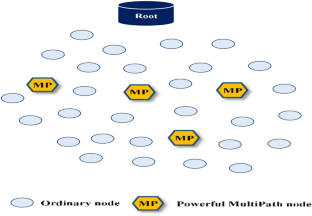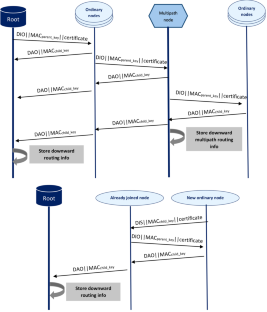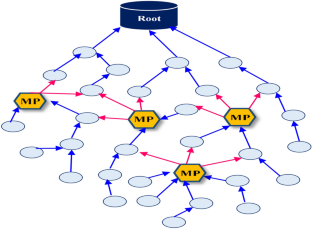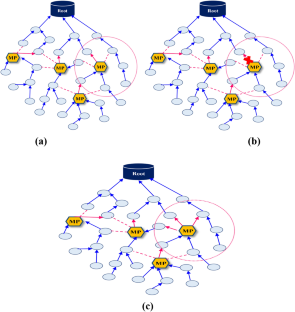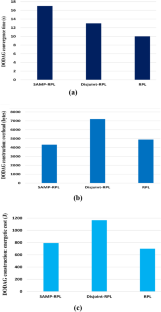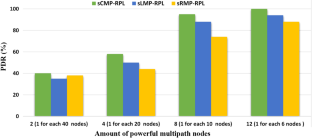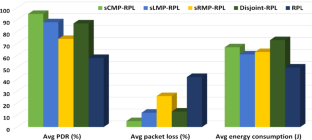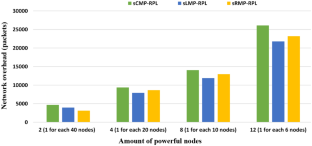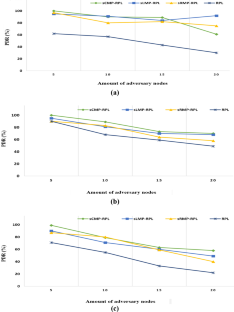 References
Ahrar EM, Nassiri M, Theolerye F (2019) Multipath aware scheduling for high reliability and fault tolerance in low power industrial networks. J Netw Comput Appl 142:25–36

Almusaylim ZA, Jhanjhi NZ, Alhumam A (2020) Detection and mitigation of RPL rank and version number attacks in the internet of things: SRPL-RP. Sensors 20(21):1–25

Alsukayti IS (2020) The support of multipath routing in IPv6-based internet of things. Int J Electr Comput Eng 10(2):2208–2220

Angappan A, Saravanabava TP, Sakthivel P, Vishvaksenan KS (2020) Novel Sybil attack detection using RSSI and neighbor information to ensure secure communication in WSN. J Ambient Intell Human Comput. https://doi.org/10.1007/s12652-020-02276-5

Aouiz AA, Boukli-Hacen S, Lorenz P, Gilg M (2018) Network life time maximization of the AOMDV protocol using nodes energy variation. Netw Protoc Algorithms 10(2):1–22

Arena AP, Perazzo C, Vallati G, Dini G, Anastasi G (2020) Evaluating and improving the scalability of RPL security in the Internet of things. Comput Commun 151:119–132

Boudouaia MA, Pacha AA, Abouaissa A, Lorenz P (2020) Security against rank attack in RPL protocol. IEEE Netw 34(4):133–139

Canbalaban E, Sen S (2020) A cross-layer intrusion detection system for RPL-based internet of things. In: International conference on ad-hoc networks and wireless, Italy, pp 214–227

Ciabattoni L, Foresi G, Monteriù A, Pepa L, Proietti Pagnotta D, Spalazzi L, Verdini F (2019) Real time indoor localization integrating a model based pedestrian dead reckoning on smartphone and BLE beacons. J Ambient Intell Hum Comput 10:1–12

Estrin AC, Jenschke TL, Papadopoulos JZ, Hamelin JIA, Montavont N (2020) Thorough investigation of multipath techniques in RPL based wireless networks. In: IEEE symposium on computers and communications (ISCC), France, pp 1–7

Farzaneh B, Koosha M, Boochanpour E, Alizadeh E (2020) A new method for intrusion detection on RPL routing protocol using fuzzy logic. In: 6th international conference on web research (ICWR), Iran, pp 245–250

Jenschke TL, Koutsiamanis RA, Papadopoulos GZ, Montavont N (2018) Multi-path selection in RPL based on replication and elimination. In: International conference on ad-hoc networks and wireless, France, pp 15–26

Lodhi MA, Rehman R, Khan MM, Hussain FB (2015) Multiple path RPL for low power lossy networks. In: IEEE Asia Pacific conference on wireless and mobile (APWiMob), Indonesia, pp 279–248

Ma G, Li X, Pei Q, Li Z (2017) A security routing protocol for internet of things based on RPL. In: IEEE International conference on networking and network applications (NaNA), Kathmandu, pp 209–213

Muzammal SM, Murugesan RK, Jhanjhi NZ, Jung LT (2020) SMTrust: proposing trust-based secure routing protocol for RPL attacks for IoT applications. In: International conference on computational intelligence (ICCI), Malaysia, pp. 305–310

Pu C (2020) Sybil attack in RPL-based internet of things: analysis and defenses. IEEE Internet Things J 7(6):4937–4949

Qureshi KN, Ranaa SS, Gwanggil-Jeoncd AA (2020) A novel and secure attacks detection framework for smart cities industrial internet of things. Sustain Urban Areas 61:1–33

Sengul C, Kirby A (2020) Message queuing telemetry transport (MQTT)-TLS profile of authentication and authorization for constrained environments (ACE) framework, IETF draft

Seyfollahi A, Ghaffari A (2020a) A lightweight load balancing and route minimizing solution for routing protocol for low-power and lossy networks. Comput Netw 179:1–21

Seyfollahi A, Ghaffari A (2020b) Reliable data dissemination for the internet of things using Harris hawks optimization. Peer-to-Peer Netw Appl 13:1886–1902

Shelby Z, Hartke K, Bormann C (2014) The Constrained application protocol (CoAP), request for comments 7252

Suhail S, Hussain R, Abdellatif M, Pandey SR, Khan A, Hong CS (2020) Provenance-enabled packet path tracing in the RPL-based internet of things. Comput Netw 173:1–14

Tang W, Ma X, Huang J, Wei J (2016) Toward improved RPL: a congestion avoidance multipath routing protocol with time factor for wireless sensor networks. J Sens. https://doi.org/10.1155/2016/8128651

Verma A (2020) Security of RPL based 6LoWPAN networks in the internet of things: a review. IEEE Sens J 20(11):5666–5690

Verna A, Ranga V (2020) Mitigation of DIS flooding attacks in RPL-based 6LoWPAN networks. Trans Emerg Telecommun Technol 31(2):1–25

Winter T, Thubert P, Brandt A, Hui J, Kelsey R, Levis P, Pister K, Struik R, Vasseur JP, Alexander R (2012) RPL: IPv6 routing protocol for low-power and lossy networks, request for comments 6550

Yousefi HHN, Kavian Y, Mahmoudi A (2021) A Markov chain model for IEEE 802.15.4 in time critical wireless sensor networks under periodic traffic with reneging packets. J Ambient Intell Human Comput. https://doi.org/10.1007/s12652-021-02984-6

Zahra FT, Zamanv N (2020) Cooja simulator step-by-step manual 1–67

Zheng Y, Nguyen UT, Nguyen HL (2012) Data overhead impact of multipath routing for multicast in wireless mesh networks. In: Third FTRA international conference on mobile, ubiquitous, and intelligent computing, Canada, pp 1–4
Additional information
Publisher's Note
Springer Nature remains neutral with regard to jurisdictional claims in published maps and institutional affiliations.
About this article
Cite this article
Sahraoui, S., Henni, N. SAMP-RPL: secure and adaptive multipath RPL for enhanced security and reliability in heterogeneous IoT-connected low power and lossy networks. J Ambient Intell Human Comput 14, 409–429 (2023). https://doi.org/10.1007/s12652-021-03303-9
Received:

Accepted:

Published:

Issue Date:

DOI: https://doi.org/10.1007/s12652-021-03303-9
Keywords