Abstract
With the mounting prominence of inter-disciplinary methodologies in management, it was appropriate to study the impact of business intelligence on the performance of an organization. In the present study, the author attempted to create a conceptual framework to measure the impact of Business Intelligence Adoption on bank performance in order to add value to the existing views on Business Intelligence Adoption (BIA). Further the literature review approach was carried out to realize the definite gap that exists in the area of BIA. Also in lieu of the strong customer base of modern banks, the study has included Customer Relationship Management as a moderating variable of the proposed framework. This would enhance the focus of BIA in relationship with all the included variables which will enable a bank to lay policies based on the identified relationship between the variables of the study. Literature was assessed on all the variables and the research gap was identified paving way for conceptualisation of a model which can be used in future to measure the impact of BIA on Bank Performance in purview of Customer Relationship Management. This study would be an initial preparatory tool to arrive at a model so as to assess and quantify the impact of BIA on performance of banks in future.
Access options
Buy single article
Instant access to the full article PDF.
USD 39.95
Price excludes VAT (USA)
Tax calculation will be finalised during checkout.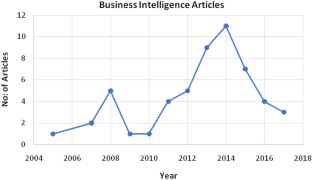 References
Abdul-Aziz RA (2011) Data, text and web mining foe business intelligence: a survey. Int J Data Min Knowl Manag Process 3(2):1–21

Abu-Alkheil AM, Burghof HP, Khan WA (2012) Islamic commercial banking in Europe: a cross-country and inter-bank analysis of efficiency performance. Int Bus Econ Res J 11(6):647–676

Acheampong O (2017) Business intelligence systems and bank performance in Ghana: the balance scorecard approach. Cogent Bus Manag 4:1–22

Acheampong O, George CA, Daha TA, Bakare AS (2014) Determinants of business intelligence systems adoption in developing countries: an empirical analysis from Ghanaian Banks. J Internet Banking Commer 27:1–25

Ahmad A, Humayoun AA, Nawaz MM, Bashir M (2011) How customer satisfaction affects performance of Islamic banks in Pakistan. Interdiscip J Contemp Res Bus 2(9):182–188

Airinei D, Berta DA (2012) Semantic business intelligence – a new generation of business intelligence. Informatica Economica [Online]. 16(2/2012). Available at http://revistaie.ase.ro/content/62/08%20-%20Airinei.pdf, 72 p

Albury D (2005) Fostering innovation in public services. Pub Money Manag 25(1):51–56

Anand K, Aniruddha J (2016) Current scenario related to decision making—business intelligence in cooperative banking sector. Int J Inform Comput Technol 6(1):19–24

Anuj S, Parbin Kumar P (2012) Review of financial accounting fraud detection based on data mining techniques. Int J Comput Appl 39(1):37–47

Aruldoss M, Lakshmi M, Venkatesan TVP (2014) A survey on recent research in business intelligence. J Enterp Inform Manag 27(6):831–866

Berger AN, Humphrey DB (1997) Efficiency of financial institutions: international survey and directions for future research. Eur J Oper Res 98(2):75–212

Berger AN, Mester LJ (1997) Inside the black box: What explains differences in the efficiencies of financial institutions? J Bank Financ 21(7):895–947

Bijker M, Hart M (2013) factors influencing pervasiveness of organisational business intelligence. International conference on business intelligence and technology, Valencia, Spain

Bitner MJ (1995) Building service relationships: It's all about promises. J Acad Mark Sci 1:246–251

Bogdan U, Emina D (2011) Application of business intelligence in the banking industry. Manag Inf Syst 6(4):23–30

Borut P, Tiago O, Ales P (2014) Unpacking business intelligence systems adoption determinants: an exploratory study of small and medium enterprises. Econ Bus Rev 16(2):185–213

Brockman BK, Park JE, Morgan RM (2017) The role of buyer trust in outsourced CRM: its influence on organizational learning and performance. J Bus Bus Mark 24(3):201–219

Bikker J, Bos J (2004) Trends in competition and profitability in the banking industry: a basic framework

Brooks AM (2007) It's all about the motivation: factors that influence employee motivation in organizations. The University of Tennessee, ProQuest Dissertations and Theses, 139

Bryan B, David BJ (1989) Organization: contemporary principles and practice. Acad Manag Rev 48:234–249

Buttle F (2008) Customer relationship management: concepts and technologies. https://doi.org/10.4324/9780080949611

Chandrasekhar M, Sonar RM (2008) Impact of information technology on the efficiency and total factor productivity of Indian Banks. South Asian J Manag 15(3):74–100

Clark LA, Watson D (1995) Constructing validity: Basic issues in objective scale development. Psychol Assess 7(3):309–319

Cook WD, Hababou M (2001) Sales performance measurement in bank branches. Omega 29(4):299–307

Côrte-Real N, Ruivo P, Oliveira T (2014) The diffusion stages of business intelligence and analytics (BI and A): a systematic mapping study. Procedia Technol 16:172–179

Cristiane DP, Winnie NG, Gurpreet D, Mario C (2016) Value-focused objectives for CRM system adoption. Ind Manag Data Syst 116(3):526–545

Cristiane DP, Winnie NG, Miguel C, Cintia CA (2018) CRM system: the role of dynamic capabilities in creating innovation capability. Braz Bus Rev 15(5):494–511

Crosby LA, Evans KR, Cowles D (1990) Relationship quality in services selling-an interpersonal influence perspective. J Mark 54(3):68–81

Debi Prasanna A, Anitha A (2017) A Comparative study of statistical and rough computing models in predictive data analysis. Int J Ambient Comput Intell 8(2):32–50

Debnath R, Datta B, Mukhopadhyay S (2016) Customer relationship management theory and research in the new millennium: directions for future research. J Relationsh Mark 15(4):299–325

Debra JB, Philip DN (2014) Big data in the information age: exploring the intellectual foundation of communication theory. Inf Syst Educ J 12(1):15–26

Dobbs M, Hamilton RT (2006) Small business growth: recent evidence and new directions. Int J Entrepr Behav Res 13(5):296–322

Drucker PF (1954) The practice of management. Harper Business, New York

Elaheh R, Mohammad B (2017) A survey on business intelligence solutions in banking industry and big data applications. Int J Mech Electr Comput Technol 7(23):3280–3298

Elbashir MZ, Collier PA, Davern MJ (2008) Measuring the effects of business intelligence systems: the relationship between business process and organizational performance. Int J Acc Inf Syst 9(3):135–153

Faycal F, Chafik O, El Semma A (2013) A maturity model for business intelligence system project in small and medium-sized enterprises: an empirical investigation. Int J Comput Sci Issues 10(6):61–69

Gallizo JL, Moreno J, Pop GII (2011) Banking efficiency and European integration: Implications of the banking reform in Romania. Annales Universitatis Apulensis Series Oeconomica 13(2):432–441

Gary Alan D, Charles RW (2015) Evaluating business intelligence/business analytics software for use in the information system curriculum. Inf Syst Educ J 13(1):23–29

Ghaziri H (1998) Information technology in the banking sector: opportunities, threats and strategies. American University of Beirut, Beirut

Ghazwan KO (2016) Application of business intelligence in the financial services industry. Int J Innov Sci Res 26(1):135–145

Goran P (2018) Decision making process in the business intelligence 3.0 context. Ekon Misao I Praksha Dbk God 27(2):603–619

Hana K, Marketa S (2014) Decision support systems or business intelligence : what can help in decision making? Eur J Oper Res

Haron S, Ahmad N, Planisek (1994) Bank patronage factors of muslim and non-muslim customers. Int J Bank Mark 12(1):32–40. https://doi.org/10.1108/02652329410049599

Henning B, Hans-Georg K, Heiner L, Marc S (2008) Combining RFID technology and business intelligence for supply chain optimization—scenarios for retail logistics, Hawaii international conference on system sciences, Waikoloa, US.

Hill Charls WL, Jones GR (1990) Strategic management. Houghton

Hou CK (2015) Using the balanced scorecard in assessing the impact of BI system usage on organizational performance: an empirical study of Taiwan's semiconductor industry. Inf Dev 32:1545–1569

Ifinedo P (2011) An empirical analysis of factors influencing internet/e-business technologies adoption by Smes in Canada. Int J Inf Technol Decis Making 10(4):731–766

Kannan S, Pappathi K, Karnan M (2012) Business intelligence: financial decision support system research based on data warehouse. Int J Sci Eng Res 3(5):1–5

Katarina C, Mirjana PB, Gordan R (2008) Business intelligence and business process management in banking operations. International conference on information technology interfaces, Cavtat, Croatia

Kaur J, Kaur B (2016) The influence of e-CRM competitive advantage on e-crm performance in the indian banking industry. Strat Change 25(5):537

Lai HM, Lin IC, Tseng LT (2014) 'High-Level Managers' considerations for RFID adoption in hospitals: an empirical study in Taiwan. J Med Syst 38(3):1–17

Lin Z, Zhu M, Yin W, Dong J (2008) Banking intelligence: application of data warehouse in bank operations. IEEE international conference on service operations and logistics, and informatics, Beijing, China.

Lionel D, Jean-Paul VB (2013) Critical success factors for business intelligence in the South African financial services sector. S Afr J Inf Manag 15(1):1–12

Magdalena GK, Malgorzata O (2018) The application of mobile marketing in CRM in the medical sector. Handel Wewnetrzny 3:162–171

Mahmood H, Khalid S, Waheed A, Arif M (2019) Impact of macro specific factor and bank specific factor on bank liquidity using FMOLS approach. Emerg Sci J 3:168–178. https://doi.org/10.28991/esj-2019-01179

Malladi S (2013) Adoption of business intelligence and analytics in organizations—an empirical study of antecedents. Proceedings of the nineteenth Americas conference on information systems, Illinois, US.

Mansah P, Quist-Aphetsi K (2015) The study of the impact of business intelligence in the banking industry of Ghana. Int J Emerg Res Manag Technol 4(8):31–36

Maryam M, Seyyed MH (2012) Business intelligence system in banking industry case study of Saman Bank of Iran. Software Engineering Research, Management and Applications 153–158

Mohammad A, Amin A (2013) Analysis of business intelligence on strategic decision making. Int J Sci Manag Dev 2(1):20–35

Moss LT, Atre S (2003) Business Intelligence roadmap: the complete project lifecycle for decision support applications. Boston

Nam D, Lee J, Lee H (2019) Business analytics use in CRM: a nomological net from IT competence to CRM performance. Int J Inf Manage 45:233

Neely A, Mills J, Platts K, Richards H, Gregory M, Bourne M, Kennerley M (2000) Performance measurement system design: developing and testing a process-based approach. Int J Oper Prod Manag 20(10):1119–1145

Nittaya K, Phaichayon K, Kittisak K (2013) Constraint mining in business intelligence: a case study of customer churn prediction. Int J Multimed Ubiquitous Eng 8(3):11–20

Olexová C (2014) Business intelligence adoption: a case study in the retail chain. WSEAS Trans Bus Econom 11:95–106

Oliveira T, Martins M (2011) Literature review of information technology adoption models at firm level. Electr J Inf Syst Eval 14(1):110–121

Olszak CM (2014) Business intelligence in cloud. Pol J Manage Stud 10(2):115–125

Papadopoulos T, Kanellis P (2010) A path to the successful implementation of business intelligence: an example from the Hellenic Banking Sector. OR Insight 23(1):15–26

Park YJ, Rim MH (2011) The relationship analysis of RFID adoption and organizational performance. The sixth international conference on systems and networks communications, Barcelona, Spain.

Ramamurthy K, Sen A, Sinha A (2008) Data warehousing infusion and organizational effectiveness. IEEE Trans Syst Man Cybern Part A Syst Hum 38(4):976–994

Rao GK, Dey S (2012) An intelligent decision-making architecture for banks: business intelligence and knowledge management systems integration. J Econ Dev IT Financ Mark 4(1):49–63

Recklies D (2006) Understanding and Managing customer perception. Effective executive. ICFAI University Press

Rekha M, Saini AK (2015) business intelligence and analytics: paving way for operational excellence, quality and sustainability in Indian Banks. International conference on operations excellence and service engineering, Orlando, US.

Rigby DK, Reichheld FF, Schefter P (2002) Avoid the four perils of CRM. Harvard Bus Rev 80(2):101–109

Rimple MT (2014) Business intelligence in banking sector: a step forward to customer delight. Manag Guru J Manag 2(2):32–36

Ritacco M, Carver A (2007) The business value of business intelligence: a framework for measuring the benefits of business intelligence. Bus Object 1:1–24

Robertson TS (1971) Innovative behaviour and communication. Holt, Rinehart and Winston, New York

Rogers E (1962) Diffusion of innovation. The Free Press, New York

Rouhani S, Ashrafi A, Ravasan AZ, Afshari S (2016) The impact model of business intelligence on decision support and organizational benefits. J Enterpr Inf Manag 29:19–50

Rumler F, Waschiczek W (2010) The impact of economic factors on bank profits. Monetary Policy Econ 49–67

Saeed R, Amir A, Ahad ZR, Samira A (2016) The impact model of business intelligence on decision support and organizational benefits. J Enterp Inf Manag 29:19–50

Samson YD, Jongsu L (2015) Technology adoption: a conjoint analysis of consumers' preference on future online banking services. J Inf Syst 53:1–15

Serigo M, Carneiro M, Paulo Alexandre RC, Paulo Miguel RFR (2014) Business intelligence in banking: A literature analysis from 2002 to 2013 using text mining and latent Dirichlet allocation. Expert Syst Appl 30:14

Sheila W, Elsayed RE, Craig SF (2009) Competitive intelligence in practice: empirical evidence from the UK retail banking sector. J Mark Manag 25(9):941–964

Sheth JN, Parvatiyar A (2000) Handbook of relationship marketing. Thousand Oaks

Shukla MK, Pattnaik PN (2019) Managing customer relations in a modern business environment: towards an ecosystem-based sustainable CRM model. J Relationsh Mark 18(1):17–33

Starkey M, Woodcock N (2002) CRM systems: Necessary, but not sufficient. REAP the benefits of customer management. J Database Mark 9:267–275. https://doi.org/10.1057/palgrave.jdm.3240008

Sujitparapitaya S, Shirani A, Roldan M (2012) Business intelligence adoption in academic administration: an empirical investigation. Issues Inf Syst 13(2):12–122

Sundjaja AM (2013) Implementation of business intelligence on banking, retail, and educational industry. Int J Commun Inf Technol 7(2):65–70

Tao QH, Tao W (2008) Analysis of business intelligence and its derivative—financial intelligence. International Symposium on Electronic Commerce Security, Guangzhou

Tejas V, Sagar A, Kiran K, Kundan L (2014) Business intelligence system for banking and finance. Int J Comput Sci Inf Technol 5(3):4336–4349

Thompson O (2004) Business intelligence success. Lessons Learned, Technology.

Tornatzky L, Fleischer M (1990) The process of technology innovation, vol 3. Lexington Books, Lanham

Utkarsh S, Santosh G (2015) Impact of big data analytics on banking sector: learning for Indian Banks. Procedia Comput Sci 50:643–652

Veerpal K (2016) Business intelligence and E-banking: a study of Bi importance in banking sector. Biz Bytes 7(1):11–19

Wei-His H, I-Cheng C, Ying-Li H, Chen Y (2019) Aligning 4C strategy with social network application for CRM performance. J Glob Inf Manag 27(1):93–110

Wenze MF (2019) 'Factors influencing consumers' response to CRM in the democratic republic of congo: the mediating role of attitude and moderating role of CRM awareness. Int J Inf Bus Manag 11(2):233–245

William Y, Ales P (2015) Extending the understanding of critical success factors for implementing business intelligence systems. J Assoc Inf Sci Technol 67(1):134–147

Yoon TE, Ghosh B, Jeong BK (2014) User acceptance of business intelligence (BI) application: technology, individual difference, social influence, and situational constraints. 47th Hawaii international conference on system sciences, Waikoloa, US.
Acknowledgements
The author acknowledges all the authors for their contributions on the selected field in making this study happen. This is an original research review done by individual researchers and not sponsored by any funding body.
Ethics declarations
Conflict of interest
There is no conflict of interest with the current work.
Additional information
Publisher's Note
Springer Nature remains neutral with regard to jurisdictional claims in published maps and institutional affiliations.
Electronic supplementary material
Below is the link to the electronic supplementary material.
About this article
Cite this article
Nithya, N., Kiruthika, R. Impact of Business Intelligence Adoption on performance of banks: a conceptual framework. J Ambient Intell Human Comput 12, 3139–3150 (2021). https://doi.org/10.1007/s12652-020-02473-2
Received:

Accepted:

Published:

Issue Date:

DOI: https://doi.org/10.1007/s12652-020-02473-2
Keywords