Abstract
Industrial IoT in the advancement of organizations consigns to the next level in order to trace and manage every single activity of their entities. However, the interdependence, implementation and communication among such wireless devices also known as IoT devices that lead to various secrecy and personnel concerns. Even though the use of smart sensors in industries assists and reduces human efforts with the increased quality besides of enhanced production cost. Several attacks may further encountered by various attackers by hacking several sensors/objects/devices activities. In this paper, in order to preserve transparency and secure each and every activity of smart sensors, we have proposed a secure wireless mechanism using Blockchain technology that stores extorted proceedings of each record into number of blocks. Further, the simulation results of proposed blockchain mechanism are executed against various security transmission processes. In addition, the simulated results are scrutinized besides traditional mechanism and verified over certain metrics such as Probability of attack success, ease of attack detection by the system, falsification attack, authentication delay and probabilistic scenarios to appraise the authenticity of IoT devices.
Access options
Buy single article
Instant access to the full article PDF.
USD 39.95
Price excludes VAT (USA)
Tax calculation will be finalised during checkout.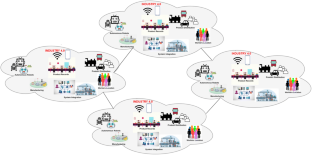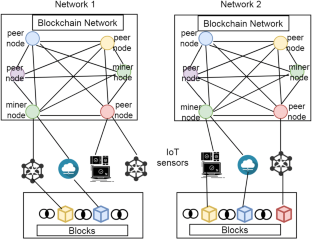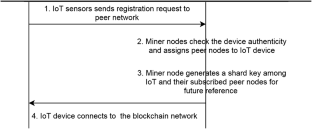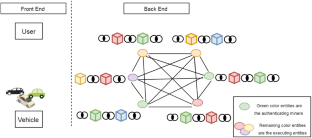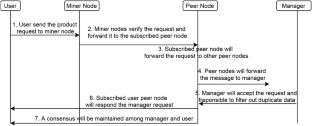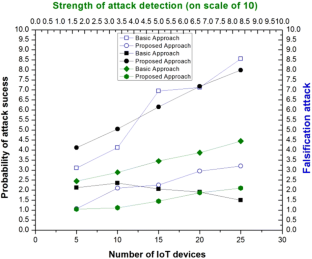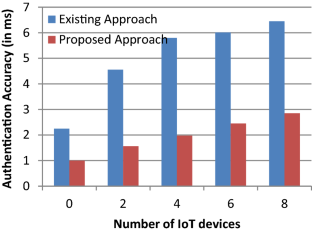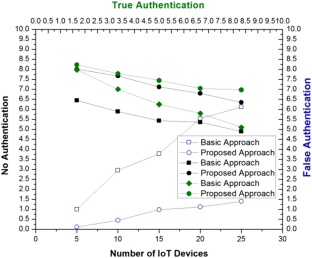 References
Al-Fuqaha A, Guizani M, Mohammadi M, Aledhari M, Ayyash M (2015) Internet of things: a survey on enabling technologies, protocols, and applications. IEEE Commun Surv Tutor 17(4):2347–2376

Ammar M, Russello G, Crispo B (2018) Internet of things: a survey on the security of IoT frameworks. J Inform Secur Appl 38:8–27

Angraal S, Krumholz HM, Schulz WL (2017) Blockchain technology: applications in health care. Circ Cardiovasc Qual Outcomes 10(9):1–12

Bhadori RS, Agasti V (2019) The paradigms of blockchain technology: myths, facts and future. Int J Inform Syst Soc Change (IJISSC) 10(2):1–4

Bhadoria RS, Arora Y, Gautam K (2020a) Blockchain hands on for developing genesis block. Advanced applications of blockchain technology. Springer, Singapore, pp 269–278

Bhadoria RS, Nimbalkar A, Saxena N (2020b) On the role of blockchain technology in the internet of things. Advanced applications of blockchain technology. Springer, Singapore, pp 129–140

Christidis K, Devetsikiotis M (2016) Blockchains and smart contracts for the internet of things. IEEE Access 4:2292–2303

Fernandez-Carames TM, Fraga-Lamas P (2018) A review on the use of blockchain for the internet of things. IEEE Access 6:32979–33001

Frustaci M, Pace P, Aloi G, Fortino G (2018) Evaluating critical security issues of the IoT world: Present and Future challenges. IEEE Internet Things J 5(4):2483–2495

García-Magariño I, Lacuesta R, Rajarajan M, Lloret J (2019) Security in networks of unmanned aerial vehicles for surveillance with an agent-based approach inspired by the principles of blockchain. Ad Hoc Netw 86:72–82

Guo H, Meamari E, Shen CC (2018) Blockchain-inspired event recording system for autonomous vehicles. In: 2018 1st IEEE international conference on hot information-centric networking (HotICN), pp 218–222

Hossain MS, Muhammad G, Rahman SMM, Abdul W, Alelaiwi A, Alamri A (2016) Toward end-to-end biomet rics-based security for IoT infrastructure. IEEE Wirel Commun 23(5):44–51

Huh S, Cho S, Kim S (2017) Managing IoT devices using blockchain platform. In: 19th International conference advanced communication technology (ICACT). pp 464–467

Karafiloski E, Mishev A (2017) Blockchain solutions for big data challenges: a literature review. In: 17th International conference on smart technologies, pp 763–768

Khan MA, Salah K (2018) IoT security: review, blockchain solutions, and open challenges. Future Gener Comput Syst 82:395–411

Kuzmin A, Znak E (2018) Blockchain-base structures for a secure and operate network of semi-autonomous unmanned aerial vehicles. In: 2018 IEEE International conference on service operations and logistics, and informatics (SOLI), pp 32–37

Lee J, Bagheri B, Kao HA (2015) A cyber-physical systems architecture for industry 4.0-based manufacturing systems. Manuf Lett 3:18–23

Li S, Da Xu, L., and Zhao S. (2015) The internet of things: a survey. Inform Syst Front 17(2):243–259

Miller D (2018) Blockchain and the internet of things in the industrial sector. IT Prof 20(3):15–18

Ozyilmaz KR, Yurdakul A (2019) Designing a blockchain-based IoT with ethereum, swarm, and LoRa: The software solution to create high availability with minimal security risks. IEEE Consum Electron Mag 8(2):28–34

Palattella MR, Accettura N, Grieco LA, Boggia G, Dohler M, Engel T (2013) On optimal scheduling in duty-cycled industrial IoT applications using IEEE802.154e TSCH. IEEE Sens Jl 13(10):3655–3666

Rathee G, Sharma A, Iqbal R, Aloqaily M, Jaglan N, Kumar R (2019a) A blockchain framework for securing connected and autonomous vehicles. Sensors 19(14):1–15

Rathee G, Sharma A, Kumar R, Iqbal R (2019b) A secure communicating things network framework for industrial IoT using blockchain technology. Ad Hoc Netw 94:1–12

Rathee G, Sharma A, Saini H, Kumar R, Iqbal R (2019c) A hybrid framework for multimedia data processing in IoT-healthcare using blockchain technology. Multimed Tools Appl 79:9711–9733

Rathee G, Sandhu R, Saini H, Sivaram M, Dhasarathan V (2020) A trust computed framework for IoT devices and fog computing environment. Wirel Netw 26:2339–2351

Scheuerman WE (2014) Whistleblowing as civil disobedience: the case of Edward Snowden. Philos Soc Crit 40(7):609–628

Sikorski JJ, Haughton J, Kraft M (2017) Blockchain technology in the chemical industry: machine-to-machine electricity market. Appl Energy 195:234–246

Singh S, Singh N (2016) Blockchain: future of financial and cyber security. In: 2nd International conference on contemporary computing and informatics (IC3I), pp 463–467

Sun J, Yan J, Zhang KZ (2016) Blockchain-based sharing services: what blockchain technology can contribute to smart cities. Financ Innov 2(1):1–26

Tian F (2016) An agri-food supply chain traceability system for China based on RFID &blockchain technology. In: 13th International Conference on Service Systems and Service Management (ICSSSM), pp 1–6.

Yiğit B, Gür G, Alagöz F, Tellenbach B (2019) Cost-aware securing of IoT systems using attack graphs. Ad Hoc Netw 86:23–35

Zheng Z, Xie S, Dai H, Chen X, Wang H (2017) An overview of blockchain technology: architecture, consensus, and future trends. In: IEEE International Congress on big data, pp 557–564

Zhou L, Wu D, Chen J, Dong Z (2018) When computation hugs intelligence: Content-aware data processing for industrial IoT. IEEE Internet Things J 5(3):1657–1666
Additional information
Publisher's Note
Springer Nature remains neutral with regard to jurisdictional claims in published maps and institutional affiliations.
About this article
Cite this article
Rathee, G., Balasaraswathi, M., Chandran, K.P. et al. A secure IoT sensors communication in industry 4.0 using blockchain technology. J Ambient Intell Human Comput 12, 533–545 (2021). https://doi.org/10.1007/s12652-020-02017-8
Received:

Accepted:

Published:

Issue Date:

DOI: https://doi.org/10.1007/s12652-020-02017-8
Keywords