Abstract
In a stand-alone environment, a system comprising of non-renewable source, renewable energy sources (RESs), and energy storage systems like fuel cells (FCs) provide an effective and reliable solution to fulfill the user's load. In this paper, a diesel generator (DG), photovoltaics (PVs), wind turbines (WTs) and FCs are modeled, optimally sized, and compared in three scenarios: PV–WT–FC–DG, PV–FC–DG, and WT–FC–DG in terms of environmental emission and total annual cost (TAC) for a home, located in Hawksbay, Pakistan. The optimal size of hybrid RESs and their components is achieved using a novel TAC minimization algorithm (TACMA). The TACMA achieves superior results in terms of TAC when it is compared to two algorithm-specific parameter-less schemes: Jaya and teaching learning-based optimization. Further, the PV–WT–FC–DG and PV–FC–DG hybrid systems are found as the most economical and nature-friendly scenarios, respectively.
Access options
Buy single article
Instant access to the full article PDF.
US$ 39.95
Tax calculation will be finalised during checkout.
Subscribe to journal
Immediate online access to all issues from 2019. Subscription will auto renew annually.
US$ 79
Tax calculation will be finalised during checkout.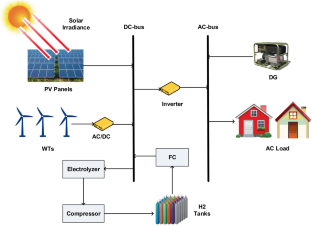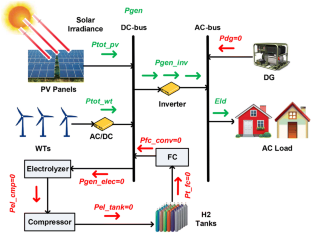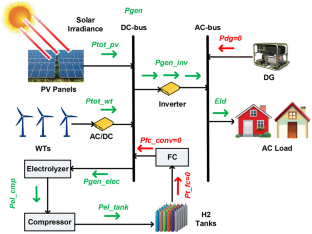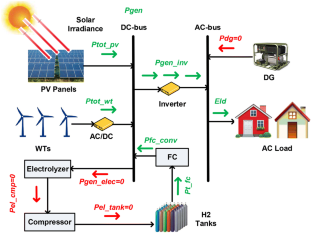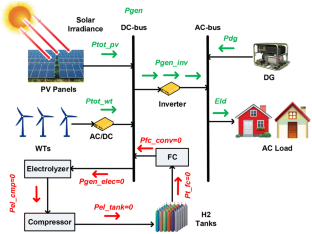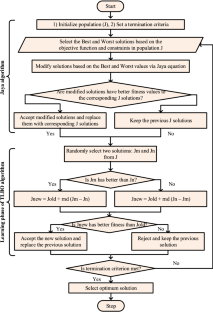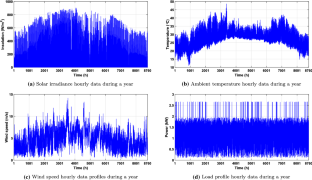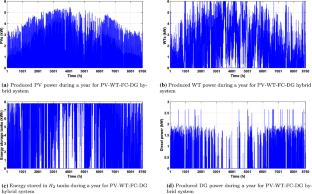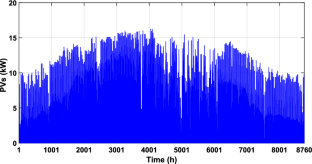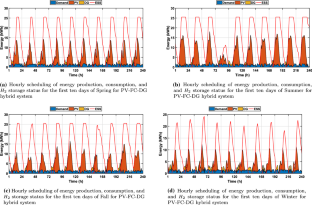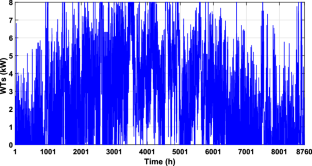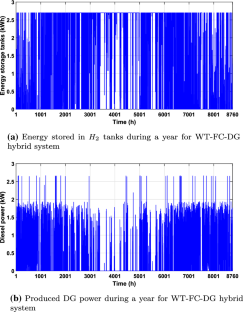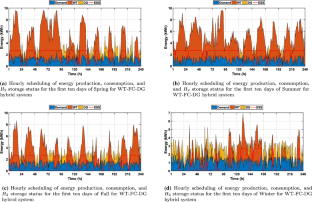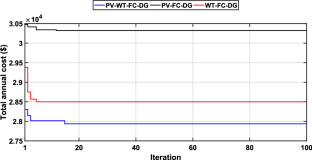 References
Abushnaf J, Rassau A (2018) Impact of energy management system on the sizing of a grid-connected PV/Battery system. Electr J 31(2):58–66

Ahadi A, Kang SK, Lee JH (2016) A novel approach for optimal combinations of wind, PV, and energy storage system in diesel-free isolated communities. Appl Energy 170:101–115

Ahmad A, Khan A, Javaid N, Hussain HM, Abdul W, Almogren A, Azim Niaz I (2017) An optimized home energy management system with integrated renewable energy and storage resources. Energies 10(4):549

Ahmadi S, Abdi S (2016) Application of the hybrid big bang-big crunch algorithm for optimal sizing of a stand-alone hybrid PV/wind/battery system. Solar Energy 134:366–374

Alternative Energy Development Board (AEDB), Ministry of Energy, Power Division, Government of Pakistan. http://www.aedb.org/ae-technologies/wind-power/wind-data. Accessed on 2nd April 2018

Baghaee HR, Mirsalim M, Gharehpetian GB, Talebi HA (2016) Reliability/cost-based multi-objective Pareto optimal design of stand-alone wind/PV/FC generation microgrid system. Energy 115:1022–1041

Baghaee HR, Mirsalim M, Gharehpetian GB (2017) Multi-objective optimal power management and sizing of a reliable wind/PV microgrid with hydrogen energy storage using MOPSO. J Intell Fuzzy Syst 32(3):1753–1773

Baneshi M, Hadianfard F (2016) Techno-economic feasibility of hybrid diesel/PV/wind/battery electricity generation systems for non-residential large electricity consumers under southern Iran climate conditions. Energy Convers Manag 127:233–244

Bingham RD, Agelin-Chaab M, Rosen MA (2019) Whole building optimization of a residential home with PV and battery storage in the Bahamas. Renew Energy 132:1088–1103

Blum C, Puchinger J, Raidl GR, Roli A (2011) Hybrid metaheuristics in combinatorial optimization: a survey. Appl Soft Comput 11(6):4135–4151

Buddala R, Mahapatra SS (2018) Improved teaching–learning-based and JAYA optimization algorithms for solving flexible flow shop scheduling problems. J Ind Eng Int 14:555–570. https://doi.org/10.1007/s40092-017-0244-4

California energy commission; (2008). https://www.energy.ca.gov/renewables/. Accessed on 24th Nov 2018

Dawoud SM, Lin X, Okba MI (2018) Hybrid renewable microgrid optimization techniques: a review. Renew Sustain Energy Rev 82:2039–2052

Dufo-López R, Bernal-Agustín JL, Yusta-Loyo JM, Domínguez-Navarro JA, Ramírez-Rosado IJ, Lujano J, Aso I (2011) Multi-objective optimization minimizing cost and life cycle emissions of stand-alone PV–wind–diesel systems with batteries storage. Appl ADEnergy 88(11):4033–4041

Fathy A (2016) A reliable methodology based on mine blast optimization algorithm for optimal sizing of hybrid PV-wind-FC system for remote area in Egypt. Renew Energy 95:367–380

Ghavidel S, Azizivahed A, Li L (2018) A hybrid Jaya algorithm for reliability-redundancy allocation problems. Eng Optim 50(4):698–715

Giallanza A, Porretto M, Puma GL, Marannano G (2018) A sizing approach for stand-alone hybrid photovoltaic-wind-battery systems: a siADcilian case study. J Clean Prod 199:817–830

Guangqian D, Bekhrad K, Azarikhah P, Maleki A (2018) A hybrid algorithm based optimization on modeling of grid independent biodiesel-based hybrid solar/wind systems. Renew Energy 122:551–560

Halabi LM, Mekhilef S, Olatomiwa L, Hazelton J (2017) Performance analysis of hybrid PV/diesel/battery system using HOMER: a case study Sabah, Malaysia. Energy Convers Manag 144:322–339

Hemanand T, Subramaniam NP, Venkateshkumar M (2018) Comparative analysis of intelligent controller based microgrid integration of hybrid PV/wind power system. J Ambient Intell Human Comput. https://doi.org/10.1007/s12652-018-0961-6

Hossain M, Mekhilef S, Olatomiwa L (2017) Performance evaluation of a stand-alone PV–wind–diesel–battery hybrid system feasible for a large resort center in South China Sea, Malaysia. Sustaina Cities Soc 28:358–366

Huang Y, Yang L, Liu S, Wang G (2018) Cooperation between two micro-grids considering power exchange: an optimal sizing approach based on collaborative operation. Sustainability 10(11):4198

Hussain B, Javaid N, Hasan Q, Javaid S, Khan A, Malik S (2018) An inventive method for eco-efficient operation of home energy management systems. Energies 11(11):3091

Kaabeche A, Diaf S, Ibtiouen R (2017) Firefly-inspired algorithm for optimal sizing of renewable hybrid system considering reliability criteria. Solar Energy 155:727–738

Kaviani AK, Baghaee HR, Riahy GH (2009) Optimal sizing of a stand-alone wind/photovoltaic generation unit using particle swarm optimization. Simulation 85(2):89–99

Khan MJ, Yadav AK, Mathew L (2017) Techno economic feasibility analysis of different combinations of PV–Wind–Diesel–Battery hybrid system for telecommunication applications in different cities of Punjab, India. Renew Sustain Energy Rev 76:577–607

Khan A, Javaid N, Khan MI (2018) Time and device based priority induced comfort management in smart home within the consumer budget limitation. Sustain Cities Soc 41:538–555

Khan A, Javaid N (2019) Optimum Sizing of PV-WT-FC-DG Hybrid energy system using teaching learning-based optimization. In: International conference on frontiers of information technology (FIT), Islamabad, Pakistan, 2019, pp 127–1275

Khan A, Javaid N, Ahmad A, Akbar M, Khan ZA, Ilahi M (2018) A priority-induced demand side management system to mitigate rebound peaks using multiple knapsack. J Ambient Intell Human Comput 1–24

Khan A, Javaid N, Javaid S (2018) Optimum unit sizing of stand-alone PV–WT–Battery hybrid system components using Jaya. In: 2018 IEEE 21st international multi-topic conference (INMIC). IEEE, pp 1–8

Khan A, Javaid N, Rafique A (2018) Optimum unit sizing of a stand-alone hybrid PV–WT–FC system using Jaya algorithm. In: International conference on cyber security and computer science (ICONCS), Karabuk University (KBU), Turkey

Khatib T, Mohamed A, Sopian K, Mahmoud M (2011) Optimal sizing of building integrated hybrid PV/diesel generator system for zero load rejection for Malaysia. Energy Build 43(12):3430–3435

Kosai S (2019) Dynamic vulnerability in standalone hybrid renewable energy system. Energy Convers Manag 180:258–268

Ma T, Yang H, Lu L (2014) A feasibility study of a stand-alone hybrid solar-wind-battery system for a remote island. Appl Energy 121:149–158

Madziga M, Rahil A, Mansoor R (2018) Comparison between three off-grid hybrid systems (Solar Photovoltaic, Diesel Generator and Battery Storage System) for electrification for Gwakwani Village, South Africa. Environments 5:57

Maleki A (2018) Modeling and optimum design of an off-grid PV/WT/FC/diesel hybrid system considering different fuel prices. Int J Low-Carbon Technol 13(2):140–147

Maleki A, Khajeh MG, Ameri M (2016) Optimal sizing of a grid independent hybrid renewable energy system incorporating resource uncertainty, and load uncertainty. Int J Electr Power Energy Syst 83:514–524

Maleki A, Pourfayaz F, Hafeznia H, Rosen MA (2017) A novel framework for optimal photovoltaic size and location in remote areas using a hybrid method: Aa case study of eastern Iran. Energy Convers Manag 153:129–143

Maleki A, Khajeh MG, Rosen MA (2017) Two heuristic approaches for the optimization of grid-connected hybrid solar-hydrogen systems to supply residential thermal and electrical loads. Sustain Cities Soc 34:278–292

Mandal S, Das BK, Hoque N (2018) Optimum sizing of a stand-alone hybrid energy system for rural electrification in Bangladesh. J Clean Prod 200:12–27

Mirzapour F, Lakzaei M, Varamini G, Teimourian M, Ghadimi N (2019) A new prediction model of battery and wind-solar output in hybrid power system. J Ambient Intell Human Comput 10(1):77–87

Mohammadi M, Ghasempour R, Astaraei FR, Ahmadi E, Aligholian A, Toopshekan A (2018) Optimal planning of renewable energy resource for a residential house considering economic and reliability criteria. Int J Electr Power Energy Syst 96:261–273

Mozafar MR, Moradi MH, Amini MH (2017) A simultaneous approach for optimal allocation of renewable energy sources and electric vehicle charging stations in smart grids based on improved GA-PSO algorithm. Sustain Cities Soc 32:627–637

Ogunjuyigbe ASO, Monyei CG, Ayodele TR (2015) Price based demand side management: A persuasive smart energy management system for low/medium income earners. Sustain Cities Soc 17:80–94

Ogunjuyigbe ASO, Ayodele TR, Akinola OA (2016) Optimal allocation and sizing of PV/Wind/Split-diesel/Battery hybrid energy system for minimizing life cycle cost, carbon emission and dump energy of remote residential building. Appl Energy 171:153–171

Oviroh PO, Jen TC (2018) The energy cost analysis of hybrid systems and diesel generators in powering selected base transceiver station locations in Nigeria. Energies 11(3):687

Ramli MA, Bouchekara HREH, Alghamdi AS (2018) Optimal sizing of PV/wind/diesel hybrid microgrid system using multi-objective self-adaptive differential evolution algorithm. Renew Energy 121:400–411

Rao RV (2016) Teaching learning based optimization algorithm. Springer International Publishing, Switzerland

Rao R (2016) Jaya: a simple and new optimization algorithm for solving constrained and unconstrained optimization problems. Int J Indu Eng Comput 7(1):19–34

Rao RV, Savsani VJ, Vakharia DP (2011) Teaching-learning-based optimization: a novel method for constrained mechanical design optimization problems. Comput-Aided Des 43(3):303–315

Rodríguez-Gallegos CD, Gandhi O, Bieri M, Reindl T, Panda SK (2018) A diesel replacement strategy for off-grid systems based on progressive introduction of PV and batteries: aADn Indonesian case study. Appl Energy 229:1218–1232

Rodríguez-Gallegos CD, Yang D, Gandhi O, Bieri M, Reindl T, Panda SK (2018) A multi-objective and robust optimization approach for sizing and placement of PV and batteries in off-grid systems fully operated by diesel generators: An Indonesian case study. Energy 160:410–429

Seasons: meteorological and astronomical https://www.timeanddate.com/calendar/aboutseasons.html. Accessed: 2nd Jan 2018

Sinha S, Chandel SS (2014) Review of software tools for hybrid renewable energy systems. Renew Sustain Energy Rev 32:192–205

Syed IM (2017) Near-optimal standalone hybrid PV/WE system sizing method. Solar Energy 157:727–734

Tsiflikiotis A, Goudos SK, Karagiannidis GK (2017) Hybrid teaching-learning optimization of wireless sensor networks. Trans Emerging Telecommun Technol 28(11):e3194

Wang X, Palazoglu A, El-Farra NH (2015) Operational optimization and demand response of hybrid renewable energy systems. Appl Energy 143:324–335

Yahiaoui A, Benmansour K, Tadjine M (2016) Control, analysis and optimization of hybrid PV–Diesel–Battery systems for isolated rural city in Algeria. Solar Energy 137:1–10

Yilmaz S, Dincer F (2017) Optimal design of hybrid PV–Diesel–Battery systems for isolated lands: a case study for Kilis, Turkey. Renew Sustain Energy Rev 77:344–352

Zhaoxia JING, Jisong ZHU, Rongxing HU (2018) Sizing optimization for island microgrid with pumped storage system considering demand response. J Modern Power Syst Clean Energy 6(4):791–801
Additional information
Publisher's Note
Springer Nature remains neutral with regard to jurisdictional claims in published maps and institutional affiliations.
About this article
Cite this article
Khan, A., Javaid, N. TACMA: total annual cost minimization algorithm for optimal sizing of hybrid energy systems. J Ambient Intell Human Comput 11, 5785–5805 (2020). https://doi.org/10.1007/s12652-020-01964-6
Received:

Accepted:

Published:

Issue Date:
Keywords
Unit sizing

Stand-alone system

Renewable energy sources

Energy storage system

Meta-heuristic algorithms

Optimization