Abstract
Inter satellite optical wireless communication (IsOWC) is an emerging transmission technology which is capable of transporting high-speed data between two satellites estranged in outer space and revolving in the same or different orbits. IsOWC links have been considered very crucial for the purpose of providing global coverage for information transmission throughout the world. This work reports the modeling and performance investigation of a novel hybrid wavelength division multiplexing–polarization division multiplexing based IsOWC transmission system incorporating an orthogonal modulation scheme combining carrier suppressed return to zero–differential quadrature phase shift keying–polarization shift keying formats to transmit three independent 40 Gbps data streams simultaneously at different signal parameters. The results show a successful transmission of 3.84 Tbps information over 58,000 km link range with acceptable Q Factor (> 6 dB) and BER (≤ 10−9) using the proposed system. The performance comparison of the proposed system with existing work has also been discussed in this paper.
Access options
Buy single article
Instant access to the full article PDF.
US$ 39.95
Tax calculation will be finalised during checkout.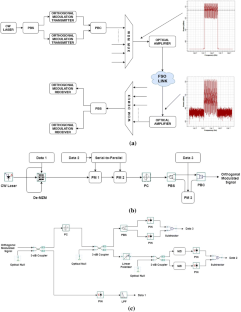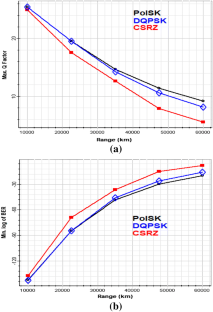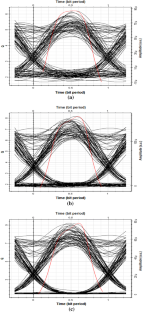 References
Ahriz I, Douin JM, Lemoine F, Wei A (2019) Performance evaluations in optical and wireless networks for CONDOR project. J Ambient Intell Hum Comput 130:73–81

Alipour A, Mir A, Sheikhi A (2016) Ultra high capacity inter-satellite optical wireless communication system using different optimized modulation formats. Optik 127(19):8135–8143

Chaudhary S, Sharma A, Chaudhary N (2016) 6 × 20 Gbps Hybrid WDM-PI Inter-satellite system under the influence of transmitting pointing errors. J Opt Commun 37(4):1–5

Chaudhary S, Sharma A, Singh V (2019) Optimization of high speed and long haul inter-satellite communication link by incorporating differential phase shift key and orthogonal frequency division multiplexing scheme. Optik 176:185–190

Fazili Y, Nafarieh A, Raza MH, Robertson B, Philips W (2016) The effect of adopting green SLA on key parameters of optical WDM networks. J Ambient Intell Hum Comput 7:371

Gill HK, Walia GK, Grewal NS (2019) Performance analysis of mode division multiplexing IS-OWC system using Manchester, DPSK and DQPSK modulation techniques. Optik 177:93–101

Gupta A, Singh A, Bakshi S, Nagpal S (2018) Digital signal processing of 400 Gbps CO-QPSK-WDM system over optical wireless channel for carrier phase estimation. Wirel Pers Commun 99(1):111–120

Kaur R, Kaur H (2018) Comparative analysis of chirped, AMI and DPSK modulation techniques in IS-OWC system. Optik 154:755–762

Kaur K, Kaur B, Singh K (2017) Design and performance investigation of intersatellite optical wireless communication system employing modulation techniques. Wirel Pers Commun 94(3):793–807

Kirti R, Kaur P (2017) FWM investigation in 3-D, 2-D orthogonal modulations and 1-D modulation in WDM system. J Eng Appl Sci 12:5462–5466

Nafarieh A, Raza M, Robertson W (2015) A comprehensive analysis of QoS-based routing mechanisms over shared mesh protected optical infrastructures. J Ambient Intell Humaniz Comput 6(4):463–472

Patnaik B, Sahu PK (2012) Inter-satellite optical wireless communication system design and simulation. IET Commun 6(16):2561–2567

Sharma V, Kumar N (2013a) Modeling of 2.5 Gbps-Intersatellite Link (ISL) in InterSatellite optical wireless communication (IsOWC) system. Optik 124(23):6182–6185

Sharma V, Kumar N (2013b) Improved analysis of 2.5Gbps-inter-satellite link (ISL) in inter-satellite optical-wireless communication (IsOWC) system. Opt Commun 286:99–102

Shatnawi AA, Warip M, Safar A (2016) Influence of transmitting pointing errors on high speed WDM-AMI-Is-OWC transmission system. J Opt Commun 39(1):1–5

Siano P, Graditi G, Atrigna M, Piccolo A (2013) Designing and testing decision support and energy management systems for smart homes. J Ambient Intell Humaniz Comput 4(6):651–661

Singh S (2016) Novel secure and bandwidth efficient optical code division multiplexed system for future access networks. Opt Fiber Technol 32:123–128

Singh S (2017) Bandwidth efficient hybrid modulation technique in the scenario of 3.5 Tb/S dense wavelength division multiplexed system. Optoelectron Adv Mater 11(1–2):51–53

Singh S (2018) Singh S (2018) A hybrid WDM ring-tree topology delivering efficient utilization of bandwidth over resilient infrastructure. Photon Netw Commun 35:325–334

Singh S, Kaler RS (2014) Performance investigation of Raman erbium-doped fiber amplifier hybrid optical amplifier in the scenario of high-speed orthogonal-modulated signals. Opt Eng 53(3):03610214

Singh S, Singh S (2016) Investigation on four wave mixing effect in various optical fibers for different spectral efficient orthogonal modulation formats. Opt Laser Technol 76:64–69

Singh S, Singh S (2017a) Performance analysis of hybrid WDM-OTDM optical multicast overlay system employing 120 Gbps polarization and subcarrier multiplexed unicast signal with 40 Gbps multicast signal. Opt Commun 385:36–42

Singh S, Singh S (2017b) Performance analysis of spectrally encoded hybrid WDM–OCDMA network employing optical orthogonal modulation format against eavesdropper. AEU Int J Electron C 82:492–501

Singh S, Singh S (2017c) Limitations on hybrid WDM/OTDM multicast overlay system imposed by nonlinear polarization effect and its mitigation. IEEE Photonics J 9(6):1–11

Singh M, Malhotra J (2019) Modeling and performance analysis of 400 Gbps CO-OFDM based inter-satellite optical wireless communication (IsOWC) system incorporating polarization division multiplexing with enhanced detection. Wirel Pers Commun (2019) (Article in press)

Singh S, Kaur R, Singh A, Kaler RS (2015) Novel security enhancement technique against eavesdropper for OCDMA system using 2-D modulation format with code switching scheme. Opt Fiber Technol 22:84–89

Singh S, Singh S, Ngo QM, Mohammadi AM (2019) 340-Gb/s PolSK–DP–DQPSK optical orthogonal modulation format with coherent direct detection for high capacity WDM optical network. Opt Fiber Technol 52:1–6

Taher KA, Majumder SP, Rahman BMA (2014) Performance of multilevel modulation formats in 92 Gb/s systems in the presence of PMD and nonlinear effects. In: International conference on electrical engineering and information and communication technology, pp 1–4. https://doi.org/10.1109/ICEEICT.2014.6919043
Acknowledgements
The authors would like to express their sincere thanks to Prof. Dr. Truong Khang Nguyen, Division of Computational Physics, Institute for Computational Science, Ton Duc Thang University, Ho Chi Minh City, Vietnam for giving his value suggestion, comments and support to complete this work as effective.
Additional information
Publisher's Note
Springer Nature remains neutral with regard to jurisdictional claims in published maps and institutional affiliations.
About this article
Cite this article
Sumathi, K., Balasaraswathi, M., Boopathi, C.S. et al. Design of 3.84 Tbps hybrid WDM–PDM based inter-satellite optical wireless communication (IsOWC) system using spectral efficient orthogonal modulation scheme. J Ambient Intell Human Comput 11, 4167–4175 (2020). https://doi.org/10.1007/s12652-020-01691-y
Received:

Accepted:

Published:

Issue Date:
Keywords
Wavelength division multiplexing

Polarization division multiplexing

Orthogonal modulation scheme

Link range