Abstract
LEED is widely used to guide green building design and evaluation. However, since in most cases, the construction cost is not the main evaluation content, the building energy saving is often accompanied by the cost increase, so the owner's willingness to participate spontaneously is not high. This paper takes residential buildings as an example, and uses BIM simulation technology combined with value engineering to analyze the relationship between cost and energy saving in the architectural design process. Based on the establishment of the REVIT model, Ecotect is used to simulate the energy consumption. By comparing the energy-saving performance of different schemes, the LEED score is calculated to determine the most cost-effective design. The study found that in the design stage, BIM tools combined with value engineering can better optimize the design and find a balance point that meets the requirements of green building evaluation and owner.
Access options
Buy single article
Instant access to the full article PDF.
US$ 39.95
Tax calculation will be finalised during checkout.
Subscribe to journal
Immediate online access to all issues from 2019. Subscription will auto renew annually.
US$ 79
Tax calculation will be finalised during checkout.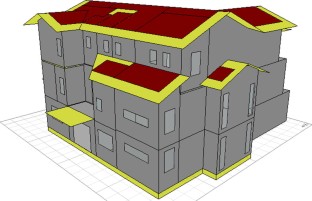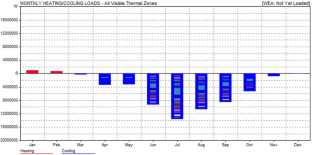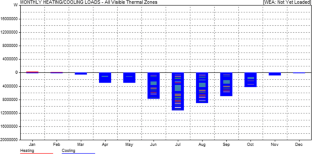 References
Alashwal AM, Chew MY, Kumaraswamy M, Abraham DM (2017) Simulation techniques for cost management and performance in construction projects in Malaysia. Built Environ Project Asset Manag 7(5):534–545

Alwan Z, Greenwood D, Gledson B (2015) Rapid leed evaluation performed with bim based sustainability analysis on a virtual construction project. Constr Innov 15(2):134–150

American Society of Heating, Refrigerating and Air-Conditioning Engineers (ASHRAE) (2007) ASHRAE handbook-fundamentals. ASHRAE, Atlanta

Boukamp F, Akinci B (2007) Automated processing of construction specifications to support inspection and quality control. Autom Constr 17(1):90–106

Bryde D, Broquetas M, Volm JM (2013) The project benefits of building information modelling (bim). Int J Project Manage 31(7):971–980

Bureau of Energy (2013) Energy-saving building technology application manual. Ministry of Economic Affairs, Taipei

Chong HY, Wang X (2016) The outlook of building information modeling for sustainable development. Clean Technol Environ Policy 18(6):1877–1887

Climate Statistics of Taiwan (2019) Meteorological bureau of Taiwan. http://www.cwb.gov.tw/V7/climate/. Accessed 20 Feb 2019

Elmualim A, Gilder J (2014) Bim: innovation in design management, influence and challenges of implementation. Archit Eng Des Manag 10(3–4):183–199

Gong X, Michel P, Cantin R (2019) Multiple-criteria decision analysis of BIM influences in building energy management. Build Simul 12(8):641–652

Goodacre C, Sharples S, Smith P (2002) Integrating energy efficiency with the social agenda in sustainability. Energy Build 34(1):53–61

Gray M, Gray J, Teo M, Chi S, Cheung YKF (2013) Building information modelling: an international survey. World building congress. Brisbane, Australia, pp 601–609

Jalaei F, Jrade A (2015) Integrating building information modeling (bim) and leed system at the conceptual design stage of sustainable buildings. Sustain Cities Soc 18:95–107

Jiang S, Lei W (2014) The application of bim in green building energy saving: take Helsinki music center as an example. Adv Mater Res 935:3–7

Jrade A, Jalaei F (2014) Using building information modeling to evaluate the costs and benefits of adopting sustainable universal houses in Canada. IGI Global 3:56–76

LABC: Building Control Technical Guidance Leaflet No.10 U-Values of Elements January 2011 (http//www.haringey.gov.uk). Accessed 10 Nov 2018

Leite F, Akcamete A, Akinci B, Atasoy G, Kiziltas S (2011) Analysis of modeling effort and impact of different levels of detail in building information models. Autom Constr 20(5):601–609

Liu Y, Guo X, Hu F (2014) Cost-benefit analysis on green building energy efficiency technology application: a case in china. Energy Build 82(10):37–46

Lu W, Fung A, Peng Y, Liang C, Rowlinson S (2014) Cost-benefit analysis of building information modeling implementation in building projects through demystification of time-effort distribution curves. Build Environ 82(12):317–327

Ma Z, Wei Z, Zhang X (2013) Semi-automatic and specification–compliant cost estimation for tendering of building projects based on IFC data of design model. Autom Constr 30(3):126–135

Motawa I, Carter K (2013) Sustainable bim-based evaluation of buildings. Proc Soc Behav Sci 74:419–428

Nepal M, Staub-French SJ, Zhang M, Lawrence RP (2008) Deriving construction features from an IFC model. In: Proceedings of the CSCE 2008 annual conference, pp 4–20

Rasiulis R, Ustinovichius L, Migilinskas D, Cepurnaite J, Virbickas A (2016) Energy efficiency of a public building renovation and reconstruction using base model passive house and bim technology. Eng Struct Technol 7(3):114–125

Samuel EI, Joseph-Akwara E, Richard A (2017) Assessment of energy utilization and leakages in buildings with building information model energy. Front Archit Res 6(1):29–41

Shen L, Lin YX (2014) Strategies in using building information modeling (bim) to solve problems in project management of chinese construction enterprises. Appl Mech Mater 501–504:2700–2705

Smith P (2016) Project cost management with 5d bim. Proc Soc Behav Sci 226(7):193–200

USGBC (2010) LEED 2009 for retail: new construction and major renovations rating system. Publisher, Washington, pp 29–45
Acknowledgments
This study was financially Supported by Program for New Century Excellent Talents in Fujian Province University (no. 201847) & National Undergraduate Training Program for Innovation and Entrepreneurship (no. 201910397025).
Additional information
Publisher's Note
Springer Nature remains neutral with regard to jurisdictional claims in published maps and institutional affiliations.
About this article
Cite this article
Wei, T., Chen, Y. Green building design based on BIM and value engineering. J Ambient Intell Human Comput 11, 3699–3706 (2020). https://doi.org/10.1007/s12652-019-01556-z
Received:

Accepted:

Published:

Issue Date:
Keywords
BIM

LEED

Value engineering

Cost effective

ASHRAE