Abstract
With the increasing number of Web services published on the Web, many of services provide the same functionality with different quality of service. Ranking similar web services based on QoS is then an important issue. This paper proposes a hybrid approach to rank-order Skyline Web services, which mixes several methods borrowed from Multi-Criteria Decision Making field. The Skyline method is used to reduce the decision space and focusing only on interesting Web services that are not dominated by any other service. For weighting QoS criteria, we aggregate objective and subjective weights. The objective Entropy weights are extracted directly from invocation history data, however, the subjective weights are calculated using Fuzzy AHP from user opinions. Promethee method is leveraged to rank Skyline Web services, by taking advantage of the outranking relationships between Skyline Web services and generating positive, negative and Net flows. An efficient algorithm to rank-order Skyline Web services on the basis of Net flow is developed. A case study is presented to illustrate the different steps of our approach. The experimental evaluation conducted on real-world datasets demonstrates that our approach can better capture the user preferences and retrieve the best ranked Skyline Web services.
This is a preview of subscription content, log in to check access.
Access options
Buy single article
Instant access to the full article PDF.
US$ 39.95
Price includes VAT for USA
Subscribe to journal
Immediate online access to all issues from 2019. Subscription will auto renew annually.
US$ 99
This is the net price. Taxes to be calculated in checkout.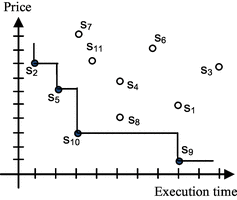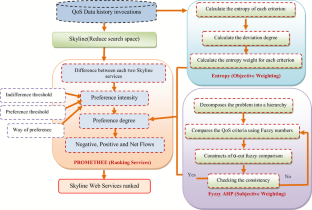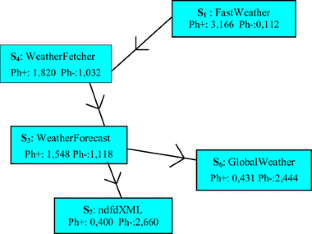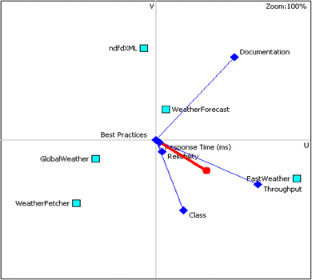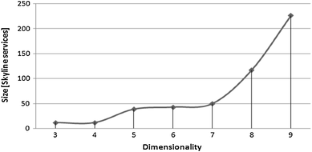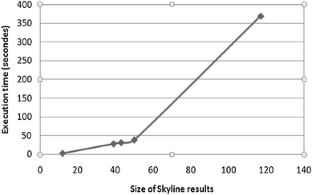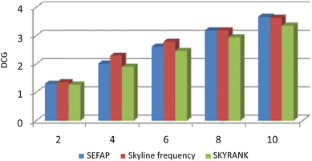 References
Alam KA, Ahmad R (2016). A hybrid fuzzy multi-criteria decision model for cloud service selection and importance degree of component services in service compositions. In: Uncertainty modelling in knowledge engineering and decision making. Proceedings of the 12th international FLINS conference (FLINS 2016), vol 10, p 334. World Scientific

Albadvi A, Chaharsooghi SK, Esfahanipour A (2007) Decision making in stock trading: an application of PROMETHEE. Eur J Oper Res 177(2):673–683. https://doi.org/10.1016/J.EJOR.2005.11.022

Al-Masri E, Mahmoud QH (2007a) Qos-based discovery and ranking of web services. Comput Commun Netw. In: ICCCN 2007. Proceedings of 16th international conference, IEEE, pp 529–534. https://doi.org/10.1109/ICCCN.2007.4317873

Al-Masri E, Mahmoud QH (2007b). Crawling multiple UDDI business registries. In Proceedings of the 16th international conference on world wide web, ACM, pp 1255–1256. https://doi.org/10.1145/1242572.1242794

Almulla M, Almatori K, Yahyaoui H (2011) A QoS-based fuzzy model for ranking real world web services. In: Web services (ICWS), 2011 IEEE international conference, IEEE, pp 203–210. https://doi.org/10.1109/ICWS.2011.43

Almulla M, Yahyaoui H, Al-Matori K (2015) A new fuzzy hybrid technique for ranking real world web services. Knowl Based Syst 77:1–15. https://doi.org/10.1016/j.knosys.2014.12.021

Alrifai M, Skoutas D, Risse T (2010) Selecting skyline services for QoS-based web service composition. In: Proceedings of the 19th international conference on world wide web, ACM, pp 11–20. https://doi.org/10.1145/1772690.1772693

Balali V, Zahraie B, Roozbahani A (2014) A comparison of AHP and PROMETHEE family decision making methods for selection of building structural system. Am J Civil Eng Archit 2(5):149–159

Behzadian M, Kazemzadeh RB, Albadvi A, Aghdasi M (2010) PROMETHEE: a comprehensive literature review on methodologies and applications. Eur J Oper Res 200(1):198–215. https://doi.org/10.1016/j.ejor.2009.01.021

Benouaret K (2012). Advanced techniques for web service query optimization. Doctoral dissertation, Université Claude Bernard-Lyon I

Benouaret K, Benslimane D, Hadjali A (2012) Selecting skyline web services for multiple users preferences. In: Web services (ICWS), 2012 IEEE 19th international conference, IEEE, pp 635–636. https://doi.org/10.1109/ICWS.2012.108

Borzsony S, Kossmann D, Stocker K (2001) The skyline operator. Data Eng. In: Proceedings 17th international conference, IEEE, pp 421–430. https://doi.org/10.1109/ICDE.2001.914855

Brans JP, Mareschal B (1994) The PROMCALC & GAIA decision support system for multicriteria decision aid. Decis Supp Syst 12(4–5):297–310. https://doi.org/10.1016/0167-9236(94)90048-5

Brans JP, Mareschal B (2005) PROMETHEE methods. In: Multiple criteria decision analysis: state of the art surveys. Springer, New York, pp 163–186

Brans JP, Vincke P, Mareschal B (1986) How to select and how to rank projects: the PROMETHEE method. Eur J Oper Res 24(2):228–238. https://doi.org/10.1016/0377-2217(86)90044-5

Buckley JJ (1985) Fuzzy hierarchical analysis. Fuzzy Sets Syst 17(3):233–247. https://doi.org/10.1016/0165-0114(85)90090-9

Chakhar S, Youcef S, Mousseau V, Mokdad L, Haddad S (2011) Multicriteria evaluation-based conceptual framework for composite web service selection. Research report. Lamsade, University Paris Dauphine, France

Chang DY (1996) Applications of the extent analysis method on fuzzy AHP. Eur J Oper Res 95:649–655. https://doi.org/10.1016/0377-2217(95)00300-2

Chouiref Z, Belkhir A, Benouaret K, Hadjali A (2016) A fuzzy framework for efficient user-centric web service selection. Appl Soft Comput 41:51–65. https://doi.org/10.1016/j.asoc.2015.12.011

Dai G, Qingsheng Z (2013) Using skyline and dominance relationship for web ranking services. Newsp Comput Inf Syst 9(10):3977–3984

Du Y, Hu H, Song W, Ding J, Lü J (2015) Efficient computing composite service skyline with QoS correlations. In: Services computing (SCC), 2015 IEEE international conference, IEEE, pp 41–48. https://doi.org/10.1109/SCC.2015.16

Fletcher KK, Liu XF, Tang M (2015) Elastic personalized nonfunctional attribute preference and trade-off based service selection. ACM Trans Web TWEB 9(1):1. https://doi.org/10.1145/2697389

Godse M, Sonar R, Mulik S (2008) The analytical hierarchy process approach for prioritizing features in the selection of web service. In: Web services. ECOWS'08. IEEE sixth European conference, IEEE, pp 41–50. https://doi.org/10.1109/ECOWS.2008.21

Hao F, Pei Z, Park DS, Phonexay V, Seo HS (2017). Mobile cloud services recommendation: a soft set-based approach. J Ambient Intell Humaniz Comput. https://doi.org/10.1007/s12652-017-0572-7

Herssens C, Jureta I, Faulkner S (2008) Dealing with quality tradeoffs during service selection. IAG–LSM working papers. https://doi.org/10.1109/ICAC.2008.8

Hyde K, Maier HR, Colby C (2003) Incorporating uncertainty in the PROMETHEE MCDA method. J Multi Criteria Decis Anal 12(4–5):245–259

Jarvelin K, Kekäläinen J (2002) Cumulated gain-based evaluation of IR techniques. ACM Trans Inf Syst TOIS 20(4):422–446. https://doi.org/10.1145/582415.582418

Kangas A, Kangas J, Pykäläinen J (2001) Outranking methods as tools in strategic natural resources planning

Karim R, Ding C, Chi CH (2011) An enhanced PROMETHEE model for QoS-based Web service selection. In: Services computing (SCC), IEEE international conference, IEEE, pp 536–543. https://doi.org/10.1109/SCC.2011.81

Kumar RR, Kumar C (2018) A multicriteria decision-making method for cloud service selection and ranking. Adv Comput Comput Sci. Springer, Singapore, pp 139–147. https://doi.org/10.1007/978-981-10-3773-3_14

Kumar RR, Mishra S, Kumar C (2017). Prioritizing the solution of cloud service selection using integrated MCDM methods under Fuzzy environment. J Supercomput https://doi.org/10.1007/s11227-017-2039-1

Kwong CK, Bai H (2002) A fuzzy AHP approach to the determination of importance weights of customer requirements in quality function deployment. J Intell Manuf 13(5):367–377

Laarhoven Van PJM, Pedrycz W (1983) A fuzzy extension of Saaty's priority theory. Fuzzy Sets Syst 11(1–3):229–241. https://doi.org/10.1016/S0165-0114(83)80082-7

Lin CL, Shih YH, Tzeng GH, Yu HC (2016) A service selection model for digital music service platforms using a hybrid MCDM approach. Appl Soft Comput 48:385–403. https://doi.org/10.1016/j.asoc.2016.05.035

Ma Y, Wang S, Sun Q, Zou H, Yang F (2013) Web services QoS measure based on subjective and objective weight. In: Services computing (SCC), 2013 IEEE international conference, IEEE, pp 543–550. https://doi.org/10.1109/SCC.2013.10

Macharis C, Springael J, De Brucker K, Verbeke A (2004) PROMETHEE and AHP: the design of operational synergies in multicriteria analysis: strengthening PROMETHEE with ideas of AHP. Eur J Oper Res 153(2):307–317. https://doi.org/10.1016/S0377-2217(03)00153-X

Marinoni O (2006) A discussion on the computational limitations of outranking methods for land-use suitability assessment. Int J Geogr Inf Sci 20(1):69–87. https://doi.org/10.1080/13658810500287040

Mobedpour D, Ding C (2013) User-centered design of a QoS-based Web service selection system. SOCA 7(2):117–127

Ouadah A, Benouaret K, Hadjali A, Nader F (2015a) Combining skyline and multi-criteria decision methods to enhance Web services selection. In: Programming and systems (ISPS), 2015 12th international symposium, IEEE, pp 1–8. https://doi.org/10.1109/ISPS.2015.7244975

Ouadah A, Benouaret K, Hadjali A, Nader F (2015b) Skyap-s3: a hybrid approach for efficient skyline services selection. In: Service-oriented computing and applications (SOCA), 2015 IEEE 8th international conference, IEEE, pp 18–25. https://doi.org/10.1109/SOCA.2015.22

Papadias D, Tao Y, Fu G, Seeger B (2003) An optimal and progressive algorithm for skyline queries. In: Proceedings of the 2003 ACM SIGMOD international conference on Management of data, ACM, pp 467–478. https://doi.org/10.1145/872757.872814

Rehman urZ, Hussain OK, Hussain FK (2014) Parallel cloud service selection and ranking based on QoS history. Int J Parallel Prog 42(5):820–852

Roy B, Figueira JR, Almeida-Dias J (2014) Discriminating thresholds as a tool to cope with imperfect knowledge in multiple criteria decision aiding: theoretical results and practical issues. Omega 43:9–20. https://doi.org/10.1016/j.omega.2013.05.003

Saaty RW (1987) The analytic hierarchy process–what it simple percentage and how it used simple percentage. Math Model 9(3):161–176

Seo YJ, Jeong HY, Song YJ (2004) A study on web services selection method based on the negotiation through quality broker: a maut-based approach. ICESS. https://doi.org/10.1007/11535409_9

Seo YJ, Jeong HY, Song YJ (2005) Best web service selection based on the decision making between qos criteria of service. ICESS 5:408–419. https://doi.org/10.1007/11599555_39

Serrai W, Abdelli A, Mokdad L, Hammal Y (2016) An efficient approach for web service selection. Comput Commun (ISCC), 2016 IEEE symposium, IEEE, pp 167–172. https://doi.org/10.1109/ISCC.2016.7543734

Serrai W, Abdelli A, Mokdad L, Hammal Y (2017) Towards an efficient and a more accurate web service selection using MCDM methods. J Comput Sci. https://doi.org/10.1016/j.jocs.2017.05.024

Shannon CE (1948) A mathematical theory of communication, part I, part II. Bell Syst Tech J 27:623–656. https://doi.org/10.1002/j.1538-7305.1948.tb01338.x

Shao L, Zhang J, Wei Y, Zhao J, Xie B, Mei H (2007) Personalized qos prediction for web services via collaborative filtering. In: Web services. ICWS 2007. IEEE international conference, IEEE, pp 439–446. https://doi.org/10.1109/ICWS.2007.140

Siala F, Ghedira K (2014) How to select dynamically a QoS-driven composite web service by a multi-agent system using CBR method. Int J Wirel Mob Comput 7(4):327–347. https://doi.org/10.1504/IJWMC.2014.063054

Sun L, Dong H, Hussain FK, Hussain OK, Ma J, Zhang Y (2014) A hybrid fuzzy framework for cloud service selection. In: Web services (ICWS), 2014 IEEE international conference, IEEE, pp 313–320. https://doi.org/10.1109/ICWS.2014.53

Sun R, Zhang B, Liu T (2016) Ranking web service for high quality by applying improved entropy—TOPSIS method. In: Software engineering, artificial intelligence, networking and parallel/distributed computing (SNPD), 2016 17th IEEE/ACIS international conference, IEEE, pp 249–254. https://doi.org/10.1109/SNPD.2016.7515909

Tan KL, Eng PK, Ooi BC (2001) Efficient progressive skyline computation. VLDB 1:301–310

Tang YC (2009) An approach to budget allocation for an aerospace company—fuzzy analytic hierarchy process and artificial neural network. Neurocomputing 72:3477–3489. https://doi.org/10.1016/j.neucom.2009.03.020

Vesyropoulos N, Georgiadis CK (2015) QoS-based filters in web service compositions: utilizing multi-criteria decision analysis methods. J Multi Criteria Decis Anal 22(5–6):279–292. https://doi.org/10.1002/mcda.1538

Vincke Ph (1992) Multi-criteria decision aid. Wiley, Hoboken, p 154

Vlachou A, Vazirgiannis M (2010) Ranking the sky: discovering the importance of skyline points through subspace dominance relationships. Data Knowl Eng 69(9):943–964. https://doi.org/10.1016/j.datak.2010.03.008

Wang JJ, Yang DL (2007) Using a hybrid multi-criteria decision aid method for information systems outsourcing. Comput Oper Res 34(12):3691–3700. https://doi.org/10.1016/j.cor.2006.01.017

Wang P, Chao KM, Lo CC, Huang CL, Li Y (2006) A fuzzy model for selection of QoS-aware web services. e-Bus Eng. ICEBE'06. IEEE international conference, IEEE, pp 585–593. https://doi.org/10.1109/ICEBE.2006.3

Whaiduzzaman M, Gani A, Anuar NB, Shiraz M, Haque MN, Haque IT (2014) Cloud service selection using multicriteria decision analysis. Sci World J. https://doi.org/10.1155/2014/459375

Xiong P, Fan Y (2007) Qos-aware web service selection by a synthetic weight. Fuzzy Syst Knowl Discov. FSKD 2007. Fourth international conference, IEEE, vol 3, pp 632–637. https://doi.org/10.1109/FSKD.2007.462

Yu Q, Bouguettaya A (2009) Foundations for efficient web service selection. Springer, Berlin

Yu Q, Bouguettaya A (2010) Computing service skyline from uncertain qows. IEEE Trans Serv Comput 3(1):16–29. https://doi.org/10.1109/TSC.2010.7

Zadeh LA (1999) Fuzzy sets as a basis for a theory of possibility. Fuzzy Sets Syst 100:9–34. https://doi.org/10.1016/S0165-0114(99)80004-9
About this article
Cite this article
Ouadah, A., Hadjali, A., Nader, F. et al. SEFAP: an efficient approach for ranking skyline web services. J Ambient Intell Human Comput 10, 709–725 (2019). https://doi.org/10.1007/s12652-018-0721-7
Received:

Accepted:

Published:

Issue Date:
Keywords
Skyline web services

Multi-criteria decision making

Entropy

Fuzzy AHP

Promethee

User preferences