Abstract
Mobile Resource Management without Cloud Server (MRM) is the computing resource integrated management of mobile devices in order to establish mobile cloud computing infrastructure without a cloud server and to provide computing services in this research. The MRM forms a logical resource pool to integrate physical resources from scattered mobile devices and provides computing services. In other words, the MRM offers static and dynamic performance-based computing services, designed to provide computing services that guarantee availability and expandability through a mobile device resource pool without a cloud server. To this end, the MRM defines static and dynamic metadata to manage mobile devices. Detailed schemes consisting of the MRM configuration, the MRM management, and the MRM operation are established to design and implement the MRM. To integrate the MRM resources and validate the effectiveness of the computing services, the configuration time for resource integration, and the task time, in accordance with simultaneous requests for computing services, is measured, and the availability results for the MRM are demonstrated.
Access options
Buy single article
Instant access to the full article PDF.
USD 39.95
Price excludes VAT (USA)
Tax calculation will be finalised during checkout.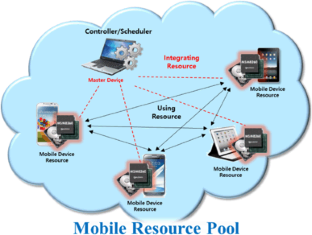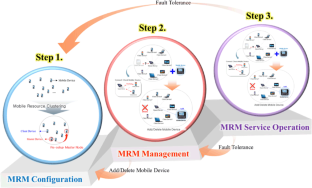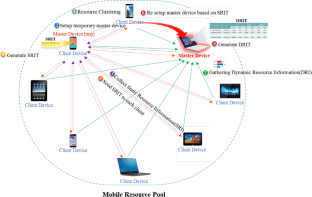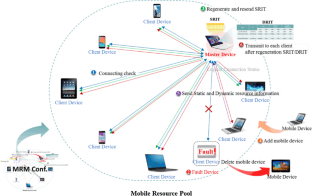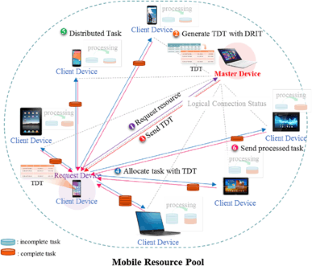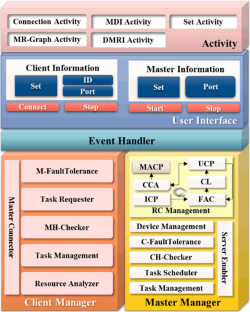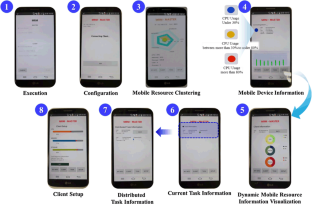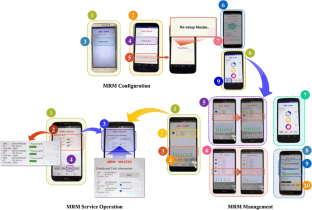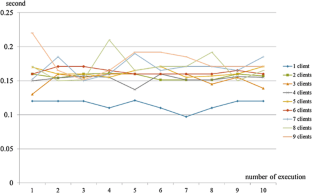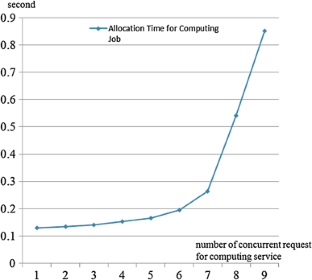 References
Alam MI, Pandey M, Rautaray SS (2015) A comprehensive survey on cloud computing. Int J Inf Technol Comput Sci 7(2):68–79

Fernando N, Loke SW, Rahayu W (2013) Mobile cloud computing: a survey. Future Gener Comput Syst 29(1):84–106

Guzek M, Bouvry P, Talbi E (2015) A survey of evolutionary computation for resource management of processing in cloud computing. IEEE Comput Intell Mag 10(2):53–67

Heo YA (2017) A study on mobile resource management scheme based on collaborative architecture. Master Thesis of Dongguk University, pp 1–60

Jararweh Y, Al-Ayyoub M, Darabseh A, Benkhelifa E, Voukc M, Rindos A (2016) Software defined cloud: survey, system and evaluation. Future Gener Comput Syst 58:56–74

Jennings B, Stadler R (2015) Resource management in clouds: survey and research challenges. J Netw Syst Manag 23(3):567–619

Kar J, Mishra MR (2016) Mitigating threats and security metrics in cloud computing. J Inf Process Syst 12(2):226–223

Kaushik N, Gaurav JK (2014) A literature survey on mobile cloud computing: open issues and future directions. Int J Eng Comput Sci 3(5):6165–6172

Kim HW, Park JH, Jeong YS (2015a) Human-centric storage resource mechanism for big data on cloud service architecture. J Supercomput 72(7):2437–2452

Kim S, Lee H, Kwon H, Lee S (2015b) Evaluation model of defense information systems use. J Converg 6(3):18–26

Motavaselalhagh F, Esfahani FS, Arabnia HR (2015) Knowledge-based adaptable scheduler for SaaS providers in cloud computing. Hum Centric Comput Inf Sci 5(14):1–19

Naresh T, Lakshmi AJ, Reddy VK (2015) Resource allocation methods in cloud computing: survey. Int J Emerg Trends Technol 2(2):416–419

Park JH, Kim HW, Jeong YS (2014) Efficiency sustainability resource visual simulator for clustered desktop virtualization based on cloud infrastructure. Sustainability 6(11):8079–8091

Patel I, Shah B (2016) Survey on resource allocation technique in cloud. Int J Sci Res 5(4):232–235

Raatikainen K (2002) Middleware for mobile applications beyond 3G. IFIP Adv Inf Commun Technol 84:3–17

Ranjan R, Benatallah B, Dustdar S, Papazoglou MP (2015) Cloud resource orchestration programming. IEEE Internet Comput 19(5):46–56

Singh A, Kaur I (2016) A survey on cloud computing and various scheduling algorithms. Int J Adv Res Comput Sci Manag Stud 4(2):209–212

Sonkar SK, Kharat MU (2015) A survey on resource management in cloud computing environment. Int J Adv Trends Comput Sci Eng 4(4):48–51

Sun Z, Fox G, Gu W, Li Z (2014) A parallel clustering method combined information bottleneck theory and centroid-based clustering. J Supercomput 69(1):452–467

Vasoya S, Gadhavi L, Bhatia J, Bhavsar M (2016) Resource provisioning strategies in cloud: a survey. Int J Comput Sci Commun 7(2):12–15

Vinh TL, Bouzefrane S, Farinone JM, Attar A, Kennedy BP (2015) Middleware to integrate mobile devices, sensors and cloud computing. Procedia Comput Sci 52:234–243

Xue Y, Deters R (2015) Resource sharing in mobile cloud-computing with Coap. Procedia Comput Sci 64:96–103

Zhan Z, Liu X, Gong Y, Zhang J, Chung HS, Li Y (2015) Cloud computing resource scheduling and a survey of its evolutionary approaches. ACM Comput Surv 47(4):1–33
Acknowledgements
This work was supported by the Dongguk University Research Fund of 2016. And this research was also supported by the Ministry of Science, ICT and Future Planning (MSIP), Korea, under the Information Technology Research Center (ITRC) Support Program (IITP-2017-2013-0-00684) supervised by the Institute for Information and communications Technology Promotion (IITP).
About this article
Cite this article
Yi, G., Heo, YA., Byun, H. et al. MRM: mobile resource management scheme on mobile cloud computing. J Ambient Intell Human Comput 9, 1245–1257 (2018). https://doi.org/10.1007/s12652-017-0578-1
Received:

Accepted:

Published:

Issue Date:

DOI: https://doi.org/10.1007/s12652-017-0578-1
Keywords
Mobile cloud computing

Mobile resource management

Collaborative architecture

Dynamic scheduling algorithm