Abstract
A hydrophobic sphere, freely released from a certain height, entering water makes a cavity behind it. This paper visually demonstrates underwater sound produced by the water entry with the use of a hydrophone synchronized with a high-speed camera. The acoustic signal of the underwater sound recorded can be found to include two predominant frequencies. A remarkable finding is the fact that the higher predominant frequency sound can be excited by the breathing mode of a residual bubble behind the sphere after the cavity pinching off. In addition, the lower frequency sound is predicted to be driven by the oscillation of the free surface caused by the impact of the sphere.
Graphical abstract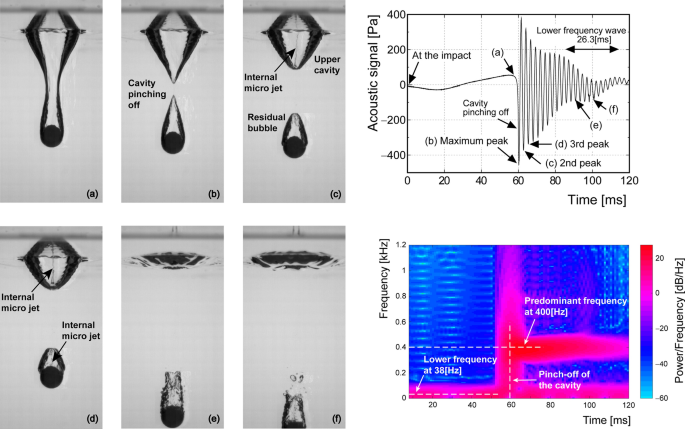 Access options
Buy single article
Instant access to the full article PDF.
USD 39.95
Price includes VAT (USA)
Tax calculation will be finalised during checkout.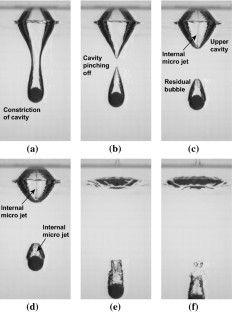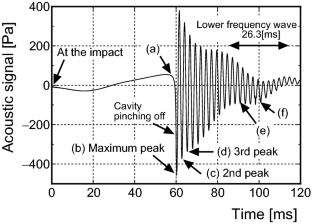 References
Aristoff JM, Bush JWM (2009) Water entry of small hydrophobic spheres. J Fluid Mech 619:45–78

Czerski H, Deane GB (2010) Contributions to the acoustic excitation of bubbles released from a nozzle. J Acoust Soc Am 128:2625–2634

Duclaux V, Caillé F, Duez C, Ybert C, Bocquet L, Clanet C (2007) Dynamics of transient cavities. J Fluid Mech 591:1–19

Duez C, Ybert C, Clanet C, Bocquet L (2007) Making a splash with water repellency. Nat Phys 3:180–183

Katoh K, Minami R, Wakimoto T, Ueda Y, Iguchi M (2015) Residual bubble volume formed behind a sphere plunging into liquid bath. Jpn J Multiph Flow 28:547–553 (in Japanese)

Kracht W, Finch JA (2009) Using sound to study bubble coalescence. J Colloid Interface Sci 332:237–245

Kyotoh H, Maeda N, Sakurai T (2004) Underwater sound generated by bubbles. Jpn J Multiph Flow 23:27–36 (in Japanese)

Longuet-Higgins MS (1989) Monopole emission of sound by asymmetric bubble oscillations. Part \(2\). An initial-value problem. J Fluid Mech 201:543–565

Manasseh R, Riboux G, Risso F (2008) Sound generation on bubble coalescence following detachment. Int J Multiph Flow 34:938–949

Minnaert M (1933) On musical air-bubbles and the sounds of running water. Philos Mag 16:235–248

Phillips S, Agarwal A, Jordan P (2018) The sound produced by a dripping tap is driven by resonant oscillations of an entrapped air bubble. Sci Rep. https://doi.org/10.1038/s41598-018-27913-0

Truscott TT, Epps BP, Belden J (2014) Water entry of projectiles. Annu Rev Fluid Mech 46:355–378

Ueda Y, Tanaka M, Uemura T, Iguchi M (2010) Water entry of a superhydrophobic low-density sphere. J Vis 13:289–292

Worthington AM, Cole RS (1897) Impact with a liquid surface, studied by the aid of instantaneous photography. Philos Trans R Soc Lond A 189:137–148

Worthington AM, Cole RS (1900) Impact with a liquid surface studied by the aid of instantaneous photography. Paper II. Philos Trans R Soc Lond A 194:175–199
Additional information
Publisher's Note
Springer Nature remains neutral with regard to jurisdictional claims in published maps and institutional affiliations.
Supplementary Information
Below is the link to the electronic supplementary material.
Supplementary material 1 (mp4 51906 KB)
About this article
Cite this article
Ueda, Y., Iguchi, M. Measurement of underwater sound produced by a hydrophobic sphere entering water. J Vis (2021). https://doi.org/10.1007/s12650-021-00811-w
Received:

Revised:

Accepted:

Published:
Keywords
Underwater sound

Acoustic excitation

Water entry

Hydrophobic

Wettability