Abstract
In this study, the dynamic characteristics of water droplets impinging on a heated cylinder were investigated using a high-speed camera regarding the diameter ratios between droplet and cylinder. Water droplets generated by a needle in the range of 2.5 mm to 5.0 mm in diameter were impinged onto a cartridge heater with surface temperature of 25 °C and 300 °C. The diameter of the cartridge heater was 6.0 mm. The recording rate of the high-speed camera was set to 10,000 Hz, and the Weber number was controlled from 17.4 to 217 by adjusting the free-fall height of the water droplets. As a result, the dynamic characteristics of water droplets impinging on cylinder were different depending on the diameter ratio and Weber number. In the high-temperature region, the water droplets were detached from the cylinder after the impingement by Leidenfrost effect. Under conditions of low Weber number and low diameter ratio, the water droplets were rebounded in the opposite direction of the impingement, maintaining its shape. However, as the Weber number increases, the water droplets impinging on cylinder were broken-up and detached by the Leidenfrost effect regardless of the diameter ratio. This study is expected to be utilized to determine the dynamic characteristics of droplet, and be applied such as phenomenon analysis of the heat transfer and cooling.
Graphical Abstract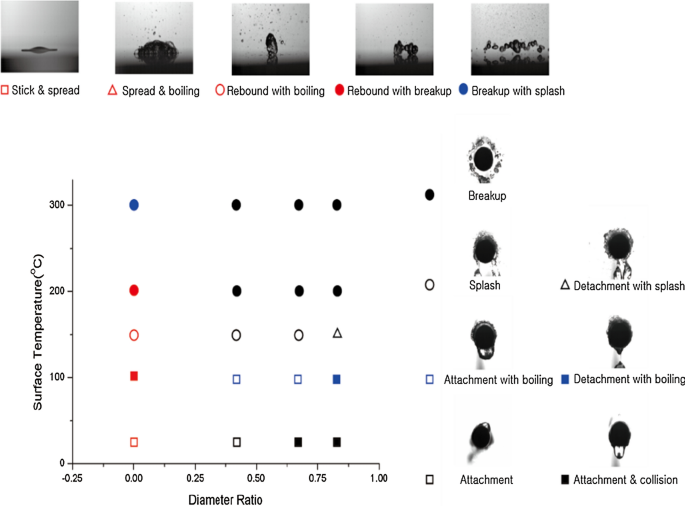 Access options
Buy single article
Instant access to the full article PDF.
US$ 39.95
Tax calculation will be finalised during checkout.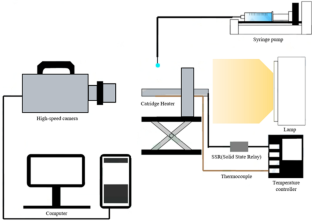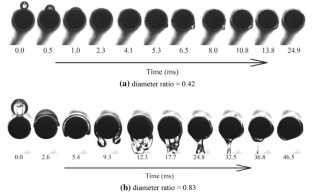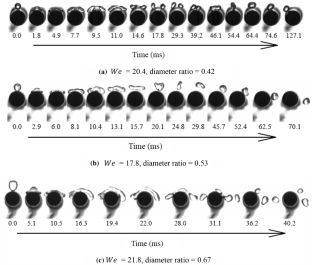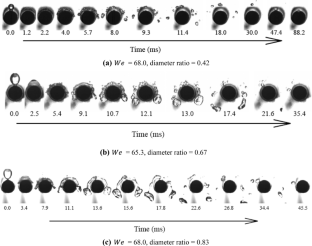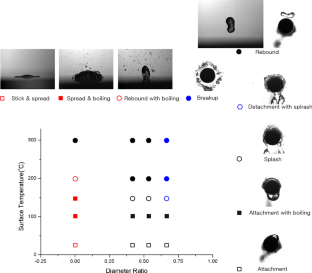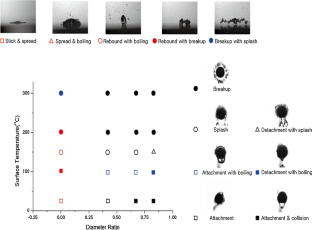 References
Bakshi S, Roisman IV, Tropea C (2007) Investigations on the impact of a drop onto a small spherical target. Phys Fluids 19(3):032102

Castanet G, Liénart T, Lemoine F (2009) Dynamics and temperature of droplets impacting onto a heated wall. Int J Heat Mass Transf 52(3–4):670–679

Chabicovsky M, Kotrbacek P, Bellerova H, Kominek J, Raudensky M (2020) Spray cooling heat transfer above leidenfrost temperature. Metals 10(9):1270

Heinemann M, Frey S, Tkachev G, Straub A, Sadlo F, Ertl T (2021) Visual analysis of droplet dynamics in large-scale multiphase spray simulations. J Visualization 24:943–961

Josserand C, Thoroddsen ST (2016) Drop impact on a solid surface. Annu Rev Fluid Mech 48:365–391

Kang B (2015) On the dynamic behavior of a liquid droplet impacting upon a wall having obstacles. J Appl Fluid Mech 8(4):825–833

Kumar A, Mandal DK (2021) Residence time of emulsion drops on an inclined surface above Leidenfrost temperature. Atom Sprays 31:1–10

Kwon D, Kang D, Yeom E (2019) Impact behaviors of a millimetric impinging drop on a superheated Al alloy surface. J Visualization 22(2):321–327

Lee CH, Kim DY, Kim HD, Kim KC (2015) Dynamic behavior and micro-explosion characteristics of impinging droplets on a high-temperature surface. J Visualization 18(1):59–70

Li Y, Li X, Cao W, Shi Z, Bo Y, Wu H (2021) Acting mechanism of low ambient temperature on wall-impinging diesel spray ignition at an extensive range. Fuel 304:121344

Liang G, Mudawar I (2017) Review of drop impact on heated walls. Int J Heat Mass Transf 106:103–126

Liang G, Yang Y, Guo Y, Zhen N, Shen S (2013) Rebound and spreading during a drop impact on wetted cylinders. Exp Therm Fluid Sci 52:97–103

Liang G, Guo Y, Yang Y, Shen S (2014) Liquid sheet behaviors during a drop impact on wetted cylindrical surfaces. Int Commun Heat Mass Transfer 54:67–74

Mitra S, Sathe MJ, Doroodchi E, Utikar R, Shah MK, Pareek V, Jyeshtharaj BJ, Evans GM (2013) Droplet impact dynamics on a spherical particle. Chem Eng Sci 100:105–119

Nikolopoulos N, Theodorakakos A, Bergeles G (2007) A numerical investigation of the evaporation process of a liquid droplet impinging onto a hot substrate. Int J Heat Mass Transf 50(1–2):303–319

Park J, Kim DE (2020) Dynamic Leidenfrost temperature of saturated water drops on textured surfaces. Int J Heat Mass Transf 150:119298

Park CW, Kim TG, Kim MW, Aldalbahi A, El-Newehy M, Yoon SS (2020) Splash suppression during wafer wet cleaning through drop penetration across metal meshes and porous fiber mats. J Visualization 23(2):269–285

Pasandideh-Fard M, Bussmann M, Chandra S (2001) Simulating droplet impact on a substrate of arbitrary shape. Atom Sprays 11(4):397–414

Rein M (1993) Phenomena of liquid drop impact on solid and liquid surfaces. Fluid Dyn Res 12(2):61–93

Sher E, Haim LF, Sher I (2013) Off-centered impact of water droplets on a thin horizontal wire. Int J Multiph Flow 54:55–60

Shi Z, Lee CF, Wu H, Li H, Wu Y, Zhang L, Bon Y, Liu F (2020) Effect of injection pressure on the impinging spray and ignition characteristics of the heavy-duty diesel engine under low-temperature conditions. Appl Energy 262:114552

Šikalo Š, Ganić EN (2006) Phenomena of droplet–surface interactions. Exp Thermal Fluid Sci 31(2):97–110

van Limbeek MA, Ramírez-Soto O, Prosperetti A, Lohse D (2021) How ambient conditions affect the Leidenfrost temperature. Soft Matter 17(11):3207–3215

Wu X, Sharif M, Yu Y, Chen L, Zhang Z, Wang G (2021) Hydrodynamic mechanism study of the diameter-varying spray tower with atomization impinging spray. Separation Purif Technol 268:118608
Acknowledgements
This work was supported by the National Research Foundation of Korea (NRF) grant funded by the Korea government (MSIT) (No. 2021R1C1C2011538).
Additional information
Publisher's Note
Springer Nature remains neutral with regard to jurisdictional claims in published maps and institutional affiliations.
About this article
Cite this article
Kim, D. Dynamic behavior of water droplets impinging on a heated cylinder with various diameter ratios. J Vis (2021). https://doi.org/10.1007/s12650-021-00801-y
Received:

Revised:

Accepted:

Published:
Keywords
Droplet impingement

High surface temperature

Circular cylinder

Dynamic behavior

Weber number

Diameter ratio