Abstract
This work describes the simultaneous visualization and laser fluorescence spectroscopy of patent fingerprints on the glass slide using 405 nm laser and phase contrast microscope (PCM). High resolution images are achieved due to phase shifts conversion as light passes through a transparent specimen such as sweat layer. The residue composition can be identified by fluorescence spectroscopy depending on the wavelength used. Here, only two peaks likely corresponding to sodium chloride at 440 and 460 nm are detected. Application of fluorescein powder was found to enhance the image contrast; however when dissolved by the sweat it can play a role via fluorescence particularly when it is conjugated to appropriate contrast agents.
Graphical abstract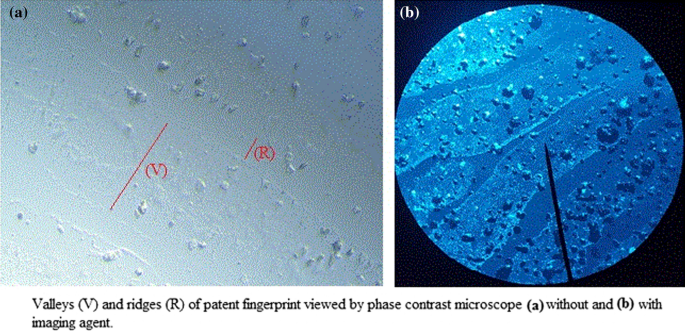 Access options
Buy single article
Instant access to the full article PDF.
US$ 39.95
Tax calculation will be finalised during checkout.
Subscribe to journal
Immediate online access to all issues from 2019. Subscription will auto renew annually.
US$ 79
Tax calculation will be finalised during checkout.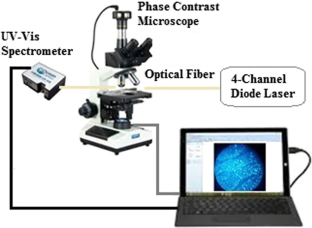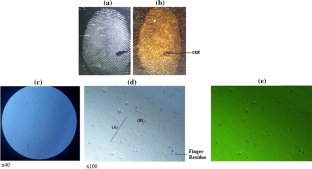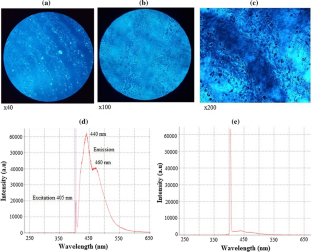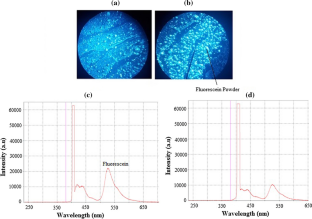 References
Adebsi A (2009) The recent challenges and advancements: a literary view. Int J Biol Anthropol 21–29

Adenier A, Aaron J (2002) A spectroscopic study of the fluorescence quenching interactions between biomedically important salts and the fluorescent probe merocyanine 540. Spectrochim Acta Part A 58:543–551. https://doi.org/10.1016/S1386-1425(01)00552-2

Akiba N, Saitoh N, Kuroki K (2007) Fluorescence spectra and images of latent fingerprints excited with a tunable laser in the ultraviolet region. J Forensic Sci 52:1103–1106. https://doi.org/10.1111/j.1556-4029.2007.00532.x

Au C, Jackson-Smith H, Quinons I (2011) Wet powder suspensions as an additional technique for the enhancement of bloodied marks. Forensic Sci Int 204:13–18. https://doi.org/10.1016/j.forsciint.2010.04.044

Becue A, Champod C, Margot P (2007) Use of gold nanoparticles as molecular intermediates for the detection of fingermarks. Forensic Sci Int 168:169–176. https://doi.org/10.1016/j.forsciint.2006.07.014

Becue A, Moret S, Champod C (2011) Use of stains to detect fingermarks. Biotech Histochem 86:140–60. https://doi.org/10.3109/10520290903462838

Birkett D, Price N, Radda G (1970) The reactivity of SH groups with a fluorogenic reagent. FEEBS Lett 6:346–348. https://doi.org/10.1016/0014-5793(70)80095-3

Chai B, Zheng J, Zhao Q, Pollack G (2008) Spectroscopic studies of solutes in aqueous solution. J Phys Chem 112:2242–2247. https://doi.org/10.1021/jp710105n

Champod C, Lennard C, Margot P (2004) Fingerprints and other ridge skin impressions. CRC Press, Boca Raton

Chen RF (1965) Fluorescence quantum yield measurements: vitamin B6 compound. Science 150:1593–1595. https://doi.org/10.1126/science.150.3703.1593

Dalrymple B, Duff J, Menzel E (1977) Inherent fingerprint luminescence detection by laser. J Forensic Sci 22:106–115. https://doi.org/10.1520/JFS10373J

Griod A, Ramotowski R, Weyermann C (2012) Composition of fingermark residue: A quantitative review. Forensic Sci Int 223:10–24. https://doi.org/10.1016/j.forsciint.2012.05.018

Harilal S, LaHaye N, Phillips M (2017) High-resolution spectroscopy of laser ablation plumes using laser-induced fluorescence. Opt Express 25:2312–2326. https://doi.org/10.1364/OE.25.002312

Hazarike P, Russel D (2012) Advances in fingerprint analysis. Angew Chem Int Ed 51:3524–3531. https://doi.org/10.1002/anie.201104313

Jones N, Davies L, Brennan J, Bramble S (1999) Separation of visibly-excited fluorescent components in fingerprint residue by thin-layer chromatograph. J Forensic Sci 45:1286–1293. https://doi.org/10.1520/JFS14881J

Khosroshahi ME (2018) Effect of temperature on optical properties of vegetable oils using UV–Vis and laser fluorescence spectroscopy. Opt Photonics J 8:247–263. http://www.scirp.org/journal/opj

Khosroshahi ME, Rahmani M (2012) Detection and evaluation of normal and malignant cells using laser-induced fluorescence spectroscopy. J Fluoresc 22:281–288. https://doi.org/10.1007/s10895-011-0958-4

Kim Y, Jung H, Lim J, Ryu S et al (2016) Rapid imaging of latent fingerprints using biocompatible fluorescent silica nanoparticles. Langmuir 32:8077–8083. https://doi.org/10.1021/acs.langmuir.6b01977

Knowles A (1978) Aspects of physicochemical methods for the detection of latent fingerprints. J Phys E: Sci Instrum 11:713–721. https://doi.org/10.1088/0022-3735/11/8/001

Kuznetsov A, Frorip A, Ost-Rosenberg M, Sunter A (2015) Visible auto-fluorescence in biological fluids as biomarker of pathological processes and new monitoring tool. J Innov Opt Health Sci 8:1–9. https://doi.org/10.1142/SI793545815

Lacowicz JR (1983) Principles of fluorescence spectroscopy. Plenum Press, New York

Salares V, Evens C, Carey P (1979) On the detection of fingerprints by laser excited luminescence. Forensic Sci Int 14:229–237. https://doi.org/10.1016/0379-0738(79)90142-7

Selvin P (1995) Fluorescence resonance transfer Methods Enzymol 246:300–334. https://doi.org/10.1016/0076-6879(95)46015-2

Sodhi G, Kauer J (2001) Powder method for detecting latent fingerprints: a review. Forensic Sci Int 120:172–176. https://doi.org/10.1016/s0379-0738(00)00465-5

Takatsu M, Shimoda O, Onishi K, Onishi A (2008) Detection of pretreated fingerprint fluorescence using an LED-based excitation system. J Forensic Sci 53:823–827. https://doi.org/10.1111/j.1556-4029.2008.00773.x

Thomas S, Jayanthi J, Subhash N (2009) Characterization of dental caries by LIF spectroscopy with 404 nm excitation. Lasers Med Sci 26:299–305. https://doi.org/10.1007/s10103-010-0771-3

West M, Went M (2008) The spectroscopic detection of exogenous material in fingerprints after development with powders and recovery with adhesive lifters. Forensic Sci Int 174:1–5. https://doi.org/10.1016/j.forsciint.2007.02.026

Xu L, Zhang C, He Y et al (2015) Advances in development and component recognition of latent fingerprints. Sci China Chem 58:1090–1096. https://doi.org/10.1007/s11426-014-5294-5
Acknowledgements
The authors would like to thank MIS Electronics Inc. for supporting the research in Nanobiophotonics and Biomedical Research Lab.
Funding
The research is supported by Nanobiophotonics & Biomedical Research Lab. at MIS Electronics Inc.
Ethics declarations
Conflict of interest
On behalf of the authors, it is declared that there is no conflict of interest.
Ethical approval
This research does not contain any form of studies with human participants or animals and is for research purpose only.
Additional information
Publisher's Note
Springer Nature remains neutral with regard to jurisdictional claims in published maps and institutional affiliations.
About this article
Cite this article
Khosroshahi, M.E., Woll-Morison, V. Visualization and fluorescence spectroscopy of fingerprints on glass slide using combined 405 nm laser and phase contrast microscope. J Vis (2021). https://doi.org/10.1007/s12650-021-00745-3
Received:

Revised:

Accepted:

Published: