Abstract
Survey of papers is not an easy task for novice researchers because it may happen that they miss appropriate keywords for their survey. It often takes a long time for young researchers to find research papers even when they use famous search engines like Google Scholar. In addition, they may not be familiar with understanding positions of papers in their research fields smoothly. To resolve this problem, many researchers have studied citation network visualization techniques for surveying papers. However, it is still often difficult to observe the complicated relations across multiple research fields or traverse the entire relations in their interest. Additional clues, as well as a citation network, are therefore important for survey of papers. In this paper, we proposed a visualization technique for citation networks applying a topic-based paper clustering. Our technique categorizes papers applying LDA (latent dirichlet allocation) and constructs clustered networks consisting of the papers. We applied the technique to three datasets. The results of our visualization technique demonstrated that the proposed technique could contribute to help users to understand the positions of papers in the research fields. We conducted subjective evaluation compared with time-oriented technique and demonstrated that our technique was more helpful for novice researchers like students to find papers.
Graphical Abstract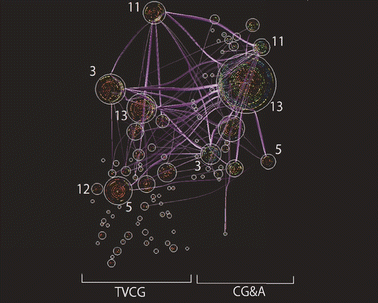 Access options
Buy single article
Instant access to the full article PDF.
US$ 39.95
Tax calculation will be finalised during checkout.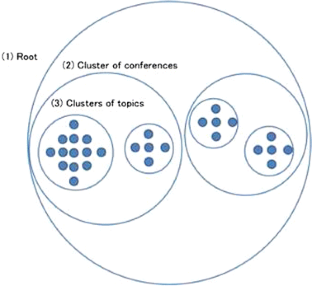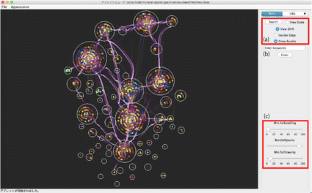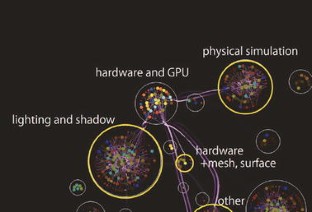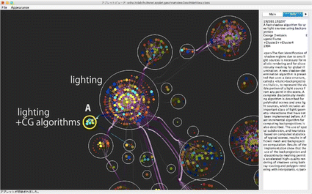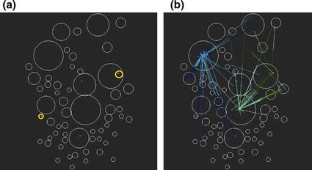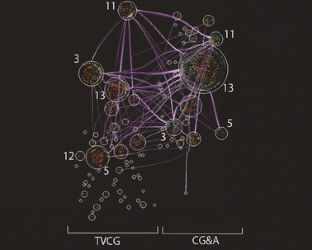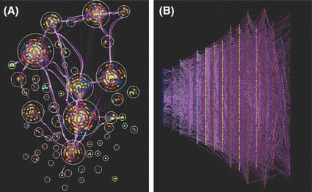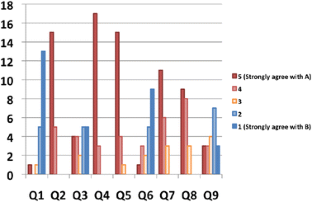 References
ACM Digital Library, http://dl.acm.org/

Blei DM, Ng AY, Jordan MI (2003) Latent dirichlet allocation. J Mach Learn Res 3:993–1022

Brandes U, Willhalm T (2002) Visualization of bibliographic networks with a reshaped landscape metaphor. In: Proceedings of the symposium on data visualisation, vol 2002, pp 159–164

Chen C (2006) CiteSpace II: detecting and visualizing emerging trends and transient patterns in scientific literature. J Am Soc Inf Sci Technol 57(3):359–377

Drk M, Riche NH, Ramos G, Dumais S (2012) PivotPaths: strolling through faceted information spaces. IEEE Trans Vis Comput Graph 18(12):2709–2718

Dunne C, Shneiderman B, Gove R, Klavans J, Dorr B (2012) Rapid understanding of scientific paper collections: integrating statistics, text analytics, and visualization. J Am Soc Inf Sci Technol 63(12):2351–2369

Google Scholar, https://scholar.google.co.jp/

Heimerl F, Han Q, Koch S, Ertl T (2016) CiteRivers: visual analytics of citation patterns. IEEE Trans Vis Comput Graph 22(1):190–199

Henry N, Goodell H, Elmqvist N, Fekete JD (2007) 20 years of four HCI conferences: a visual exploration. Int J Hum Comput Interact 23(3):239–285

IEEE Xplore Digital Library, http://ieeexplore.ieee.org/

Il Park S , Hodgins JK (2008) Data-driven modeling of skin and muscle deformation. In: ACM SIGGRAPH 2008 papers (SIGGRAPH '08). ACM, New York, NY, USA, Article 96

IlPark S, Hodgins JK (2006) Capturing and animating skin deformation in human motion. ACM Trans Graph 25(3):881–889

Itoh T, Muelder C, Ma K, Sese J (2009) A hybrid space-filling and force-directed layout method for visualizing multiple-category graphs. In: IEEE pacific visualization symposium, pp 121–128

Lee B, Czerwinski M, Robertson G, Bederson BB (2005) Understanding research trends in conferences using PaperLens. In: CHI'05 extended abstracts on Human factors in computing systems, pp 1969–1972

Liu S, Zhou MX, Pan S, Song Y, Qian W, Cai W, Lian X (2012) TIARA: interactive, topic-based visual text summarization and analysis. ACM Trans Intell Syst Technol 3, 2, Article 25, 28

Mackinlay JD, Rao R, Card SK (1995) An organic user interface for searching citation links. In: The SIGCHI conference on Human factors in computing systems, pp 67–73

Matejka J, Grossman T, Fitzmaurice G (2012) Citeology: visualizing paper genealogy. In: CHI'12 extended abstracts on human factors in computing systems, pp 181–190

Mohr A, Gleicher M (2003) Building efficient, accurate character skins from examples. ACM Trans Graph 22(3):562–568

Nakazawa R, Itoh T, Saito T (2015) A visualization of research papers based on the topics and citation network. In: 19th international conference on information visualisation (iV), pp 283–289

Nakazawa R, Itoh T, Sese J, Terada A (2012) Integrated visualization of gene network and ontology applying a hierarchical graph visualization technique. In: 16th International conference on information visualization (iV), pp 81–86

Pienta R, Hohman F, Endert A, Tamersoy A, Roundy K, Gates C, Chau DH (2017) VIGOR: interactive visual exploration of graph query results. IEEE Trans Vis Comput Graph 24(1):215–225

Sand P, McMillan L, Popovi J (2003) Continuous capture of skin deformation. In: ACM SIGGRAPH, (2003) Papers (SIGGRAPH '03), ACM, New York, NY, USA, pp 578–586

Shahaf D, Guestrin C, Horvitz E (2012) Metro maps of science. In: Proceedings of the 18th ACM SIGKDD international conference on Knowledge discovery and data mining, pp 1122–1130

Small H (1999) Visualizing science by citation mapping. J Am Soc Inf Sci 50(9):799–813

Stasko J, Carsten G, Zhicheng L (2008) Jigsaw: supporting investigative analysis through interactive visualization. Inf Vis 7(2):118–132

Stasko J, Choo J, Han Y, Hu M, Pileggi H, Sadana R, Stolper CD (2013) Citevis: Exploring conference paper citation data visually. Posters of IEEE InfoVis

Tsumura N, Ojima N, Sato K, Shiraishi M, Shimizu H, Nabeshima H, Akazaki S, Hori K, Miyake Y (2003) Image-based skin color and texture analysis/synthesis by extracting hemoglobin and melanin information in the skin. ACM Trans. Graph. 22, 3 (July 2003), pp 770–779

Van Eck NJ, Waltman L (2014) CitNetExplorer: a new software and tool for analyzing and visualizing citation networks. J Inf 8(4):802–823

Weyrich T, Matusik W, Pfister H, Bickel B, Donner C, Tu C, McAndless J, Lee J, Ngan A, Jensen HW, Gross M (2006) Analysis of human faces using a measurement-based skin reflectance model. ACM Trans. Graph. 25, 3 (July 2006), pp 1013–1024
About this article
Cite this article
Nakazawa, R., Itoh, T. & Saito, T. Analytics and visualization of citation network applying topic-based clustering. J Vis 21, 681–693 (2018). https://doi.org/10.1007/s12650-018-0483-5
Received:

Revised:

Accepted:

Published:

Issue Date:
Keywords
Visualization

Citation network

Edge bundling

Reference

Topic-based clustering