Abstract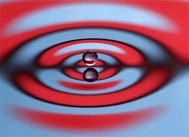 This is a preview of subscription content, log in to check access.
Access options
Buy single article
Instant access to the full article PDF.
US$ 39.95
Tax calculation will be finalised during checkout.
Subscribe to journal
Immediate online access to all issues from 2019. Subscription will auto renew annually.
US$ 99
Tax calculation will be finalised during checkout.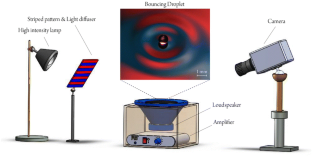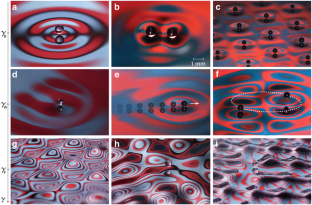 References
Bush JWM (2015a) The new wave of pilot-wave theory. Phys Today 68(8):47–53

Bush JWM (2015b) Pilot-wave hydrodynamics. Ann Rev Fluid Mech 47:269–292

Couder Y, Protiere S, Fort E, Boudaoud A (2005) Dynamical phenomena: walking and orbiting droplets. Nature 437(7056):208–208

Eddi A, Terwagne D, Fort E, Couder Y (2008) Wave propelled ratchets and drifting rafts. Europhys Lett 82(4):44001

Eddi A, Decelle A, Fort E, Couder Y (2009) Archimedean lattices in the bound states of wave interacting particles. Europhys Lett 87(5):56002

Faraday M (1831) On the forms and states assumed by fluids in contact with vibrating elastic surfaces. Philos Trans R Soc London 121(319):1831

Moisy F, Rabaud M, Salsac K (2009) A synthetic Schlieren method for the measurement of the topography of a liquid interface. Exp Fluids 46(6):1021–1036

Protiere S, Bohn S, Couder Y (2008) Exotic orbits of two interacting wave sources. Phys Rev E 78(3):036204

Terwagne D, Bush JWM (2011) Tibetan singing bowls. Nonlinearity 24(8):R51–R66

Walker J (1978) Drops of liquid can be made to float on the liquid. Sci Am 238:151–158
Acknowledgments
Funding was provided by National Science Foundation (Grant Nos. CBET-0966452, CMMI-1333242) and MIT-France Program.
Electronic supplementary material
About this article
Cite this article
Harris, D.M., Quintela, J., Prost, V. et al. Visualization of hydrodynamic pilot-wave phenomena. J Vis 20, 13–15 (2017). https://doi.org/10.1007/s12650-016-0383-5
Received:

Revised:

Accepted:

Published:

Issue Date:
Keywords
Imaging Scenery

Acceleration Amplitude

Hydrodynamical System

Bath Surface

Critical Acceleration