Access options
Buy single article
Instant access to the full article PDF.
US$ 39.95
Tax calculation will be finalised during checkout.
Subscribe to journal
Immediate online access to all issues from 2019. Subscription will auto renew annually.
US$ 79
Tax calculation will be finalised during checkout.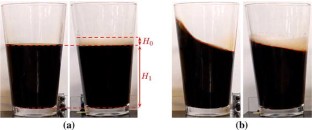 References
Cantat I, Cohen-Addad S, Elias F, Graner F, Höhler R, Pitois O (2013) Foams: structure and dynamics. Oxford University Press, Oxford

Chun SE et al. (2014) Anti-sloshing apparatus, US patent no. 8,708,190. 29 Apr 2014

Denkov ND, Subramanian V, Gurovich D, Lips A (2005) Wall slip and viscous dissipation in sheared foams: effect of surface mobility. Coll Surf A Physicochem Eng Asp 263(1):129–145

Dressaire E, Bee R, Bell DC, Lips A, Stone HA (2008) Interfacial polygonal nanopatterning of stable microbubbles. Science 320(5880):1198–1201

Faltinsen O, Timokha AN (2009) Sloshing. Cambridge University Press, Cambridge

Ibrahim RA (2005) Liquid sloshing dynamics: theory and applications. Cambridge University Press, Cambridge

Kim Y, Nam BW, Kim DW, Kim YS (2007) Study on coupling effects of ship motion and sloshing. Ocean Eng 34(16):2176–2187

Liu D, Lin P (2009) Three-dimensional liquid sloshing in a tank with baffles. Ocean Eng 36:202–212

Mayer HC, Krechetnikov R (2012) Walking with coffee: why does it spill? Phys Rev E 85(4):046117

Subramaniam AB, Abkarian M, Mahadevan L, Stone HA (2005) Colloid science: non-spherical bubbles. Nature 438(7070):930–930
Acknowledgments
The authors thank Isabelle Cantat and Marie-Caroline Jullien for helpful discussions. This research was made possible in part by the CMEDS grant from BP/The Gulf of Mexico Research Initiative.
About this article
Cite this article
Cappello, J., Sauret, A., Boulogne, F. et al. Damping of liquid sloshing by foams: from everyday observations to liquid transport. J Vis 18, 269–271 (2015). https://doi.org/10.1007/s12650-014-0250-1
Received:

Revised:

Accepted:

Published:

Issue Date:
Keywords
Foam

Rocket Engine

Rectangular Cell

Rubber Sheet

Stanford Research System