Abstract
The present study evaluated the potential of biodegrading the toxic synthetic dye malachite green (MG) by an enzymatic approach. Extracellular laccase derived a fungal strain Fusarium oxysporum HUIB02 was used in the direct biodegradation of MG. Time-course study showed that the crude laccase successfully removed ≥ 80% MG after 20 h of treatment. The presence of Cu2+ ions enhanced MG degradation, while cation Fe2+ and anions including Cl− and I− reduced the degradation efficiency. The optimal temperature was 40 °C. Supplementation of mediators including syringaldehyde (SA), 1-hydroxybenzotriazole (HBT), and vanillin (VA) improved the MG degradation up to 99%. Under the optimal reaction conditions, the MG degradation efficiency of laccase reached ≥ 90% when MG concentration was ≤ 100 mg/L. At a higher concentration (1000 mg/L of MG), the enzyme still removed 88.1% the present dye. The detoxification evaluation confirmed the nullification of MG toxicity on microorganism after the enzymatic treatment. Hence, this enzymatic degradation approach is promising for the treatment of effluents containing MG.
Graphical Abstract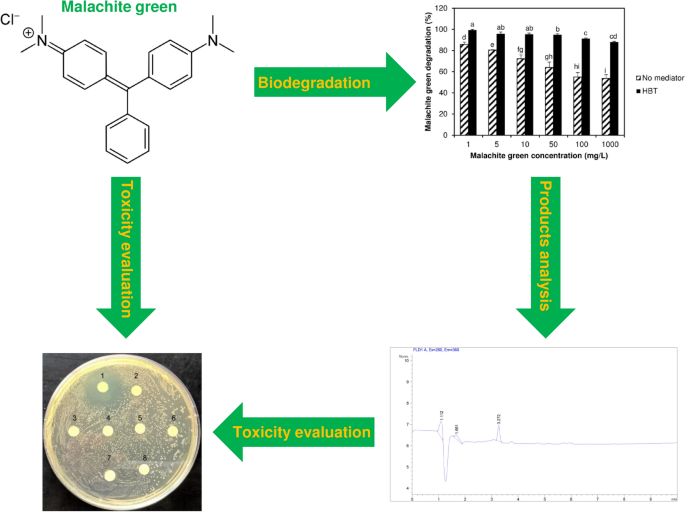 Access options
Buy single article
Instant access to the full article PDF.
USD 39.95
Price excludes VAT (USA)
Tax calculation will be finalised during checkout.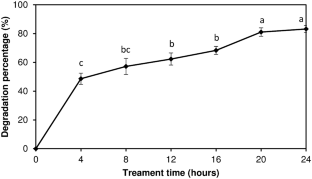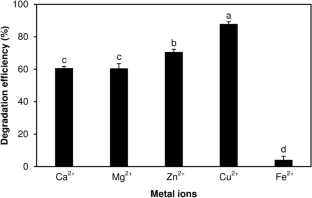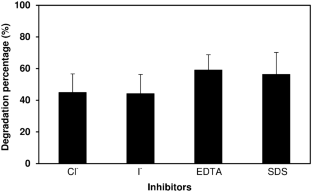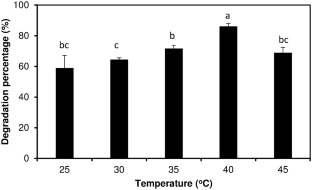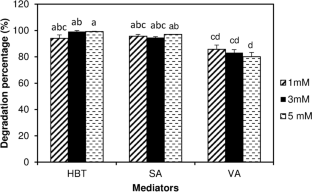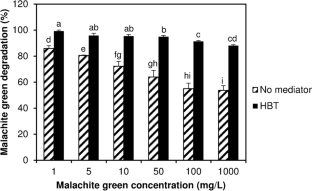 References
Sharma, A., Shrivastava, B., Kuhad, R.C.: Reduced toxicity of malachite green decolorized by laccase produced from Ganoderma sp. rckk-02 under solid-state fermentation. 3 Biotech 5, 621–631 (2015)

Yang, J., Yang, X., Lin, Y., Ng, T.B., Lin, J., Ye, X.: Laccase-catalyzed decolorization of malachite green: performance optimization and degradation mechanism. PloS ONE 10, e0127714 (2015)

Pipoyan, D., Stepanyan, S., Beglaryan, M., Stepanyan, S., Mantovani, A.: Health risk assessment of toxicologically relevant residues in emerging countries: a pilot study on Malachite Green residues in farmed freshwater fish of Armenia. Food Chem. Toxicol. 143, 111526 (2020)

Mittelstaedt, R.A., Mei, N., Webb, P.J., Shaddock, J.G., Dobrovolsky, V.N., McGarrity, L.J., Morris, S.M., Chen, T., Beland, F.A., Greenlees, K.J.: Genotoxicity of malachite green and leucomalachite green in female Big Blue B6C3F1 mice. Mutat. Res. 561, 127–138 (2004)

Culp, S.J., Mellick, P.W., Trotter, R.W., Greenlees, K.J., Kodell, R.L., Beland, F.A.: Carcinogenicity of malachite green chloride and leucomalachite green in B6C3F1 mice and F344 rats. Food Chem. Toxicol. 44, 1204–1212 (2006)

Chen, G., Miao, S.: HPLC determination and MS confirmation of malachite green, gentian violet, and their leuco metabolite residues in channel catfish muscle. J. Agric. Food Chem. 58, 7109–7114 (2010)

Srivastava, S., Sinha, R., Roy, D.: Toxicological effects of malachite green. Aquat. Toxicol. 66, 319–329 (2004)

Collivignarelli, M.C., Abbà, A., Miino, M.C., Damiani, S.: Treatments for color removal from wastewater: state of the art. J. Environ. Manage. 236, 727–745 (2019)

Thamaraiselvan, C., Noel, M.: Membrane processes for dye wastewater treatment: recent progress in fouling control. Crit. Rev. Environ. Sci. Technol. 45, 1007–1040 (2015)

Upadhyay, G.K., Rajput, J.K., Pathak, T.K., Pal, P.K., Purohit, L.: Tailoring and optimization of hybrid ZnO: TiO2: CdO nanomaterials for advance oxidation process under visible light. Appl. Surf. Sci. 509, 145326 (2020)

Shindhal, T., Rakholiya, P., Varjani, S., Pandey, A., Ngo, H.H., Guo, W., Ng, H.Y., Taherzadeh, M.J.: A critical review on advances in the practices and perspectives for the treatment of dye industry wastewater. Bioengineered 12, 70–87 (2021)

Husain, Q.: Potential applications of the oxidoreductive enzymes in the decolorization and detoxification of textile and other synthetic dyes from polluted water: a review. Crit. Rev. Biotechnol. 26, 201–221 (2006)

Mahmood, S., Khalid, A., Arshad, M., Mahmood, T., Crowley, D.E.: Detoxification of azo dyes by bacterial oxidoreductase enzymes. Crit. Rev. Biotechnol. 36, 639–651 (2016)

Moreno, A.D., Ibarra, D., Eugenio, M.E., Tomás-Pejó, E.: Laccases as versatile enzymes: from industrial uses to novel applications. J. Chem. Technol. Biotechnol. 95, 481–494 (2020)

Huy, N.D., Ha, D.T.T., Khoo, K.S., Lan, P.T.N., Quang, H.T., Loc, N.H., Park, S.-M., Veeramuthu, A., Show, P.L.: Synthetic dyes removal by Fusarium oxysporum HUIB02 and stimulation effect on laccase accumulation. Environ. Technol. Innov. 19, 101027 (2020)

Kainthola, J., Podder, A., Fechner, M., Goel, R.: An overview of fungal pretreatment processes for anaerobic digestion: applications, bottlenecks and future needs. Bioresour. Technol. 321, 124397 (2020)

Viswanath, B., Rajesh, B., Janardhan, A., Kumar, A.P., Narasimha, G.: Fungal laccases and their applications in bioremediation. Enzyme Res. 2014, 1–21 (2014)

He, F., Qin, X., Zhang, H., Yang, Y., Zhang, X., Yang, Y.: Characterization of laccase isoenzymes from the white-rot fungus Ganoderma sp. En3 and synergistic action of isoenzymes for dye decolorization. J. Chem. Technol. Biotechnol. 90, 2265–2279 (2015)

Tian, Y.-S., Xu, H., Peng, R.-H., Yao, Q.-H., Wang, R.-T.: Heterologous expression and characterization of laccase 2 from Coprinopsis cinerea capable of decolourizing different recalcitrant dyes. Biotechnol. Biotechnol. Equip. 28, 248–258 (2014)

Kabeer, F.A., John, N., Abdulla, M.H.: Biodegradation of malachite green by a newly isolated Bacillus vietnamensis sp. MSB17 from continental slope of the Eastern Arabian Sea: enzyme analysis, degradation pathway and toxicity studies. Bioremediat. J. 23, 334–342 (2019)

Sayyed, R., Bhamare, H., Marraiki, N., Elgorban, A.M., Syed, A., El-Enshasy, H.A., Dailin, D.J.: Tree bark scrape fungus: a potential source of laccase for application in bioremediation of non-textile dyes. PloS ONE 15, e0229968 (2020)

Aslam, M.S., Aishy, A., Samra, Z.Q., Gull, I., Athar, M.A.: Identification, purification and characterization of a novel extracellular laccase from Cladosporium cladosporioides. Biotechnol. Biotechnol. Equip. 26, 3345–3350 (2012)

Baldrian, P.: Fungal laccases–occurrence and properties. FEMS Microbiol. Rev. 30, 215–242 (2006)

Yao, Y., Zhou, G., Lin, Y., Xu, X., Yang, J.: A highly thermotolerant laccase produced by Cerrena unicolor strain CGMCC 5.1011 for complete and stable malachite green decolorization. AMB Express 10, 1–11 (2020)

Eisenthal, R., Peterson, M.E., Daniel, R.M., Danson, M.J.: The thermal behaviour of enzyme activity: implications for biotechnology. Trends Biotechnol. 24, 289–292 (2006)

Wang, S.-N., Chen, Q.-J., Zhu, M.-J., Xue, F.-Y., Li, W.-C., Zhao, T.-J., Li, G.-D., Zhang, G.-Q.: An extracellular yellow laccase from white rot fungus Trametes sp. F1635 and its mediator systems for dye decolorization. Biochimie 148, 46–54 (2018)

Jeon, S.-J., Lim, S.-J.: Purification and characterization of the laccase involved in dye decolorization by the white-rot fungus Marasmius scorodonius. J. Microbiol. Biotechnol. 27, 1120–1127 (2017)

El-Fakharany, E.M., Hassan, M.A., Taha, T.H.: Production and application of extracellular laccase produced by Fusarium oxysporum EMT. Int. J. Agric. Biol. 18, 939–947 (2016)

Değerli, E., Yangın, S., Cansaran-Duman, D.: Determination of the effect of RBBR on laccase activity and gene expression level of fungi in lichen structure. 3 Biotech 9, 1–11 (2019)
Funding
This research was funded by Vietnam National Foundation for Science and Technology Development (NAFOSTED) under Grant Number 106.04-2018.51. The authors also acknowledge the partial support of Hue University under the Core Research Program, Grant No. NCM.DHH.2020.11.
Ethics declarations
Conflict of interest
The authors declare there is no conflict of interest.
Ethical Approval
Not applicable.
Consent to Participate
Not applicable.
Consent for Publication
The authors declare that the work described has not been published nor under consideration for publication elsewhere and that if accepted, it will not be published elsewhere in the same form.
Additional information
Publisher's Note
Springer Nature remains neutral with regard to jurisdictional claims in published maps and institutional affiliations.
Supplementary Information
Below is the link to the electronic supplementary material.
About this article
Cite this article
Thoa, L.T.K., Thao, T.T.P., Hung, N.B. et al. Biodegradation and Detoxification of Malachite Green Dye by Extracellular Laccase Expressed from Fusarium oxysporum. Waste Biomass Valor 13, 2511–2518 (2022). https://doi.org/10.1007/s12649-022-01692-2
Received:

Accepted:

Published:

Issue Date:

DOI: https://doi.org/10.1007/s12649-022-01692-2
Keywords
Bioremediation

Detoxification

Fusarium oxysporum

Laccase

Malachite green