Abstract
Huge volumes of lignocellulosic biomass residues generated from agricultural activities such as oil palm biomass pose great environmental threats if improperly treated. In this study, pyroligneous acid (PA) obtained from slow pyrolysis of palm kernel shell (PKS) were evaluated for its antioxidant activity via chemical assays, toxicity, and potential as anti-inflammatory agent based on nitric oxide (NO) inhibition activity. The PA was extracted using ethyl acetate (EA) and fractionated using column chromatography. Fractions 13–17 that contain highest total phenolic contents (866.84 ± 54.28 µg GAE/mg) were chosen for subsequent studies. Results obtained were as follows; DPPH—75.34 ± 3.40%, TEAC—1346.48 ± 5.29 μg Trolox/mg, FRAP—11.80 ± 0.41 mmol Fe(II)/mg, hydroxyl radical scavenging—IC50 270.34 ± 4.88 µg/mL, superoxide radical scavenging—IC50 472.32 ± 1.87 µg/mL, cytotoxicity after 24 h at less than 50 µg/mL—cell viability of ≥ 93.08% for RAW 264.7 macrophage cell and anti-inflammatory activity with NO production of 6.55% after 24 h at sample concentration of 25 µg/mL. From the GC–MS analysis, phenols and derivatives were identified as major compound (83.24%) followed by esters (11.23%), and ketones (5.53%). The present of phenolic compounds namely benzene-1,2-diol, catechol (35.01%), 1,3-dimethoxy-2-hydroxybenzene, syringol (23.81%), and other catechol derivatives can be attributed to the antioxidant and anti-inflammatory activities determined. This study has successfully demonstrated the potential use of PA obtained from PKS as alternative antioxidant and anti-inflammatory agent.
Graphic Abstract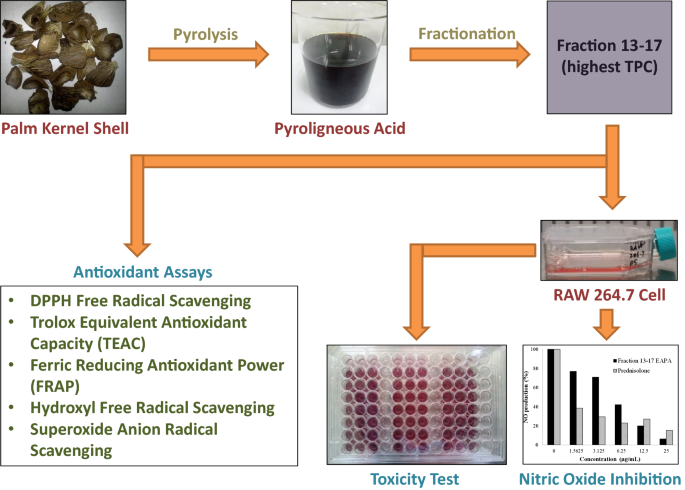 This is a preview of subscription content,
to check access.
Access this article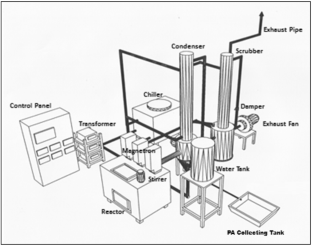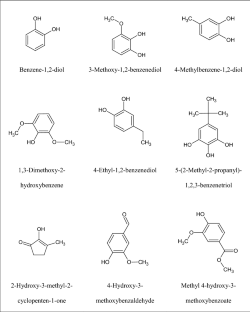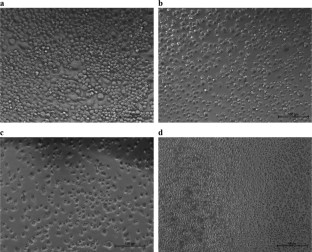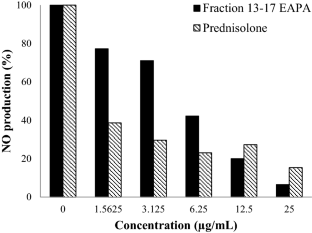 Similar content being viewed by others
References
Iqbal, J., Abbasi, B.A., Mahmood, T., Kanwal, S., Ali, B., Khalil, A.T.: Plant-derived anticancer agents: a green anticancer approach. Asian Pac. J. Trop. Biomed. 7, 1129–1150 (2017)

Li, R., Narita, R., Ouda, R., Kimura, C., Nishimura, H., Yatagai, M., Fujita, T., Watanabe, T.: Structure-dependent antiviral activity of catechol derivatives in pyroligneous acid against the encephalomycarditis virus. RSC Adv. 8, 35888–35896 (2018)

Wei, Q., Ma, X., Dong, J.: Preparation, chemical constituents and antimicrobial activity of pyroligneous acids from walnut tree branches. J. Anal. Appl. Pyrolysis. 87, 24–28 (2010)

Ma, C., Song, K., Yu, J., Yang, L., Zhao, C., Wang, W., Zu, G., Zu, Y.: Pyrolysis process and antioxidant activity of pyroligneous acid from Rosmarinus officinalis leaves. J. Anal. Appl. Pyrolysis. 104, 38–47 (2013)

Ho, C.L., Lin, C.Y., Ka, S.M., Chen, A., Tasi, Y.L., Liu, M.L., Chiu, Y.C., Hua, K.F.: Bamboo vinegar decreases inflammatory mediator expression and NLRP3 inflammasome activation by inhibiting reactive oxygen species generation and protein kinase C-α/δ activation. PLoS ONE 8, e75738 (2013)

Tripathi, M., Sahu, J.N., Ganesan, P.: Effect of process parameters on production of biochar from biomass waste through pyrolysis: a review. Renew. Sustain. Energy Rev. 55, 467–481 (2016)

Jahanban-Esfahlan, A., Amarowicz, R.: Walnut (Juglans regia L.) shell pyroligneous acid: chemical constituents and functional applications. RSC Adv. 8, 22376–22391 (2018)

Mmojieje, J., Hornung, A.: The potential application of pyroligneous acid in the UK Agricultural Industry. J. Crop Improv. 29, 228–246 (2015)

Lee, S.H., H'ng, P.S., Chow, M.J., Sajap, A.S., Tey, B.T., Salmiah, U., Sun, Y.L.: Effectiveness of pyroligneous acid from vapour released in charcoal industry against biodegradable agent under laboratory. J. Appl. Sci. 11, 3848–3853 (2011)

Zulkarami, B., Ashrafuzzaman, M., Husni, M.O., Ismail, M.R.: Effect of pyroligneous acid on growth, yield and quality improvement of rockmelon in soilless culture. Aust. J. Crop Sci. 5, 1508–1514 (2011)

Lashari, M.S., Liu, Y., Li, L., Pan, W., Fu, J., Pan, G., Zheng, J., Zheng, J., Zhang, X., Yu, X.: Effects of amendment of biochar-manure compost in conjunction with pyroligneous solution on soil quality and wheat yield of a salt-stressed cropland from Central China Great Plain. Field Crops Res. 144, 113–118 (2013)

Mungkunkamchao, T., Kesmala, T., Pimratch, S., Toomsan, B., Jothityangkoon, D.: Wood vinegar and fermented bioextracts: natural products to enhance growth and yield of tomato (Solanum lycopersicum L.). Sci. Hortic. 154, 66–72 (2013)

Kook, K., Kim, K.H.: The effects of supplemental levels of bamboo vinegar on growth performance, serum profile and meat quality in fattening hanwoo cow. J. Anim. Sci. Technol. 45, 57–68 (2003)

Kook, K., Jeong, J.H., Kim, K.H.: The effects of supplemental levels of bamboo vinegar liquids on growth performance, serum profile, carcass grade, and meat quality characteristics in finishing pigs. J. Anim. Sci. Technol. 47, 721–730 (2005)

Loo, A.Y., Jain, K., Darah, I.: Antioxidant activity of compounds isolated from the pyroligneous acid, Rhizophora apiculata. Food Chem. 107, 1151–1160 (2008)

Wei, Q., Ma, X., Zhao, Z., Zhang, S., Liu, S.: Antioxidant activities and chemical profiles of pyroligneous acids from walnut shell. J. Anal. Appl. Pyrolysis. 88, 149–154 (2010)

Ma, X., Wei, Q., Zhang, S., Shi, L., Zhao, Z.: Isolation and bioactivities of organic acids and phenols from walnut shell pyroligneous acid. J. Anal. Appl. Pyrolysis. 91, 338–343 (2011)

Mathew, S., Zakaria, Z.A., Musa, N.F.: Antioxidant property and chemical profile of pyroligneous acid from pineapple plant waste biomass. Process Biochem. 50, 1892–1985 (2015)

Lee, C.S., Yi, E.H., Kim, H.R., Huh, S.R., Sung, S.H., Chung, M.H., Ye, S.K.: Anti-dermatitis effects of oak wood vinegar on the DNCB-induced contact hypersensitivity via STAT3 suppression. J. Ethnopharmacol. 135, 747–753 (2011)

ASTM International: Standard test methods for direct moisture content measurement of wood and wood-base materials. ASTM D4442-07 (2007)

ASTM International: Standard test method for ash in biomass. ASTM E1755-01 (2007)

ASTM International: Standard test method for volatile matter content of activated carbon samples. ASTM D5832-98 (2008)

National Renewable Energy Laboratory (NREL): Chemical Analysis and Testing Laboratory Analytical Procedures. United State: National Renewable Energy Laboratory (1998)

Rungruang, P., Junyapoon, S.: Antioxidative activity of phenolic compounds in pyroligneous acid produced from Eucalyptus wood. In: The 8th International Symposium on Biocontrol and Biotechnology (2010)

Eastman, H.E., Jamieson, C., Watson, A.J.: Development of solvent selection guides. Aldrichimica Acta. 48, 51–55 (2015)

Ma, C., Li, W., Zu, Y., Yang, L., Li, J.: Antioxidant properties of pyroligneous acid obtained by thermochemical conversion of Schisandra chinensis Baill. Molecules 19, 20821–20838 (2014)

Brand-Williams, W., Cuvelier, M.E., Berset, C.L.: Use of a free radical method to evaluate antioxidant activity. LWT-Food Sci. Technol. 28, 25–30 (1995)

Re, R., Pellegrini, N., Proteggente, A., Pannala, A., Yang, M., Rice-Evans, C.: Antioxidant activity applying an improved ABTS radical cation decolorization assay. Free Radic. Biol. Med. 26, 1231–1237 (1999)

Dufour, D., Pichette, A., Mshvildadze, V., Bradette-Hébert, M.E., Lavoie, S., Longtin, A., Laprise, C., Legault, J.: Antioxidant, anti-inflammatory and anticancer activities of methanolic extracts from Ledum groenlandicum Retzius. J. Ethnopharmacol. 111, 22–28 (2007)

Choe, K.I., Kwon, J.H., Park, K.H., Oh, M.H., Kim, M.H., Kim, H.H., Cho, S.H., Chung, E.K., Ha, S.Y., Lee, M.W.: The antioxidant and anti-inflammatory effects of phenolic compounds isolated from the root of Rhodiola sachalinensis A. BOR. Molecules 17, 11484–11494 (2012)

Vassilev, S.V., Baxter, D., Andersen, L.K., Vassileva, C.G.: An overview of the chemical composition of biomass. Fuel 89, 913–933 (2010)

Mathew, S., Zakaria, Z.A.: Pyroligneous acid—the smoky acidic liquid from plant biomass. Appl. Microbiol. Biotechnol. 99, 611–622 (2015)

Alothman, M., Bhat, R., Karim, A.A.: Antioxidant capacity and phenolic content of selected tropical fruits from Malaysia, extracted with different solvents. Food Chem. 115, 785–788 (2009)

Kasote, D.M., Katyare, S.S., Hegde, M.V., Bae, H.: Significance of antioxidant potential of plants and its relevance to therapeutic applications. Int. J. Biol. Sci. 11, 982–991 (2015)

Shahidi, F., Nacsk, M.: Food Phenolics: Sources, Chemistry. Effects and Application. Publishing Co Inc, Lancaster (1995)

Zhang, H., Tsao, R.: Dietary polyphenols, oxidative stress and antioxidant and anti-inflammatory effects. Curr. Opin. Food Sci. 8, 33–42 (2016)

Wu, Q., Zhang, S., Hou, B., Zheng, H., Deng, W., Liu, D., Tang, W.: Study on the preparation of wood vinegar from biomass residues by carbonization process. Bioresour. Technol. 179, 98–103 (2015)

Fernandes, E.R., Marangoni, C., Medeiros, S.H., Souza, O., Sellin, N.: Slow pyrolysis of banana culture waste: Leaves and pseudostem. In: 3rd International Conference on Industrial and Hazardous Waste Management (2012)

Pereira, D.M., Valentão, P., Pereira, J.A., Andrade, P.B.: Phenolics: from chemistry to biology. Molecules 14, 2202–2211 (2009)

Cadet, J., Davies, K.J., Medeiros, M.H., Di Mascio, P., Wagner, J.R.: Formation and repair of oxidatively generated damage in cellular DNA. Free Radic. Biol. Med. 107, 13–34 (2017)

Forman, H.J., Augusto, O., Brigelius-Flohe, R., Dennery, P.A., Kalyanaraman, B., Ischiropoulos, H., Mann, G.E., Radi, R., Roberts II, L.J., Vina, J., Davies, K.J.: Even free radicals should follow some rules: a guide to free radical research terminology and methodology. Free Radic. Biol. Med. 78, 233–235 (2015)

Kanaparthy, A., Kanaparthy, R.: Cytotoxicity of endodontic sealers-a comparative study using L-929 mouse skin fibroblast cell response-an ex vivo study. Int. J. Med. Res. Health Sci. 5, 59–62 (2016)

Hegde, M.N., Rodrigues, J.C., Kumari, S., Hegde, N.D.: Toxicity evaluation of root canal sealers on human gingival fibroblasts. Endodont 23, 40–46 (2011)

Dahl, J.E., Frangou-Polyzois, M.J., Polyzois, G.L.: In vitro biocompatibility of denture relining materials. Gerodontology 23, 17–22 (2006)

Hong, G.E., Park, H.S., Kim, J.A., Nagappan, A., Zhang, J., Kang, S.R., Won, C.K., Cho, J.H., Kim, E.H., Kim, G.S.: Anti-oxidant and anti-inflammatory effects of Fraxinus rhynchophylla on lipopolysaccharide (LPS)-induced murine Raw 264.7 cells. J. Biomed. Res. 13, 331–338 (2012)

Assanga, I., Lujan, L.: Cell growth curves for different cell lines and their relationship with biological activities. Int. J. Biotechnol. Mol. Biol. Res. 4, 60–70 (2013)

Kong, A.N., Yu, R., Chen, C., Mandlekar, S., Primiano, T.: Signal transduction events elicited by natural products: role of MAPK and caspase pathways in homeostatic response and induction of apoptosis. Arch. Pharmacal Res. 23, 1–6 (2000)

Kimura, Y., Suto, S., Tatsuka, M.: Evaluation of carcinogenic/co-carcinogenic activity of chikusaku-eki, a bamboo charcoal by-product used as a folk remedy, in BALB/c 3T3 cells. Biol. Pharm. Bull. 25, 1026–1029 (2002)

Jung, I.S., Kim, Y.J., Gal, S.W., Choi, Y.J.: Antimicrobial and antioxidant activities and inhibition of nitric oxide synthesis of oak wood vinegar. J. Life Sci. 17, 105–109 (2007)

Surh, Y.J., Chun, K.S., Cha, H.H., Han, S.S., Keum, Y.S., Park, K.K., Lee, S.S.: Molecular mechanisms underlying chemopreventive activities of anti-inflammatory phytochemicals: down-regulation of COX-2 and iNOS through suppression of NF-κB activation. Mutat. Res./Fundam. Mol. Mech. Mutagenesis 480, 243–268 (2001)

Lin, C.T., Chen, C.J., Lin, T.Y., Tung, J.C., Wang, S.Y.: Anti-inflammation activity of fruit essential oil from Cinnamomum insularimontanum Hayata. Bioresour. Technol. 99, 8783–8787 (2008)

Hobbs, A., Higgs, A., Moncada, S.: Inhibition of nitric oxide synthase as a potential therapeutic target. Annu. Rev. Pharmacol. Toxicol. 39, 191–220 (1999)
Acknowledgements
The authors would like to thank Universiti Teknologi Malaysia (UTM) for the GUP Grant (07G78) and the Ministry of Education, Malaysia, for the FRGS Grant (4F994) and the MyPhD scholarship to Khoirun Nisa Mahmud.
Additional information
Publisher's Note
Springer Nature remains neutral with regard to jurisdictional claims in published maps and institutional affiliations.
About this article
Cite this article
Mahmud, K.N., Hashim, N.M., Ani, F.N. et al. Antioxidants, Toxicity, and Nitric Oxide Inhibition Properties of Pyroligneous Acid from Palm Kernel Shell Biomass. Waste Biomass Valor 11, 6307–6319 (2020). https://doi.org/10.1007/s12649-019-00857-w
Received:

Accepted:

Published:

Issue Date:

DOI: https://doi.org/10.1007/s12649-019-00857-w
Keywords