Abstract
In this study, we produced cellulose nanofiber (CNF) from moso bamboo using high-temperature and high-pressure steam treatment combined with the milling treatment. This pretreatment method can be considered as an environmentally friendly method because the treated product contains only wood-derived components and water that generally do not lead to significant corrosion problems and formation of neutralization sludge. The specific tensile strengths of CNF obtained in this work were almost the same values as that of a commercial CNF. Furthermore, an eco-refinery pulp was made of holocellulose and CNF those were obtained from moso bamboo by this pretreatment method and its mechanical strength was evaluated. By changing the steam treatment conditions, it is possible to produce eco-refinery pulp of various specific tensile strengths adapted to the application and purpose.
Graphic Abstract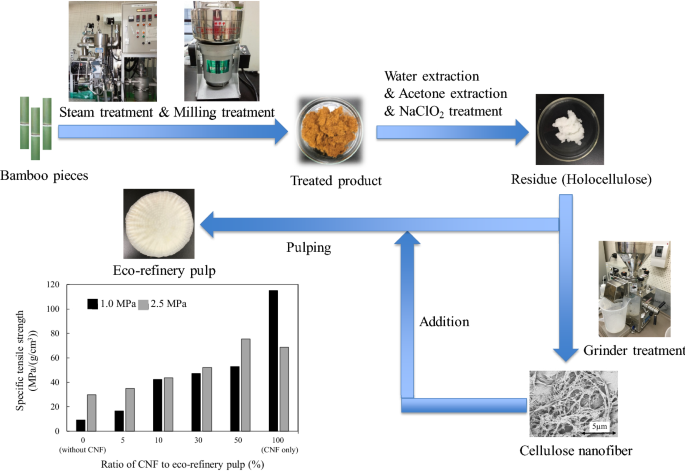 Access options
Buy single article
Instant access to the full article PDF.
US$ 39.95
Tax calculation will be finalised during checkout.
Subscribe to journal
Immediate online access to all issues from 2019. Subscription will auto renew annually.
US$ 79
Tax calculation will be finalised during checkout.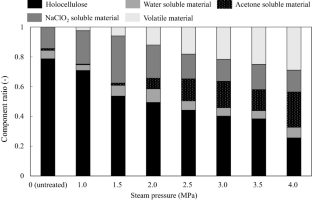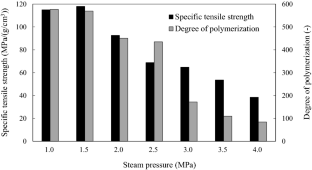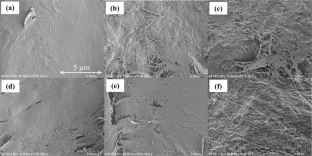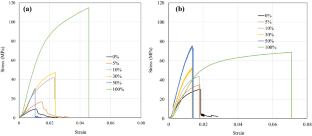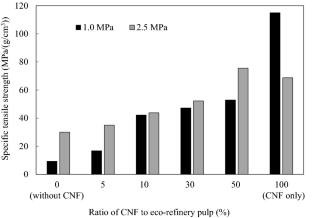 References
1.

Turbak, A.F., Snyder, F.W., Sandberg, K.R.J.: Microfibrillated cellulose, a new cellulose product: properties, uses, and commercial potential. J. Appl. Polm. Sci. A 37, 815–827 (1983)

2.

Nogi, M., Yano, H.: Transparent nanocomposites based on cellulose produced by bacteria offer potential innovation in the electronics device industry. Adv. Mater. 20(10), 1849–1852 (2008)

3.

Fukuzumi, H., Saito, T., Iwata, T., Kumamoto, Y., Isogai, A.: Transparent and high gas barrier films of cellulose nanofibers prepared by TEMPO-mediated oxidation. Biomacromolecules 10(1), 162–165 (2009)

4.

Xue, Y., Mou, Z., Xiao, H.: Nanocellulose as a sustainable biomass material: structure, properties, present status and future prospects in biomedical applications. Nanoscale 39, 14758–14781 (2017)

5.

Asada, C., Sasaki, C., Suzuki, A., Nakamura, Y.: Total biorefinery process of lignocellulosic waste using steam explosion followed by water and acetone extractions. Waste Biomass Valoriz. 9(12), 2423–2432 (2018)

6.

Asada, C., Sasaki, C., Uto, Y., Sakafuji, J., Nakamura, Y.: Effect of steam explosion pretreatment with ultra-high temperature and pressure on effective utilization of softwood biomass. Biochem. Eng. J. 60(1), 25–29 (2012)

7.

Suzuki, A., Sasaki, C., Asada, C., Nakamura, Y.: Characterization of cellulose nanofiber from steam-exploded Japanese cedar. BioResources 12(4), 7628–7641 (2017)

8.

Llano, T., Alexandri, M., Koutinas, A., Gardeli, Chr., Papapostolou, H., Coz, A., Quijorna, N., Andres, A., Komaitis, M.: Liquid–liquid extraction of phenolic compounds from spent sulphite liquor. Waste Biomass Valoriz. 6, 1149–1159 (2015)

9.

Asada, C., Sasaki, C., Takamatsu, T., Nakamura, Y.: Conversion of steam-exploded cedar into ethanol using simultaneous saccharification, fermentation and detoxification process. Bioresour. Technol. 176, 203–209 (2015)

10.

Asada, C., Sasaki, C., Hirano, T., Nakamura, Y.: Chemical characteristics and enzymatic saccharification of lignocellulosic biomass treated using high-temperature saturated steam: comparison of softwood and hardwood. Bioresour. Technol. 182, 245–250 (2015)

11.

Suzuki, A., Sasaki, C., Asada, C., Nakamura, Y.: Production of cellulose nanofibers from Aspen and Bode chopsticks using a high temperature and high pressure steam treatment combined with milling. Carbohydr. Polym. 194, 303–310 (2018)

12.

JIS P8215: Cellulose in dilute solutions—determination of limiting viscosity number—method in cupri-ethylene-diamine (CED) solution. Japanese Industrial Standards, Tokyo, Japan (1998)

13.

Pelaez-Samaniego, M.R., Englund, K.R.: Production of sugars from wood waste materials via enzymatic hydrolysis. Waste Biomass Valoriz. 8, 883–892 (2017)

14.

Asada, C., Sasaki, C., Nakamura, Y.: High concentration ethanol production from mixed softwood sawdust waste. Waste Biomass Valoriz. 10, 433–439 (2019)

15.

Asada, C., Basnet, S., Otsuka, T., Sasaki, C., Nakamura, Y.: Epoxy resin synthesis using low molecular weight lignin separated from various lignocellulosic materials. Int. J. Biol. Macromol. 74, 413–419 (2015)

16.

Ryu, D.D.Y., Lee, S., Tassinari, T., Macy, C.: Effect of compression milling on cellulose structure and on enzymatic hydrolysis kinetics. Biotechnol. Bioeng. 24(5), 1047–1067 (1982)

17.

Nair, S.S., Yan, N.: Bark derived submicron-sized and nano-sized cellulose fibers: from industrial waste to high performance materials. Carbohydr. Polym. 134, 258–266 (2015)

18.

Bhardwaj, N.K.: Refining of bamboo long fiber fraction pulp: effects on wet web and dry strength properties of paper. Cellulose Chem. Technol. 53(1–2), 113–120 (2019)

19.

Wan Rosli, W.D., Mazlan, I., Law, K.N.: Effects of kraft pulping variables on pulp and paper properties of Acacia mangium kraft pulp. Cellulose Chem. Technol. 43(1–3), 9–15 (2009)

20.

Sasaki, C., Wanaka, M., Takagi, H., Tamura, S., Asada, C., Nakamura, Y.: Evaluation of epoxy resins synthesized from steam-exploded bamboo lignin. Ind. Crop. Prod. 43, 757–761 (2013)
Acknowledgements
The authors are grateful for the partial support of a Grant-in-Aid for Young Scientists (A) (Grant No. 17H04717) from the Ministry of Education, Culture, Sports, Science, and Technology of Japan.
Additional information
Publisher's Note
Springer Nature remains neutral with regard to jurisdictional claims in published maps and institutional affiliations.
About this article
Cite this article
Asada, C., Sasaki, Y. & Nakamura, Y. Production of Eco-refinery Pulp from Moso Bamboo Using Steam Treatment Followed by Milling Treatment. Waste Biomass Valor 11, 6139–6146 (2020). https://doi.org/10.1007/s12649-019-00847-y
Received:

Accepted:

Published:

Issue Date:
Keywords
Lignocellulosic waste

Cellulose nanofiber

Pulp

Steam treatment

Milling treatment

Moso bamboo