Abstract
The by-products resulted from the processing of raw vegetables contain sometimes appreciable amounts of bioactive compounds can be extracted, purified, concentrated and reused as antipathogenic agents. By altering the pathogenicity of microorganisms, the virulence of the pathogen is attenuated. The objective of this work is to analyze the antibacterial, anti-quorum sensing, anti-biofilm and antioxidant activity of Beta vulgaris (beet) and Allium porrum (leek) leaves as possible antipathogenic agents. The ethanolic extracts of dehydrated beet leaves (EEDBL) showed greater antioxidant activity and a higher concentration of polyphenols than those of ethanolic extract of dehydrated leek leaves (EEDLL). The EEDLL showed major antibacterial activity with a minimal inhibitory concentration (MIC) of 358.33 mg mL−1 and anti-quorum sensing activity at 53.75 mg mL−1 than the EEDBL. Moreover, the EEDLL showed anti-biofilm activity at 268.75 mg mL−1. The use of bioactives extracted from unused portions of different vegetables as antipathogenic substances it is proposed as an alternative to the use of traditional antibacterials.
Graphic Abstract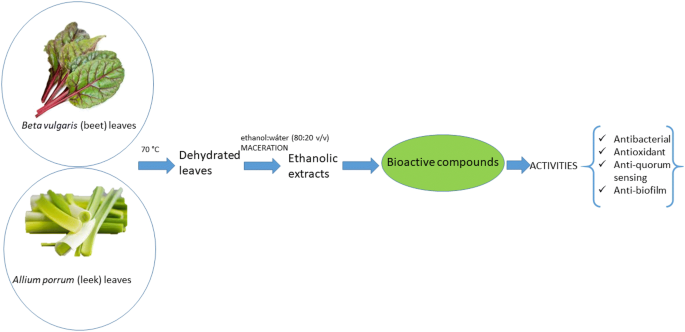 Access options
Buy single article
Instant access to the full article PDF.
US$ 39.95
Tax calculation will be finalised during checkout.
Subscribe to journal
Immediate online access to all issues from 2019. Subscription will auto renew annually.
US$ 79
Tax calculation will be finalised during checkout.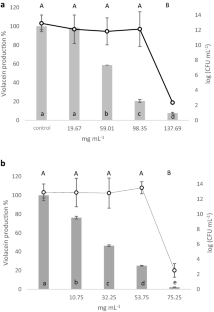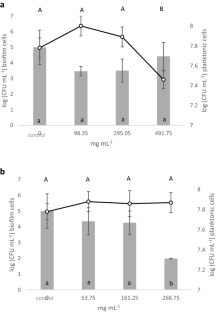 References
1.

Socaci, S.A., Fărcaş, A.C., Vodnar, D.C., Tofană, M.: Food Wastes as Valuable Sources of Bioactive Molecules. In: N Shiomi, V. Waisundara (eds) Superfood and Functional Food-The Development of Superfoods and Their Roles as Medicine. IntechOpen, Rijeka, (2017)

2.

Řezbová, H., Belova, A., Škubna, O.: Sugar beet production in the European Union and their future trends. Agris On-line Pap. Econ. Inform. 5, 165–178 (2013)

3.

Cowan, M.M.: Plant products as antimicrobial agents. Clin. Microbiol. Rev. 12(4), 564–582 (1999). https://doi.org/10.1128/cmr.12.4.564

4.

Haddad-Kashani, H., Seyed-Hosseini, E., Nikzad, H., Aarabi, M.H.: Pharmacological properties of medicinal herbs by focus on secondary metabolites. Life Sci. J. 9(1), 509–520 (2012)

5.

Figuerola, F., Hurtado, M.A.L., Estévez, A.M.A., Chiffelle, I., Asenjo, F.: Fibre concentrates from apple pomace and citrus peel as potential fibre sources for food enrichment. Food Chem. 91(3), 395–401 (2005).

6.

Goyeneche, R., Roura, S., Ponce, A., Vega-Gálvez, A., Quispe-Fuentes, I., Uribe, E., Di Scala, K.: Chemical characterization and antioxidant capacity of red radish (Raphanus sativus L.) leaves and roots. J Funct Foods 16, 256–264 (2015).

7.

Vulić, J.J., Ćebović, T.N., Čanadanović-Brunet, J.M., Ćetković, G.S., Čanadanović, V.M., Djilas, S.M., Tumbas Šaponjac, V.T.: In vivo and in vitro antioxidant effects of beetroot pomace extracts. J. Funct. Foods 6, 168–175 (2014). https://doi.org/10.1016/j.jff.2013.10.003

8.

Mohamed, S.M., Jaleel, G.A., Abdallah, H.M.I., Bashandy, S.A.E., Salama, A.B., Mahmoud, A.H.: Hypoglycemic, hypolipidemic and antioxidant activities of Allium porrum leaves extract in streptozotocin-induced diabetic rats. Int. J. PharmTech Res. 9(11), 187–200 (2016).

9.

Velarde, E.D.A., Martínez, D.L.P., Salem, A.Z.M., García, P.G.M., Mariezcurrena Berasain, M.D.: Antioxidant and antimicrobial capacity of three agroindustrial residues as animal feeds. Agrofor. Syst. (2019). https://doi.org/10.1007/s10457-018-00343-7.

10.

Gullón, B., Gullón, P., Eibes, G., Cara, C., De Torres, A., López-Linares, J.C., Ruiz, E., Castro, E.: Valorisation of olive agro-industrial by-products as a source of bioactive compounds. Sci. Total Environ. 645, 533–542 (2018). https://doi.org/10.1016/j.scitotenv.2018.07.155.

11.

Lee, E.H., Jang, K.I., Bae, I.Y., Lee, H.G.: Antibacterial effects of leek and garlic juice and powder in a mixed strains system. Korean J. Food Sci. Technol. 43(4), 518–523 (2011). https://doi.org/10.9721/kjfst.2011.43.4.518

12.

Tankeo, S.B., Lacmata, S.T., Noumedem, J.A.K., Dzoyem, J.P., Kuiate, J.R., Kuete, V.: Antibacterial and antibiotic-potentiation activities of some Cameroonian food plants against multi-drug resistant gram-negative bacteria. Chin. J. Integr. Med. 20(7), 546–554 (2014). https://doi.org/10.1007/s11655-014-1866-7

13.

Fuqua, W.C., Winans, S.C., Greenberg, E.P.: Quorum sensing in bacteria: the LuxR-LuxI family of cell density-responsive transcriptional regulators. J. Bacteriol. 176(2), 269 (1994)

14.

Tang, K., Zhang, X.-H.: Quorum quenching agents: resources for antivirulence therapy. Mar. Drugs 12(6), 3245–3282 (2014)

15.

Gala, V., Desai, K.: Plant based quorum sensing inhibitors of Pseudomonas aeruginosa. Int. J. Pharm. Pharm. Sci. 6, 20–25 (2014)

16.

Ghosh, R., Tiwary, B.K., Kumar, A., Chakraborty, R.: Guava leaf extract inhibits quorum-sensing and Chromobacterium violaceum induced lysis of human hepatoma cells: whole transcriptome analysis reveals differential gene expression. PLoS ONE 9(9), e107703 (2014)

17.

Khan, M.S.A., Zahin, M., Hasan, S., Husain, F.M., Ahmad, I.: Inhibition of quorum sensing regulated bacterial functions by plant essential oils with special reference to clove oil. Lett. Appl. Microbiol. 49(3), 354–360 (2009)

18.

Chu, Y.-Y., Nega, M., Wölfle, M., Plener, L., Grond, S., Jung, K., Götz, F.: A new class of quorum quenching molecules from Staphylococcus species affects communication and growth of gram-negative bacteria. PLoS Pathog. 9(9), e1003654 (2013)

19.

Bhardwaj, A., Vinothkumar, K., Rajpara, N.: Bacterial quorum sensing inhibitors: attractive alternatives for control of infectious pathogens showing multiple drug resistance. Recent Patents Anti-Infect. Drug Discov. 8(1), 68–83 (2013)

20.

Davey, M.E., O'toole, G.A.: Microbial biofilms: from ecology to molecular genetics. Microbiol. Mol. Biol. Rev. 64(4), 847–867 (2000).

21.

Costerton, J.W., Stewart, P.S., Greenberg, E.P.: Bacterial biofilms: a common cause of persistent infections. Science 284(5418), 1318–1322 (1999). https://doi.org/10.1126/science.284.5418.1318

22.

Donlan, R.M.: Biofilms: microbial life on surfaces. Emerg. Infect. Dis. 8(9), 881 (2002)

23.

Oral, N.B., Vatansever, L., Aydin, B.D., Sezer, Ç., Guven, A., Gulmez, M., Baser, K.H.C., Kürkçüoğlu, M.: Effect of oregano essential oil on biofilms formed by Staphylococci and Escherichia coli. Kafkas Üniversitesi Veteriner Fakültesi Dergisi 16, S23-S29 (2010).

24.

Kim, Y.-G., Lee, J.-H., Gwon, G., Kim, S.-I., Park, J.G., Lee, J.: Essential oils and eugenols inhibit biofilm formation and the virulence of Escherichia coli O157: H7. Sci. Rep. 6, 36377 (2016)

25.

Niu, C., Gilbert, E.: Colorimetric method for identifying plant essential oil components that affect biofilm formation and structure. Appl. Environ. Microbiol. 70(12), 6951–6956 (2004)

26.

Otero Casal, A., Muñoz Crego, A., Bernárdez Hermida, M., Fábregas Casal, J.: Quorum sensing: el lenguaje de las bacterias. Zaragoza, Acribia, SA (2005)

27.

Turkmen, N., Sari, F., Velioglu, Y.S.: The effect of cooking methods on total phenolics and antioxidant activity of selected green vegetables. Food Chem. 93(4), 713–718 (2005). https://doi.org/10.1016/j.foodchem.2004.12.038

28.

Singleton, V.L., Orthofer, R., Lamuela-Raventós, R.M.: Analysis of total phenols and other oxidation substrates and antioxidants by means of folin-ciocalteu reagent. In: Abelson, J, (eds) Methods in Enzymology, vol. 299. pp. 152–178. Academic Press, Cambridge (1999)

29.

Pellegrini, M., Alvarez, M., Ponce, A., Cugnata, N., De Piano, F., Fuselli, S.: Anti-quorum sensing and antimicrobial activity of aromatic species from South America. J. Essent. Oil Res. 26(6), 458–465 (2014)

30.

Hammer, K.A., Carson, C.F., Riley, T.V.: Susceptibility of transient and commensal skin flora to the essential oil of Melaleuca alternifolia (tea tree oil). Am. J. Infect. Control 24(3), 186–189 (1996)

31.

Choo, J., Rukayadi, Y., Hwang, J.K.: Inhibition of bacterial quorum sensing by vanilla extract. Lett. Appl. Microbiol. 42(6), 637–641 (2006)

32.

Fang, K., Jin, X., Hong, S.H.: Probiotic Escherichia coli inhibits biofilm formation of pathogenic E coli via extracellular activity of DegP. Sci. Rep. (2018). https://doi.org/10.1038/s41598-018-23180-1

33.

Čanadanović-Brunet, J.M., Savatović, S.S., Ćetković, G.S., Vulić, J.J., Djilas, S.M., Markov, S.L., Cvetković, D.D.: Antioxidant and antimicrobial activities of beet root pomace extracts. Czech J. Food Sci. 29(6), 575–585 (2011)

34.

Soquetta, M.B., Stefanello, F.S., Huerta, K.d.M., Monteiro, S.S., da Rosa, C.S., Terra, N.N.: Characterization of physiochemical and microbiological properties, and bioactive compounds, of flour made from the skin and bagasse of kiwi fruit (Actinidia deliciosa). Food Chem. 199, 471–478 (2016). https://doi.org/10.1016/j.foodchem.2015.12.022.

35.

Pedreño, M.A., Escribano, J.: Correlation between antiradical activity and stability of betanine from Beta vulgaris L roots under different pH, temperature and light conditions. J. Sci. Food Agric. 81(7), 627–631 (2001)

36.

Fernández, M.V., Jagus, R., Agüero, M.: Evaluation and characterization of nutritional, microbiological and sensory properties of beet greens. Acta Sci. Nutr. Health 1(3), 37–45 (2017)

37.

Biondo, P.B.F., Boeing, J.S., Barizão, É.O., Souza, N.E.d., Matsushita, M., Oliveira, C.C.d., Boroski, M., Visentainer, J.V.: Evaluation of beetroot (Beta vulgaris L.) leaves during its developmental stages: a chemical composition study. Food Sci. Technol. 34, 94–101 (2014).

38.

Kumar, S., Brooks, M.S.-L.: Use of red beet (Beta vulgaris L.) for antimicrobial applications—a critical review. Food Bioprocess Technol., 11, 1–26 (2017).

39.

Kovarovič, J., Bystrická, J., Fehér, A., Lenková, M.: Evaluation and comparison of bioactive substances in selected species of the genus Allium. Potravinarstvo Slovak J. Food Sci. 11(1), 702–708 (2017). https://doi.org/10.5219/833

40.

Radovanović, B., Mladenović, J., Radovanović, A., Pavlović, R., Nikolić, V.: Phenolic composition, antioxidant, antimicrobial and cytotoxic activites of allium porrum L(Serbia) extracts. J. Food Nutr. Res. 3(9), 564–569 (2015)

41.

Lee, S.K., Kader, A.A.: Preharvest and postharvest factors influencing vitamin C content of horticultural crops. Postharvest Biol. Technol. 20(3), 207–220 (2000)

42.

Michiels, J.A., Kevers, C., Pincemail, J., Defraigne, J.O., Dommes, J.: Extraction conditions can greatly influence antioxidant capacity assays in plant food matrices. Food Chem. 130(4), 986–993 (2012)

43.

Beretta, H.V., Bannoud, F., Insani, M., Berli, F., Hirschegger, P., Galmarini, C.R., Cavagnaro, P.F.: Relationships between bioactive compound content and the antiplatelet and antioxidant activities of six allium vegetable species. Food Technol. Biotechnol. 55(2), 266 (2017)

44.

Maidment, D.C.J., Dembny, Z., Watts, D.I.: The anti-bacterial activity of 12 Alliums against Escherichia coli. Nutr. Food Sci. 31(5), 238–241 (2001). https://doi.org/10.1108/eum0000000005614

45.

Lanzotti, V., Scala, F., Bonanomi, G.: Compounds from Allium species with cytotoxic and antimicrobial activity. Phytochem. Rev. 13(4), 769–791 (2014)

46.

Bodini, S., Manfredini, S., Epp, M., Valentini, S., Santori, F.: Quorum sensing inhibition activity of garlic extract and p-coumaric acid. Lett. Appl. Microbiol. 49(5), 551–555 (2009)

47.

Kalia, V.C.: Quorum sensing inhibitors: an overview. Biotechnol. Adv. 31(2), 224–245 (2013)

48.

Truchado, P., Tomás-Barberán, F.A., Allende, A., Ponce, A.: Selected phytochemical bioactive compounds as quorum sensing inhibitors. Acta Hort. 939, 93–97 (2012)

49.

González-Rivas, F., Ripolles-Avila, C., Fontecha-Umaña, F., Ríos-Castillo, A.G., Rodríguez-Jerez, J.J.: Biofilms in the spotlight: detection, quantification, and removal methods. Compr. Rev. Food Sci. Food Saf. 17(5), 1261–1276 (2018)

50.

Husain, F.M., Ahmad, I., Al-thubiani, A.S., Abulreesh, H.H., AlHazza, I.M., Aqil, F.: Leaf extracts of Mangifera indica L. Inhibit quorum sensing–regulated production of virulence factors and biofilm in test bacteria. Front Microbiol 8, 727 (2017).

51.

Lee, J.-H., Kim, Y.-G., Ryu, S.Y., Cho, M.H., Lee, J.: Ginkgolic acids and Ginkgo biloba extract inhibit Escherichia coli O157: H7 and Staphylococcus aureus biofilm formation. Int. J. Food Microbiol. 174, 47–55 (2014)

52.

Mani, A., Mahalingam, G.: Effect of anti-biofilm of different medicinal plants. Asian J. Pharm. Clin. Res. 10(2), 24–32 (2017)

53.

Zhang, J., Rui, X., Wang, L., Guan, Y., Sun, X., Dong, M.: Polyphenolic extract from Rosa rugosa tea inhibits bacterial quorum sensing and biofilm formation. Food Control 42, 125–131 (2014)

54.

Thakur, P., Chawla, R., Tanwar, A., Chakotiya, A.S., Narula, A., Goel, R., Arora, R., Sharma, R.K.: Attenuation of adhesion, quorum sensing and biofilm mediated virulence of carbapenem resistant Escherichia coli by selected natural plant products. Microb. Pathog. 92, 76–85 (2016). https://doi.org/10.1016/j.micpath.2016.01.001
Acknowledgements
This work was financially supported by the Consejo Nacional de Investigaciones Científicas y Técnicas (PIP 0019 CONICET) and Universidad Nacional de Mar del Plata (UNMDP). The authors thank the members of Grupo de Investigación de Ingeniería en Alimentos, FI, UNMDP. MCP thanks CONICET for her postdoctoral Grant.
Additional information
Publisher's Note
Springer Nature remains neutral with regard to jurisdictional claims in published maps and institutional affiliations.
About this article
Cite this article
Pellegrini, M.C., Ponce, A.G. Beet (Beta vulgaris) and Leek (Allium porrum) Leaves as a Source of Bioactive Compounds with Anti-quorum Sensing and Anti-biofilm Activity. Waste Biomass Valor 11, 4305–4313 (2020). https://doi.org/10.1007/s12649-019-00775-x
Received:

Accepted:

Published:

Issue Date:
Keywords
Vegetable extract

Antioxidant

Antibacterial

Anti-quorum sensing

Anti-biofilm