Abstract
Energy conservation is one of the most challenging issues throughout the world. As consumers demand alternatives to fossil fuel, the use of alternative energy sources including wind energy is increasing. With an increase in the use of wind energy a collateral issue of what to do with the large and voluminous wind turbine blades (WTB) has arisen. Currently, there are no economically viable recycling pathways for damaged or end-of-life WTBs, which are made primarily of glass fiber composites. This research evaluates an economically viable composite fabrication system using mechanically recycled WTB (rWTB) material as a feedstock for thermoplastic composites. The WTB material was first mechanically milled and classified through a range of varying screen sizes. We then blended this with high density polyethylene (HDPE) thermoplastic resin and extruded it to a profiled composite. We determined the influence of refined particle size, resin content and coupling agents [maleic anhydride polyethylene (MAPE) and methacryloxypropyltriethoxysilane (Silane)] on the properties of recycled composites. We also obtained static bending, coefficient of linear thermal expansion (CLTE) and water sorption properties for all composites. Overall improvement of mechanical and physical properties of composites achieved by using MAPE as a coupling agent. Findings show that mechanical recycling of wind turbine blades is a feasible and promising way to fabricate a high-performance second-generation composite.
Access options
Buy single article
Instant access to the full article PDF.
USD 39.95
Price excludes VAT (USA)
Tax calculation will be finalised during checkout.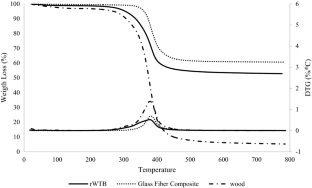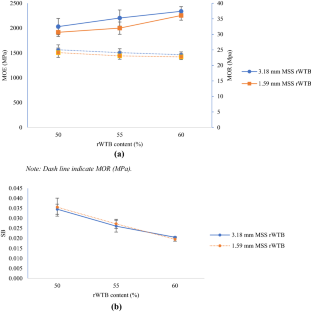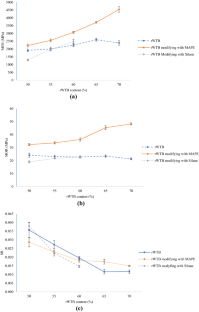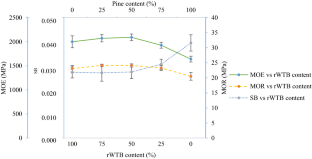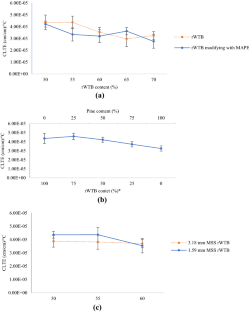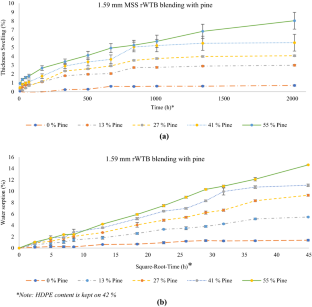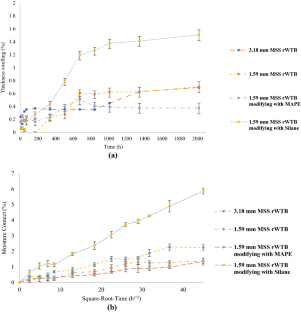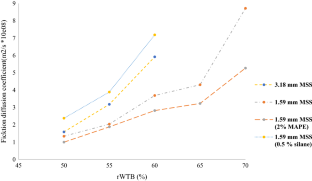 References
Liu, P., Barlow, C.W.: Wind turbine blade waste in 2015. Waste Manag. 62, 229–240 (2017)

Beauson, J., Madsen, B., Toncelli, C., et al.: Recycling of shredded composites from wind turbine blades in new thermoset polymer composites. Composites A 90, 390–399 (2016)

Mamanpush, S.H., Li, H., Englund, K., Tabatabaei, A.T.: 2018, Recycled wind turbine blades as a feedstock for second generation composites. Waste Manag. https://doi.org/10.1016/j.wasman.2018.02.050

Kennerley, J.R., Kelly, R.M., Fenwick, N.J., et al.: The characterization and reuse of glass fibres recycled from scrap composites by the action of a fluidised bed process. Composites A 29(7), 839–845 (1998)

Mamanpush, S.H., Tabatabaei, A.T., Li, H., Englund, K.: Data on the mechanical properties of recycled wind turbine blade composites. Data Brief. 19, 230–235 (2018). https://doi.org/10.1016/j.dib.2018.05.008

Palmer, J.: Mechanical Recycling of Automotive Composites for Use as Reinforcement in Thermoset Composites. PhD thesis, University of Exeter, pp. 224 (2009)

Phoenix Fibreglass Inc: Fibreglass Composite Recycling: Report. Ministry of Environment and Energy, Ontario (1994)

Yazdanbakhsh, A., Bank, L.C., Rieder, K.A., et.al: Concrete with discrete slender elements from mechanically recycled wind turbine blades. Resour. Conserv. Recycl. 128, 11–21 (2018)

Standard test method for compositional analysis by thermogravimetric, ASTM E1131-08 (2012)

Xanthos, M.: Functional Fillers for Plastics. Wiley, Hoboken (2005). https://doi.org/10.1002/3527605096

Srubar, W.V. III, Frank, C.W., Billington, S.L.: Modeling the kinetics of water transport and hydro expansion in a lignocellulose-reinforced bacterial copolyester. Polymer. 53, 2152–2161 (2012). https://doi.org/10.1016/j.polymer.2012.03.036

Munder, S., Argyropoulos, D., Müller, J.: Acquisition of sorption and drying data with embedded devices: improving standard models for high oleic sunflower seeds by continuous measurements in dynamic systems. Agriculture 9(1), 1 (2019)

Mamanpush, S.H., Li, H., Englund, K., Tabatabaei, A.T.: Dataset demonstrating physical properties of recycled wind turbine blade composites. Data Brief 20, 658–661 (2018)
Acknowledgements
The authors gratefully appreciate the financial support by Global Fiberglass Solutions Inc. Bothell, WA.
Ethics declarations
Conflict of interest
The author(s) declared no potential conflicts of interest with respect to the research, authorship, and/or publication of this article.
Additional information
Publisher's Note
Springer Nature remains neutral with regard to jurisdictional claims in published maps and institutional affiliations.
About this article
Cite this article
Mamanpush, S.H., Li, H., Englund, K. et al. Extruded Fiber-Reinforced Composites Manufactured from Recycled Wind Turbine Blade Material. Waste Biomass Valor 11, 3853–3862 (2020). https://doi.org/10.1007/s12649-019-00659-0
Received:

Accepted:

Published:

Issue Date:

DOI: https://doi.org/10.1007/s12649-019-00659-0
Keywords
Recycling

Wind turbine blade

Polymer-matrix composite

Glass fiber