Abstract
The present study was aimed to investigate the nutritional composition, chemical components and anti-inflammatory activity of C. vulgaris. The isolated microalga was mass cultured in laboratory by selective media with optimum conditions. Protein content was found to be higher for 45.23% followed by carbohydrate (23.43%) and total lipid (18.12%). Minerals components was recorded by the following order: Magnesium > Calcium > Iron > Manganese > Zinc > Copper. Seven vitamins were estimated, vitamin B3 was recorded higher (13.3 mg/100 g) and B12 has shown lesser amount (0.21 mg/100 g). The pigments chlorophyll a, b and carotenoids were found to be 4.7 mg/g, 4.2 mg/g and 6.11 mg/g respectively. Secondary metabolite was extracted by methanol and chloroform and further screened for the in vitro anti-inflammatory effect through the inhibition of albumin denaturation, antiproteinase, hypotonicity-induced haemolysis and anti-lipoxygenase assays and results have been recorded by concentration dependent. From the results, the anti-inflammatory activities of the methanolic extract were found higher than the chloroform extract at 500 µg/ml. The functional groups of the potent methanolic extract were studied by FT-IR analysis which revealed the presence of alkane, nitro and carboxyl groups.
Access options
Buy single article
Instant access to the full article PDF.
US$ 39.95
Tax calculation will be finalised during checkout.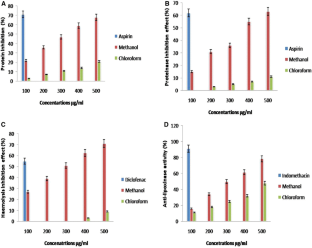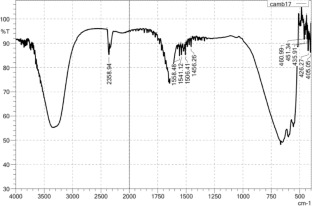 References
1.

Ferreira, S.P., Soares, L.A., Costa, J.A.: Review: microalgae: an alternative source to obtain essential fatty acids. Revista de Ciências Agrárias (Portugal). 36, 275–287 (2013)

2.

Volk, R.B.: A newly developed assay for the quantitative determination of antimicrobial (anticyanobacterial) activity of both hydrophilic and lipophilic test compounds without any restriction. Microbiol. Res. 163(2), 161–167 (2008)

3.

Iba˜nez, E., Cifuentes, A.: Benefits of using algae as natural sources of functional ingredients. J. Sci. Food Agri. 93(4), 703–709 (2013)

4.

Harun, R., Singh, M., Forde, G.M., Danquah, M.K.: Bioprocess engineering of microalgae to produce a variety of consumer products. Renew. Sust. Energy Rev. 14(3), 1037–1047 (2010)

5.

Priyadarshani, I., Rath, B.: Commercial and industrial applications of micro algae – A review. J. Algal. Biomass Util. 3, 89–100 (2012)

6.

Masoj´ıdek, J., Pr´aˇsil, O.: The development of microalgal biotechnology in the Czech Republic. J. Indus. Microbiol. Biotech. 37(12), 1307–1317 (2010)

7.

Costa, J.A.C., Morais, M.G.: Microalgae for food production. In: Soccol, C.R., Pandey, A., Larroche, C. (eds.) Fermentation Process Engineering in the Food Industry, p. 486. Taylor & Francis, Abingdon (2013)

8.

Costa, J.A.V., Radmann, E.M., Cerqueira, V.S., Santos, G.C., Calheiros, M.N.: Perfil de ´acidos graxos das microalgae Chlorella vulgaris, Chlorella minutissima, cultivadas em diferentes condic¸˜oes. Alimentos e Nutric¸˜ao Araraquara. 17(4), 429–436 (2006)

9.

Plaza, M., Herrero, M., Alejandro, A.C., Ib´a˜nez, E.: Innovative natural functional ingredients from microalgae. J. Agri. Food Chem. 57(16), 7159–7170 (2009)

10.

Cha, K.H., Kang, S.W., Kim, C.Y., Um, B.H., Na, Y.R., Pan, C.H.: Effect of pressurized liquids on extraction of antioxidants from Chlorella vulgaris. J. Agri. Food Chem. 58(8), 4756–4761 (2010)

11.

Tortora, G.J., Reynolds, S.: (eds.). Principles of Anatomy and Physiology. 7th edn., p. 695. Harper Collins College Publishers, New York (1993)

12.

Dineshkumar, R., Kumaravel, R., Sampathkumar, P.: Cultivation of efficient marine microalgae and their biochemical composition and its. antibacterial activity against human pathogens. J. Aqua. Mar. Biol. 5(4), 001–27 (2016)

13.

Lananan, F., Jusoh, A., Ali, N., Lam, S.S., Endut, A.: Effect of Conway medium and f/2 medium on the growth of six genera of south China sea marine microalgae. Biores. Technol. 141, 75–82 (2013)

14.

John, D.M., Whitton, B.A., Brook, A.J.: The Freshwater Algal Flora of the British Isles. An Identification Guide to Freshwater and Terrestrial Algae. Cambridge University Press, Cambridge (2003)

15.

Folch, J., Lees, M., Stanely, S.: A simple method for the isolation and purification of total lipids from animal G.H. J. Biol. Chem. 226, 497–509 (1957)

16.

Dubois, M., Gilles, K.A., Hamilton, J.K., Rebers, P.A., Smith, F.: Colorimetric method for determination of sugars and related substances. Annal. Chem. 28, 350–356 (1956)

17.

AOAC.: Official Methods of Analysis. (18th edn.). Association of Official Analytical Chemists. Washington. DC (1990)

18.

Moovendhan, M., Ramasubburayan, R., Vairamani, S., Shanmugam, A., Palavesam, A., Immanuel, G.: Antibiotic efficacy and characterization of mangrove metabolites against UTI microbes. J. Herb. Spices Med. Plant. 21(2), 129–139 (2015)

19.

Mizushima, Y., Kobayashi, M.: Interaction of anti-inflammatory drugs with serum preoteins, especially with some biologically active proteins. J. Pharma. Pharmacol. 20, 169- 173 (1968)

20.

Oyedepo, O.O., Femurewa, A.J.: Anti-protease and membrane stabilizing activities of extracts of Fagra zanthoxiloides, Olax subscorpioides and Tetrapleura tetraptera. Int. J. Pharmacong. 33, 65–69 (1995)

21.

Azeem, A.K., Dilip, C., Prasanth, S.S., Junise, V., Shahima, H.: Anti-inflammatory activity of the glandular extracts of Thunnus alalunga. Asia Pac. J. Med. 3(10), 412–20 (2010)

22.

Shinde, U.A., Kulkarni, K.R., Phadke, A.S., Nair, A.M., Dikshit, V.J., Mungantiwar, V.N., Saraf, M.N.: Mast cell stabilizing and lipoxygenase inhibitory activity of Cedrus deodara (Roxb.) Loud Wood Oil. Ind. J. Exp. Biol. 37(3), 258–261 (1999)

23.

Kent, M., Welladsen, M.H., Mangott, A., Li, Y.: Nutritional evaluation of australian microalgae as potential human health supplements. PLOS ONE. 10(2), 1–14 (2015)

24.

Rosario, C.J., Mary Josephine, R.: Mineral profile of edible algae Spirulina platensis. Int. J. Curr. Micro. App. Sci. 4(1), 478–483 (2015)

25.

Fabregas, J., Herrero, C.: Marine microalgae as a potential source of minerals in fish diets. Aquacul. 51, 237–243 (1986)

26.

WHO-FAO. Vitamin and mineral requirements in human nutrition. 2nd edn., ISBN 92 4 154612 3, 1–15 pp (2004)

27.

Fabregas, J., Herrero, C.: Vitamin content of four marine microalgae: Potential use as source of vitamins in nutrition. J. Indus. Microbiol. 5, 259–264 (1990)

28.

Tang, G., Suter, P.M.: Vitamin A, Nutrition, and Health Values of Algae: Spirulina, Chlorella and Dunaliella. J. Pharm. Nut. Sci. 1, 111–118 (2011)

29.

del Campo, A.J., García-González, M., Guerrero, M.G.: Outdoor cultivation of microalgae for carotenoid production: current state and perspectives. Appl. Microb. Biotech. 74, 1163–1174 (2007)

30.

Seyfabadi, J., Ramezanpour, Z., Amini, K.Z.: Protein, fatty acid and pigment content of Chlorella vulgaris under different light regimes. J. Appl. Phycol. 23, 721–726 (2011)

31.

Sharma, R., Singh, P., Sharma, G.: V.K.: Effects of culture conditions on growth and biochemical profile of Chlorella vulgaris. Plant Path. Microbiol. 3(5), 3–5 (2012)

32.

Hynstova, V., Sterbova, D., Klejdus, B., Hedbavny, J., Huska, D., Adam, V.: Separation, identification and quantification of carotenoids and chlorophylls in dietary supplements containing Chlorella vulgaris and Spirulina platensis using high performance thin layer chromatography. J. Pharma. Biomed. Anal. (2017) https://doi.org/10.1016/j.jpba.2017.09.018

33.

Henriques, M., Silva, A., Rocha, J.: Communicating current research and educational topics and trends in applied microbiology, pp. 586–589. Formataex, Badajoz (2007)

34.

Leelaprakash, G., Dass, M.: S.: In vitro anti-inflammatory activity of methanol extract of Enicostemma axillare. Inter. J. Drug Develop. Res. 3(3), 189–196 (2011)

35.

Lauritano, C., Andersen, J.H., Hansen, E., Albrigtsen, M., Escalera, L., Esposito, F., Helland, K., Hanssen, K.O., Romano, G., Ianora, A.: Bioactivity screening of microalgae for antioxidant, anti-inflammatory, anticancer, anti-diabetes and antibacterial activities. Fron. Mar. Sci. 3(68), 1–12 (2016)

36.

Radhika, D., Veerabahu, C., Priya, R.: Anti-inflammatory activities of some seaweed collected from the gulf of mannar coast, tuticorin, south India. Int. J.Phar. Biosci. 4(1), 39–44 (2013)

37.

Habashy, N.H., Abu Serie, M.M., Attia, W.E., Abdelgaleil, S.A.M.: Chemical characterization, antioxidant and anti-inflammatory properties of Greek Thymus vulgaris extracts and their possible synergism with Egyptian Chlorella vulgaris. J. Func. Foods. 40, 317–328 (2018)

38.

Abu-Serie, M.M., Habashy, N.H., Attia, W.E.: In vitro evaluation of the synergistic antioxidant and anti-inflammatory activities of the combined extracts from Malaysian Ganoderma lucidum and Egyptian Chlorella vulgaris. BMC Comp. Alter. Med. 18, 154–159 (2018)

39.

Moovendhan, M., Seedevi, P., Shanmugam, A., Vairamani, S.: Antibiotic susceptibility and functional group characterization of Pinna nobilis Metabolites against clinical isolates. J. Biol. Active Prod. Nat. 5(1), 52–57 (2015)

40.

Kansiz, M., Heraud, P., Wood, B., Burden, F., Beardall, J., McNaughton, D.: Fourier Transform Infrared microspectroscopy and chemometrics as a tool for the discrimination of cyanobacterial strains. Phytochem. 52, 407–417 (1999)
Acknowledgements
Authors are thankful to the Dean and Director, CAS in Marine Biology, Faculty of Marine Sciences, Annamalai University for providing all necessary facilities.
Ethics declarations
Conflict of interest
The authors declare there is no conflict of interest.
About this article
Cite this article
Gopal Prabakaran, Meivelu Moovendhan, Arumugam, A. et al. Evaluation of Chemical Composition and In Vitro Antiinflammatory Effect of Marine Microalgae Chlorella vulgaris. Waste Biomass Valor 10, 3263–3270 (2019). https://doi.org/10.1007/s12649-018-0370-2
Received:

Accepted:

Published:

Issue Date:
Keywords
C. vulgaris

Vitamins

Pigments

Antiinflammatory

FT-IR