Abstract
Cassava cellulosic waste, or cassava bagasse or pulp, is a solid waste generated from both the coarse and fine extraction processes used for producing starch. Current disposal alternatives, such as selling the wet or dried pulp for animal feed, do not provide a high economic value. Furthermore, when stored at the factory the resulting microbial fermentation of the waste causes environmental pollution and a strong odor. The pulp still has a high starch content and so is suitable for other utilization purposes. The aim of this research was to use a direct economic and environment cost model to assess three potential high value-added renewable energy utilization alternatives for cassava pulp utilization to help define appropriate option(s) for on-site pulp management. The selected utilization options were the production of (i) biogas for heat generation, (ii) biogas for electricity generation and (iii) bioethanol. Primary and secondary data were collected from the literature, surveys and field data. The boundaries of data collection were set as gate-to-gate of a new unit in an existing starch factory with a receiving capacity of 500 t/d of pulp (equivalent to the pulp produced from a 200-t starch factory). The total production cost of each cassava pulp utilization option was calculated from both the economic and environmental cost. The most economically attractive scenario was the production of biogas for heat generation since it gave the highest net present value (NPV), net cash flow and return on sale. The biogas for heat generation option has the highest NPV sensitivity value in all case studies.
Access options
Buy single article
Instant access to the full article PDF.
USD 39.95
Price excludes VAT (USA)
Tax calculation will be finalised during checkout.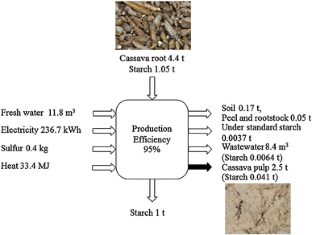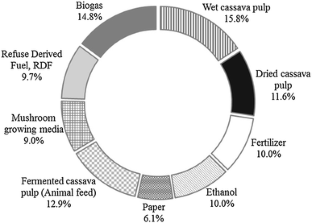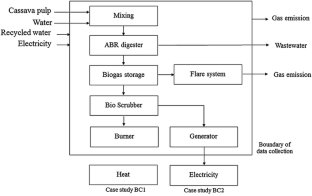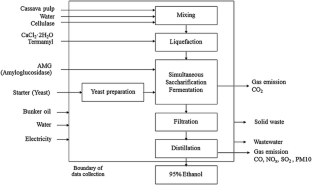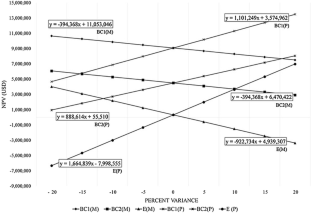 References
FAOSTAT: Statistical databases. Food and Agriculture Organization of the United Nations, Rome, Available at: http://www.fao.org/faostat/en/#home (2016). Accessed 1 December 2016

Office of Agricultural Economics (OAE), Ministry of Agriculture and Cooperatives: Agricultural statistics of Thailand, agricultural statistics document. http://www.oae.go.th/download/download_journal/2559/yearbook58.pdf (2015). Accessed 1 December 2016

Curran, M.A.: Life Cycle Assessment: Principles and Practice, National Risk Management Research Laboratory, Office of Research and Development. US Environmental Protection Agency, Ohio (2006)

United Nations (UN): Division for sustainable development, expert working group on" improving the role of government in the promotion of environmental management accounting", Bundesministerium für Verkehr, & innovation und technologie. Environmental management accounting policies and linkages. United Nations Publications, Austria. https://sustainabledevelopment.un.org/content/documents/proceduresandprinciples.pdf (2002). Accessed 1 January 2017

Utne, I.B.: Life cycle cost (LCC) as a tool for improving sustainability in the Norwegian fishing fleet. J. Clean. Prod. 17(3), 335–344 (2009)

Rattanachomsri, U., Tanapongpipat, S., Eurwilaichitr, L., Champreda, V.: Simultaneous non-thermal saccharification of cassava pulp by multi-enzyme activity and ethanol fermentation by Candida tropicalis. J. Biosci. Bioeng. (2009). doi:10.1016/j.jbiosc.2008.12.024

Glanpracha, N., Annachhatre, A.P.: Anaerobic co-digestion of cyanide containing cassava pulp with pig manure. Bioresour. Technol. (2016). doi:10.1016/j.biortech.2016.04.079

Virunanon, C., Ouephanit, C., Burapatana, V., Chulalaksananukul, W.: Cassava pulp enzymatic hydrolysis process as a preliminary step in bio-alcohols production from waste starchy resources. J. Clean. Prod. (2008). doi:10.1016/j.jclepro.2008.08.009

Sriroth, K., Kosinsenee, S., Piyachomkan, K., Keawsompong, S., Chatakanonda, P., Wanlapatit, S.: Development of Ethanol Production from Agricultural Waste with Minimal Production Cost and Environmentally Friendly Process. Kasetsart University, Thailand (2005)

National Science and Technology Development Agency (NSTDA): Report of Project Impact Under the Promotion of Biotechnology for Industrial Plans of Technology Utilization in Thailand, National Science and Technology Development Agency (NSTDA), Pathumthani (2012)

Eaton, G.: Management Accounting Official Terminology. Vol. 62C, CIMA Publishing Inc., Newnes (2005a)

Jovanović, P.: Application of sensitivity analysis in investment project evaluation under uncertainty and risk. Int. J. Project Manag. (1999). doi:10.1016/S0263-7863(98)000350

Eaton, G.: Management Accounting Official Terminology. Vol. 24C. CIMA Publishing Inc., Newnes (2005b)

Gloria, T.P., Lippiatt, B.C., Cooper, J.: Life cycle impact assessment weights to support environmentally preferable purchasing in the United States. Environ. Sci. Technol. (2007). doi:10.1021/es070750+

Thailand greenhouse gas management organization (Public organization): Carbon market, agricultural statistics document. http://carbonmarket.tgo.or.th (2016). Accessed 1 December 2016

The Intergovernmental Panel on Climate Change (IPCC): 2006 IPCC guidelines for national greenhouse gas inventories. http://www.ipcc-nggip.iges.or.jp/public/2006gl/ (2006). Accessed 1 January 2017

Leng, R., Wang, C., Zhang, C., Dai, D., Pu, G.: Life cycle inventory and energy analysis of cassava-based fuel ethanol in China. J. Cleaner Prod. (2008) doi:10.1016/j.jclepro.2006.12.003

Silalertruksa, T., Gheewala, S.H.: Environmental sustainability assessment of bio-ethanol production in Thailand. Energy (2009). doi:10.1016/j.energy.2009.08.002

Jakrawatana, N., Pingmuangleka, P., Gheewala, S.H.: J. Cleaner Prod. (2016). doi:10.1016/j.jclepro.2015.06.139

Numjuncharoen, T., Papong, S., Malakul, P., Mungcharoen, T.: Life-cycle GHG emissions of cassava-based bioethanol production. Energy Procedia (2015). doi:10.1016/j.egypro.2015.11.477

Nguyen, T.L.T., Gheewala, S.H., Garivait, S.: Energy balance and GHG-abatement cost of cassava utilization for fuel ethanol in Thailand. Energy Policy (2007). doi:10.1016/j.enpol.2007.03.012

Department of Industrial Works (DIW): Operations Manual on the Design, Production and Quality Control and Biogas Utilization for Industry. Department of Industrial Works (DIW) of Thailand, Bangkok (2009)

Kwangkaeo, J., Wangjiranirun, W.: Value added analysis for ethanol plant using cassava. J. Energy. 3, 33–45 (2012)

Suwanasri, K., Trakulvichean, S., Grudloyma, U., Songkasiri, W., Commins, T., Chaiprasert, P., Tanticharoen, M.: Biogas: key success factors for promotion in Thailand Special Issue. J. Sustain. Energy Environ. 25:30 (2015)

Kosugi, A., Kondo, A., Ueda, M., Murat, Y., Vaithanomsat, P., Thanapase, W., Arai, T., Mori, Y.: Production of ethanol from cassava pulp via fermentation with a surface-engineered yeast strain displaying glucoamylase. Renew. Energy (2009). doi:10.1016/j.renene.2008.09.002

Sriroth, K., Chollakup, R., Chotineeranat, S., Piyachomkwan, K., Oates, C.G.: Processing of cassava waste for improved biomass utilization. Bioresour. Technol. (2000). doi:10.1016/S0960-8524(99)00051-6

Azapagic, A., Emsley, A., Hamerton, I.: Polymers: The Environment and Sustainable Development. Wiley, New York (2003)

Jensen, A.A., Elkington, J., Christiansen, K., Hoffmann, L., Moller, B.T., Schmidt, A., Dijk, F.V.: Life Cycle Assessment: A Guide to Approaches, Experiences and Information sources, Report to European Environment Agency. European Environment Agency, Copenhagen (1997)

Wenzel, H., Hauschild, M., Alting, L.: Environmental Assessment of Products. Volume 1: Methodology, Tools and Case Studies in Product Development. Springer, New York (1997)

Bergerson, J., Lave, L.: A Life Cycle Analysis of Electricity Generation Technologies, Health and Environmental Implications of Alternative Fuels and Technologies. Carnegie Mellon Electricity Industry Center, Pittsburgh (2002)

EEA: EEA Air Pollutant Emission Inventory guidebook—2009. Vol. 83, European Environment Agency (EEA), Copenhagen, (2009)
Acknowledgements
This research was supported by the Thailand Research Fund through the Royal Golden Jubilee Ph.D. Program (Grant No. 2.B.KT/52/N1) to Ms. Sivalee Trakulvichean and Dr. Warinthorn Songkasiri. We gratefully acknowledge Choncharoen Co., Ltd. and other starch factories for information.
About this article
Cite this article
Trakulvichean, S., Chaiprasert, P., Otmakhova, J. et al. Integrated Economic and Environmental Assessment of Biogas and Bioethanol Production from Cassava Cellulosic Waste. Waste Biomass Valor 10, 691–700 (2019). https://doi.org/10.1007/s12649-017-0076-x
Received:

Accepted:

Published:

Issue Date:

DOI: https://doi.org/10.1007/s12649-017-0076-x
Keywords
Tapioca

Waste management

Renewable energy

Pulp

Thailand