Abstract
Large amounts of residual grass originating from the management of landscape and natural areas are produced in Europe. This material, which is not competing for land use like energy crops, and is only partially recovered for animal feeding, can be profitably used for sustainable bioenergy production. In this study we demonstrated through a GIS based approach that this feedstock can be of some interest for the production of biogas in the Veneto Region, north east Italy, where more than 150 anaerobic digesters are in operation and feedstock availability can be sometime problematic. Specific field trials showed that costs for grass management are around 30 euros/ton while corresponding CO2 emission for grass handling (cutting, wrapping and harvesting) are 25 kg CO2/ton of grass processed. On the other hand, average biogas productions of some 500–600 m3 of biogas/ton of volatile solids (52–56% methane) should be expected from this residual material. Both treatment costs and biogas yields of residual grass are in line with similar data for some energy crops. The technical, environmental, and economic sustainability for the production of bioenergy through the proposed approach was demonstrated.
Access options
Buy single article
Instant access to the full article PDF.
USD 39.95
Price excludes VAT (USA)
Tax calculation will be finalised during checkout.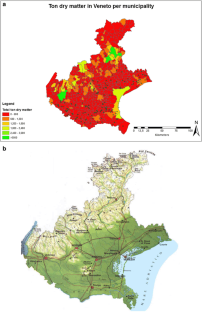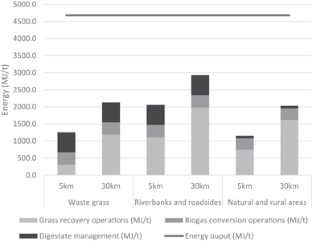 References
EBA—European Biogas Association Report 2014 (2015)

Singh, A., Smyth, B.M., Murphy, J.D.: A biofuel strategy for Ireland with an emphasis on production of biomethane and minimization of land-take. Renew. Sustain. Energy Rev. 14(1), 277–288 (2010)

Pick, D., Dieterich, M., Heintschel, S.: Biogas production potential from economically usable green waste. Sustainability. 4, 682–702 (2012)

Meyer, A.K.P., Ehimen, E.A., Holm-Nielsen, J.B.: Bioenergy production from roadside grass: a case study of the feasibility of using roadside grass for biogas production in Denmark. Resour. Conserv. Recycl. 93, 124–133 (2014)

Meyer, A.K.P., Raju, C.S., Kucheryavskiy, S., Holm-Nielsen, J.B.: The energy balance of utilising meadow grass in Danish biogas production. Resour. Conserv. Recycl. 104, 265–275 (2015)

Tsapekos, P., Kougias, P.G., Angelidaki, I.: Anaerobic mono- and co-digestion of mechanically pretreated meadow grass for biogas production. Energy Fuels. 29(7), 4005–4010 (2015)

Prochnow, A., Heiermann, M., Plöchl, M., Linke, B., Idler, C., Amon, T., Hobbs, P.J.: Bioenergy from permanent grassland—a review: 1. Biogas. Bioresour. Technol. 100(21), 4931–4944 (2009)

Melts, I., Heinsoo, K.: Seasonal dynamics of bioenergy characteristics in grassland functional groups. Grass Forage Sci. 70(4), 571–581 (2015)

Piepenschneider, M., Bühle, L., Hensgen, F., Wachendorf, M.: Energy recovery from grass of urban roadside verges by anaerobic digestion and combustion after pre-processing. Biomass Bioenergy 85, 278–287 (2016)

Boscaro, D., Pezzuolo, A., Grigolato, S., Cavalli, R., Marinello, F., Sartori, L.: Preliminary analysis on mowing and harvesting grass along riverbanks for the supply of anaerobic digestion plants in north-eastern Italy. J. Agric. Eng. 465, 100–104 (2015)

Frigon, J.C., Roy, C., Guiot, S.R.: Anaerobic co-digestion of dairy manure with mulched switchgrass for improvement of the methane yield. Bioprocess. Biosyst. Eng. 35, 341–349 (2012)

Hidaka, T., Arai, S., Okamoto, S., Uchida, T.: Anaerobic co-digestion of sewage sludge with shredded grass from public green spaces. Bioresour. Technol. 130, 667–672 (2013)

Kosse, P., Lubken, M., Wichern, M.: Urban lignocellulosic biomass can significantly contribute to energy production in municipal wastewater treatment plants—a GIS-based approach for a metropolitan area. Biomass Bioenergy 81, 568–573 (2015)

Angelidaki, I., Alves, M., Bolzonella, D., Borzacconi, L., Campos, J.L., Guwy, A.J., Kalyuzhnyi, S., Jenicek, P., Van Lier, J.B.: Defining the biomethane potential (BMP) of solid organic wastes and energy crops: a proposed protocol for batch assays. Water Sci. Technol. 59(5), 927–934 (2009)

Sartori, L., Basso B., Bertocco M., Oliviero G: Energy use and economic evaluation of a three year crop rotation for conservation and organic farming in NE Italy. Biosyst. Eng. 91(2):245–256 (2005)

Pezzuolo, A., Basso, B., Marinello, F., Sartori, L.: Using SALUS model for medium and long term simulations of energy efficiency in different tillage systems. Appl. Math. Sci. 8, 129–132 (2014)

Boscaro, D., Pezzuolo, A., Correale Santacroce, F., Marinello, F., Grigolato, S., Sartori, L.: Evaluation of different logistic scenarios in riverbanks grass harvesting for biogas plants feeding. Commun. Agric. Appl. Biol. Sci. (2017)

Pezzuolo A., Boscaro D., Marinello F., Sartori L.: Alternative maize ensiling techniques for anaerobic digestion process: an economic and energetic comparison. Eng. Rural Dev. 15, 959–964 (2016)

Berglund, M., Börjesson, P.: Assessment of energy performance in the life-cycle of biogas production. Biomass Bioenergy 30(3), 254–266 (2006)

Pöschl, M., Ward, S., Owende, P.: Evaluation of energy efficiency of various biogas production and utilization pathways. Appl. Energy 87(11), 3305–3321 (2010)

Prade, T., Svensson, S.E., Mattsson, J. E.: Energy balances for biogas and solid biofuel production from industrial hemp. Biomass Bioenergy 40, 36–52 (2012)

Gerin, P.A., Vliegen F., Jossart J.-M.: Energy and CO2 balance of maize and grass as energy crops for anaerobic digestion. Bioresour. Technol. 99(7), 2620–2627 (2008)

Smyth, B.M., Murphy, J.D., O'Brien C.M.: What is the energy balance of grass biomethane in Ireland and other temperate northern European climates? Renew. Sustain. Energy Rev. 13(9), 2349–2360 (2009)

Oludunsin, A., Voinov, A., Van Duren, I.: Assessing bioenergy potential in rural areas: a NEG-EROEI approach. Biomass Bioenergy 58, 350–364 (2013)

Schattauer A., Abdoun E., Weiland P., Plochl M., Heiermann M.: Abundance of trace elements in demonstration biogas plants. Biosyst. Eng. 108, 57–65 (2011)

Triolo, J.M., Pedersen, L., Qu, H., Sommer, S.G.: Biochemical methane potential and anaerobic biodegradability of non-herbaceous and herbaceous phytomass in biogas production. Bioresour. Technol. 125, 226–232 (2012)

Micolucci, F., Gottardo, M., Cavinato, C., Pavan, P., Bolzonella, D.: Mesophilic and thermophilic anaerobic digestion of the liquid fraction of pressed biowaste for high energy yields recovery. Waste Manag. 48, 227–235 (2016)

Mansfield, S.D., Mooney, C., Saddler, J.N.: Substrate and enzyme characteristics that limit cellulose hydrolysis. Biotechnol. Prog. 15, 804–816 (1999)

Dandikas, V., Heuwinkel, H., Lichti, F., Drewes, J.E., Koch, K.: Correlation between biogas yield and chemical composition of grassland plant species. Energy Fuels 29, 7221–7229 (2015)

Nizami, A.-S., Orozco, A., Groom, E., Dieterich, B., Murphy, J.D.: How much gas can we get from grass? Appl. Energy 92, 783–790 (2012)

Palmowski, L.M., Muller, J.A.: Anaerobic degradation of organic materials—significance of the substrate surface area. Water Sci. Technol. 47, 231–238 (2013)

Boscaro, D., Pezzuolo A., Grigolato S., Marinello F., Mattioli A., Bolzonella D., Sartori L. Evaluation of the energy efficiency and environmental impacts of grass harvested in riverbanks for anaerobic digestion plants feeding. J. Clean. Prod. (2017). doi:10.1016/j.jclepro.2017.02.060
Acknowledgements
The EU funded project "GRass as a GReen Gas Resource: Energy from landscapes by promoting the use of grass residues as a renewable energy resource (GR3)", IEE/12/046/SI2.645700, has financially supported this research.
About this article
Cite this article
Mattioli, A., Boscaro, D., Dalla Venezia, F. et al. Biogas from Residual Grass: A Territorial Approach for Sustainable Bioenergy Production. Waste Biomass Valor 8, 2747–2756 (2017). https://doi.org/10.1007/s12649-017-0006-y
Received:

Accepted:

Published:

Issue Date:

DOI: https://doi.org/10.1007/s12649-017-0006-y
Keywords
Anaerobic digestion

Biogas

Grass

Sustainability