Abstract
In recent years biowaste has been classified as a top priority waste stream due to the large quantities generated and the potential for more sustainable management options. Despite the increasing importance on the topic, qualitative and quantitative data concerning municipal biowaste composition is limited only to countries with extended waste management experience, whereas a standardized method on biowaste composition analysis is still missing. This work focuses on the presentation of the results of a state of the art methodology developed for conducting compositional and extended physicochemical analysis on biowaste obtained from source separation schemes in two major Greek municipalities (Athens and Kifissia). The composition analysis revealed significant differentiation of the characteristics between the examined areas and other case studies in EU countries. 'Fruit and vegetable' waste constituted the main waste component for both Municipalities while significant seasonal differentiation was recorded, whereas increased level of 'Other biowaste' for both case studies was observed. The extended physicochemical analyses of the biowaste characteristics showed a strong degree of similarity in biowaste samples irrespective of the investigated area and the seasonal variation in biowaste composition. Additionally, heavy metals concentration in biowaste supports the concept that source separation reduces their migration level from non-compostable materials to the fermentable matrix compared to commingled collection and mechanical separation.
Access options
Buy single article
Instant access to the full article PDF.
USD 39.95
Price excludes VAT (USA)
Tax calculation will be finalised during checkout.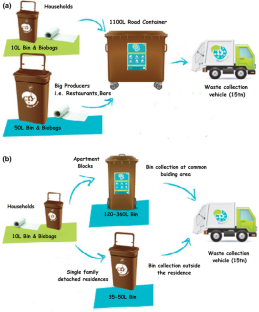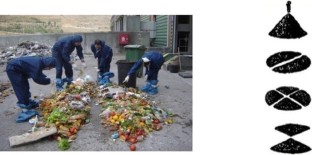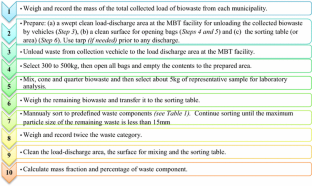 References
European Parliament and the Council: Directive 2008/98/EC of the European Parliament and of the Council of 19 November 2008 on waste and repealing certain Directives, OJ L312/3-30 of 22.11.2008 http://eur-lex.europa.eu/legal-content/EN/TXT/PDF/?uri=CELEX:32008L0098&from=EN (2008). Accessed 30 March 2014

BIO Intelligence Service Preparatory study on food waste across EU 27, a report commissioned by the European Commission. http://ec.europa.eu/environment/eussd/pdf/bio_foodwaste_report.pdf (2010). Accessed 25 May 2014

Lebersorger, S., Schneider, F.: Discussion on the methodology for determining food waste in household waste composition studies. Waste Manag. 31, 1924–1933 (2011)

Esteves, S., Devlin, D.: Food Waste Chemical Analysis—Chemical Characterisation of Food Wastes Collected from Welsh Local Authorities for Supporting Decisions Related to Anaerobic Digestion Process Design and Operation WRAP, UK. http://www.wrapcymru.org.uk/sites/files/wrap/Technical_report_food_waste_characterisation_Wales_2009x2.9086.pdf (2010). Accessed 13 February 2014

Parfitt, J., Barthel, M., Macnaughton, S.: Food waste within food supply chains: quantification and potential for change to 2050. Philos. Trans. R. Soc. B 365, 3065–3081 (2010). doi:10.1098/rstb.2010.0126

Langley, J., Yoxall, A., Heppell, G., Rodriguez, E.M., Bradbury, S., Lewis, R., Luxmoore, J., Hodzic, A., Rowson, J.: Food for thought? A UK pilot study testing a methodology for compositional domestic food waste analysis. Waste Manag. Res. 28(3), 220–227 (2010)

Zorpas, A.A., Lasaridi, K.: Measuring waste prevention. Waste Manag. 33(5), 1047–1056 (2013)

EPPERAA: Operational Manual for Source Separation Schemes & Systems for Biowaste Management, Greek Ministry of Environment (2012)

Valta, K., Malamis, D., Sotiropoulos, A., Kosanovic, T., Antonopoulou, G., Alexandropoulou, M., Jonuzay, S., Lyberatos, G. & Loizidou, M.: Assessment of the effect of drying temperature and composition on the biochemical methane potential of in-house dried household food waste. In IWA Regional Conference on Waste and Wastewater Management, Science and Technology, Limassol, Cyprus 26–28 June 2013

ATHENS-BIOWASTE: Integrated management of bio-waste in Greece—The case study of Athens, European Commission, LIFE+, LIFE10 ENV/GR/000605, 2011–2014. http://www.biowaste.gr/ (2014)

ASTM: ASTM D5231–92 (2008) Standard Test Method for Determination of the Composition of Unprocessed Municipal Solid Waste. ASTM D5231 (Waste Management Standards) ASTM International, West Conshohocken, PA (2008)

WRAP: The Food We Waste. WRAP, Banbury. http://www.ifr.ac.uk/waste/Reports/WRAP%20The%20Food%20We%20Waste.pdf (2008). Accessed 5 June 2014

WRAP: Household Food and Drink Waste in the UK. WRAP, Banbury. http://www.wrap.org.uk/sites/files/wrap/Household_food_and_drink_waste_in_the_UK_-_report.pdf (2009). Accessed 11 April 2014

Heaven, S., Zhang, Y., Arnold, R., Paavola, T., Vaz, F. & Cavinato, C.: Valorisation of food waste to biogas (VALORGAS), seventh framework programme theme energy.2009.3.2.2, Biowaste as feedstock for 2nd generation MTT Agrifood Research Finland (2010)

Dahlen, L., Lagerkvist, A.: Methods for household waste composition studies. Waste Manag. 28, 1100–1112 (2008)

Zorpas, A.A., Lasaridi, K., Voukkali, I., Loizia, P., Chroni, C.: Household waste compositional analysis variation from insular communities in the framework of waste prevention strategy plans. Waste Manage 38, 3–11 (2015)

Edjabou, M.E., Jensen, M.B., Götze, R., Pivnenko, K., Petersen, C., Scheutz, C., Astrup, F.T.: Municipal solid waste composition: Sampling methodology, statistical analyses, and case study evaluation. Waste Manage 36, 12–23 (2015)

DIN: German Standard Methods for the Examination of Water, Sewage and Sewage Sludge. Wiley-VCH, Weinheim (1993)

Abeliotis, K., Lasaridi, K., Chroni, C.: Estimation of household food waste generation in Greece. In: IHWM Crete 2014—4th International Conference on Industrial and Hazardous Waste Management, Chania—Crete, Greece, 2–5 Sept 2014

Huerta-Pujol, O., Gallart, M., Soliva, M., Martínez-Farré, F.X., López, M.: Effect of collection system on mineral content of biowaste. Resour. Conserv. Recycl. 55, 1095–1099 (2011)

Farrell, M., Jones, D.L.: Food waste composting: its use as a peat replacement. Waste Manag. 30, 1495–1501 (2010)

Amlinger, F., Pollack, M., Favoino, E.: Heavy metals and organic compounds from wastes used as organic fertilizers (fi E. report). ENVA2/ETU/2001/0024 2004, http://ec.europa.eu/environment/waste/compost/pdf/hm_finalreport.pdf. (2004). Accessed 3 May 2014

Caimi, V., Centemero, M., Favoino, E., Ricci, M., Smeets, W., Wellacher, M.: New techniques for the amelioration of biowaste-materials in terms of heavy metal, salinity and nutrient content. In: Proceedings of the International Solid Waste Association (ISWA) World Congress (2004)

Richard, T.L., Woodbury, P.B.: The impact of separation on heavy metal contaminants in municipal solid waste composts. Biomass Bioenergy 3, 195–211 (1992)

Dimambroab, M.E., Lillywhitea, R.D., Rahna, C.R.: The physical, chemical and microbial characteristics of biodegradable municipal waste derived composts. Compost. Sci. Util. 15(4), 243–252 (2007)

Manios, T., Stentiford, E.I.: Heavy metals fractionation during the thermophilic phase of sewage sludge composting in aerated static piles. J. Environ. Sci. Health A 41(7), 1235–1244 (2006)

He, X.T., Traina, S.J., Logan, T.J.: Chemical-properties of municipal solid-waste composts. J. Environ. Qual. 21(3), 318–329 (1992)

Pare, T., Dinel, H., Schnitzer, M.: Extractability of trace metals during cocomposting of biosolids and municipal solid wastes. Biol. Fert Soils 29(1), 31–37 (1999)

Cavinato, C., Bolzonella, D., Pavan, P., Fatone, F., Cecchi, F.: Mesophilic and thermophilic anaerobic co-digestion of waste activated sludge and source sorted biowaste in pilot- and full-scale reactors. Renew. Energy 55, 260–265 (2013)

JRC Scientific and Policy Reports: In: Saveyn, H. Peter, E. (eds.) End-of-waste criteria for biodegradable waste subjected to biological treatment (compost & digestate): Technical proposals. ISBN-978-92-79-35062-7 (2014)
Acknowledgments
This work is based on the research that was carried out in the framework of the LIFE+ project ATHENS-BIOWASTE: Integrated management of biowaste in Greece: The case study of Athens, (LIFE10 ENV/GR/000605) (www.biowaste.gr), which was co-financed by the LIFE+ Programme of the European Commission.
About this article
Cite this article
Malamis, D., Moustakas, K., Bourka, A. et al. Compositional Analysis of Biowaste from Study Sites in Greek Municipalities. Waste Biomass Valor 6, 637–646 (2015). https://doi.org/10.1007/s12649-015-9406-z
Received:

Accepted:

Published:

Issue Date:

DOI: https://doi.org/10.1007/s12649-015-9406-z
Keywords
Food waste

Biowaste

Compositional analysis

Waste analysis composition

Greece