Abstract
This paper gives a brief introduction of the so called "Athens Biowaste" model and demonstrates its outcomes through its application on three different case study areas. The model has been developed aiming to support municipalities in building a separate biowaste collection scheme, estimating the direct investment and operational costs and identifying the areas where substantial GHG savings in CO2 eq. could be achieved. The model has been applied in three different Municipalities, representing European urban, suburban and rural areas, varying in population and building characteristics. In all areas, two collection scheme types were examined, namely door-to-door and road containers schemes. All scenarios modelled showed that the investment cost for establishing a separate collection scheme was approximately 10€ per inhabitant using existing waste collection vehicles. Operational cost is directly linked to the type of the collection scheme applied, the participation rate and the collection frequency. The operational cost per tonne of biowaste was reduced approximately by 50 % when the participation rate increases from 25 to 64 %, while cost increased from 40 to 60 % in all examined cases when the collection frequency is doubled. GHG emissions are mostly dependent on waste treatment methods and to a lesser extent on the collection and transportation conditions. The Athens Biowaste model can assist Municipalities in evaluating different biowaste source separation schemes and estimating the level of influence on the total waste management cost and GHG emission savings.
This is a preview of subscription content, log in to check access.
Access options
Buy single article
Instant access to the full article PDF.
US$ 39.95
Price includes VAT for USA
Subscribe to journal
Immediate online access to all issues from 2019. Subscription will auto renew annually.
US$ 99
This is the net price. Taxes to be calculated in checkout.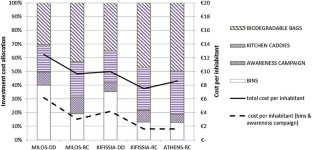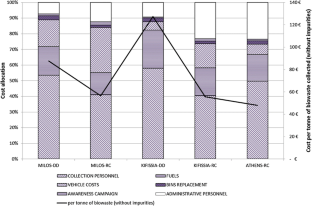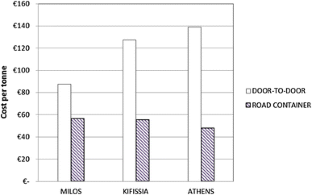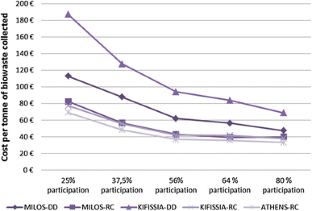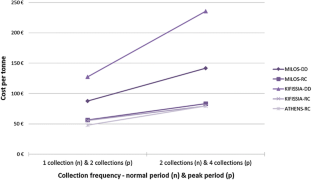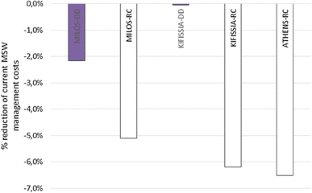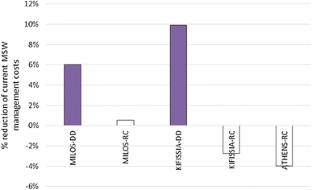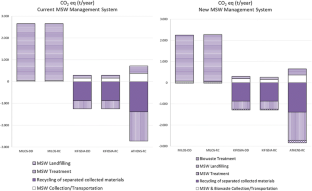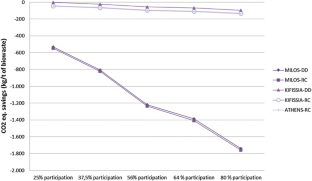 References
1.

European Environment Agency: Annual European Union Greenhouse Gas Inventory 1990–2012 and Inventory Report 2014, Technical Report No 09/2014 (2014)

2.

UNEP, United Nations Environment Programme: Waste and Climate Change, Global Trends and Strategy Framework (2010)

3.

Bernstad, A., La Cour Jansen, J.: Review of comparative LCAs of food waste management systems—current status and potential improvements. Waste Manag 32(12), 2439–2455 (2012)

4.

Kirkeby, J.T., Birgisdottir, H., Hansen, T.L., Christensen, T.H.: Environmental assessment of solid waste systems and technologies: EASEWASTE. Waste Manag. Res. 24(1), 3–15 (2006)

5.

Kirkeby, J.T., Birgisdottir, H., Hansen, T.L., Christensen, T.H., Bhander, G.S., Hauschild, M.: Evaluation of environmental impacts from municipal solid waste management in the municipality of Aarhus, Denmark (EASEWASTE). Waste Manag. Res. 24(1), 16–26 (2006)

6.

Calabro, P.S.: Greenhouse gases emission from municipal waste management: the role of separate collection. Waste Manag 27(9), 2178–2187 (2009)

7.

Christensen, T.H., Simion, F., Tonini, D., Møller, J.: Global warming factors modelled for 40 generic municipal waste management scenarios. Waste Manag. Res. 27(9), 871–884 (2009)

8.

Bernstad, A., La Cour Jansen, J.: A life cycle approach to the management of household food waste—a Swedish full-scale case study. Waste Manag 31(8), 1879–1896 (2011)

9.

Gentil, E.C., Damgaard, A., Hauschild, M., Finnveden, G., Eriksson, O.: Models for waste life cycle assessment: review of technical assumptions. Waste Manag 30(12), 2636–2648 (2010)

10.

Gomes, A.P., Matos, M.A., Carvalho, L.C.: Separate collection of the biodegradable fraction of MSW: an economic assessment. Waste Manag 28(10), 1711–1719 (2007)

11.

NTUA, EPTA: Athens Biowaste Model—Guidance Manual. s.l.: Athens Biowaste (biowaste.gr) (2014)

12.

WRAP: Evaluation of the WRAP Separate Food Waste Collection Trials—Final report (2009)

13.

EPTA, NTUA, EDSNA: Guide for the implementation, monitoring and assessment of biowaste source separation and management. s.l.: Athens Biowaste (biowaste.gr) (2014)

14.

WRAP: KAT 5 Guidance Manual (2012)

15.

DEFRA: Guidelines to Defra/DECC's GHG Conversion Factors for Company Reporting. London: Department for Environment, Food and Rural Affairs and Department for Energy and Climate Change (2011)

16.

Ntziachristos, L., Samaras, Z: Exhaust emissions from road transport. In EMEP/EEA Emission Inventory Guidebook 2013. s.l.: EMEP (2013)
Acknowledgments
The authors would like to acknowledge the LIFE+ Programme of the European Commission for the co-financial support of the ATHENS-BIOWASTE project LIFE10 ENV/GR/000605 (www.biowaste.gr).
About this article
Cite this article
Bourka, A., Malamis, D., Venetis, C. et al. Athens-Biowaste Model: Cost and Carbon Footprint Calculation of the Collection at Source and Treatment of Biowaste. Waste Biomass Valor 6, 685–698 (2015). https://doi.org/10.1007/s12649-015-9399-7
Received:

Accepted:

Published:

Issue Date:
Keywords
Biowaste

Source separation

Model

Cost

Carbon footprint