Abstract
Nowadays, an increasing trend towards olive oil production is observed globally. The extraction of olive oil is mostly implemented through three-phase or two-phase centrifuge systems. Olive pomace, derived as a by-product of olive oil processing, constitutes a raw material for olive–pomace oil production. The operation of olive oil mills and olive–pomace industries has been connected with the generation of heavily polluted wastewater and solid waste. The present paper aims at investigating the current treatment methods and techniques applied for the management of the wastewater and solid waste generated by olive oil (including olive–pomace oil) production in Greece. Aiming at adding value to the Greek olive production process, international practices applied for solid waste and wastewater treatment as well as potential valorisation options are reviewed within this paper. The results reveal that there is room for improvement in wastewater treatment in Greece, since the currently applied method, i.e. oil removal, neutralisation, sedimentation and evaporation in open lagoons, comprises only a basic—level treatment technique. Concerning solid waste management, attention must be paid to the use of sludge produced from the evaporation ponds, since its application as soil improver without appropriate treatment may entail diverse toxic effects to soils. Regarding solid waste valorisation, pomace handling is thoroughly exploited in Greece, since it is utilised for the production of olive–pomace oil and pomace wood. Other valorisation opportunities, identified in the literature, include production of biomolecules as well as cosmetic products, dyes, construction materials and water decontamination sorbents. However, more work is needed in order to maximise the economic feasibility and applicability of such practices.
Access options
Buy single article
Instant access to the full article PDF.
USD 39.95
Price excludes VAT (USA)
Tax calculation will be finalised during checkout.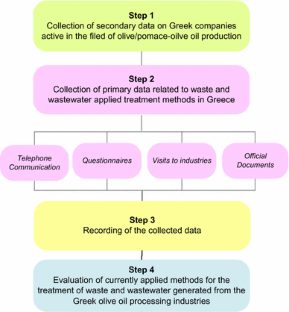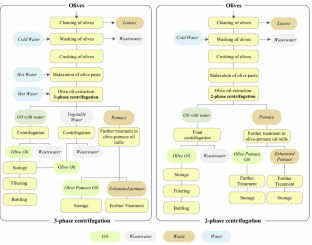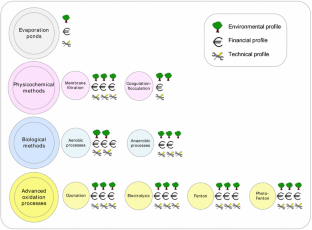 References
International Olive Council: World olive oil figures. http://www.internationaloliveoil.org/estaticos/view/131-world-olive-oil-figures

BIC: Sectoral study for olive oil and olive-pomace oil. Athens (2012)

Valta, K., Kosanovic, T., Malamis, D., Moustakas, K., Loizidou, M.: Overview of water usage and wastewater management in the food and beverage industry. Desalin. Water Treat. (2014). doi:10.1080/19443994.2014.934100

Alexakis Chr.: Study for the feasibility of the development of stock market for goods and sailing values in the City of Piraeus, commercial and industrial chamber of Piraeus (2013)

Syvilla Ltd: Overview—presentation of the existing situation in Greece, inventory and presentation of the treatment and disposal technologies (2007)

Ministerial Decision (MD) 1958/12 on the classification of projects and activities into categories/subcategories on the basis of their potential impact on the environment (Government Gazette B/21/2012)

Greek Joint Ministerial Decision (JMD) 15/4187/266/11.04.2012 on the standard environmental commitments (SEC) of industrial activities (Government Gazette B 1275/B/11.4.2012)

Official Document (12550/744/F15/2.11.2012) on general guidelines for implementation of the condition E3 of JMD 15/4187/266/11.04.2012 issued by the general secretariat for industry and the general secretariat for environment

Zaharaki, D., Komnitsas, K.: Existing and emerging technologies for the treatment of olive oil mill wastewaters. In: 3rd AMIREG International Conference 2009: assessing the footprint of resource utilization and hazardous waste management. Athens, Greece

Masghouni, M., Hassairi, M.: Energy applications of olive-oil industry by-products: I. The exhaust foot cake. Biomass Bioenergy 18, 257–262 (2000)

Caputo, A.C., Scacchia, F., Pelagagge, P.: Disposal of by-products in olive oil industry: waste to energy solutions. Appl. Therm. Eng. 23, 197–214 (2003)

Azbar, N., Bayram, A., Filibeli, A., Muezzinoglu, A., Sengul, F., Ozer, A.: A review of wastes management options in olive oil production. Crit. Rev. Environ. Sci. Technol. 34(3), 209–247 (2004)

Pagnanelli, F., Toro, L., Veglio, F.: Olive mill solid residues as heavy metal sorbent material: a preliminary study. Waste Manag. 22, 901–907 (2002)

Albarran, A., Celis, R., Hermosın, M.C., Lopez-Pineiro, A., Cornejo, J.: Behaviour of simazine in soil amended with the final residue of the olive oil extraction process. Chemosphere 54, 717–724 (2004)

Cox, L., Hermosyn, M.C., Cornejo, J.: Influence of organic amendments on sorption and dissipation of imidacloprid in soil. Int. J. Environ. Anal. Chem. 84, 95–102 (2004)

Bhatnagar, A., Kaczala, F., Hogland, W., Marques, M., Paraskeva, C.A., Papadakis, V.G., Sillanpää, M.: Valorization of solid waste products from olive oil industry as potential adsorbents for water pollution control—a review. Environ. Sci. Pollut. Res. 21(1), 268–298 (2014)

Roig, A., Cayuela, M.L., Sanchez-Monedero, M.A.: An overview on olive mill wastes and their valorization methods. Waste Manag. 26, 960–969 (2006)

Najar-Souissi, S., Ouederni, A., Ratel, A.: Adsorption of dyes onto activated carbon prepared from olive stones. J. Environ. Sci. 17, 998–1003 (2005)

Budinova, T., Petrov, N., Razvigorova, M., Parra, J., Galiatsatou, P.: Removal of arsenic (III) from aqueous solution by activated carbons prepared from solvent extracted olive pulp and olive stones. Ind. Eng. Chem. Res. 45, 1896–1901 (2006)

Ghazy, S.E., Samra, S.E., May, A.E.M., El-Morsy, S.M.: Removal of aluminium from some water samples by sorptive-flotation using powdered modified activated carbon as a sorbent and oleic acid as a surfactant. Anal. Sci. 22, 377–382 (2006)

Spahis, N., Addoun, A., Mahmoudi, H., Ghaffour, N.: Purification of water by activated carbon prepared from olive stones. Desalination 222, 519–527 (2008)

Aziz, A., Elandaloussi, E.H., Belhalfaoui, B.: Efficiency of succinylated-olive stone biosorbent on the removal of cadmium ions from aqueous solutions. Coll. Surf. B 73, 192–198 (2009)

Aziz, A., Oualia, M.S., Elandaloussia, E.H., Menorval, L.C., Lindheimer, M.: Chemically modified olive stone: a low-cost sorbent for heavy metals and basic dyes removal from aqueous solutions. J. Hazard. Mater. 163, 441–447 (2009)

Blazquez, G., Hernainz, F., Calero, M., Martin-Lara, M.A., Tenorio, G.: The effect of pH on the biosorption of Cr(III) and Cr(VI) with olive stone. Chem. Eng. J. 148, 473–479 (2009)

Baccar, R., Bouzid, J., Feki, M., Montiel, A.: Preparation of activated carbon from Tunisian olive-waste cakes and its application for adsorption of heavy metal ions. J. Hazard. Mater. 162, 1522–1529 (2009)

Martin-Lara, M.A., Blanzquez, G., Ronda, A., Rodriguez, I.L., Calero, M.: Multiple biosorption–desorption cycles in a fixed-bed column for Pb(II) removal by acid-treated olive stone. J. Ind. Eng. Chem. 18, 1006–1012 (2012)

Zagklis, D.P., Arvaniti, E.C., Papadakis, V.G., Paraskeva, C.A.: Sustainability analysis and benchmarking of olive mill wastewater treatment methods. J. Chem. Technol. Biotechnol. 88, 742–750 (2013)

Paraskeva, P., Diamadopoulos, E.: Technologies for olive mill wastewater (OMW) treatment: a review. J. Chem. Technol. Biotechnol. 81(9), 1475–1485 (2006)

Dermeche, S., Nadour, M., Larroche, C., Moulti-Mati, F., Michaud, P.: Olive mill wastes: biochemical characterizations and valorization strategies. Process Biochem. 48, 1532–1552 (2013)

Altieri, R., Esposito, A., Parati, F., Lobianco, A., Pepi, M.: Performance of olive mill solid waste as a constituent of the substrate in commercial cultivation of Agaricus bisporus. Int. Biodeterior. Biodegrad. 63, 993–997 (2009)

Zervakis, G., Yiatras, P., Balis, C.: Edible mushrooms from olive oil mill wastes. Int. Biodeterior. Biodegrad. 38, 237–243 (1996)

Kalmis, E., Azbar, N., Yildiz, H., Kalyoncu, F.: Feasibility of using olive mill effluent (OME) as a wetting agent during the cultivation of oyster mushroom, Pleurotus ostreatus, on wheat straw. Bioresour. Technol. 99, 164–169 (2008)

Arvaniti, E.C., Zagklis, D.P., Papadakis, V.G., Paraskeva, C.A.: High-added value materials production from OMW—a technical and economical optimization. Int. J. Chem. Eng. 2012, 7 (2012). doi:10.1155/2012/607219

Cardoso, S.M., Coimbra, M.A., Lopez da Silva, J.A.: Calcium-mediated gelation of an olive pomace extract. Carbohydr. Polym. 52(2), 125–133 (2003)

Cardoso, S.M., Coimbra, M.A., Lopes da Silva, J.A.: Temperature dependence of the formation and melting of pectin-Ca2+ networks: a rheological study. Food Hydrocoll. 17, 801–807 (2003)

Cardoso, S.M., Silva, A.M.S., Coimbra, M.A.: Structural characterisation of the olive pomace pectic polysaccharide arabinan side chains. Carbohydr. Res. 337, 917–924 (2002)

Cordova, J., Nemmaoui, M., Ismaili-Alaoui, M., Morin, A., Roussos, S., Raimbault, M., Benjilali, B.: Lipase production by solid state fermentation of olive cake and sugar cane bagasse. J. Mol. Catal. B Enzym. 5, 75–78 (1999)

Meksi, N., Haddar, W., Hammami, S., Mhenni, M.F.: Olive mill wastewater: a potential source of natural dyes for textile dyeing. Ind. Crop. Prod. 40, 103–109 (2012)

Haddar, W., Baaka, N., Meksi, N., Elksibi, I., Mhenni, M.F.: Optimization of an ecofriendly dyeing process using the wastewater of the olive oil industry as natural dyes for acrylic fibres. J. Clean. Prod. 66, 546–554 (2014)

La Rubia-García, M.D., Yebra-Rodríguez, A., Eliche-Quesada, D., Corpas-Iglesias, F.A., López-Galindo, A.: Assessment of olive mill solid residue (pomace) as an additive in lightweight brick production. Constr. Build. Mater. 36, 495–500 (2012)

De la Casa, J.A., Romero, I., Jimenez, J., Castro, E.: Fired clay masonry units production incorporating two-phase olive mill waste (alperujo). Ceram. Int. 38, 5027–5037 (2012)

De la Casa, J.A., Loriteb, M., Jiménezb, J., Castro, E.: Valorisation of wastewater from two-phase olive oil extraction in fired clay brick production. J. Hazard. Mater. 169, 271–278 (2009)

Mekki, H., Anderson, M., Benzina, M., Ammar, E.: Valorization of olive mill wastewater by its incorporation in building bricks. J. Hazard. Mater. 58, 308–315 (2008)
Acknowledgments
The authors would like to thank the European Social Fund and the Hellenic Ministry of Education and Religious Affairs, Cultures and Sports (Managing Authority) for funding the project: FOODINBIO/2915 entitled "Development of an innovative, compact system that combines biological treatment technologies for the sustainable and environmental management of organic waste streams that are produced from different types of food processing industries", in the framework of the Operational Programme Educational and Lifelong Learning (NSRF 2007–2013).
About this article
Cite this article
Valta, K., Aggeli, E., Papadaskalopoulou, C. et al. Adding Value to Olive Oil Production Through Waste and Wastewater Treatment and Valorisation: The Case of Greece. Waste Biomass Valor 6, 913–925 (2015). https://doi.org/10.1007/s12649-015-9373-4
Received:

Accepted:

Published:

Issue Date:

DOI: https://doi.org/10.1007/s12649-015-9373-4
Keywords
Olive oil

Olive pomace oil

Pomace wood

Pomace

Centrifuge

Waste

Wastewater

Greece