Abstract
Bio-oil is a mixture of nearly 300 types of organic compounds, including phenols. Phenols are produced during oil refinement and are usually used as fuel additives, food antioxidants and in the synthesis of other chemicals. This study is mainly focused on the extraction of phenolic compounds from bio-oil produced during the pyrolysis of agroindustrial wastes. Bio-oil samples were produced by intermediated pyrolysis of oil from palm empty fruit bunch at 578 °C for 45.6 s using a fixed bed reactor. Under these conditions, the phenol fraction was 13.14 wt%. Two different extraction methodologies were used to obtain a higher phenol fraction of bio-oil: liquid–liquid extraction and reactive extraction. In the first method, an initial liquid–liquid extraction was performed to solubilize the bio-oil in a liquid phase. A second liquid–liquid extraction was subsequently performed with three different organic solvents to maximize the phenolic composition of the fraction. In contrast, the reactive extraction methodology was performed using a NaOH solution to produce phenolates, which are more soluble in water, and thus favor phenol extraction. The resulting phenol extraction yields were not higher than 30 wt% (i.e., a ratio of 1:3.5 of bio-oil and NaOH solution) for the reactive extraction; in contrast, for the liquid–liquid extraction, these yields rose above 68 wt%. The operating conditions favoring this extraction yield included a first extraction with a 5:1 dichloromethane/bio-oil mixture followed by a second extraction with a 10:1 ethyl acetate/concentrated dichloromethane bio-oil mixture.
Access options
Buy single article
Instant access to the full article PDF.
USD 39.95
Price excludes VAT (USA)
Tax calculation will be finalised during checkout.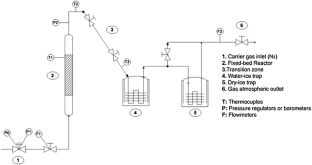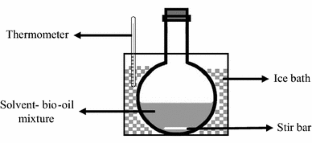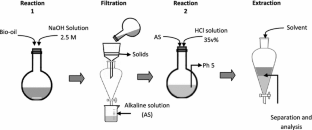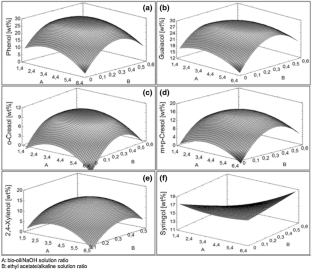 References
Bridgwater, A.V.: Review of fast pyrolysis of biomass and product upgrading. Biomass Bioenergy 38, 68–94 (2012)

Lerkkasemsan, N., Achenie, L.E.K.: Pyrolysis of biomass—fuzzy modeling. Renew. Energy 66, 747–758 (2014)

Vecino-Mantilla, S., Gauthier-Maradei, P., Alvarez-Gil, P., Tarazona-Cárdenas, S.: Comparative study of bio-oil production from sugarcane bagasse and palm empty fruit bunch: yield optimization and bio-oil characterization. J. Anal. Appl. Pyrol. 108, 284–294 (2014)

Czernik, S., Bridgwater, A.V.: Overview of applications of biomass fast pyrolysis oil. Energy Fuels 18, 590–598 (2004)

Özbay, N., Apaydın-Varol, E., Uzun, B.B., Pütün, A.E.: Characterization of bio-oil obtained from fruit pulp pyrolysis. Energy 33, 1233–1240 (2008)

Heoa, H.S., Parka, H.J., Yimb, J.H., Sohnc, J.M., Park, J., Kime, S.S., Ryuf, C., Jeong, J.K., Parka, Y.K.: Influence of operation variables on fast pyrolysis of Miscanthus sinensis var. purpurascens. Bioresour. Technol. 101, 3672–3677 (2010)

Oasmaa, A., Meie, D.: Norms and standards for fast pyrolysis liquids 1. Round robin test. J. Anal. Appl. Pyrol. 73, 323–334 (2005)

Li, L., Zhang, H.: Preparing levoglucosan derived from waste material by pyrolysis. Energy Sources 26, 1053–1059 (2004)

Busca, G., Berardinelli, S., Arrighi, L.: Technologies for the removal of phenol from fluid streams: a short review of recent developments. J. Hazard. Mater. 160, 265–288 (2008)

Guillén, M.D., Ibargoitia, M.L.: New compounds with potential antioxidant and organoleptic properties, detected for the first time in liquid smoke flavoring preparations. J. Agric. Food Chem. 46, 1276–1285 (1998)

Kawser, J., Ani, F.N.: Oil pal shell as a source of phenol. J. Oil Palm Res. 12, 86–94 (2000)

Greener INDUSTRY Website: http://www.greener-industry.org.uk/pages/phenol/7PhenolProdMethods2.htm. Accessed 12 Dec 2013

Weber, M., Weber, M.: Phenols. In: Pilato, L. (ed.) Phenolics Resins: A Century Progress, pp. 9–23. Springer, USA (2010)

Amen-Chen, C., Pakdel, H., Roy, C.: Production of monomeric phenol by thermodynamical conversion of biomass: a review. Bioresour. Technol. 79, 277–299 (2001)

Murwanashyaka, J.N., Pakdel, H., Roy, C.: Seperation of syringol from birch wood-derived vacuum pyrolysis oil. Sep. Purif. Technol. 24, 155–165 (2001)

Achladas, G.E.: Analysis of biomass pyrolysis liquids separation and characterization of phenols. J. Chromatogr. 542, 263–275 (1991)

Amen-Chen, C., Pakdel, H., Roy, C.: Separation of phenols from eucalyptus. Biomass Bioenergy 13, 25–37 (1997)

Li, J., Wang, C., Yang, Z.: Production and separation of phenols from biomass-derived bio-petroleum. J. Anal. Appl. Pyrol. 89, 218–224 (2010)

Zilnik, L.F., Jazbinsek, A.: Recovery of renewable phenolic fraction from pyrolysis oil. Sep. Purif. Technol. 86, 157–170 (2012)

Treybal, R.: Operaciones de Transferencia de Masa. In: García, Rodriguez.A., Lozano, F. (eds.) Extracción Líquida, pp. 529–621. McGraw-Hill, Mexico (1993)

Palma, M., Paiva, J., Zilli, M., Converti, A.: Batch phenol removal from methyl isobutyl ketone by liquid–liquid extraction with chemical reaction. Chem. Eng. Process. 46, 764–768 (2007)

Kulprathipanja, S.: Reactive Separation Process, Chapter 3, p. p. 51. Taylor and Francis, New York (2002). ISBN 1-56032-825-8

Zha, F.F., Fanea, A.G., Fella, C.J.D.: Phenol removal by supported liquid membranes. Sep. Sci. Technol. 29, 2317–2343 (1994)

Walters, F.H., Parker, L.R., Morgan, S.L., Deming, S.N.: Sequential Simplex Optimization: A Technique for Improving Quality and Productivity in Research, Development, and Manufacturing. CRC Press, Boca Raton (1991)

Katritzky, A., Ignatchenko, E., Barcock, R., Lobanov, V.: Prediction of gas chromatographic retention times and response factors using a general quantitative structure–property relationship treatment. Anal. Chem. 66, 1799–1807 (1994)

Oasmaa, A., Kuoppala, E., Solantausta, Y.: Fast pyrolysis of forestry residue. 2. Physicochemical composition of product liquid. Energy Fuels 17, 433–443 (2003)

Das, D.D., Schnitzer, M.I., Monreal, C.M., Mayer, P.: Chemical composition of acid–base fractions separated from bio-oil derived by fast pyrolysis of chicken manure. Bioresour. Technol. 100, 6524–6532 (2009)

Garcia-Perez, M., Chaalac, A., Pakdel, H., Kretschmer, D., Roy, C.: Characterization of bio-oils in chemical families. Biomass Bioenergy 31, 222–242 (2007)

Vitasari, C.R., Meindersma, G.W., Haan, A.B.: Water extraction of pyrolysis oil: the first step for the recovery of renewable chemicals. Bioresour. Technol. 102, 7204–7210 (2011)

Effendi, A., Gerhauser, H., Bridgwater, A.V.: Production of renewable phenolic resins by thermochemical conversion of biomass: a review. Renew. Sustain. Energy 12, 2092–2116 (2008)

Kelley, S.S., Wang, X.-M., Myers, M.D., Johnson, D.K., Scahill, J.W.: In: Bridgwater, A.V., Boocock, D.G.B. (eds.) Developments in Thermochemical Biomass Conversion, vol. 1, pp. 557–572. Blackie Academic and Professional, London (1997)

Scholze, B., Meier, D.: Characterization of the water insoluble fraction from pyrolysis oil (pyrolytic lignin). Part I. PY–GC/MS, FTIR, and functional groups. J. Anal. Appl. Pyrol. 60, 41–54 (2001)

Boonpo, J., Udomsap, P., Yoosuk, B., Sukkasi, S.: Towards commercialization of alternative biofuel: improving the stability of pyrolysis liquid by physical fractionation. In: The Second TSME International Conference on Mechanical Engineering, p. 8, Thailand (2011)

Greminger, D.C., Burns, G.P., Lynn, S., Hanson, D.N., King, C.J.: Solvent extraction of phenols from water. Ind. Eng. Chem. Process Des. Dev. 21, 51–54 (1982)

Toth, L.: Separation and analysis of phenol fractions from smokehouse. Fleischwjirtsch 60, 728–736 (1980)

Escalante, H.: Atlas del potencial energético de la biomasa residual en Colombia. Universidad Industrial de Santander, Ediciones (2010)

GarcíaPérez, M., Chaala, A., Roy, C.: Vacuum pyrolysis of sugarcane bagasse. J. Anal. Appl. Pyrol. 65, 111–136 (2002)

Kim, S.W., Koo, B.S., Ryu, J.W., Lee, S.J., Kim, C.J., Lee, D.H., Kim, G.R., Choi, S.: Bio-oil from the pyrolysis of palm and Jatropha wastes in a fluidized bed. Fuel Process. Technol. 108, 118–124 (2013)

Misson, M., Haron, R., Kamaroddin, M.F.A., Amin, N.A.S.: Pre-treatment of empty palm fruit bunch for production of chemicals via catalytic pyrolysis. Bioresour. Technol. 100, 2867–2873 (2009)

Ma, A.N., Yusof Basiron, M.P.O.B.: Biomass energy from the palm oil Industry in Malaysia. Ingenieur 27, 18–25 (2005)

Vispute, T.: Pyrolysis Oils: Characterization, Stability Analysis and Catalytic Upgrading to Fuels and Chemicals. University of Massachusetts, Amherst (2011)

Imam, T., Capareda, S.: Characterization of bio-oil, syn-gas and bio-char from switchgrass pyrolysis at various temperatures. J. Anal. Appl. Pyrol. 93, 170–177 (2012)

Open Notebook Science Challenge Website: Phenol. http://showme.physics.drexel.edu/onsc/models/solventselector.php?csids=971&limreact=0&limprod=0&bp=0&washes=2&e=. Accessed 12 Dec 2013

Open Notebook Science Challenge Website: o-Cresol. http://showme.physics.drexel.edu/onsc/models/solventselector.php?csids=13835772&limreact=0&limprod=0&bp=0&washes=2&e=. Accessed 12 Dec 2013

Open Notebook Science Challenge Website: p-Cresol. http://showme.physics.drexel.edu/onsc/models/solventselector.php?csids=13839082&limreact=0&limprod=0&bp=0&washes=0. Accessed 12 Dec 2013

Won, K.W., Prausnitz, J.M.: Distribution of phenolic solutes between water and polar organic solvents. J. Chem. Thermodyn. 7, 661–670 (1975)

Yur'ev, A., Yu, L., Kiprianov, I., Yudkevich, Y.D.: Separation of phenols from soluble resin with acetate solvents. Gidroliz. Lesokhim. Promysh. 8, 21 (1977)

McQuarrie, D.A., Rock, P.A., Gallogly, E.B.: General Chemistry. University Science Books, Mill Valley (2011). ISBN 978-1891389603
Acknowledgments
The authors wish to thank the Universidad Industrial de Santander, Vicerrectoría de Investigación y Extensión, (Project No. 5451), the Departamento Administrativo de Ciencia, Tecnología e Innovación-COLCIENCIAS and its program "Jovenes Investigadores e Innovadores 2012," which financially supported this study.
Conflict of interest
The authors declare that they have no conflict of interest.
About this article
Cite this article
Mantilla, S.V., Manrique, A.M. & Gauthier-Maradei, P. Methodology for Extraction of Phenolic Compounds of Bio-oil from Agricultural Biomass Wastes. Waste Biomass Valor 6, 371–383 (2015). https://doi.org/10.1007/s12649-015-9361-8
Received:

Accepted:

Published:

Issue Date:

DOI: https://doi.org/10.1007/s12649-015-9361-8
Keywords