Abstract
Hydrated tungsten oxide (WO3·H2O)-based nanoparticles were synthesized using a simple and inexpensive facile microwave irradiation process, by doping chromium (2 wt%, 3 wt%, 5 wt% and 7 wt%) at 2.45 GHz with the power of 180 W for 10 min for gas sensor application. The resultant products were annealed at 600 °C at the ambient atmosphere in order to improve the crystallinity and to remove the impurities. The products were characterized by using powder XRD which confirmed the formation of orthorhombic and monoclinic structure of both as-prepared and annealed samples, respectively. Atomic force microscope shows the role of chromium in determining the surface morphology of the resultant products at microscopic level, Fourier transform infrared spectroscopic analysis confirmed the presence of essential functional groups formed through chemical bonds of the end products, room temperature UV–VIS DRS studies showed the optical behavior of the samples through emissions and band gap energy of the respective materials. Cyclic voltammetry study confirmed the suitability of the prepared chromium-doped tungsten oxide (WO3) materials through electrochemical property for photocatalytic and sensor applications.
This is a preview of subscription content,
to check access.
Access this article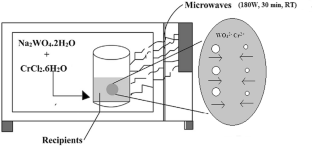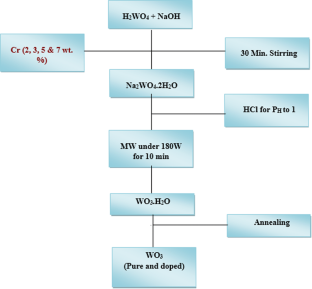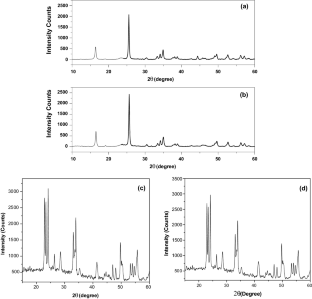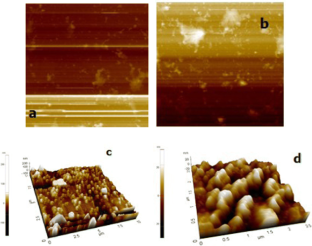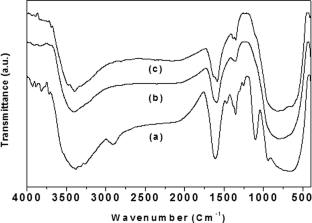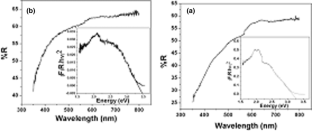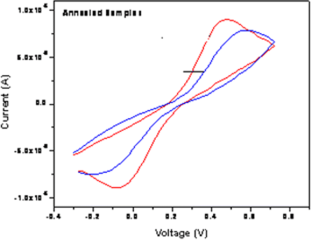 Similar content being viewed by others
References
N Soultanidis, W Zhou, C J Kiely and M S Wong Langmuir 28 17771 (2012)

C Santato, M Odziemkowski, M Ulmann and J Augustynski J. Am. Chem. Soc. 123 10639 (2001)

H Zheng, Y Tachibana and K Kalantar-Zadeh Langmuir 26(24) 19148 (2010

V Wood, M J Panzer, J E Halpert, J M Caruge, M G Bawendi and V Bulovic ACS Nano 3 3581 (2009)

A Srinivasan, M Miyauchi J. Phys. Chem. C 116 15421 (2012)

X Chen, J Ye, Shouyang, T Kako, Z Li and Z Zou ACS Nano 5 4310 (2011)

X Cui, J Shi, H Chen, L Zhang, L Guo, J Gao and J Li J. Phys. Chem. B 112 12024 (2008)

G Wang, J Y Huang, X Yang, P I Gouma and M Dudley J. Phys. Chem. B 110 23777 (2006)

L Xiong and T He Chem. Mater. 18 2211 (2006)

H Xia, Y Wang, F Kong, S Wang, B Zhu, X Guo, J Zhang, Y Wang and S Wu Sens. Actuators B Chem 134(1) 133 (2008)

N R Kalidindi, F S Manciu and C V Ramana Appl. Mater. Interfaces 3 863 (2011)

S Zhu, X Liu, Z Chen, C Liu, C Feng, J Gu, Q Liu and D Zhang J. Mater. Chem. 20 9126 (2010)

A Wolcott, T R Kuykendall, W Chen, S Chen and J Z Zhang J. Phys. Chem. B 110(50) 25288 (2006)

H J Han, Y N Chen and Z J Wang RSC Adv. 5 92940 (2015)

M Vasilopoulou, I Kostis, N Vourdas, G Papadimitropoulos, A Douvas, N Boukos, S Kennou and D Davazoglou J. Phys. Chem. C, 118(24) 12632 (2014)
About this article
Cite this article
Hariharan, V., Gnanavel, B., Aroulmoji, V. et al. Role of chromium in tungsten oxide (WO3) by microwave irradiation technique for sensor applications. Indian J Phys 93, 459–465 (2019). https://doi.org/10.1007/s12648-018-1310-5
Received:

Accepted:

Published:

Issue Date:

DOI: https://doi.org/10.1007/s12648-018-1310-5
Keywords
PACS Nos.