Abstract
In this paper a waveguide structure consisting of a pair of left-handed material (LHM) and dielectric slabs inserted in vacuum is investigated theoretically. Maxwell's equations are used to determine the electric and magnetic fields of the incident waves at each layer. Snell's law is applied and the boundary conditions are imposed at each layer interface to calculate the reflected and transmitted powers of the structure. Numerical results are illustrated to show the effects of frequency, angle of incidence and LHM thickness on the transmitted power when the refractive index of the dielectric layer changes. The same procedure is repeated to show the variation of the transmitted power with the change in the mentioned parameters under different values of dissipation factor of the lossy LHM. Consequently, two cases of the LHM are considered, loss-less case and loss case. The results obtained, are in agreement with the law of conservation of energy.
We're sorry, something doesn't seem to be working properly.
Please try refreshing the page. If that doesn't work, please contact support so we can address the problem.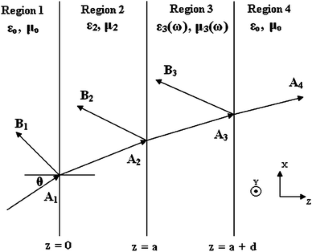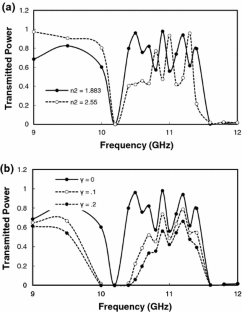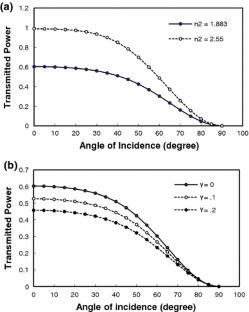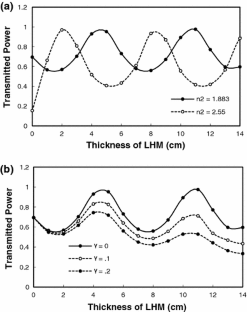 References
[1]

V G Veselago Soviet Phys Uspekhi 10 509 (1968)

[2]

J B Pendry, A J Holden, W J Sewart and I Youngs Phys. Rev. Lett. 76 4776 (1996)

[3]

J B Pendry, A J Holden, D J Robbins and W J Stewart IEEE Trans. Microw. Theory Techn. 47 2075 (1999)

[4]

R A Shelby, D R Smith and S Schultz Science 292 77 (2001)

[5]

I V Shadrivov Photonics Nanostruct. Fundam. Appl. 2 175 (2004)

[6]

N Garcia and M Nieto-Vesperinoas Phys. Rev. Lett. 88 7403 (2002)

[7]

J A Kong Prog. Electromagn. Res. 35 1 (2002)

[8]

H M Mousa and M M Shabat Mod. Phys. B 21 895 (2007)

[9]

Kourakis and P K Shukla Phys. Rev. E 72 016626 (2005)

[10]

S K Raghuwanshi Indian J. Phys. 84 831 (2010)

[11]

H Cory and C Zach Microw. Opt. Technol. Lett. 40 460 (2004)

[12]

C Sabah and S Uckun Piers Online 5 601 (2009)

[13]

H Oraizi and A Abdolali IET Microw. Antennas Progpag. 3 987 (2009)

[14]

B Ghosh, S N Paul, C Das, A Sinhamahapatra and I Paul Indian J. Phys. 85 745 (2011)

[15]

W Zhou, F Luo, Z Yu, X Zhao and B Li Indian J. Phys. 85 607 (2011)

[16]

D D Stancil and A Prabhakar Spin waves, Ch 8, sec 3, (Springer, New York) p 238 (2009)

[17]

C Sabah and S Uckun OptoElectron. Rev. 15 133 (2007)

[18]

P R Varadwaj and A I Jaman Indian J. Phys. 83 1323 (2009)

[19]

R A Shelby Thesis (PhD.) (University of Calefornia, USA) p 26 (2001)
About this article
Cite this article
Ubeid, M.F., Shabat, M.M. & Sid-Ahmed, M.O. Numerical study of a structure containing left-handed material waveguide. Indian J Phys 86, 125–128 (2012). https://doi.org/10.1007/s12648-012-0018-1
Received:

Accepted:

Published:

Issue Date:
Keywords
Electromagnetic waves

Left-handed material

Frequency

Transmitted power
PACS Nos.