Abstract
The purpose of the study was to discover the strategies employed by Information Technology (IT) companies in India to engage the millennial workforce, and assess the effectiveness of these strategies. A concurrent mixed method approach was used. In the quantitative phase of the research, a questionnaire was administered to a random sample of 306 IT employees from the millennial generation to discover which strategies or employee benefit schemes had been effective in positively influencing employee engagement. Data were analysed using Structural Equation Modelling. In the qualitative phase of the study, 18 millennial generation managers belonging to the IT sector were interviewed. Purposive sampling was used. The qualitative study offered a deeper understanding of the phenomenon Employee Engagement and insights into lived experiences of employees. Both studies confirmed that activities related to corporate social responsibility, outdoor and cultural activities, and opportunities for informal communication determined engagement of the millennial workforce in the IT sector. Work life balance and opportunities for physical activities were desirable hygiene factors, but not determining factors for engagement. In the qualitative study, it was found that gamification of learning was not considered a proactive engagement strategy; however, the quantitative study showed that it was most effective in engaging the millennials.
This is a preview of subscription content, log in to check access.
Access options
Buy single article
Instant access to the full article PDF.
US$ 39.95
Tax calculation will be finalised during checkout.
Subscribe to journal
Immediate online access to all issues from 2019. Subscription will auto renew annually.
US$ 99
Tax calculation will be finalised during checkout.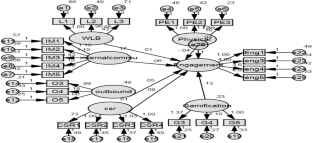 References
Albdour, A. A., & Altarawneh, I. I. (2012). Corporate social responsibility and employee engagement in Jordan. International Journal of Business and Management, 7(16), 89.

Albrecht, T. L. (1995). The role of social support in social marketing. Social Marketing Quarterly, 2(1), 15–16.

Alsop, R. (2008). The trophy kids grow up: How the millennial generation is shaking up the workplace. Hoboken: Wiley.

Amit, R., & Schoemaker, P. J. (1993). Strategic assets and organizational rent. Strategic Management Journal, 14(1), 33–46.

Andrew, O. C., & Sofian, S. (2012). Individual factors and work outcomes of employee engagement. Procedia-Social and Behavioral Sciences, 40, 498–508.

Bakke, D. (2005). Joy at work: A CEO's revolutionary approach to fun on the job. New York: Pearson Venture Group.

Barnes, K. J., Smith, G. E., & Constantine, M. (2012). You want me to trust you? Using adventure learning to teach millennials about trust. Organization Management Journal, 9(4), 255–267.

Barney, J. (1991). Firm resources and sustained competitive advantage. Journal of Management, 17(1), 99–120.

Barney, J. B. (1995). Looking inside for competitive advantage. Academy of Management Perspectives, 9(4), 49–61.

Burke, M. A., Heiland, F. W., & Nadler, C. M. (2010). From "overweight" to "about right": Evidence of a generational shift in body weight norms. Obesity, 18(6), 1226–1234.

Cadavid, E., & Sáenz, L. M. (2015). Physical activity as a strategy for prevention and health promotion in the occupational context: An example of corporate engagement. Procedia Manufacturing, 3, 1140–1147.

Chen, I. J., & Paulraj, A. (2004). Towards a theory of supply chain management: The constructs and measurements. Journal of operations management, 22(2), 119–150.

Colomo-Palacios, R., Casado-Lumbreras, C., Misra, S., & Soto-Acosta, P. (2014). Career abandonment intentions among software workers. Human Factors and Ergonomics in Manufacturing & Service Industries, 24(6), 641–655.

Coulson, J. C., McKenna, J., & Field, M. (2008). Exercising at work and self-reported work performance. International Journal of Workplace Health Management, 1(3), 176–197.

Creswell, J. W., Plano Clark, V. L., Gutmann, M. L., & Hanson, W. E. (2003). Advanced mixed methods research designs. Handbook of Mixed Methods in Social and Behavioral Research, 209, 240.

Dale, S. (2014). Gamification: Making work fun, or making fun of work? Business Information Review, 31(2), 82–90.

de Jong, M. D., & van der Meer, M. (2017). How does it fit? Exploring the congruence between organizations and their corporate social responsibility (CSR) activities. Journal of Business Ethics, 143(1), 71–83.

Del Bosque, D. (2013). Will you be my friend? Social networking in the workplace. New Library World, 114(9/10), 428–442.

Donahue, K. B. (2001). Time to get serious about talent management. Harvard Management Update, 6(7), 6–7.

Duhigg, C. (2012). The power of habit: Why we do what we do in life and business. New York: Random House LLC.

Duncan, S. C. (2016). "Games with learning": Adpositions and the lusory attitude. On the Horizon, 24(3), 246–256.

Dziuban, C., Moskal, P., & Hartman, J. (2005). Higher education, blended learning, and the generations: Knowledge is power: No more. Elements of quality online education: Engaging communities. Needham, MA: Sloan Center for Online Education, pp. 88–89.

Eckstein, D., Goellner, M., Blome, C., & Henke, M. (2015). The performance impact of supply chain agility and supply chain adaptability: The moderating effect of product complexity. International Journal of Production Research, 53(10), 3028–3046.

Epstein, Z. (2013). Enterprise gamification for employee engagement.

Flynn, B. B., Huo, B., & Zhao, X. (2010). The impact of supply chain integration on performance: A contingency and configuration approach. Journal of Operations Management, 28(1), 58–71.

Ford, R. C., Newstrom, J. W., & McLaughlin, F. S. (2004). Making workplace fun more fun ctional. Industrial and Commercial Training, 36(3), 117–120.

Fornell, C., & Larcker, D. F. (1981). Evaluating structural equation models with unobservable variables and measurement error. Journal of Marketing Research, 18, 39–50.

Foss, N. J. (Ed.). (1997). Resources, firms, and strategies: a reader in the resource-based perspective. Oxford: Oxford University Press on Demand.

Fred, L., & Suzanne, J. P. (2002). Employee engagement and manager self-efficacy. The Journal of Management Development, 21(5), 376–387.

Gallup Management Journal (2006). 12 Jan, available at: https://gmj.gallup.com.

Gavin, J. H., & Mason, R. O. (2004). The virtuous organization: The value of happiness in the workplace. Organizational Dynamics, 33(4), 379–392.

Glavas, A. (2016). Corporate social responsibility and employee engagement: Enabling employees to employ more of their whole selves at work. Frontiers in Psychology, 7, 796.

Glen, C. (2006). Key skills retention and motivation: The war for talent still rages and retention is the high ground. Industrial and Commercial Training, 38(1), 37–45.

Grant, R. M. (1991). The resource-based theory of competitive advantage: Implications for strategy formulation. California Management Review, 33(3), 114–135.

Gross, R., & Holland, B. (2011). Corporate social responsibility and employee engagement: Making the connection. White Paper, p. 2.

Gubman, E. (2004). From engagement to passion for work: The search for the missing person. Human Resource Planning, 27(3), 42–46.

Hartman, J. L., & McCambridge, J. (2011). Optimizing millennials' communication styles. Business Communication Quarterly, 74(1), 22–44.

Hewitt, A. (2017). Trends in global employee engagement: Global anxiety erodes employee engagement gains. Retrieved from http://www.aon.com/attachments/human-capitalconsulting/2013_Managing_Engagement_During_Times_of_Change_White_Paper.pdf. Accessed 1 Feb 2020.

Hunicke, R., LeBlanc, M., & Zubek, R. (2004). MDA: A formal approach to game design and game research. In Paper presented at the proceedings of the AAAI workshop on challenges in game AI, San Jose, CA.

Inyang, B. J., Awa, H. O., & Enuoh, R. O. (2011). CSR-HRM nexus: Defining the role engagement of the human resources professionals. International Journal of Business and Social Science, 2(5), 118–126.

Jackson, S. E., & Seo, J. (2010). The greening of strategic HRM scholarship. Organization Management Journal, 7(4), 278–290.

Joo, B. K., & Mclean, G. N. (2006). Best employer studies: A conceptual model from a literature review and a case study. Human Resource Development Review, 5(2), 228–257.

Kahn, W. A. (1990). Psychological conditions of personal engagement and disengagement at work. Academy of Management Journal, 33(4), 692–724.

Kahn, W. A. (1992). To be fully there: Psychological presence at work. Human Relations, 45(4), 321–349.

Kapoor, S., & Meachem, A. (2012). Employee engagement—A bond between employee and organisation. Amity Global Business Review, 7.

King, N. (2014). Making the case for sport and recreation services: The utility of social return on investment (SROI) analysis. International Journal of Public Sector Management, 27(2), 152–164.

Kular, S., Gatenby, M., Rees, C., Soane, E., & Truss, K. (2008). Employee engagement: A literature review. Kingston University, Kingston Business School. Retrieved from http://eprints.kingston.ac.uk/4192/1/19wempen.pdf

Lado, A. A., & Wilson, M. C. (1994). Human resource systems and sustained competitive advantage: A competency-based perspective. Academy of Management Review, 19(4), 699–727.

Lasserre-Cortez, S. (2006). A mixed methods examination of professional development through whole faculty study groups. Unpublished doctoral dissertation, Louisiana State University, Baton Rouge.

Luthans, F., & Peterson, S. J. (2002). Employee engagement and manager self-efficacy. Journal of Management Development, 21(5), 376–387.

Marotta, S. A., Peters, B. J., & Paliokas, K. L. (2000). Teaching group dynamics: An interdisciplinary model. Journal for Specialists in Group Work, 25(1), 16–28.

May, D. R., Gilson, R. L., & Harter, L. M. (2004). The psychological conditions of meaningfulness, safety and availability and the engagement of the human spirit at work. Journal of Occupational and Organizational Psychology, 77(1), 11–37.

Mishra, D., Akman, I., & Mishra, A. (2014). Theory of reasoned action application for green information technology acceptance. Computers in Human Behavior, 36, 29–40.

Mokaya, S., & Gitari, J. W. (2012). Effects of workplace recreation on employee performance: The case of Kenya Utalii College. International Journal of Humanities and Social Science, 2(3), 176–183.

Morse, J. M. (1991). Approaches to qualitative-quantitative methodological triangulation. Nursing Research, 40, 120–123.

NASSCOM Report (2006). Globalization of Engineering Services: The next frontier for India. Booz Allen Hamilton report.

Neeli, B. K. (2012). A method to engage employees using gamification in BPO industry. In Third international conference on  services in emerging markets (ICSEM), 2012 (pp. 142–146). IEEE.

Ng, H. A. (2001). Adventure learning Influence of collectivism on team and organizational attitudinal changes. Journal of Management Development, 24(5), 424–440.

Ng, E. S., Schweitzer, L., & Lyons, S. T. (2010). New generation, great expectations: A field study of the millennial generation. Journal of Business and Psychology, 25(2), 281–292.

Nowack, K., & Learning, E. (2011). Employee engagement, job satisfaction, retention and stress. Envisia Learning Consulting, Accessed through https://www.envisialearning.com/.

O'Donovan, S. (2012). Gamification of the games course. Acesso em, 17, 1–8.

Paauwe, J. (1994). Organiseren: een grensoverschrijdende passie. Samsom Bedrijfsinformatie.

Parkers, L. P., & Langford, P. H. (2008). Work-life balance or work-life alignment. Journal of Management & Organization, 14(3), 267–284.

Peteraf, M. A. (1993). The cornerstones of competitive advantage: a resource-based view. Strategic Management Journal, 14(3), 179–191.

Peterson, L. W., & Albrecht, T. L. (1996). Message design logic, social support, and mixed-status relationships. Western Journal of Communication (Includes Communication Reports), 60(4), 291–309.

Podsakoff, N. P. (2003). Common method biases in behavioral research: A critical review of the literature and recommended remedies. Journal of Applied Psychology, 885(879), 10–1037.

Raykov, T., & Widaman, K. F. (1995). Issues in applied structural equation modeling research. Structural Equation Modeling: A Multidisciplinary Journal, 2(4), 289–318.

Robson, K., Plangger, K., Kietzmann, J. H., McCarthy, I., & Pitt, L. (2015). Is it all a game? Understanding the principles of gamification. Business Horizons, 58(4), 411–420.

Rothbard, N. P. (2001). Enriching or depleting? The dynamics of engagement in work and family roles. Administrative Science Quarterly, 46(4), 655–684.

Saa-Perez, P. D., & Garcia-Falcon, J. M. (2002). A resource-based view of human resource management and organizational capabilities development. International Journal of Human Resource Management, 13(1), 123–140.

Sarangi, S., & Shah, S. (2015). Individuals, teams and organizations score with gamification: Tool can help to motivate employees and boost performance. Human Resource Management International Digest, 23(4), 24–27.

Sarangi, S., & Srivastava, R. K. (2012). Impact of organizational culture and communication on employee engagement: An investigation of Indian private banks. South Asian Journal of Management, 19(3), 18.

Schaufeli, W. B., Salanova, M., González-Romá, V., & Bakker, A. B. (2002). The measurement of engagement and burnout: A two sample confirmatory factor analytic approach. Journal of Happiness Studies, 3(1), 71–92.

Scherrer, P., Henley, N., Sheridan, L., Sibson, R., & Ryan, M. (2008). Maintaining momentum: the challenge of a workplace physical activity program to sustain motivation and activity. Journal of Research for Consumers, 14, 1–13.

Shankar, T., & Bhatnagar, J. (2010). Work life balance, employee engagement, emotional consonance/dissonance & turnover intention. Indian Journal of Industrial Relations, 1, 74–87.

Sirota Survey Intelligence (2007). ''Workers satisfied with company's social responsibility are more engaged and positive'', Sirota Survey Intelligence, Available at: www.crmlearning.com. Accessed on 25th Oct, 2018.

Stevens, F. G., Plaut, V. C., & Sanchez-Burks, J. (2008). Unlocking the benefits of diversity: All-inclusive multiculturalism and positive organizational change. The Journal of Applied Behavioral Science, 44(1), 116–133.

Tapscott, D. (2009). Grown up digital: How the net generation is changing your world. New York: McGraw-Hill.

Teece, D. J., Pisano, G., & Shuen, A. (1997). Dynamic capabilities and strategic management. Strategic Management Journal, 18(7), 509–533.

Tews, M. J., Michel, J. W., & Allen, D. G. (2014). Fun and friends: The impact of workplace fun and constituent attachment on turnover in a hospitality context. Human Relations, 67(8), 923–946.

Tews, M. J., Michel, J. W., & Stafford, K. (2013). Does fun pay? The impact of workplace fun on employee turnover and performance. Cornell Hospitality Quarterly, 54(4), 370–382.

Tiny Pulse (2015). 2015 Employee engagement report. Accessed through https://www.tinypulse.com/lt-2015-employee-engagement-organizational-culture-report Accessed on 25th Oct, 2018.

Tiny Pulse (2017). The broken bridges of the workplace: 2017 Employee engagement report. https://www.tinypulse.com/hubfs/whitepaper/TINYpulse-2017-Employee-Engagement-Report-Broken-Bridges-of-the-Workplace.pdf?t=1487009837061 Accessed on 25th Oct, 2018.

Torrente, P., Salanova, M., & Llorens, S. (2013). Spreading engagement: On the role of similarity in the positive contagion of team work engagement. Revista de Psicología del Trabajo y de las Organizaciones, 29(3), 153–159.

Trees, L. (2015). Encouraging millennials to collaborate and learn on the job. Strategic HR Review, 14(4), 118–123.

Tulgan, B. (2009). Not everyone gets a trophy: How to manage generation y. San Francisco: Jossey-Bass.

Twenge, J. M., Campbell, S. M., Hoffman, B. J., & Lance, C. E. (2010). Generational differences in work values: Leisure and extrinsic values increasing, social and intrinsic values decreasing. Journal of Management, 36(5), 1117–1142.

Welch, M. (2012). Appropriateness and acceptability: Employee perspectives of internal communication. Public Relations Review, 38(2), 246–254.

West, S. G., Finch, J. F., & Curran, P. J. (1995). Structural equation models with nonnormal variables: Problems and remedies. In R. H. Hoyle (Ed.), Structural equation modeling: Concepts, issues, and applications (p. 56–75). Sage Publications, Inc.

White, B. (2011). Employee engagement report. Princeton, NJ: Blessing White. Retrieved.

Wright, P. M., & McMahan, G. C. (1992). Theoretical perspectives for strategic human resource management. Journal of Management, 18(2), 295–320.
Additional information
Publisher's Note
Springer Nature remains neutral with regard to jurisdictional claims in published maps and institutional affiliations.
About this article
Cite this article
Bhattacharya, S., Gandhi, A. Engaging the Head, Heart and Hand of the Millennial Workforce. Psychol Stud (2020). https://doi.org/10.1007/s12646-020-00577-5
Received:

Accepted:

Published:
Keywords
Engagement

Corporate social responsibility

Gamification

Informal communication

Millennials