Abstract
This study assessed patients' understanding of the jargons used by cardiologists during consultation, and to compare the knowledge of these jargons across three patient age groups. The Cardiac Jargons Comprehension Schedule (CAJCOMPS), consisting of 11 cardiac jargons, was developed and validated. It was found that the proportion of participants who were aware of the jargons ranged between 10 % and 96 % across the 11 jargons; however, mean scores across the jargons ranged only between 0 and 2 on a scale of 0–5. Significant effect of age on the overall level of understanding of jargons and of specific jargons (Angina, Heart Failure, Palpitation and Treadmill Test) was noted. Participants of the youngest age group (18–45 years) had reported significantly lower level of knowledge of jargons than their the older age counterparts (46–60 and 61–80 years). Cardiologists' communication involving jargons is, thus, not adequately reaching patients, young adults in particular.
Access options
Buy single article
Instant access to the full article PDF.
USD 39.95
Price excludes VAT (USA)
Tax calculation will be finalised during checkout.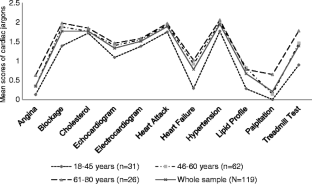 References
Agarwal, A., Agarwal, A., Nag, K., Chakraborty, S., & Ali, K. (2011). Doctor patient communication—a vital yet neglected entity in Indian medical education system. Indian Journal of Surgery, 73, 184–186. doi:10.1007/s12262-010-0208-z.

Boyle, C. M. (1970). Difference between patients' and doctors' interpretation of some common medical terms. British Medical Journal, 2, 286–289.

Castro, C. M., Wilson, C., Wang, F., & Schillinger, D. (2007). Babel Babble: physicians' use of unclarified medical jargon with patients. American Journal of Health Behavior, 31, S85–S95.

Caudle, P., Courtney, K., Guyton, H., Keller, M., & Kind, C. (1999). Jargon. Retrieved from http://www.uncp.edu/home/canada/work/allam/1914-/language/jargon.htm. Accessed 25 Nov 2013.

Černý, M. (2008). Some observations on the use of medical terminology in doctor–patient communication. SKASE Journal of Translation and Interpretation, 3, 39–53.

Deo, M. G. (2013). Doctor population ratio for India – the reality. Indian Journal of Medical Research, 137, 632–635.

Deter, H. (2012). Psychosocial interventions for patients with chronic disease. BioPsychoSocial Medicine, 6, 1–5. doi:10.1186/1751-0759-6-2.

Deuster, L., Christopher, S., Donovan, J., & Farrell, M. (2008). A method to quantify residents' jargon use during counseling standardized patients about cancer screening. Journal of General Internal Medicine, 23, 1947–1952. doi:10.1007/s11606-008-0729-3.

Enas, E., & Senthilkumar, A. (2001). Coronary artery disease in Asian Indians: an update and review. Internet Journal of Cardiology, 1. Retrieved from http://ispub.com/IJC/1/2/4493. Accessed 27 Dec 2013.

Falvo, D., & Tippy, P. (1988). Communicating information to patients: patient satisfaction and adherence as associated with resident skill. Journal of Family Practice, 26, 643–647.

Gupta, R. (2008). Recent trends in coronary heart disease epidemiology in India. Indian Heart Journal, 60, B4–B18.

Ha, J. F., & Longnecker, N. (2010). Doctor-patient communication: a review. Ochsner Journal, 10, 38–43.

Jukic, M., Kozina, S., Kardum, G., Hogg, R., & Kvolik, S. (2011). Physicians overestimate patient's knowledge of the process of informed consent: a cross-sectional study. Medicinski Glasnik: Ljek Komore Zenicko-Doboj Kantona, 8, 39–45.

Lawshe, C. H. (1975). A quantitative approach to content validity. Personnel Psychology, 28, 563–575.

Lerner, E. B., Jehle, D. V., Janicke, D. M., & Moscati, R. M. (2000). Medical communication: do our patients understand? American Journal of Emergency Medicine, 18, 764–766.

Lyons, A. C., Fanshawe, C., & Lip, G. Y. H. (2002). Knowledge, communication and expectancies of cardiac catheterization: the patient's perspective. Psychology, Health and Medicine, 7, 461–467. doi:10.1080/1354850021000015276.

Martin, L. R., Williams, S. L., Haskard, K. B., & DiMatteo, M. R. (2005). The challenge of patient adherence. Therapeutics and Clinical Risk Management, 1, 189–199.

Marvel, M. K., Epstein, R. M., Flowers, K., & Beckman, H. B. (1999). Soliciting the patient's agenda: have we improved? Journal of American Medical Association, 281, 283–287.

Mohan, S., Campbell, N., & Chockalingam, A. (2013). Time to effectively address hypertension in India. Indian Journal of Medical Research, 137, 627–631.

Nikumb, V. B., Banerjee, A., Kaur, G., & Chaudhury, S. (2009). Impact of doctor-patient communication on preoperative anxiety: study at industrial township, Pimpri, Pune. Industrial Psychiatry Journal, 18, 19–21. doi:10.4103/0972-6748.57852.

Prabhakaran, D., & Singh, K. (2011). Premature coronary heart disease risk factors & reducing the CHD burden in India. Indian Journal of Medical Research, 134, 8–9.

Williams, N., & Ogden, J. (2004). The impact of matching the patient's vocabulary: a randomized control trial. Family Practice, 21, 630–635. doi:10.1093/fampra/cmh610.

Zolnierek, K. B. H., & DiMatteo, M. R. (2009). Physician communication and patient adherence to treatment: a meta-analysis. Medical Care, 47, 826–834. doi:10.1097/MLR.0b013e31819a5acc.
Acknowledgments
We extend our thanks to the doctors and the hospital staff for their cooperation.
About this article
Cite this article
Thomas, M., Hariharan, M., Rana, S. et al. Medical Jargons as Hindrance in Doctor–Patient Communication. Psychol Stud 59, 394–400 (2014). https://doi.org/10.1007/s12646-014-0262-x
Received:

Accepted:

Published:

Issue Date:

DOI: https://doi.org/10.1007/s12646-014-0262-x
Keywords
Age

Cardiology

Health communication

Jargon

Patient awareness