Abstract
Valproic acid (VPA) is one of the most widely used antiepileptic drugs. The protective role of VPA and the role of the TRPM2 channel in this mechanism in developing neuronal damage due to increased pentylenetetrazol (PTZ)-induced neurotoxicity in SH-SY5Y cells were not clarified. Here, we investigated the role of VPA via modulation of TRPM2 channel on cell death and oxidative neurotoxicity in SH-SY5Y cells. The SH-SY5Y cell toxicity model was constructed by treating SH-SY5Y cells with PTZ. The VPA and TRPM2 channel antagonist N-(p-amylcinnamoyl) anthranilic acid (ACA) were added to prevent neurotoxicity in PTZ-induced SH-SY5Y cells. The role of the VPA and TRPM2 channel was evaluated using an ELISA kit and patch-clamp. Primarily, antioxidant (GSH and GSH-Px) and oxidative stress (MDA and ROS) levels and inflammatory factors (IL-1β, IL-6, and TNF-α) in cells were determined by ELISA kits. Then, TRPM2 channel activation in cells was detected using both the ELISA kit and patch-clamp methods. In addition, apoptosis and cell viability levels in cells were determined by performing PARP1, caspase-3, caspase-9, and CCK-8 assays by ELISA kits. Our results showed that the TRPM2 channel is vital in damage formation in PTZ-induced cells. Furthermore, we observed that VPA attenuated PTZ-induced neurotoxicity by suppressing cells' oxidative stress and inflammation, and reducing TRPM2 channel activation. In our study, in which the protective effect of VPA and the role of the TRPM2 channel in PTZ-induced SH-SY5Y cells were investigated for the first time, we can conclude that VPA treatment and TRPM2 channel blockade can suppress PTZ-induced neurotoxicity.
Access options
Buy single article
Instant access to the full article PDF.
USD 39.95
Price excludes VAT (USA)
Tax calculation will be finalised during checkout.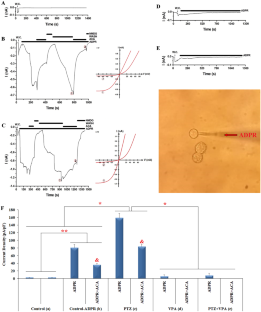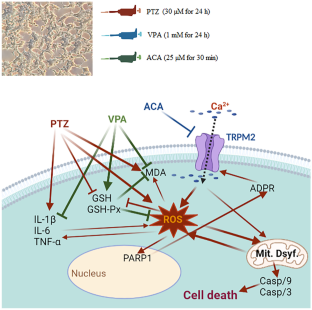 Data Availability
Data will be made available on request.
References
Abdelkader NF, Elyamany M, Gad AM, Assaf N, Fawzy HM, Elesawy WH (2020) Ellagic acid attenuates liver toxicity induced by valproic acid in rats. J Pharmacol Sci 143(1):23–29

Akyuva Y, Nazıroğlu M (2020) Resveratrol attenuates hypoxia-induced neuronal cell death, inflammation and mitochondrial oxidative stress by modulation of TRPM2 channel. Sci Rep 10(1):1–16

Alachkar A, Azimullah S, Lotfy M, Adeghate E, Ojha SK, Beiram R, Łażewska D, Kieć-Kononowicz K, Sadek B (2020) Antagonism of histamine H3 receptors alleviates pentylenetetrazole-induced kindling and associated memory deficits by mitigating oxidative stress, central neurotransmitters, and c-Fos protein expression in rats. Molecules 25(7):1575

An X, Fu Z, Mai C, Wang W, Wei L, Li D, Li C, Jiang L-H (2019) Increasing the TRPM2 channel expression in human neuroblastoma SH-SY5Y cells augments the susceptibility to ROS-induced cell death. Cells 8(1):28

Celik O, Naziroglu M (2012) Melatonin modulates apoptosis and TRPM2 channels in transfected cells activated by oxidative stress. Physiol Behav 107(3):458–465

Daldal H, Nazıroğlu M (2022) Carvacrol protects the ARPE19 retinal pigment epithelial cells against high glucose-induced oxidative stress, apoptosis, and inflammation by suppressing the TRPM2 channel signaling pathways. Graefes Arch Clin Exp Ophthalmol 260(8):2567–2583

Dinarello CA (2000) Proinflammatory cytokines. Chest 118(2):503–508

Ding X-M, Zhao L-J, Qiao H-Y, Wu S-L, Wang X-H (2019) Long non-coding RNA-p21 regulates MPP+-induced neuronal injury by targeting miR-625 and derepressing TRPM2 in SH-SY5Y cells. Chem Biol Interact 307:73–81

Esmaeili-Mahani S, Sheibani V, Najafipour H (2017) Apelin-13 protects rat primary cortical glia-neuron co-culture against pentylenetetrazole-induced toxicity. Biomed Pharmacother 87:661–668

Geronzi U, Lotti F, Grosso S (2018) Oxidative stress in epilepsy. Expert Rev Neurother 18(5):427–434

Güzel M, Nazıroğlu M, Akpınar O, Çınar R (2021) Interferon gamma-mediated oxidative stress induces apoptosis, neuroinflammation, zinc ion influx, and TRPM2 channel activation in neuronal cell line: modulator role of curcumin. Inflammation 44(5):1878–1894

Hassanzadeh P, Arbabi E, Atyabi F, Dinarvand R (2017) Ferulic acid exhibits antiepileptogenic effect and prevents oxidative stress and cognitive impairment in the kindling model of epilepsy. Life Sci 179:9–14

Hu H, Zhu T, Gong L, Zhao Y, Shao Y, Li S, Sun Z, Ling Y, Tao Y, Ying Y et al (2020) Transient receptor potential melastatin 2 contributes to neuroinflammation and negatively regulates cognitive outcomes in a pilocarpine-induced mouse model of epilepsy. Int Immunopharmacol 87:106824

Iqubal A, Sharma S, Sharma K, Bhavsar A, Hussain I, Iqubal MK, Kumar R (2018) Intranasally administered pitavastatin ameliorates pentylenetetrazol-induced neuroinflammation, oxidative stress and cognitive dysfunction. Life Sci 211:172–181

Kahya MC, Nazıroğlu M, Övey İS (2017) Modulation of diabetes-induced oxidative stress, apoptosis, and Ca2+ entry through TRPM2 and TRPV1 channels in dorsal root ganglion and hippocampus of diabetic rats by melatonin and selenium. Mol Neurobiol 54(3):2345–2360

Khatoon S, Agarwal NB, Samim M, Alam O (2021) Neuroprotective effect of fisetin through suppression of IL-1R/TLR axis and apoptosis in pentylenetetrazole-induced kindling in mice. Front Neurol 12:1152

Luszczki JJ, Wojcik-Cwikla J, Andres MM, Czuczwar SJ (2005) Pharmacological and behavioral characteristics of interactions between vigabatrin and conventional antiepileptic drugs in pentylenetetrazole-induced seizures in mice: an isobolographic analysis. Neuropsychopharmacology 30(5):958–973

Malko P, Jiang L-H (2020) TRPM2 channel-mediated cell death: an important mechanism linking oxidative stress-inducing pathological factors to associated pathological conditions. Redox Biol 37:101755

Moshé SL, Perucca E, Ryvlin P, Tomson T (2015) Epilepsy: new advances. The Lancet 385(9971):884–898

Naziroglu M (2007) New molecular mechanisms on the activation of TRPM2 channels by oxidative stress and ADP-ribose. Neurochem Res 32(11):1990–2001

Nazıroğlu M (2022) A novel antagonist of TRPM2 and TRPV4 channels: Carvacrol. Metab Brain Dis 37(3):711–728

Naziroglu M, Luckhoff A (2008) A calcium influx pathway regulated separately by oxidative stress and ADP-Ribose in TRPM2 channels: single channel events. Neurochem Res 33(7):1256–1262

Naziroglu M, Oz A, Yildizhan K (2020) Selenium and neurological diseases: focus on peripheral pain and TRP channels. Curr Neuropharmacol 18(6):501–517

Ozkaya D, Naziroglu M (2020) Curcumin diminishes cisplatin-induced apoptosis and mitochondrial oxidative stress through inhibition of TRPM2 channel signaling pathway in mouse optic nerve. J Recept Signal Transduct Res 40(2):97–108

Pearson-Smith JN, Patel M (2017) Metabolic dysfunction and oxidative stress in epilepsy. Int J Mol Sci 18(11)

Qi H, Liu L (2022) Rhoifolin attenuates damage to hippocampal neuronal culture model of acquired epilepsy in vitro by regulating NF-κB/iNOS/COX-2 axis. Quality Assurance and Safety of Crops & Foods 14(3):116–123

Romoli M, Mazzocchetti P, D'Alonzo R, Siliquini S, Rinaldi VE, Verrotti A, Calabresi P, Costa C (2019) Valproic acid and epilepsy: from molecular mechanisms to clinical evidences. Curr Neuropharmacol 17(10):926–946

Samokhina E, Samokhin A (2018) Neuropathological profile of the pentylenetetrazol (PTZ) kindling model. Int J Neurosci 128(11):1086–1096

Tamer SA, Koyuncuoğlu T, Köroğlu AK, Akakın D, Yüksel M, Yeğen BÇ (2022) Nesfatin-1 ameliorates oxidative brain damage and memory impairment in rats induced with a single acute epileptic seizure. Life Sci 294:120376

Taskiran AS, Ergul M (2021) The modulator action of thiamine against pentylenetetrazole-induced seizures, apoptosis, nitric oxide, and oxidative stress in rats and SH-SY5Y neuronal cell line. Chem Biol Interact 340:109447

Taskiran AS, Ergul M, Gunes H, Ozturk A, Sahin B, Ozdemir E (2021) The effects of proton pump inhibitors (pantoprazole) on pentylenetetrazole-induced epileptic seizures in rats and neurotoxicity in the SH-SY5Y human neuroblastoma cell line. Cell Mol Neurobiol 41(1):173–183

Taskıran AS, Ozdemir E, Gumus E, Ergul M (2020) The effects of salmon calcitonin on epileptic seizures, epileptogenesis, and postseizure hippocampal neuronal damage in pentylenetetrazole-induced epilepsy model in rats. Epilepsy Behav 113:107501

Terzi̇oğlu Bebi̇toğlu B, Oğuz Ef, Acet G, (2020) Effect of valproic acid on oxidative stress parameters of glutamate-induced excitotoxicity in SH-SY5Y cells. Exp Ther Med 20(2):1321–1328

Yildizhan K, Naziroglu M (2020) Glutathione depletion and parkinsonian neurotoxin MPP(+)-induced TRPM2 channel activation play central roles in oxidative cytotoxicity and inflammation in microglia. Mol Neurobiol 57(8):3508–3525

Yildizhan K, Naziroglu M (2022) Protective role of selenium on MPP(+) and homocysteine-induced TRPM2 channel activation in SH-SY5Y cells. J Recept Signal Transduct Res 42(4):399–408

Zhang Y, Zhao J, Afzal O, Kazmi I, Al-Abbasi FA, Altamimi AS, Yang Z (2021) Neuroprotective role of chrysin-loaded poly (lactic-co-glycolic acid) nanoparticle against kindling-induced epilepsy through Nrf2/ARE/HO-1 pathway. J Biochem Mol Toxicol 35(2):e22634

Zheng Q, Zhu T, Hu H, Zhao Y, Ying Y, Luo X, Ling Y, Chen Z, Ji H, Jiang P (2020) TRPM2 ion channel is involved in the aggravation of cognitive impairment and down regulation of epilepsy threshold in pentylenetetrazole-induced kindling mice. Brain Res Bull 155:48–60
Acknowledgements
This study was presented as an oral presentation to the 7th International Brain Research School organized on 27 June-03 July 2022, Isparta, Turkey, by Autor's. https://dergipark.org.tr/tr/download/issue-file/60314. The results of the current study were summarized from a Ph.D. thesis of AA.
Funding
This work was supported by the Research Fund of Istanbul University. Project No. 38188.
Ethics declarations
Competing Interests
The authors declare no competing interests.
Conflict of Interest
The authors declare no competing interests.
Additional information
Publisher's Note
Springer Nature remains neutral with regard to jurisdictional claims in published maps and institutional affiliations.
Rights and permissions
Springer Nature or its licensor (e.g. a society or other partner) holds exclusive rights to this article under a publishing agreement with the author(s) or other rightsholder(s); author self-archiving of the accepted manuscript version of this article is solely governed by the terms of such publishing agreement and applicable law.
About this article
Cite this article
Ahlatcı, A., Yıldızhan, K., Tülüce, Y. et al. Valproic Acid Attenuated PTZ-induced Oxidative Stress, Inflammation, and Apoptosis in the SH-SY5Y Cells via Modulating the TRPM2 Channel. Neurotox Res 40, 1979–1988 (2022). https://doi.org/10.1007/s12640-022-00622-3
Received:

Revised:

Accepted:

Published:

Issue Date:

DOI: https://doi.org/10.1007/s12640-022-00622-3
Keywords
Valproic acid

Pentylenetetrazole

TRPM2

Oxidative stress

Apoptosis