Abstract
Caffeic acid (CA) is a hydroxycinnamic acid derivative and polyphenol with antioxidant and anti-inflammatory activities. The neuroprotective properties of CA still need detailed characterization in different biological models. Here, the antioxidant and neuroprotective effects of CA were compared in in vitro and in vivo neurotoxic models. Biochemical outcomes of cell dysfunction, oxidative damage, and transcriptional regulation were assessed in rat cortical slices, whereas endpoints of physiological stress and motor alterations were characterized in Caenorhabditis elegans (C. elegans). In rat cortical slices, CA (100 μM) prevented, in a differential manner, the loss of reductive capacity, the cell damage, and the oxidative damage induced by the excitotoxin quinolinic acid (QUIN, 100 μM), the pro-oxidant ferrous sulfate (FeSO4, 25 μM), and the dopaminergic toxin 6-hydroxydopamine (6-OHDA, 100 μM). CA also restored the levels of nuclear factor erythroid 2-related factor 2/antioxidant response element (Nrf2/ARE; a master antioxidant regulatory pathway) binding activity affected by the three toxins. In wild-type (N2) of C. elegans, but not in the skn-1 KO mutant strain (worms lacking the orthologue of mammalian Nrf2), CA (25 mM) attenuated the loss of survival induced by QUIN (100 mM), FeSO4 (15 mM), and 6-OHDA (25 mM). Motor alterations induced by the three toxic models in N2 and skn-1 KO strains were prevented by CA in a differential manner. Our results suggest that (1) CA affords partial protection against different toxic insults in mammalian brain tissue and in C. elegans specimens; (2) the Nrf2/ARE binding activity participates in the protective mechanisms evoked by CA in the mammalian cortical tissue; (3) the presence of the orthologous skn-1 pathway is required in the worms for CA to exert protective effects; and (4) CA exerts antioxidant and neuroprotective effects through homologous mechanisms in different species.
Access options
Buy single article
Instant access to the full article PDF.
US$ 39.95
Tax calculation will be finalised during checkout.
Subscribe to journal
Immediate online access to all issues from 2019. Subscription will auto renew annually.
US$ 79
Tax calculation will be finalised during checkout.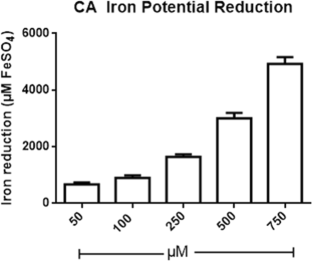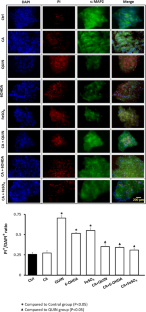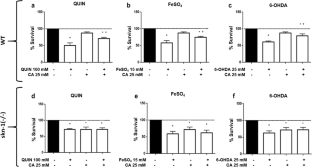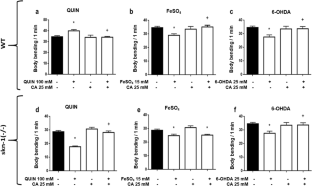 References
An JH, Blackwell TK (2003) SKN-1 links C. elegans mesendodermal specification to a conserved oxidative stress response. Genes Dev 17:1882–1893

Blackwell TK, Steinbaugh MJ, Hourihan JM, Ewald CY, Isik M (2015) SKN-1/Nrf, stress responses, and aging in Caenorhabditis elegans. Free Radic Biol Med 88(Pt B):290–301

Carocci A, Catalano A, Sinicropi MS, Genchi G (2018) Oxidative stress and neurodegeneration: the involvement of iron. Biometals 31:715–735

Colín-González AL, Sánchez-Hernández S, de Lima ME, Ali SF, Chavarría A, Villeda J, Santamaría A (2015) Protective effects of caffeic acid on quinolinic acid-induced behavioral and oxidative alterations in rats. J Drug Alcohol Res 4:1–5

Colonnello A, Kotlar I, de Lima ME, Ortíz-Plata A, García-Contreras R, Soares FAA, Aschner M, Santamaría A (2018) Comparing the effects of ferulic acid and sugarcane aqueous extract in in vitro and in vivo neurotoxic models. Neurotox Res 34:640–648

Cuadrado A, Rojo AI, Wells G, Hayes JD, Cousin SP, Rumsey WL, Attucks OC, Franklin S, Levonen A-L, Kensler TW, Dinkova-Kostova AT (2019) Therapeutic targeting of the NRF2 and KEAP1 partnership in chronic diseases. Nat Rev Drug Discov 18:295–317

Gunjima K, Tomiyama R, Takakura K, Yamada T, Hashida K, Nakamura Y, Konishi T, Matsugo S, Hori O (2014) 3,4-dihydroxybenzalacetone protects against Parkinson's disease-related neurotoxin 6-OHDA through Akt/Nrf2/glutathione pathway. J Cell Biochem 115:151–160

Harrington AJ, Hamamichi S, Caldwell GA, Caldwell KA (2010) C. elegans as a model organism to investigate molecular pathways involved with Parkinson's disease. Dev Dyn 239:1282–1295

Hou Y, Peng S, Li X, Yao J, Xu J, Fang J (2018) Honokiol alleviates oxidative stress-induced neurotoxicity via activation of Nrf2. ACS Chem Neurosci 9:3108–3116

Jellinger K, Linert L, Kienzl E, Herlinger E, Youdim MB (1995) Chemical evidence for 6-hydroxydopamine to be an endogenous toxic factor in the pathogenesis of Parkinson's disease. J Neural Transm Suppl 46:297–314

Jeong CH, Jeong HR, Choi GN, Kim DO, Lee U, Heo HJ (2011) Neuroprotective and anti-oxidant effects of caffeic acid isolated from Erigeron annuus leaf. Chin Med 6:25

Kalonia H, Kumar P, Kumar A, Nehru B (2009) Effects of caffeic acid, rofecoxib, and their combination against quinolinic acid induced behavioral alterations and disruption in glutathione redox status. Neurosci Bull 25:343–352

Khan FA, Maalik A, Murtaza G (2016) Inhibitory mechanism against oxidative stress of caffeic acid. J Food Drug Anal 24:695–702

Kotlar I, Colonnello A, Aguilera-González MF, Avila DS, de Lima ME, García-Contreras R, Ortíz-Plata A, Soares FAA, Aschner M, Santamaría A (2018) Comparison of the toxic effects of quinolinic acid and 3-nitropropionic acid in C. elegans: involvement of the SKN-1 pathway. Neurotox Res 33:259–267

Kumar A, Vashist A, Kumar P (2010) Potential role of pioglitazone, caffeic acid and their combination against fatigue syndrome-induced behavioural, biochemical and mitochondrial alterations in mice. Inflammopharmacology 18:241–251

Lai W, Wei Q, Zhuang J, Lu M, Tang D (2016) Fenton reaction-based colorimetric immunoassay for sensitive detection of brevetoxin B. Biosens Bioelectron 80:249–256

Lowry OH, Rosebrough NJ, Farr AL, Randall RJ (1951) Protein measurement with the Folin-phenol reagent. J Biol Chem 193:265–275

Martinez-Finley EJ, Caito S, Slaughter JC, Aschner M (2013) The role of skn-1 in methylmercury-induced latent dopaminergic neurodegeneration. Neurochem Res 38:2650–2660

Maya-López M, Rubio-López LC, Rodríguez-Alvarez IV, Orduño-Piceno J, Flores-Valdivia Y, Colonnello A, Rangel-López E, Túnez I, Prospéro-García O, Santamaría A (2019) A cannabinoid receptor-mediated mechanism participates in the neuroprotective effects of oleamide against excitotoxic damage in rat brain synaptosomes and cortical slices. Neurotox Res In press. https://doi.org/10.1007/s12640-019-00083-1

McVey M (2010) Strategies for DNA interstrand crosslink repair: insights from worms, flies, frogs, and slime molds. Environ Mol Mutagen 51:646–658

Moosavi F, Hosseini R, Saso L, Firuzi O (2015) Modulation of neurotrophic signaling pathways by polyphenols. Drug Des Devel Ther 10:23–42

Oboh G, Agunloye OM, Akinyemi AJ, Ademiluyi AO, Adefegha SA (2013) Comparative study on the inhibitory effect of caffeic and chlorogenic acids on key enzymes linked to Alzheimer's disease and some pro-oxidant induced oxidative stress in rats' brain-in vitro. Neurochem Res 38:413–419

Peng S, Zhang B, Yao J, Duan D, Fang J (2015) Dual protection of hydroxytyrosol, an olive oil polyphenol, against oxidative damage in PC12 cells. Food Funct 6:2091–2100

Pietsch K, Saul N, Chakrabarti S, Stürzenbaum SR, Menzel R, Steinberg CE (2011) Hormetins, antioxidants and prooxidants: defining quercetin-, caffeic acid- and rosmarinic acid-mediated life extension in C. elegans. Biogerontology 12:329–347

Schwarcz R, Guidetti P, Sathyasaikumar KV, Muchowski PJ (2010) Of mice, rats and men: Revisiting the quinolinic acid hypothesis of Huntington's disease. Prog Neurobiol 90:230–245

Shashikumar S, Pradeep H, Chinnu S, Rajini PS, Rajanikant GK (2015) Alpha-linolenic acid suppresses dopaminergic neurodegeneration induced by 6-OHDA in C. elegans. Physiol Behav 151:563–569

Silva-Palacios A, Ostolga-Chavarría M, Sánchez-Garibay C, Rojas-Morales P, Galván-Arzate S, Buelna-Chontal M, Pavón N, Pedraza-Chaverrí J, Königsberg M, Zazueta C (2019) Sulforaphane protects from myocardial ischemia-reperfusion damage through the balanced activation of Nrf2/AhR. Free Radic Biol Med 143:331–340

Sul D, Kim HS, Lee D, Joo SS, Hwang KW, Park SY (2009) Protective effect of caffeic acid against beta-amyloid induced neurotoxicity by the inhibition of calcium influx and tau phosphorylation. Life Sci 84:257–262

Szwajgier D, Borowiec K, Pustelniak K (2017) The neuroprotective effects of phenolic acids: molecular mechanism of action. Nutrients 9:477

Taram F, Winter AN, Linseman DA (2016) Neuroprotection comparison of chlorogenic acid and its metabolites against mechanistically distinct cell death-inducing agents in cultured cerebellar granule neurons. Brain Res 1648:69–80

Weber F, Engelke GH, Schieber A (2019) Structure elucidation and tentative formation pathway of a red colored enzymatic oxidation product of caffeic acid. Food Chem 297:124932

Yao J, Peng S, Xu J, Fang J (2019) Reversing ROS-mediated neurotoxicity by chlorogenic acid involves its direct antioxidant activity and activation of Nrf2-ARE signaling pathway. BioFactors 45:616–626
Acknowledgments
The authors wish to express gratitude to María José Aguirre-González, Diana Ruiz-Hernández, and Ilan Kotlar for their excellent technical assistance.
Funding
This work was supported by CONACYT-TUBITAK grant 265991 (CONACYT/SRE given to AS). MA was supported in part by grants from the National Institute of Environmental Health Sciences, R01ES03771 and R01ES10563.
Ethics declarations
Conflict of Interest
The authors declare that they have no competing interests.
Additional information
Publisher's Note
Springer Nature remains neutral with regard to jurisdictional claims in published maps and institutional affiliations.
About this article
Cite this article
Colonnello, A., Aguilera-Portillo, G., Rubio-López, L.C. et al. Comparing the Neuroprotective Effects of Caffeic Acid in Rat Cortical Slices and Caenorhabditis elegans: Involvement of Nrf2 and SKN-1 Signaling Pathways. Neurotox Res 37, 326–337 (2020). https://doi.org/10.1007/s12640-019-00133-8
Received:

Revised:

Accepted:

Published:

Issue Date:
Keywords
Antioxidant defense

Neuroprotection

Caffeic acid

Mammal CNS

Caenorhabditis elegans

Transcriptional regulation

Nrf2 pathway

skn-1 pathway